On a late November afternoon, I arrived at the historic town of Tonopah, Nevada, covered in a light, recent snow. Tired from driving and exploring the state all day, I decided to head straight to my overnight accommodations, the Mizpah Hotel.
Upon checking in, an attendant commented that I would be spending the night in his favorite room, room 510. Since this hotel is supposed to be haunted, I wondered if he meant that he put me in one of the rooms with the most activity. That was not so... it was simply that room 510 was a corner room on the highest floor, with the amazing view that you see in the image above.
Although, come to find out, the fifth floor of this hotel is apparently where the most paranormal activity happens, with room 512 (the Lady in Red Suite), only a few feet from my room. The hallway is also supposed to be haunted.
But let me cut to the chase, I had not come here to do a paranormal investigation, nor do I really believe in that stuff. And no, I did not experience a tinge of spectral phenomenon during the course of my stay. Sorry to disappoint!
A Look Back in Time
I had come to this town, as well as the Mizpah, to experience the history of the area. Like many other nearby, extinct boom towns, such as Goldfield and Rhyolite, mining in Tonopah flourished around the turn of the century (early 1900's). Many of the beautiful buildings you'll see in these towns were built circa 1907, but it wasn't long after that these towns started to see sharp declines in the mining industry, eventually being abandoned.
The Mizpah Hotel is a well-preserved relic from that time. Built in 1907, it was once the tallest building in Nevada. By today's standards that might be hard to believe, but as I looked out the window of the fifth floor and put myself into the context of that era, I imagine this building was once quite the sight to see!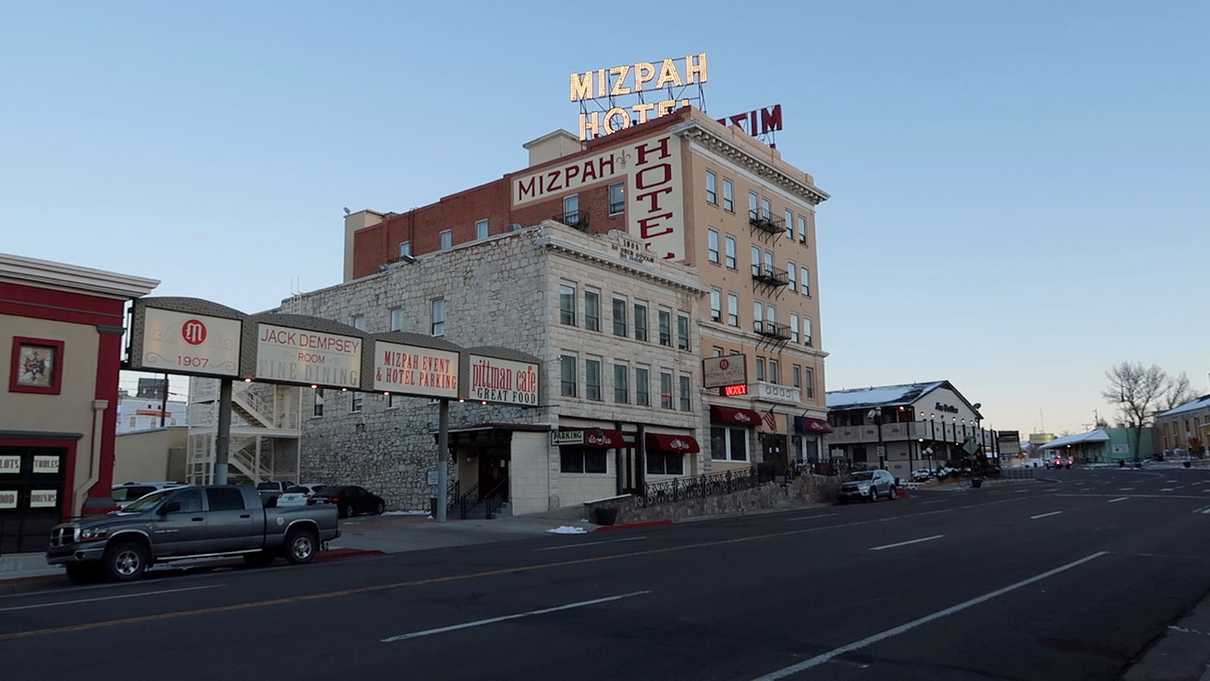 I didn't research how much renovation had occurred here throughout the years, but regardless, the decor was very Victorian, with what I describe as an "old west" feel. One of my favorite activities during my stay was to take the stairs down to each floor and to walk the hallways.
The halls are all very dimly lit, and with the Victorian-style wallpaper and furniture, old paintings and pictures lining the halls, I could put myself back to a time where light bulbs and running water were most likely a novelty, and candlelight was probably still heavily in use.
While I said that I do not believe in the paranormal in general, I do find haunted history to be fun. As I walked down those dimly lit halls, I felt like I was in Disney's the Haunted Mansion or something like that. I could see how some would think this place might be haunted. Ghosts and Victorian era stylings seem to go hand in hand.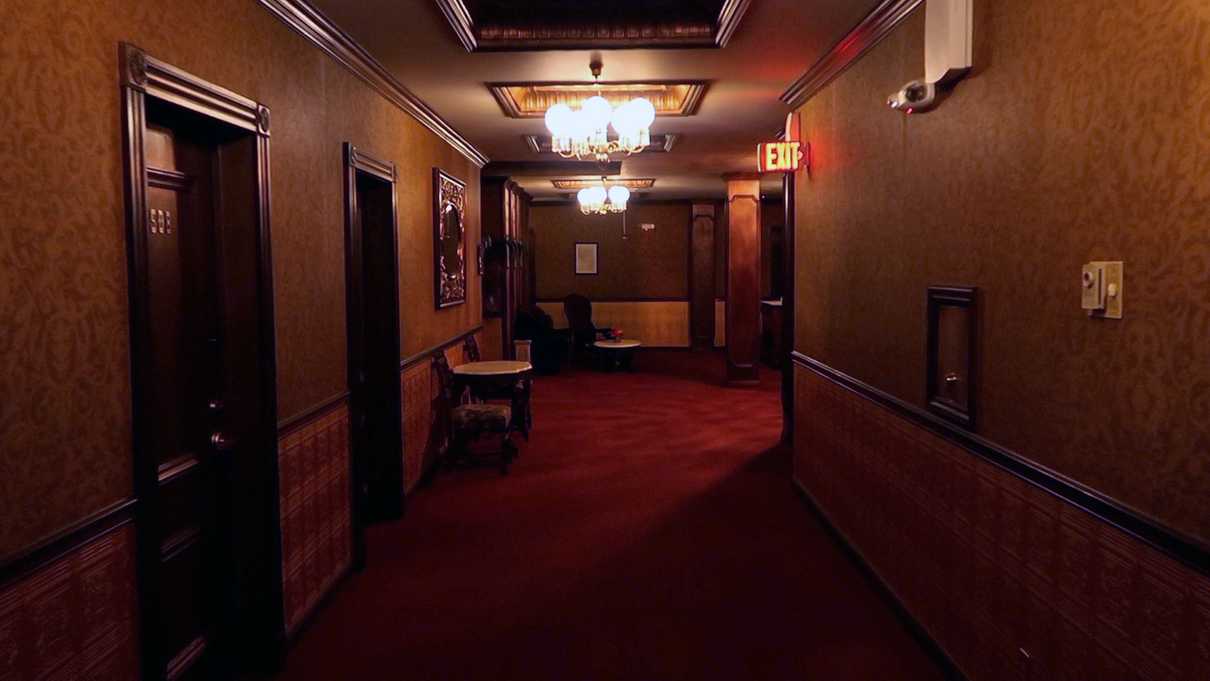 So How About the Accommodations?
My room, room 510, was very cozy, and just as with the rest of the hotel, it had a period feel. One of the first things that I noticed, as I usually do, are the smells of old places. Sometimes old building smells are enjoyable, and other times just dank and dingy. More often than not, old hotels like this are a mixed bag, and offensive hotel smells can do much to diminish an experience.
However, I was quite surprised and delighted upon entering my room that it smelled clean, perhaps even neutral. No old mildew smells. Do dankness. No smell of lingering cigarette smoke like virtually every other room I stayed in over the course of my road trip.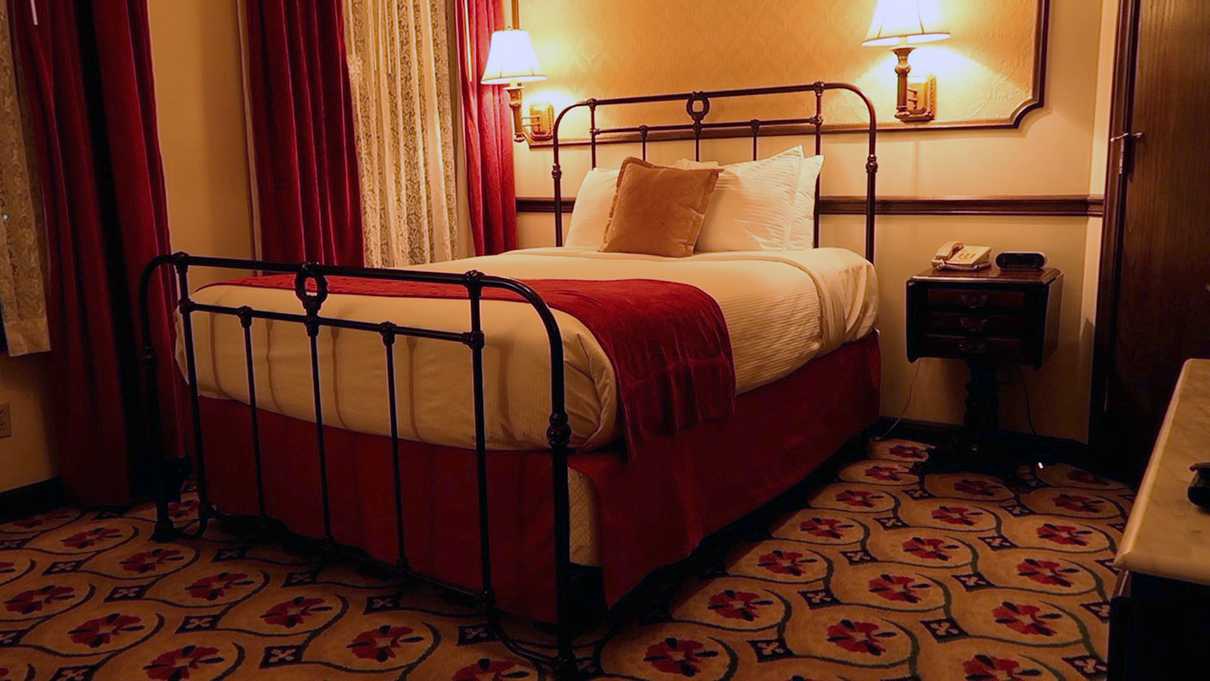 The overall theme of the room was red and white/cream colored. Even the carpet followed this pattern, and it worked very well for me. The bed was a queen sized bed, and very comfortable. I slept through the entire night without waking once. Trust me, that is quite a feat for me these days!
While I'm almost certain the furniture was not original, it all fit together nicely. For a little modern convenience, there was even a small TV mounted on the wall across from the bed.
The room also had a bathroom and bathtub/shower. It was very tiny, and overall not the most up-to-date bathroom, but that was part of the charm. I especially liked the bathtub. It was a freestanding tub, with shower curtain. Had an old-timey feel and I loved it.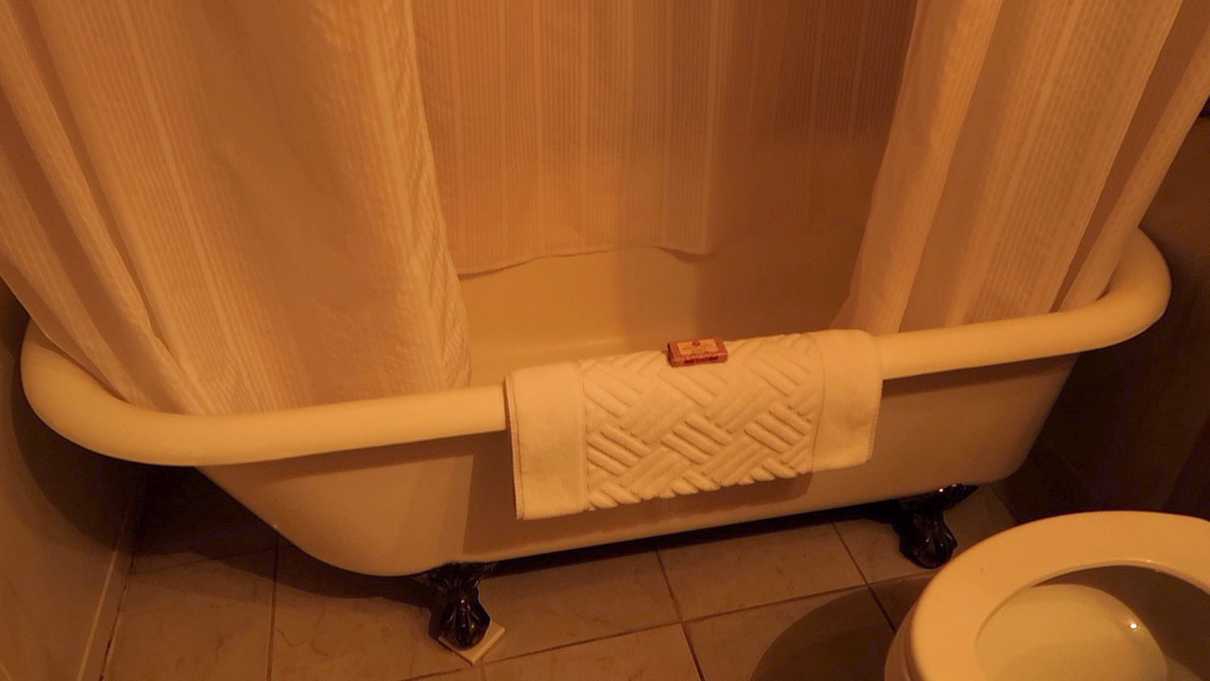 This overnight stay was one night over the course of a 7 day road trip, and I can say it was by far the best room I've had at any hotel in recent memory.
The Mizpah Experience
This hotel is much more than just a place to lay your head for a night. It's an experience. If you spend a night here, I would recommend grabbing a cocktail at street level. The bar and lounge area have that same vibe as the rest of the hotel. There are even slot machines and a small museum you can explore off the main lounge. I thoroughly enjoyed this area of the hotel.
After enjoying a spirit or two (and not of the paranormal variety), I would highly recommend grabbing a bite to eat at the Pittman Cafe, which is part of the hotel.
It's a casual, sit-down experience right off the main lounge. I asked my server what she recommended, and she informed me that one of the specialities is their chicken fried steak. I was a little skeptical at first, but it quite honestly was one of the best meals I've had in some time.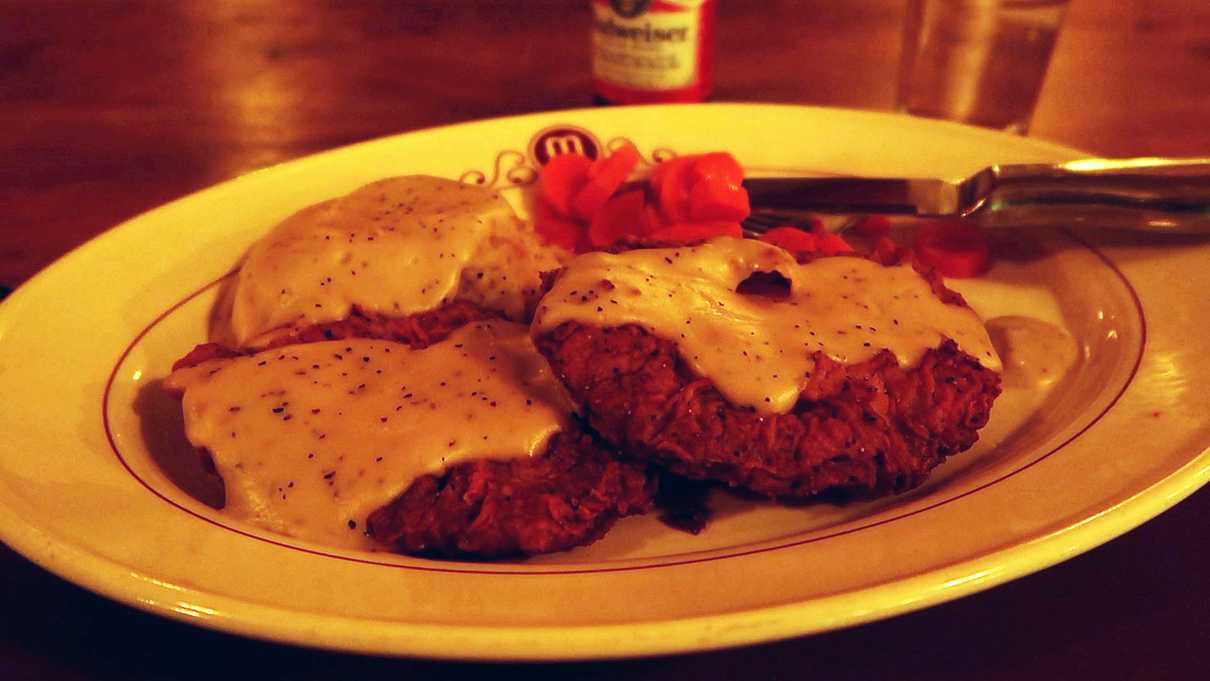 I also grabbed a quick breakfast at the cafe on the morning of my departure and it was delicious. In the interest of fair reporting, the only gripe I had is with each meal, there was only one server who seemed very overwhelmed. So service was a little slow and there were more than one apology from the staff for the slowness (although I never complained). So not sure if that is a common thing or perhaps they were short staffed, but it didn't take away from anything for me.
After dinner I decided to lose a little money in one of the slot machines. My main remark there is that unlike Las Vegas, smoking is not permitted, so I got to enjoy a spot of gambling without my lungs burning, which was a nice change.
Staying in the Heart of Tonopah
While the Mizpah is certainly one of the center pieces of the historic town, there are a few other fairly well-known sites within close proximity to the hotel that I also came to see. Within walking distance (granted, a bit of a long walk, but doable), is the infamous Clown Motel and Museum and the Old Tonopah Cemetery. Both also reported to be haunted, and adjacent to one another.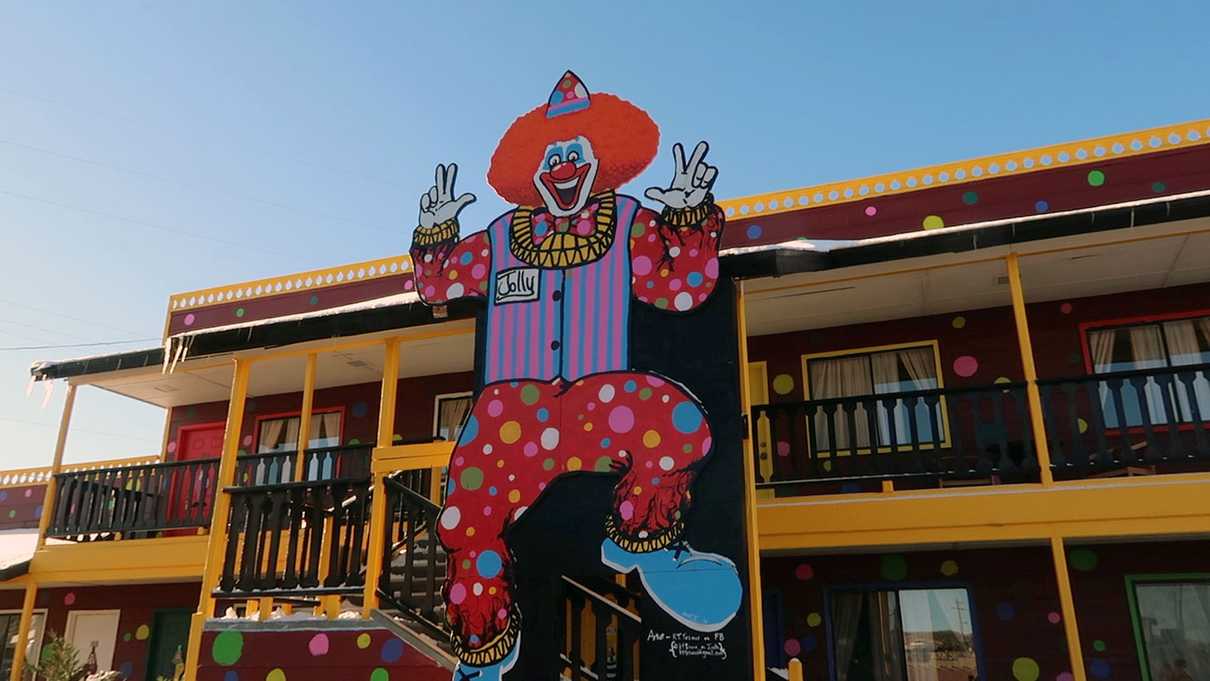 This post is not really focused on those locations, but if you want to know more, I do go more in depth about those locations in the Tonopah Video I made during my stay. If you are not familiar with these locations, especially if you are into the paranormal, you may want to check them out. As for the Clown Motel and Museum, it's hard to sum that up into words. As for the cemetery, if you like old cemeteries and history, then that is almost certainly for you.
Speaking of history, right behind the Mizpah is the Tonopah Historic Mine Park. Unfortunately, on the day of my visit, the museum was closed. That's okay though, because now I have an excuse to return and further explore the town and surrounding area.
My Final Verdict
Overall, my first visit to Tonopah was one of the highlights of my week long road trip through the state of Nevada and into California. The Mizpah Hotel exceeded all expectations, and I could see myself making the long trek from Phoenix, AZ back to Tonopah simply to spend another night at the hotel, if nothing else. Luckily I left much to explore in this area, further justifying another trip to the area some day.
So, if you are ever traveling State Route 95 through the state of Nevada and are looking for a good place to break up a long drive, or perhaps you want to seek out the paranormal, or the rich mining history from an era long gone, Tonopah has all bases covered. I cannot recommend staying at the Mizpah enough, and now question why I waited so many years to make this town a travel destination.