Organ Pipe Cactus National Monument is tucked away in a small section of the Sonoran desert, just a few miles north of the Mexican border. If you haven't guessed by now, one of the main draws of visiting this park is to get up close and personal with the namesake Organ Pipe cacti that have made this land their home.
So why is there a National Park unit devoted to a cactus you might wonder? Well, the reason is this small park is the only place in the United States where you can see these interesting multi-armed cacti. They are more common the further south you go, which in this case means crossing over into Mexico. But in the good old USA, these are an extremely rare thing, and this park provides some untouched protected desert wilderness that helps ensure their survival north of the border.
This would be my very first visit to Organ Pipe. It's not terribly far from Phoenix... it takes about the same amount of time for me to get to as it does the Grand Canyon. But, for whatever reason, I've never taken a trip down to see its most famous residents until now.
On this adventure I decided to camp overnight to maximize the amount of time I had for activities such as hiking.
After checking in with a ranger at the entry post to the campground, I made my way to the back of campground loop, where a couple rows of tent only sites are located.
So yes, tent campers like myself are taken into consideration at this campground, although based on the proportion of RV sites to tent sites, RV's are certainly what is mainly catered to. But I do appreciate some of the apparent considerations they made when deciding where to place the tent sites.
The sites are located on the outer edge of the campground, bordering the desert. This creates a little extra privacy that you wouldn't get in the middle of the campground. Also, the rows of RV sites that border the tent only rows do not allow generators, which is also something that tent campers will appreciate.
But do note that while the overall number of sites totals in the hundreds here, and there are a handful of RV sites that do accommodate tents, the tent only rows are pretty much it for tent campers.
Shortly after setting up camp, I quickly noticed that the overall layout of this campground is very cookie-cutter. Not much imagination was put into this place. It's row after row of equally spaced out lots.
Many of the campsites are very close together, offering little privacy. There are some desert shrubs and trees planted in between most campsites, but they aren't tall and do little to obscure the view of your neighbors.
There are a few exceptions that I found. A random site or two have a little extra space and/or vegetation to provide a wee bit more privacy, but not much. Watch our video if you want to see more as I filmed a few of these types of sites.
But for the most part, I will say that this place wins the award for being the most unimaginative campground layout of the year (out of those we've visited).
As for amenities in an individual campsite, they all have a few things in common. You get a tent pad. Mine was about 11 feet by 12 feet, which is enough to accommodate many tents. They have some that are larger than that. Recreation.gov does indicate the tent pad sizes for each site.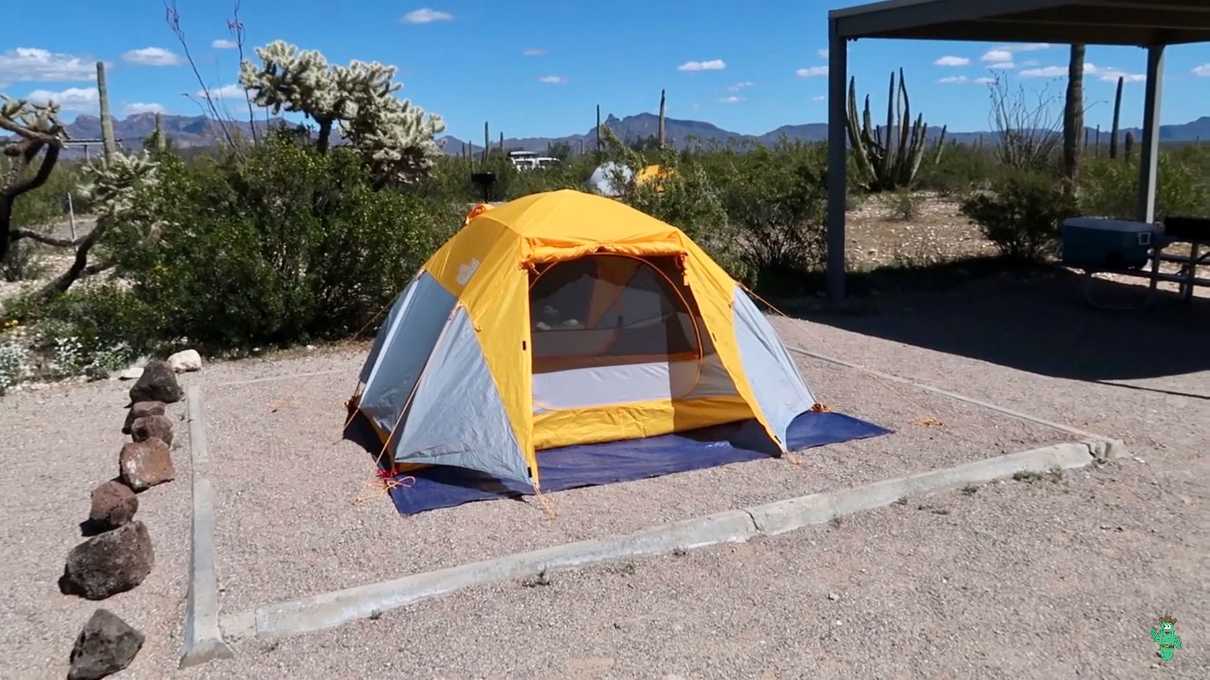 The ground is also very gravelly. The tent pads are not those nice ones that have cushiony gravel in them. It's the same rocky stuff that covers the entire campsite. I also had a tough time staking in one side of my tent as I hit some really hard material that did not want to give way, but eventually found a sweet spot. I do appreciate that they positioned the pads far enough away from the desert shrubs to hopefully help deter creepy-crawlies from coming to visit you in the night though.
Each site also comes with a stand up grill. Do note that ground fires are not permitted here, which I think is understandable due to the constant fire danger present in this type of desert terrain. Also, don't be surprised if there are fire restrictions when you come to visit.
As for the grills, I do want to call out that those were the rustiest ones I've seen in my journeys. The one at my particular campsite, site 203, was coated in rust. I did go checkout out many other sites, and I saw rust on every grill I looked at. I questioned the safeness of cooking on those, and opted to use my pokers that night and didn't let any of my food touch the grill.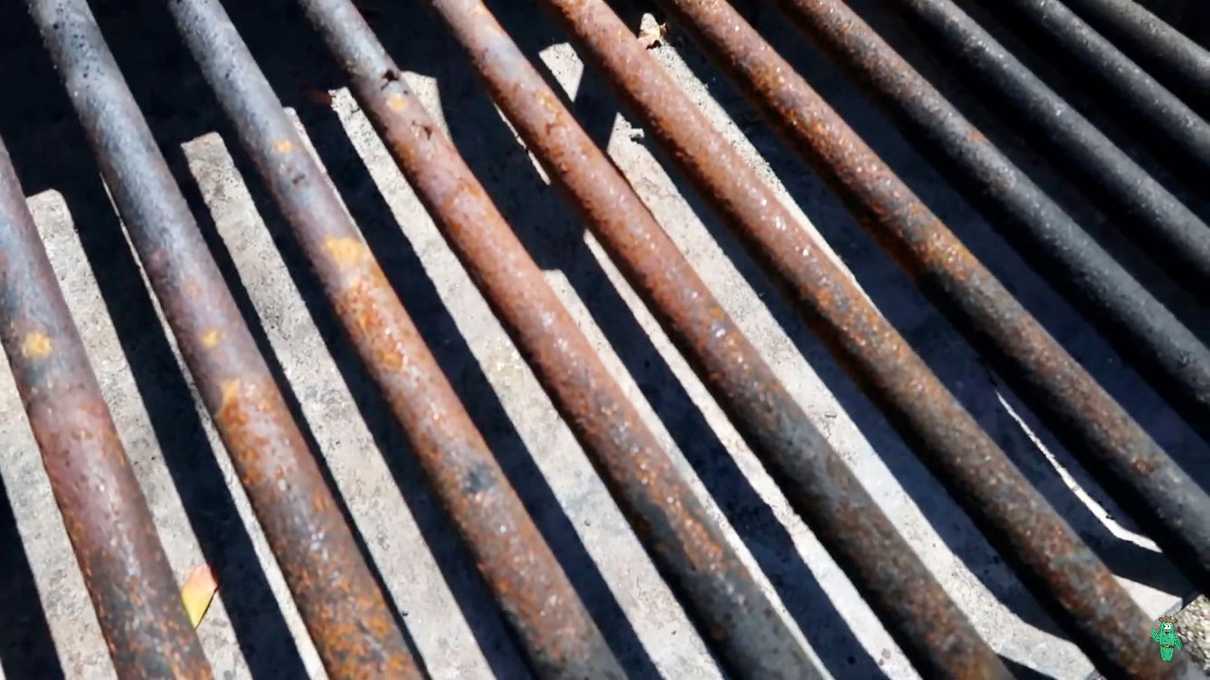 So, if the National Park service sees this, I imagine budgets are tight, but those grills are in some serious need of replacing and should be a top priority.
Spaced about 50 feet apart, you'll find plenty of convenient spigots with potable drinking water. There was one just feet away from my particular campsite. You'll also find trash cans and recycling bins nearby.
Also convenient to most campsites are restrooms with running water and flushing toilets. These facilities are pretty small, but there are plenty of them. They all have clearly marked paths that provide a beeline to them in case you need to make an urgent trip in the middle of the night.
Each restroom I visited was very clean, but one curious thing that I noticed about the one near my campsite is that it lacked any hand soap, paper towels or even a hand dryer. So there was no way to properly wash or dry your hands, which would be a little disconcerting just about anytime, but was even more so on this trip since the Covid-19 pandemic was starting to get real during the timeframe I visited. This was the first restroom I've seen on my camping trips that lacked those things and I wished I'd known that in advance as I would've provided my own.
Not all restrooms have them, but a few select ones do have showers, which is very nice. Do know that they are solar powered, meaning the water is warmed by the sun. There are signs warning you that the water can approach freezing temperatures, and I'd highly recommend avoiding them in the morning when it's still cool in the desert.
I did run one in the afternoon however to check it out, and the water was perfectly warm and pleasant.
One inconsistency that I noticed at this campground is that only a few select campsites, such as mine (site 203) have any form of shade. Mine had a ramada, which if you click the link to site 203, you'll note that recreation.gov does include pictures of the campsites and you should be able to tell which have this feature.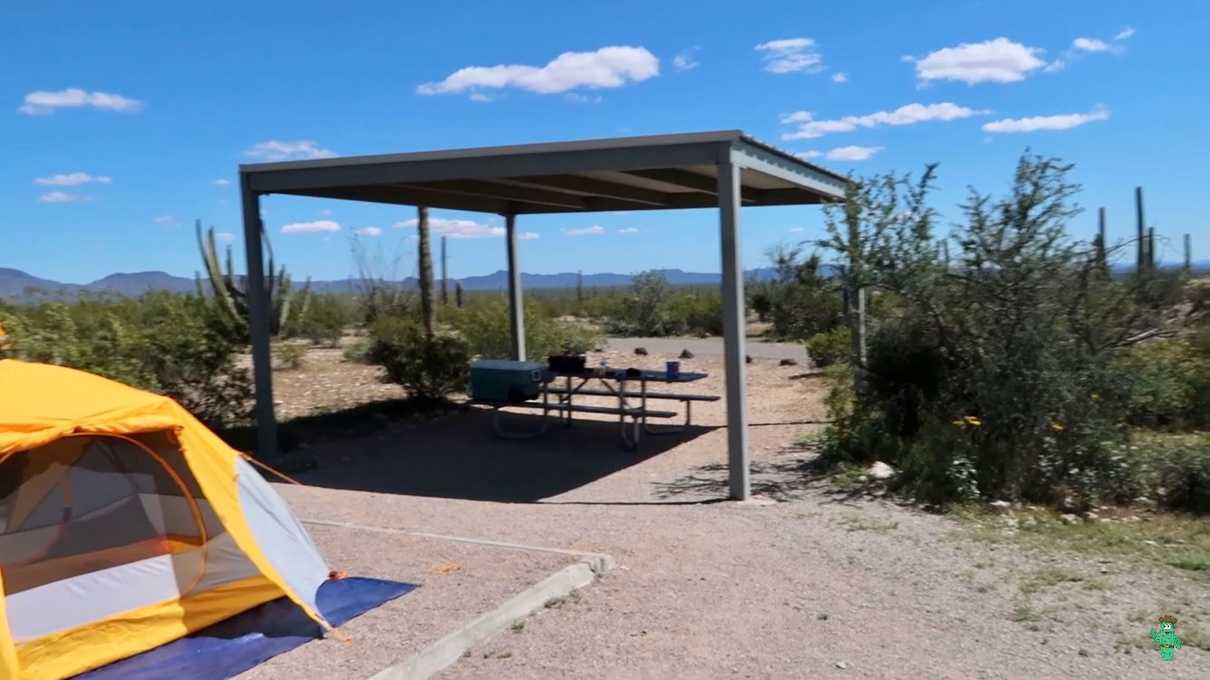 I can't recommend enough seeking out sites that have these, although they are not common at this campground. You're in the Sonoran desert after all, a place where the sun shines long and hot most of the year. So shade is almost a necessity. I'd urge the park to try and add more of these in the future and am surprised at how few have any shade.
And a quick note for RV'ers. Much of the same things apply to your sites. Sites are very cookie-cutter in design and close together. They all have nicely paved driveways. You'll want to consult a map or recreation.gov because they do vary in size. Most sites accommodate vehicles under 40 feet in length, although there are a couple rows that accommodate 40 footers. There are even three select sites that accommodate up to 45 feet.
None of the sites had electric hookups or water that I could see, and like I said earlier, only certain sites allow generators.
One thing the campground does get right is amazing access to some very nice hiking trails. For starters, there is a trail, known as the perimeter trail, which circumnavigates the entirety of the campground. It's just short of a mile long and is pet friendly. The perimeter trail also hooks up with a few must-hike trails such as the Victoria Mine Trail and the Desert View Loop trail. There's even a trail that cuts directly to the visitor center.
The campground also has a very nice amphitheater which hosts occasional evening entertainment such as ranger talks.
Overall folks were very quiet in the evening and I had a very good night's sleep at this campground. I also want to note that I was here in early March, before the weather gets too hot. This is not the kind of place you'll want to be camping in the summer time. But, this campground is absolutely perfect for camping in the winter months, but do know that it can get a little chilly at night out in the middle of the desert, so come prepared.
Other things worthy of note is that cell phone coverage was surprisingly good during my visit. I had a strong LTE signal at my campsite (I have Verizon), which allowed me to research the risks of cooking on rusty grills, or to watch a few YouTube videos in my tent at night.
There is also no general store here in the park. So be sure to stock up on food, fire wood and beer before venturing down here, although civilization is not too terribly far away if you need to find a grocery store, gas, etc...
So, overall, would I stay at this campground again? The short answer is yes. But, if you compare the overall amenities of this campsite to other National Park units I've stayed at, it does rank lower on the list. Overall lack of shade and privacy, and rusty grills are my biggest complaints. That is offset however by great access to trails, showers, and some beautiful scenery. So there's definitely a lot of give and take here.
Look, we camp in order to rough it out a little bit, right? I'm not looking to be coddled when I camp. I do have slightly higher expectations for some types of campgrounds however, and usually hold our National and State parks to a slightly higher standard than other destinations. I think most folks stay at places like this with some expectations and appreciate a slightly higher level of comfort and convenience. For me, rusty grills are where I draw a line. Other than that, I can deal with just about anything else and come out happy and you won't hear too many complaints out of me.
To summarize, this campground needs a little bit of TLC, but if you are like me, some things can be overlooked and I'm sure you'll have a memorable experience at beautiful Organ Pipe Cactus National Park.