The Grand Canyon is an international destination, and rightfully so. It's one of the seven natural wonders of the world after all. Grand Canyon National Park is situated on both the North and South Rims of the Canyon. The South Rim hosts the most visitors per year, most likely because the South Rim is much easier to access.
There is a ton to do and see at the South Rim. Having visited many times, I don't see how it's possible to adequately experience all there is to do in a single day. You'll almost certainly want to plan an overnight stay when you visit, and what better way to immerse yourself in the Grand Canyon Experience than to camp in the local terrain, inside of the National Park!
For those of you who turn up your nose at the thought of camping, I ask you to stick with me for a little bit and see if I can convince you otherwise. Camping doesn't get much easier than camping at the popular Mather Campground. This campground has every amenity you can imagine to make your stay there as comfortable as possible. More on that in a bit…
Mather Campground is one of the larger campgrounds I've stayed at in my journeys. The facility contains 327 sites that are well suited for tents, campers, and RVs. According to data from recreation.gov, there is a max vehicle length of 30 feet at Mather Campground, although I'm pretty sure I've seen larger there.
The campground is located on the top of the rim, and while the canyon is within walking distance of the campground, you will not have views of the canyon. Mather is deep within the beautiful forests indigenous to the area consisting of pinyon, juniper and ponderosa pines.
You will often see ravens, mule deer, and elk wandering around the campground. Don't be surprised if an elk strolls directly through your campsite, or you come across one quenching its thirst at one of the utility sinks located at one of the many bathroom facilities, like I did on my most recent journey. Yeah… that actually happened!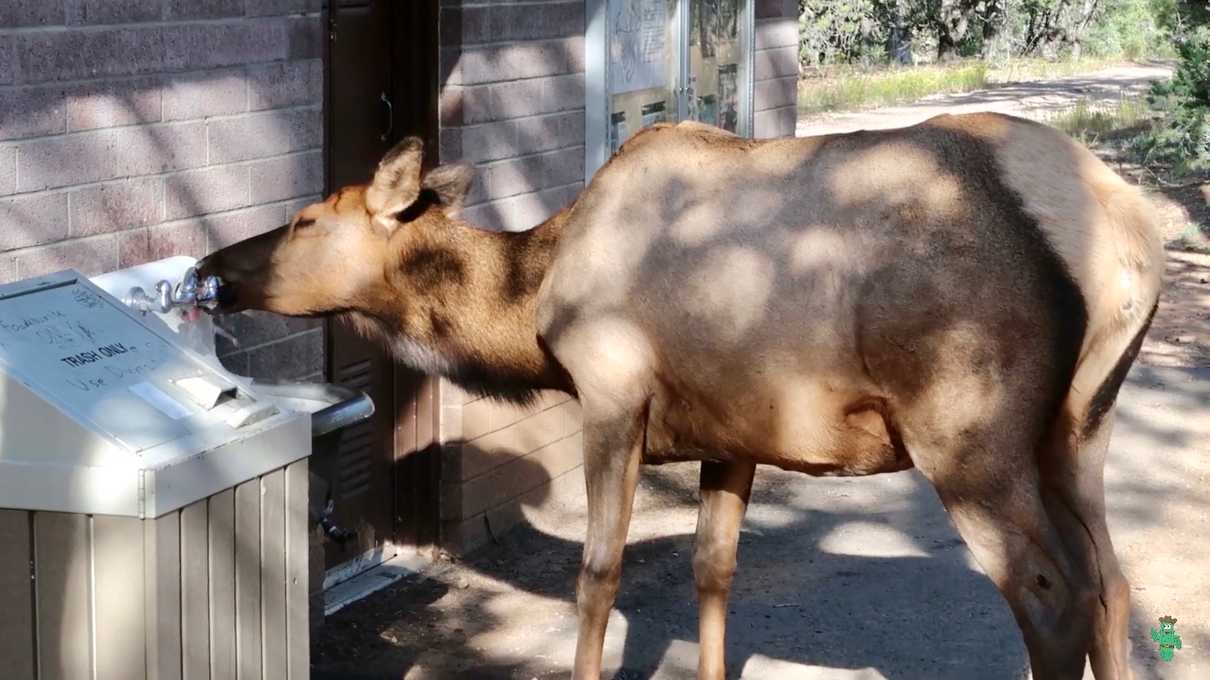 As is common for National Parks, you'll get a few amenities at your campsite including a fire ring with attached grill, easy access to nearby restrooms with running water, sinks and flushing toilets. You'll also not have a hard time finding a nearby water spigot with drinking water. Mather also has coin operated shower facilities, which is something I have come to appreciate when camping for several nights.
They do pack the sites in fairly tight at times, but thankfully the many varied pine trees help create a teeny bit of privacy. I enjoy getting sites that are on the outer edges of the loops that comprise the campground that border the woods. That way, you'll have nobody behind you and increase your chances of seeing some of the cool wildlife that inhabits the area. On my last trip, I camped on one of the outermost loops, the Oak Loop, at site 242, and it did not disappoint.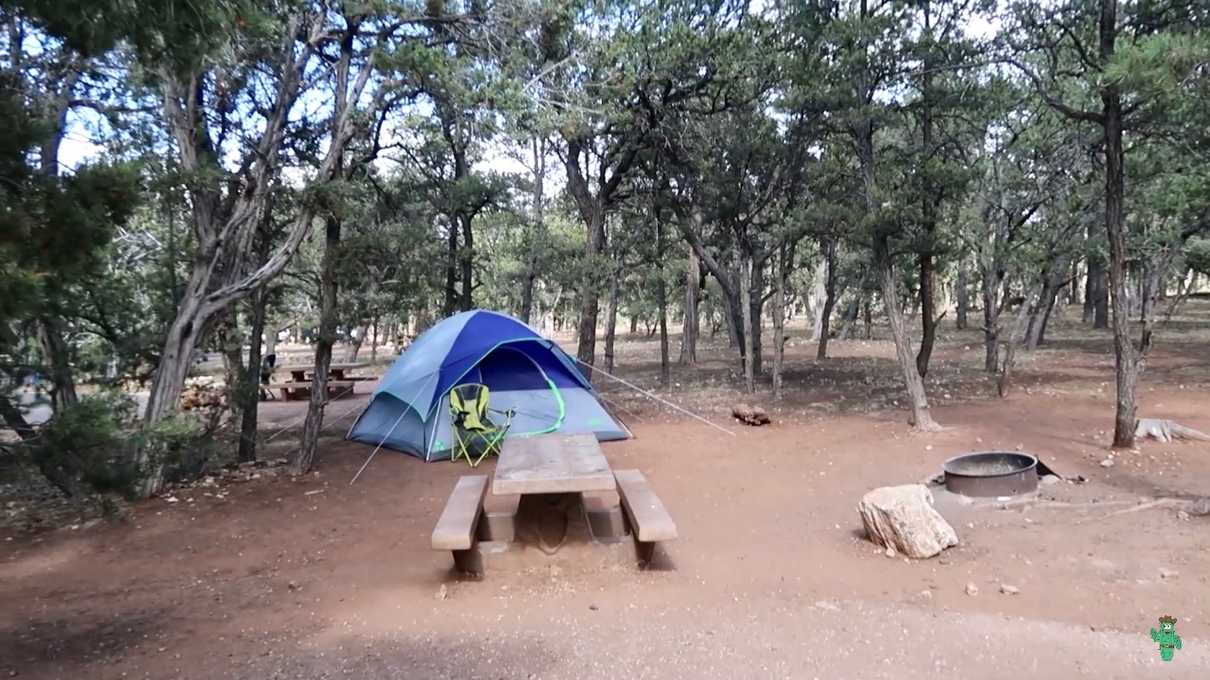 One thing that Mather does well is to accommodate campers with accessibility needs. At the time of this writing, they have 16 accessible sites, all easily reservable through the recreation.gov website. The only thing I think they may want to update are some of the paved pathways that intersect the campgrounds. I noticed many of them were cracked and falling apart and in need of some renovation, but still navigable for the most part.
Another key benefit you'll gain by staying at Mather is that it has its own shuttle stop. Things are a bit spread out at the South Rim Grand Canyon, so traveling by car or the park shuttle is a necessity at times. Having access to a dedicated shuttle stop adds a layer of convenience that you will come to appreciate very much during your stay.
On the topic of convenience, another thing that makes camping at Mather a breeze is access to their general store, which is actually a fully-stocked, modern grocery store experience. You should be able to find virtually anything you can at your local grocery store there, and then some. You can of course buy common camping essentials including ice, firewood, and propane. You can also get quick-service foods at the deli, or sit down at a restaurant at the nearby Yavapai lodge if you don't feel like making your own dinner. All of this borders the campground too, by the way, and is accessible on foot if you want. There is a large parking lot if you need to haul supplies back in your car to your campsite though. I'd recommend checking out our video and you will see what I mean in much more detail!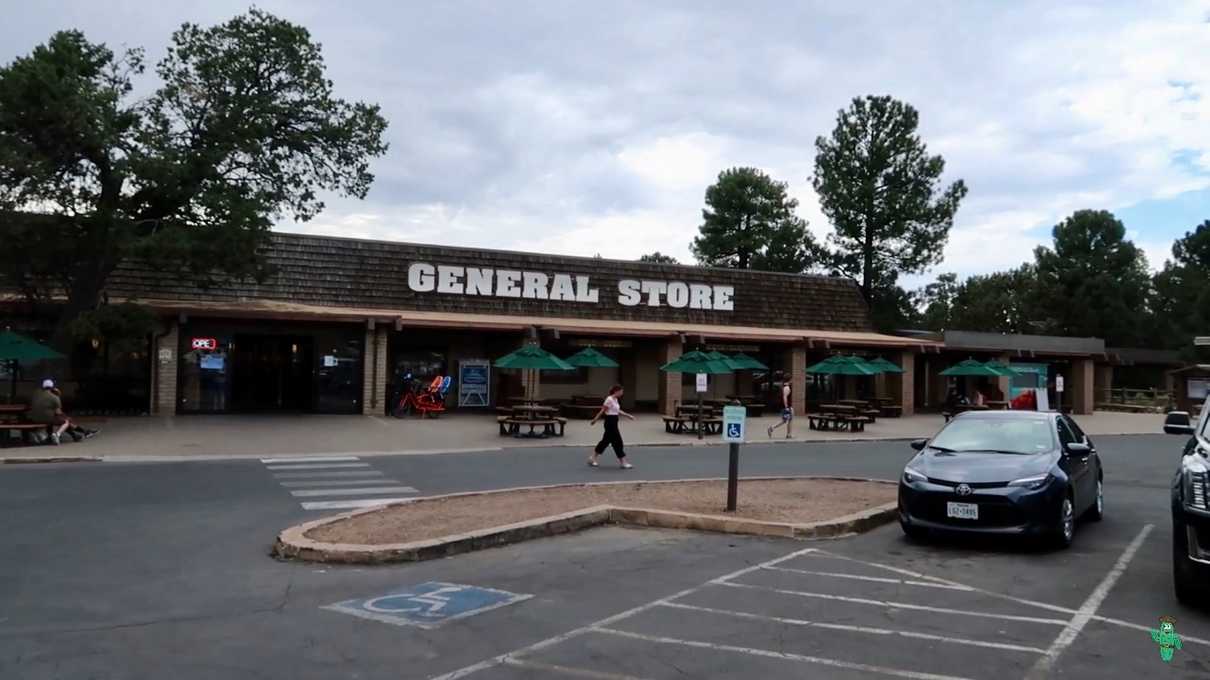 A big point that I'm trying to make is that camping at Mather is a little more relaxed and easy than most any other campground I've stayed at. If you must have yourself a pint of Ben and Jerry's at the end of a long day of hiking, it's yours for the taking!
My wife is one of those people who is extremely opposed to the idea of camping. I believe that if I can get her to spend a night or two at Mather, there is no better way to ease her into it. Mather Campground is the perfect place to cut one's teeth on camping. It doesn't get much easier than this folks!
Overall, Mather is a great campground. And if you want to catch a sunset at the canyon and take your time and enjoy all that this park has to offer, I can't think of a better place to lay your head at night.
If I still haven't sold you on the idea of camping at Mather campground, there are of course plenty of other options to consider in the area (hotels, cabins, etc…), but this is the Cactus Atlas, so it's going to be awhile before we sleep in a bed!