On a pleasant and warm March afternoon, out on the far eastern boundary of the Phoenix area, I pulled into the Lost Dutchman State Park. This would be my first official visit to this location, despite having lived in Phoenix for almost 20 years. I'd seen the iconic Superstition Mountains from the highways of Phoenix hundreds of times before. But, now, finally, I would be camping on the doorstep of the beautiful and mysterious Superstition wilderness, something I've wanted to do for a very long time.
The first order of business was to hop in and an announce my arrival at the check-in station located at the main entrance to the park.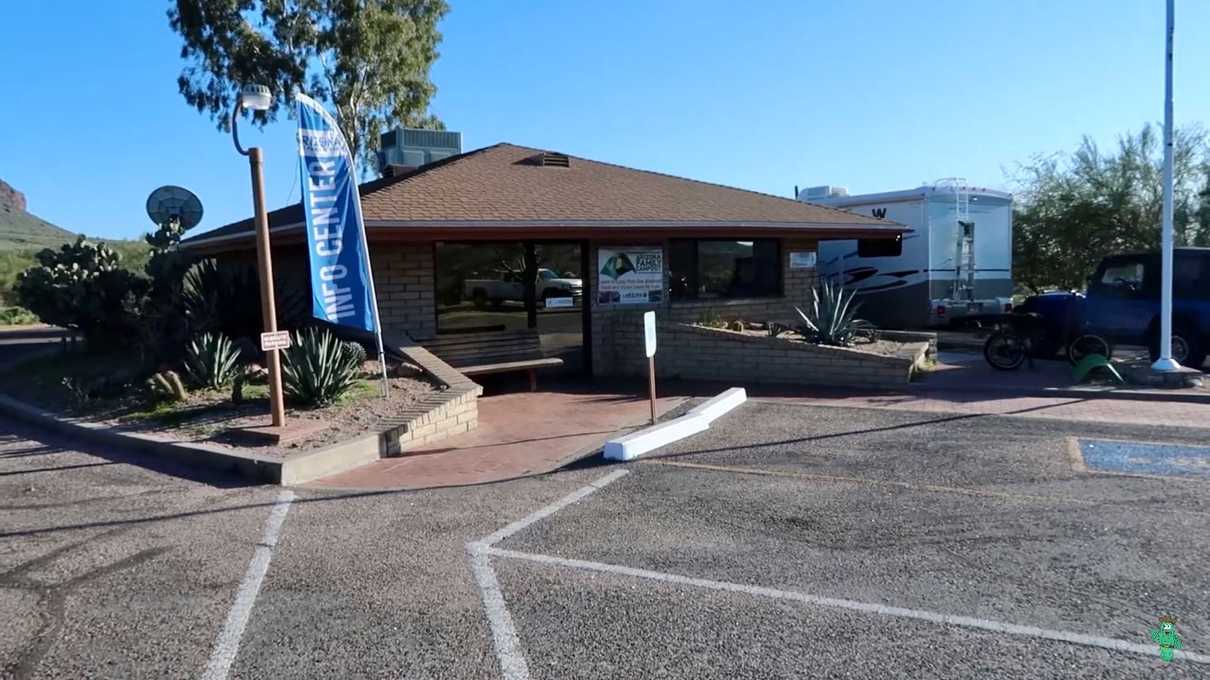 I was pleased to see that inside of the check in station is a little convenient store/gift shop. Don't get too excited though... while they do offer a small selection of soft drinks and other various sundries, it's not as stocked as your typical Circle K or 7-Eleven. But nonetheless, a nice little option in case you want a cold drink, ice for your cooler, or a piece of Lost Dutchman memorabilia. Check out our video tour if you want to see it in more detail.
There is no firewood sold at this station however, but the campground has many hosts spread about, all with signs saying they sell firewood for $7.00 a bundle.
The check-in station is also well-staffed, and friendly rangers are more than happy to give you info or suggestions about things like hiking trails or critters that inhabit the area. Just don't expect a robust visitor center experience.
When I booked my reservation a few days earlier on the state website, I was surprised that the campground was almost completely booked... on a Wednesday even! In fact, the site I snagged was one of the only ones left. In retrospect I shouldn't have been surprised, because I could quickly see that the entire campground was specifically designed for RV's, and it was still prime snowbird season here in Arizona.
The website does a great job of showing you individual campsite details. The website indicated that my site, site 108, accommodates a 7 x 7 tent. As I perused other campsites, I saw a wide variety of tent size accommodations. More than I could count. Clearly there is no standard here, but if you are in a tent, do pay attention to that. It's an important detail as you will soon see.
As I pulled up to my site, I was greeted by a very long paved driveway. An indicator that this place is geared towards RV's. And at the very end was a tiny, gravel area that had a picnic table and fire ring. That, is the "tent pad". And boy was it small!
If you're in an RV, that small area is a beautifully manicured spot to call your front porch. You could put a couple fold-out chairs there, make a small campfire, and enjoy the views.
But for me, it presented a challenge. My tent is about 7 X 4 feet. So shouldn't be a problem according to the campsite specs, except the picnic table was smack dab in the middle of the small area. There was not much real estate to put up my small tent. I had to rearrange things and move the picnic table off to the side to find a way to fit my tent without having it be too close to the fire ring, which I planned on using that night.
After a lot of reconfiguring, I ended up with what you see in the image below: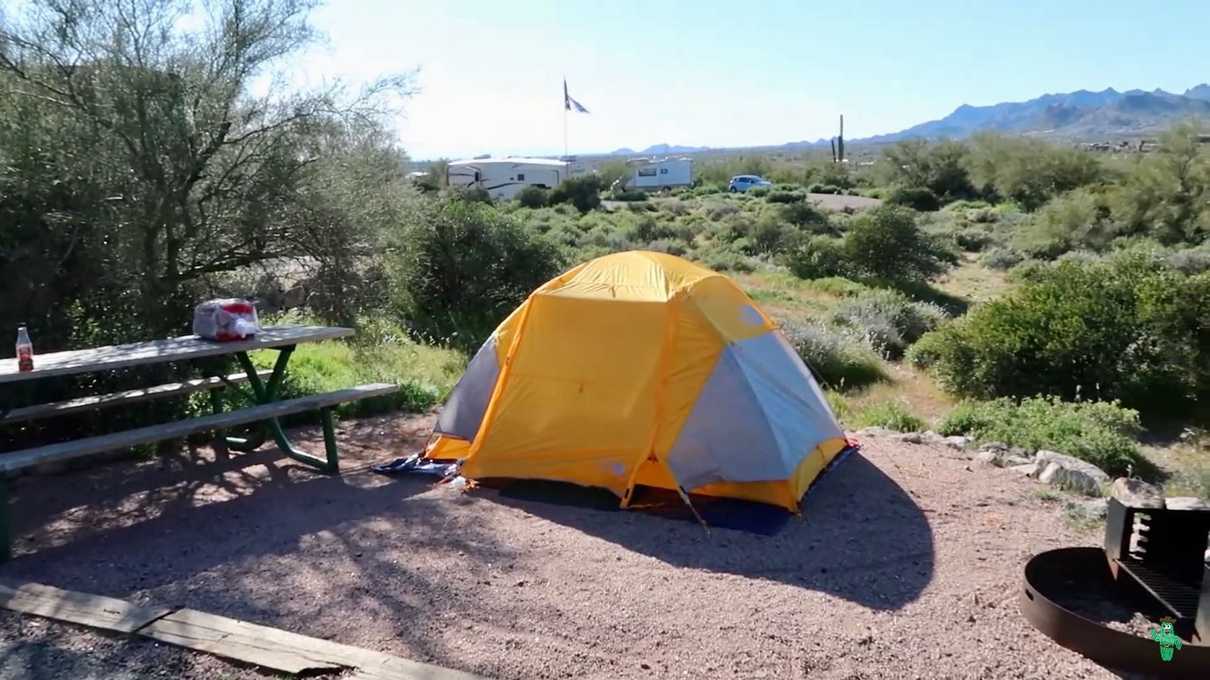 As I toured the loop of the campground that my site was situated on, I found many similar sites. Some had even smaller tent areas, but a couple of them had slightly larger spots to pitch a tent. But not by much. At least not on my loop.
I was also a little surprised to see that there was not another single tent camper anywhere in sight. Almost made me a little paranoid for a moment, wondering if tent camping wasn't actually permitted in this section and that I overlooked something.
So yeah, I admit, I was a little grumpy about things at this point, but one thing I could not deny is that this is a beautiful campground. They did a fantastic job designing this area, and the paved driveways are in immaculate condition. Though the sites are very close together, they did a good job leaving desert plants and trees in between most sites, giving you some sense of privacy.
In my section, there were no electric or water hookups for RV's. But, the strength of this section is that you get fantastic views of the mountains in one direction, and a nice view from up high of a valley below in another direction, overlooking the tourist attraction and ghost town of Goldfield off in the distance. My campsite faced the latter, and was great for watching sunsets.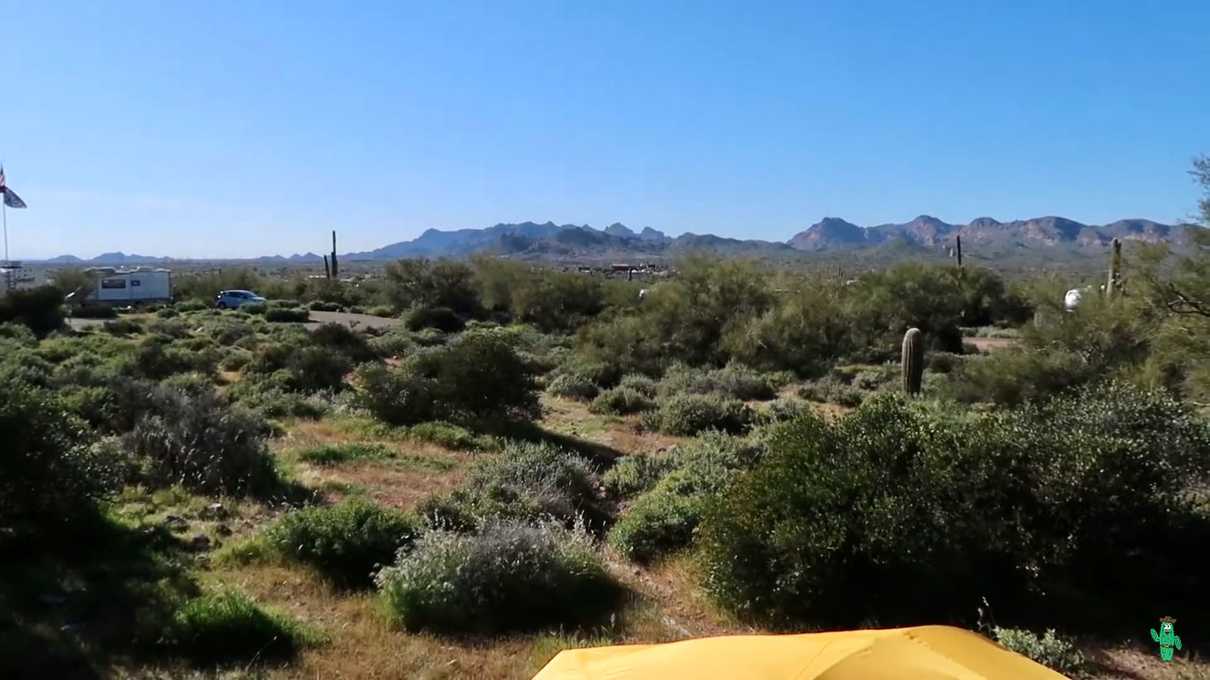 As for campground amenities, every site gets a picnic table and fire ring. The rings have adjustable grills attached to them, and all are in great shape.
There are no trash cans interspersed around the campsites, but the loop area does have a shared dumpster and various receptacles for recycling various things. The dumpster was quite close to my site, but might be a bit of a walk for others.
The campground does contain a couple restroom facilities with running water. One that I found also had showers (which were free to use), and the restrooms we immaculately clean. In fact, you could still smell the bleach from a recent cleaning.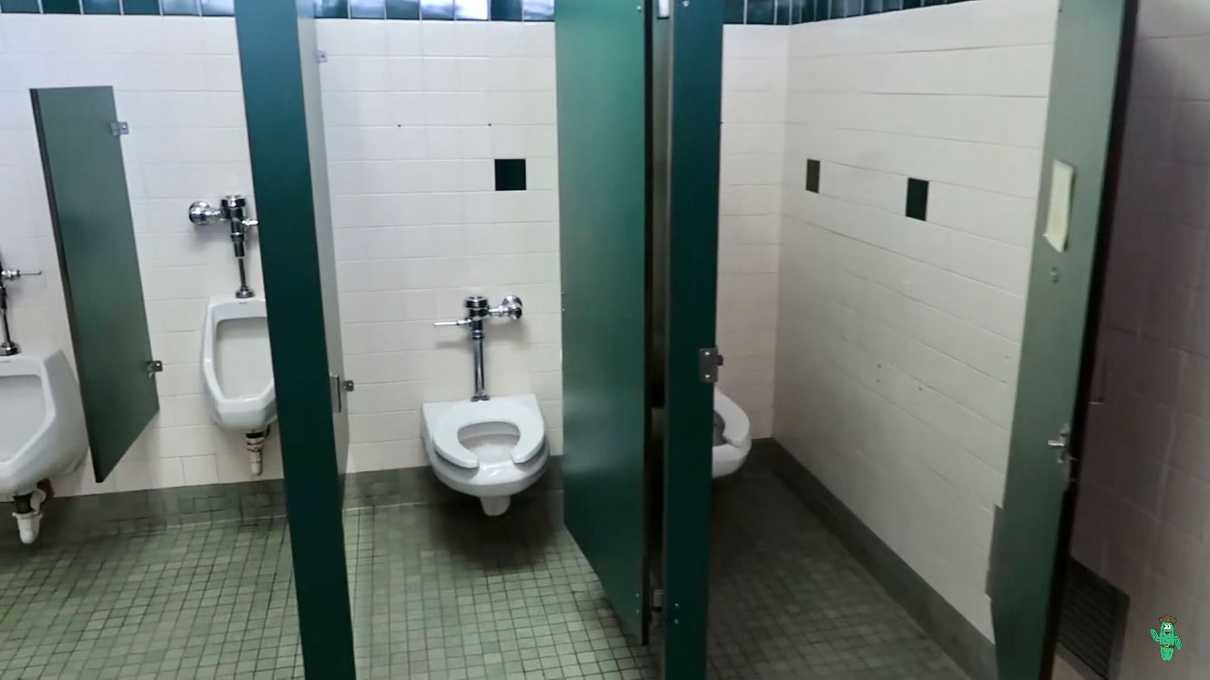 I also discovered a utility sink and nice little day use area with a pavilion and large grill next to one set of restrooms.
But I do have another small gripe. During my stay, I only found two restroom facilities. This is a very large campground divided into three main sections. The nearest restroom was easily about a 5 - 7 minute walk from my campsite. If I had any urgent needs in the middle of the night, I'd likely need to hop in my car to get there quickly.
Now if you're in an RV, this is probably not a concern. You might have your own private bathroom. But, this is another minor inconvenience for tent campers who might stay here and another indicator that tent campers were a secondary consideration when this campground was designed.
At this point, I was on a mission to locate at least one other tent camper. Surely out of the 134 sites here there would be at least one other, right?
As I made my rounds through the other major sections of the park, I did not spy a single tent. I did however come across many more sizable sites. Many of them had electric and water hookups, hinting at their primary purpose. Some of these would be much better for tents, with better privacy and views, but all were occupied by RVs. If you watch our campground tour video, you'll get to see a few examples of the types of sites I mention here in this blog post.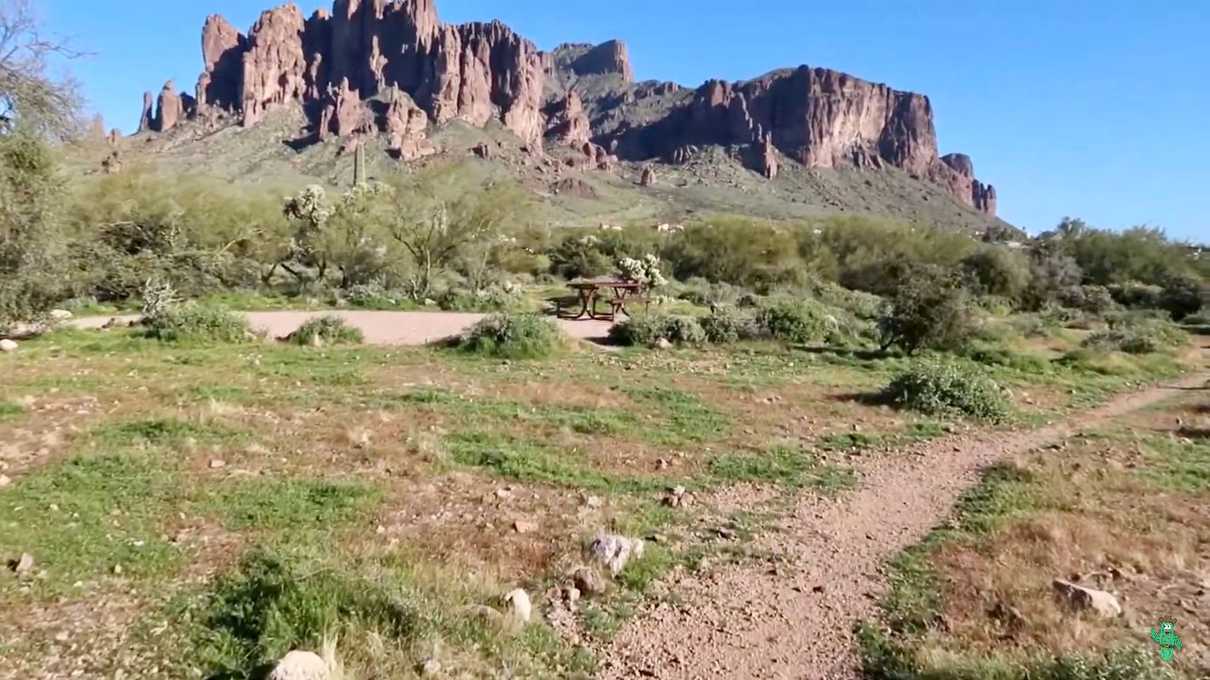 And so it went. After much exploring, dusk was approaching quickly and I could smell the smells of campfire cooking emanating from the campground. I decided to head back over to my site and start making preparations for my dinner.
On the way back to my campsite, I finally saw what I was looking for. I did see a couple tents. For some strange reason, that brought me comfort. I really did start to believe that I made an error and overlooked a tent-specific area or something like that. It appears I did not. Although later I would learn that there is a biker/hiker campground area, but I never saw any campers there, nor did I see a way reserve those.
I don't want to give you any negative impressions of this campground. It's beautiful! Clean. Very bike and hiker friendly. The amenities are nice. Each site seems to have been designed with thought and care. But, I would like to see places like this create a tent-only section, similar to what they did at the Twin Peaks Campground at Organ Pipe National Monument.
But much can easily be overlooked when you take a step back, and take in the plentiful views of the jagged mountains perpetually keeping watch over the park.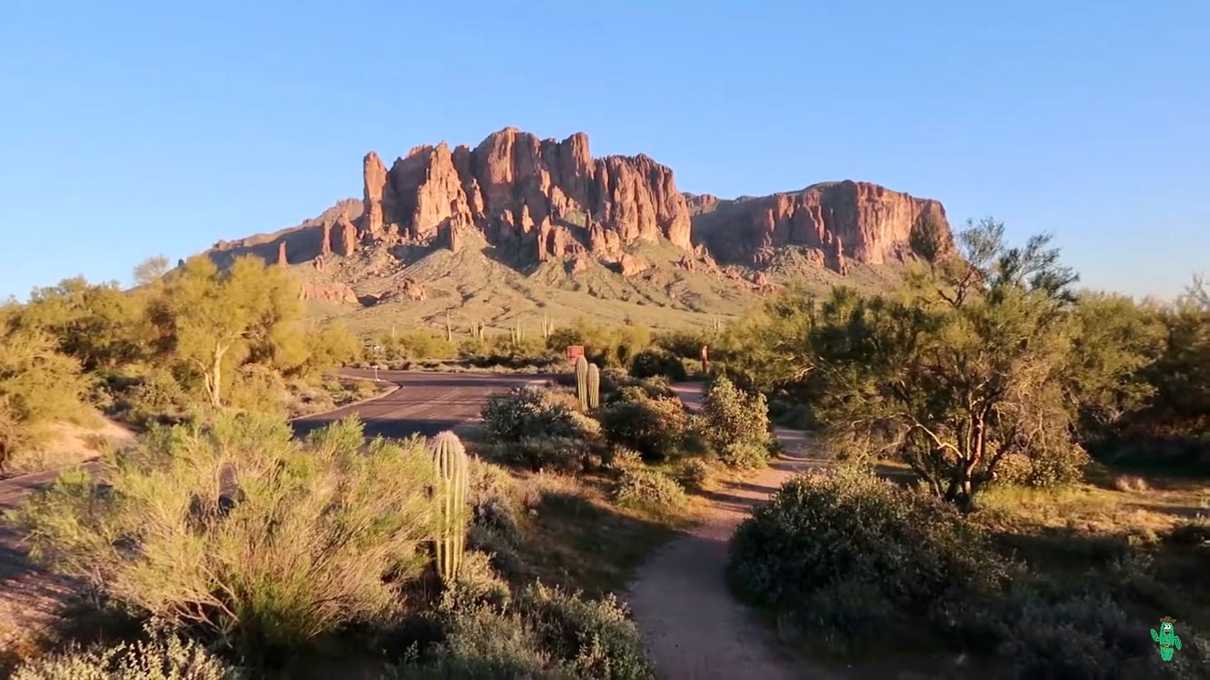 This is a fine campground and I would recommend it for anyone. My main advice for tent campers is to seek a large site if you can. If you consult the reservation website, my favorite sites seems to be centrally located in the main loop. There are a few nice ones with great views of the mountains, lots of privacy, while being near to the restrooms. But as I learned, you may need to book well in advance. And summer is definitely not a time of the year you'll want to be camping in the desert.
I will admit that much of the blame for my disappointment with the small nature of my site is because I booked at the last minute.
Of course, if you're in an RV, then virtually any spot you get is going to be great! And chances are if you are a RV'er, you already know this place and I didn't tell you anything you didn't already know.