As 4th of July weekend approached, I toyed around with the idea of getting out of the house on a camping trip. I checked campground after campground for availability, striking out every time. Perhaps I thought maybe I'd catch an open reservation somewhere because someone cancelled. No luck. But, what did I expect? Well, probably not a big deal because even if I did find something, who would want to stay at a packed campground during the COVID-19 pandemic anyway? So, I resigned to the fact that it just wasn't going to happen. Probably for the best.
A few days before the weekend though, the urge to get out started nagging me again. I don't know why, but an Arizona State campground I had not checked yet popped into my mind. Homolovi State Park Campground. I'd heard good things about it, and I wanted to review it, but surely that one would be full like all the rest, right?
Well, to my delight, not only did they have availability, the place was almost vacant! Just a few campsites reserved here and there throughout the whole weekend. So what gave? I could almost not believe it! I next checked the weather. Was it going to be so hot there that people just didn't want to camp? Nope. The weather looked good to me. Low 90's during the day, and even into the upper 50's at night. In July even! Sounded almost perfect to me. So, with little hesitation, I jumped on it and decided to go for it.
My campsite, site 14, is located towards the rear side of the campground. So, upon arriving, I got to drive through most of the campground. As the reservation system suggested, not many people were camping. Just a few RV's scattered here and there. Nice and quiet, just the way I like it!
Homolovi State Park is positioned in Northeast Arizona, about 56 miles from the north entrance to the Petrified Forest, and about 63 miles away from Flagstaff. The campground is just minutes away from downtown Winslow. So plenty of modern convenience is just a stone's throw away.
The terrain around this region is pretty exposed. It's some kind of high desert shrub/grassland. Very sandy dirt. Really no natural trees on the landscape, although the campground has small trees spread about, perhaps one or two per campsite. Just don't expect them to provide much shade and be sure to bring plenty of sun block!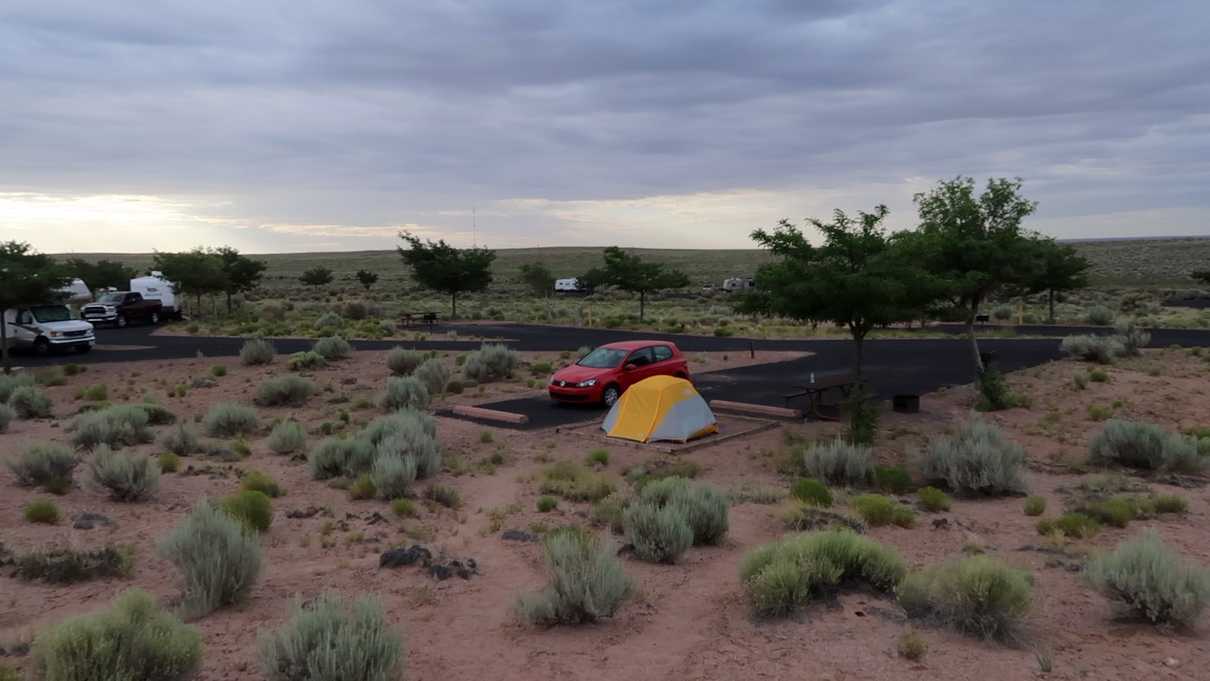 I'd seen a few videos of this place prior to this trip, and I admit it seemed barren. Not the most interesting looking environment. However, when I settled in and started to experience the views for miles and miles, I quickly gained an appreciation for it. Strangely, that landscape still calls to me, even weeks after my visit. It's more beautiful than you might think initially.
As for the campsites, there are typically three kinds. Non-electric (like my site), some with 30 amp hookups, and some with 50 amp hookups. Prices range from $18.00 - $30.00 depending on what you choose.
Many of the campsites, like mine, have tent pads. Interestingly the state park site indicates that there are about 10 sites with tent pads, although I counted over 20, so I assume their info is a bit out of date. On our video, we show you which sites we found to have tent pads in case that is important to you.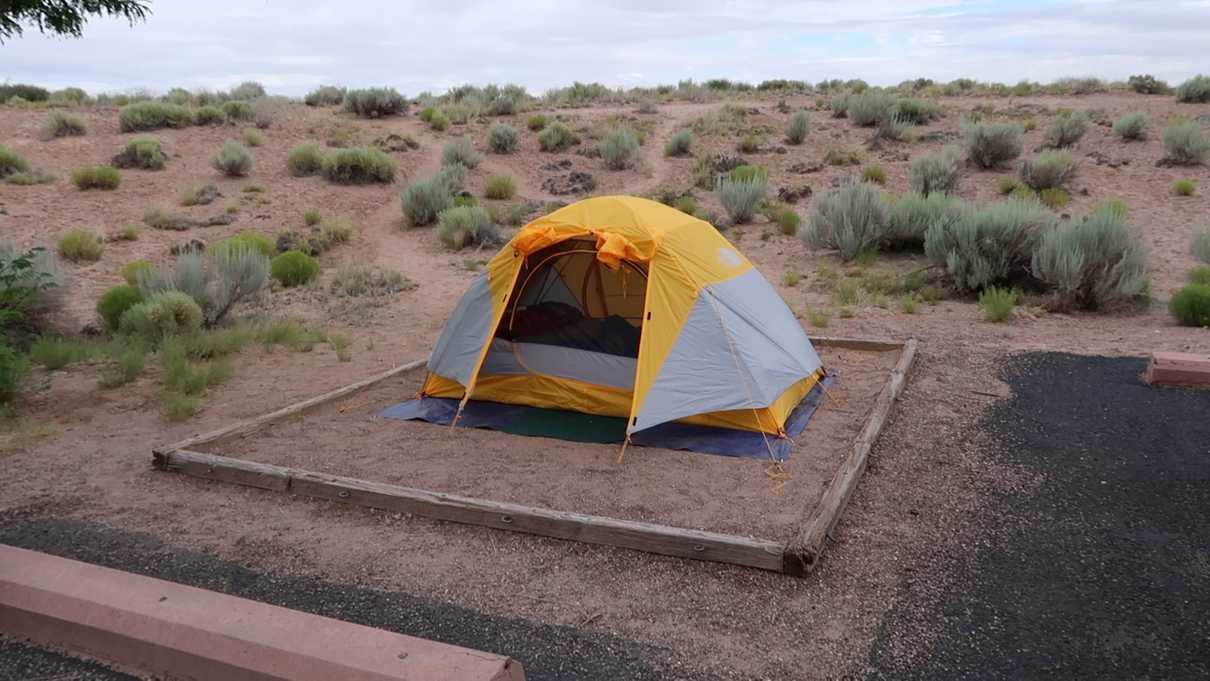 Every site comes equipped with a picnic table, fire ring, and a stand up grill. Note the fire rings do not have attached grills, but the stand up grills more than make up for that. I was surprised to learn that there were no fire restrictions during my visit, but they did ask to keep fires a reasonable size. That's rare in Arizona during the summer months.
Each site has its own water spigot, and the driveways all seemed to be pretty generous in length. They also have pull-through sites for larger vehicles, and the website states that the max length for RV's is 83 feet. I'm not an RV'er, and wonder, do they actually make RV's that large? Regardless, I perceived no issues getting just about any kind of RV in that place.
There's also a dump station located near the entrance to the campground, as well as large dumpsters. Do note that there were no trash cans interspersed throughout the campground, so you'll have to haul your garbage to the main dumpsters, although there were a couple small trash cans next to the restrooms, good for discarding small things.
Speaking of the restrooms, there is only one facility at the campground, but it does have running water... so sinks, flushing toilets, as well as showers. The toilets were clean the entire time I was there. So were the sinks. They even had hand sanitizer and a required mask policy in the bathroom, which were welcome things during the pandemic.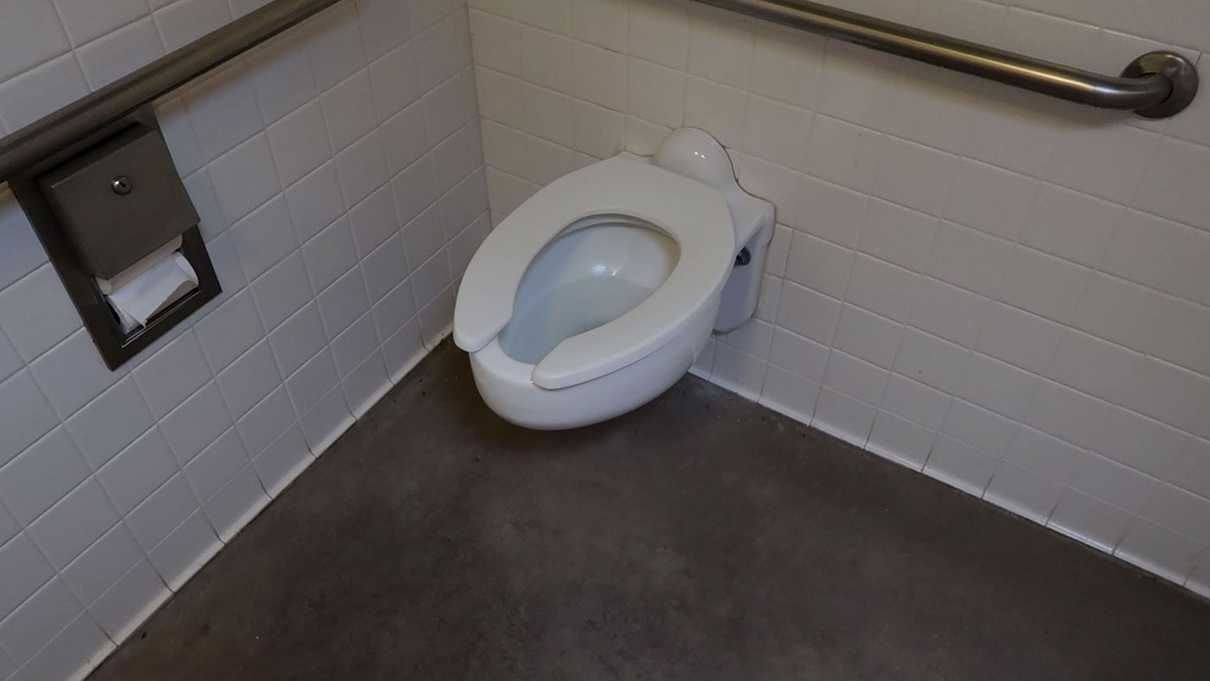 The showers were also a very welcome thing and I did use them each day of my trip. No additional fees for the showers by the way, and the hot water was plentiful. Never had any issues.
Another nice little perk is that cell phone service was amazing. I had a full signal in the campground the whole time, probably because the sizable town of Winslow was just mere miles away. That's always a convenient bonus.
To be honest, I found very little fault with this campground. The only minor gripe I have for you is that you can clearly see Interstate 40 from the campground, and will hear a constant hum in the background as semi trucks drive by at all hours. Also, you will hear trains chugging through the area at most hours as well as their horns. The railroad runs parallel to I-40. To be honest though, I've always been kind of a sucker for trains, so to me, the sound was comforting. And I don't want to give you the impression that any of this was that loud. The campground is far enough away from the highway that it's a faint drone, but I guess what I am saying is that it's a constant reminder that civilization is not far away. But please do not let it deter you from visiting.
The only other thing to note is that based on the abundance of signs, clearly this is rattlesnake country. Lots of warning signs for venomous reptiles and insects posted everywhere. I had also read (it may be on the state park website in fact) to be careful at night and to bring flashlights with you as rattlesnakes love to warm up on the pavement in the campground. In my three night stay however, I never once saw a single snake, scorpion, or any other threatening thing, although I did see evidence of snakes in the desert area in the form of squiggly lines left in the sand.
On my last night there, which happened to be the 4th of July, I walked up on the hill right behind my campsite and faced west towards the San Francisco Peaks of Flagstaff, visible from this area. I witnessed one of the finest sunsets I've seen in ages, shortly followed by a fireworks show in nearby Winslow. Quite the fitting end to an almost perfect trip.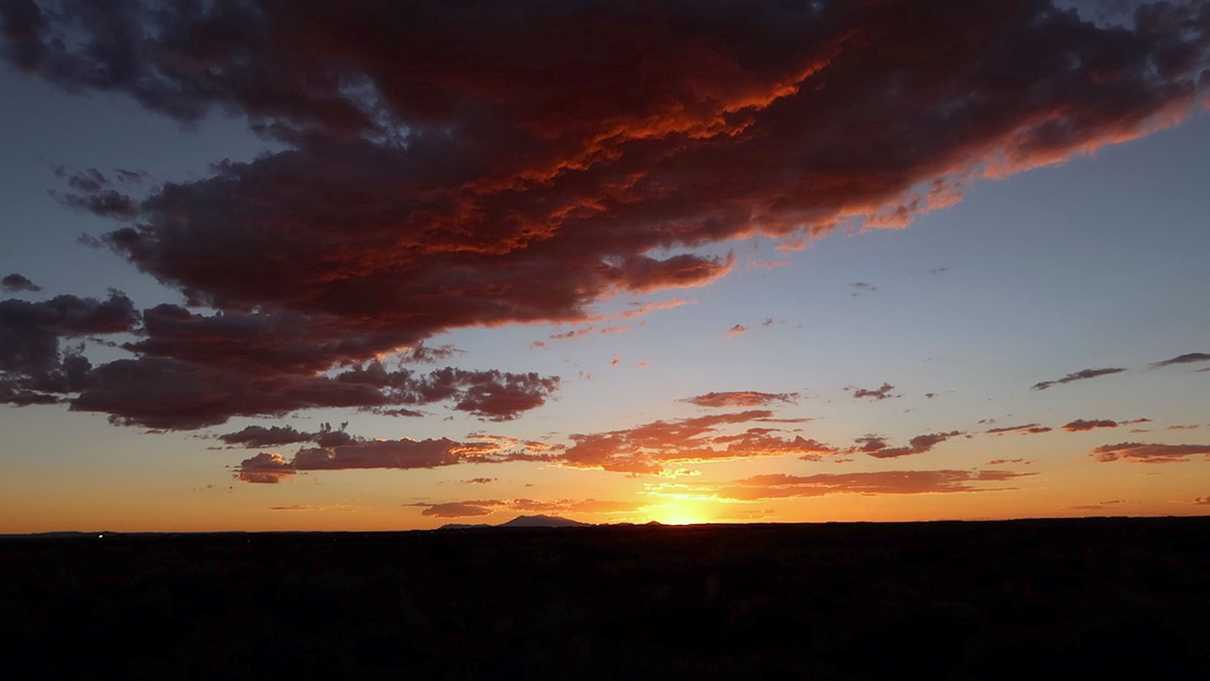 Overall, this is a fantastic campground, and I'm still confused at how empty this place was on a holiday weekend. I can't say it was my favorite by any means, but for Arizona, it ranks pretty high up on my list.
Plus, from a location standpoint, how can you go wrong? If you need a place to hang overnight while you visit Petrified Forest National Park, this place makes a fine base of operations. Meteor Crater is also not far, or even Flagstaff for that matter. Maybe you want to explore some historic Route 66 stuff in nearby Winslow? And of course, let's not forget Homolovi State Park itself, which was good enough to warrant us doing a separate blog post and video about.
Homolovi State Park Campground exceeded all of my expectations and I look forward to going back sometime soon. I still have much to explore in Northeast Arizona, and this place will forever be at the forefront of my mind when choosing a place to camp in this region. You should check it out too!