Sometimes you camp just to camp. Sometimes it's a matter of convenience, or perhaps a way to save a buck or two. Other times, you want to be part of what makes a place special. To wake up each morning, zip open the front of your tent, and be presented with a jaw-dropping spectacle. To have nature smack you square in the face, in a good way of course. Every morning I woke up at the South Campground and exited my tent, Zion was right there in all its glory, eager to peel my eyelids wide open and blow the city life straight out of my soul.
In every moment of my stay at the South Campground at Zion National Park, I found myself within a baroque landscape, with the towering Watchman looming above me in the immediate distance. My campsite, site number 85, was parked right in front of these mountainous cliff walls. Imagine waking up every morning, stepping outside and seeing this: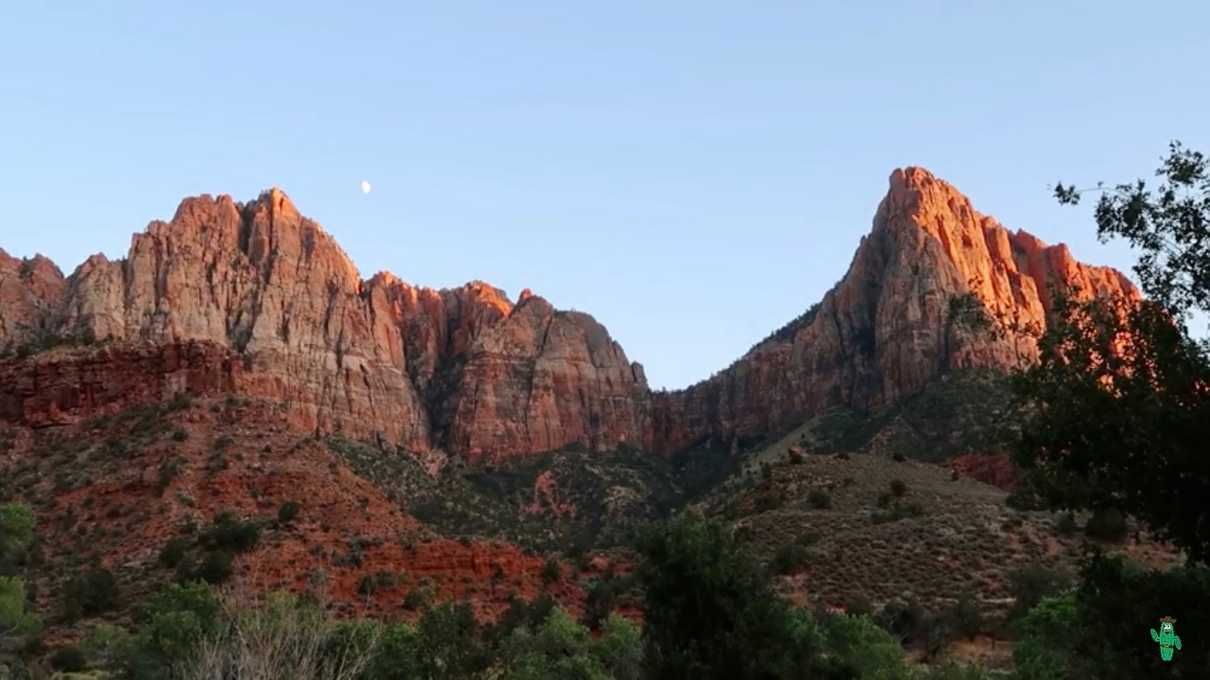 Boom! You can have this at the South Campground.
Unlike other parks such as Grand Canyon or Bryce, where most of the action takes place up on the rim of a canyon, at Zion, you experience everything from deep inside the canyon. It was a refreshing perspective for an Arizonan like me. But, let's take things down a notch for a quick moment, shall we? Time to take an objective look at the campground itself.
Imagine if we could take the South Campground out of the context of Zion National Park and plop it down in a less interesting landscape. I'd probably say the campground is okay... a little better than 'meh', but nothing that is going to blow your mind. If it required a grade, I'd give it a B. It's good, but not the best.
I found it to be pretty standard fare for a National Park. You get a picnic table, fire ring with attached grill, access to nearby water spigots, flushing toilets and running water. Plenty of very clean and well-maintained facilities. But, no showers inside the campground, although there are places very nearby where showers can be had. More on that in a bit.
Overall, the list of amenities did not top other campgrounds I have stayed at, but you have more than enough to be comfortable.
The campsites themselves are a bit tightly spaced for my taste. There are not many trees, boulders, or other natural things to create a feeling of privacy. At least not in the section I stayed in. You'll be face to face with your neighbors much of the time, but just far enough away so as not to make out clear facial features.
The few trees near my campsite provided occasional shade, but it would be a stretch to call this the woods. There were a few times that the afternoon sun made things a bit warm, especially in the low 90 degree heat of early September, but it was rarely a problem since I was usually out adventuring somewhere in the park at these times.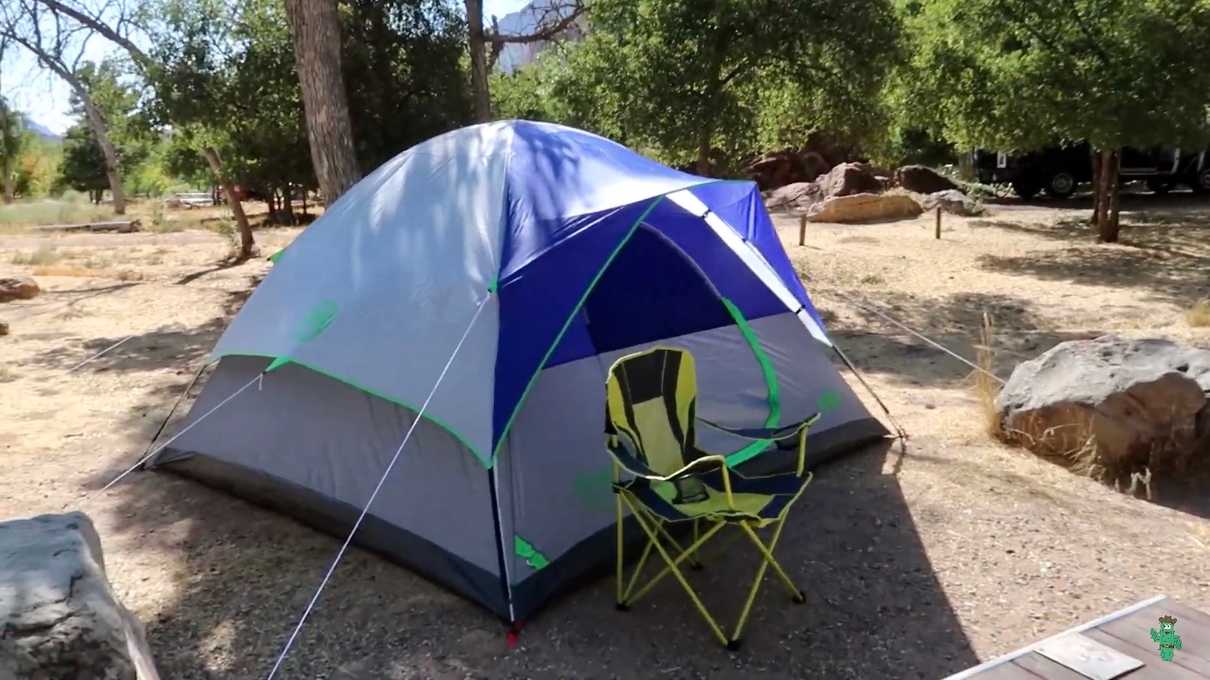 But, lucky for us, this slightly above average campground is not in some mundane field somewhere. You'll be constantly distracted by what nature did to worry about anything else. And that is the main strength of this place.
Outside of the obvious surrounding scenery, one area where this campground really shines is the convenience factor. You are within walking distance of the visitor center, where you will certainly be catching the official Zion National Park shuttle service each day to make your way around the park, since much of it is off limits to private traffic. The close proximity of the campground to the shuttles should not be understated. It gives you a leg up on beating the crowds as you can get an early start and hit the popular sites before the hordes arrive, and believe me, they will. This is an insanely popular National Park with international appeal.
The South Campground and visitor center are located right inside the south entrance to the park, bordering the town of Springdale. The first signs of civilization are located within minutes of walking from the campground, or a two or three minute car ride. The popular Zion Outfitter is immediately adjacent to the park. You can buy some cool merch at the outfitter, rent affordable equipment to help you navigate the popular Narrows inside the park, or even rent a bicycle. And, you can take a shower there (for a fee). It's all so close that you will feel as if you never left the National Park.
Also in this area are a market, coffee shop, and a casual little pub where you can grab a beer and a bite to eat. My only minor gripe is that the prices for basic things like ice and firewood, hot dogs, beer and the like were a little high, but I suppose you pay for convenience. But, everything you'll need for your stay is right there. Check out our video if you want to get a deeper look at these facilities.
You can also venture a little deeper into the town of Springdale and find plenty of restaurants, shops, and modern conveniences. You'll never feel far detached from creature comforts if you need them.
But, we don't go to places like this to feel too comfortable, do we?
Now back to nature. There are nice trails all over the area of the campground, well suited for running and biking. You can take a stroll down to the nearby Virgin river and dip your feet in for a bit if you want to cool off. There are even a few campsites I found that are within earshot of the gentle sound of the flowing stream. One of my favorite moments at the campground was just sitting by myself, next to the water, enjoying an introspective moment.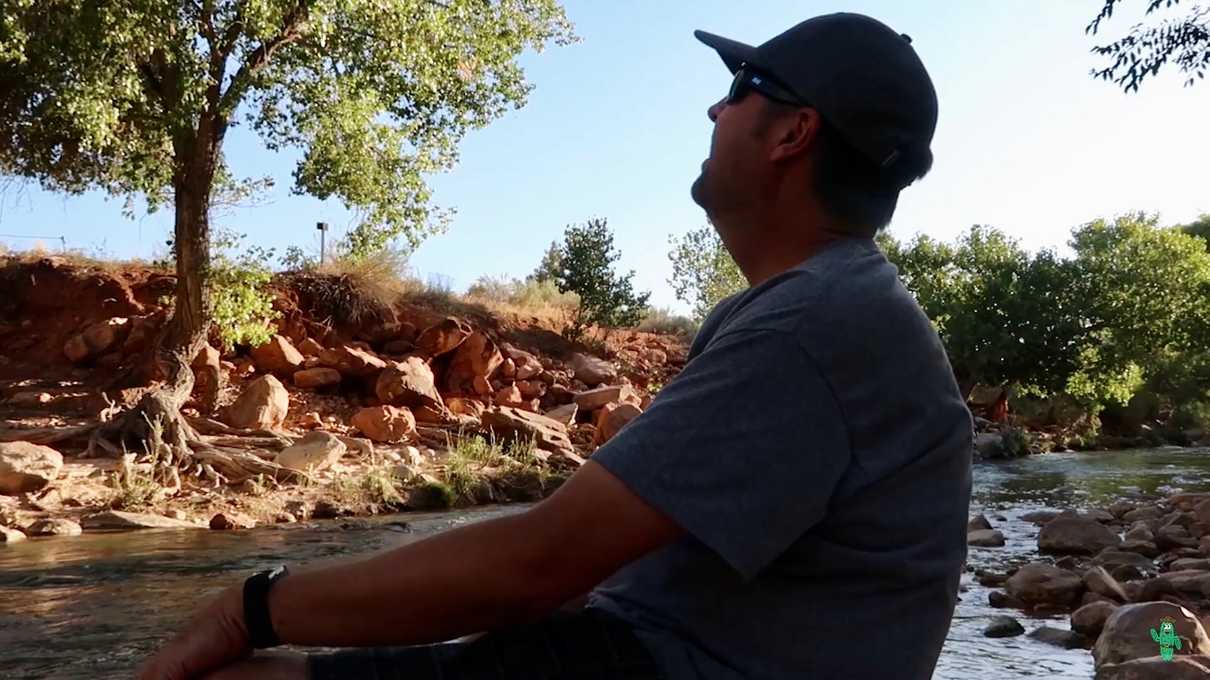 Hang around the campground or surrounding areas long enough, and you're bound to run into a mule deer or three grazing on the grass. I even had a few casually stroll through my campsite one peaceful morning.
Overall, my time at the South Campground was magical. The massive scale of the surrounding landscape, juxtaposed with meditative moments by a stream, or the howl of a lone coyote echoing off the canyon walls in the middle of the night, gave me a constant reminder of what is truly important in life. Most of all, it was all a reminder that everything is gonna be alright. More than alright.