On a sunny Tuesday morning in October, I set off from my home base in Phoenix, Arizona, determined to camp for a couple days at Valley of Fire State Park. As I drove north out of the Sonoran desert towards Las Vegas, I felt a little apprehensive. I'm a planner. I like guarantees. The two campgrounds at Valley of Fire State park do not take reservations. They are first come, first serve only, all the time. And it was now peak season. A few weeks before this trip, I called the park and asked just how crowded the campgrounds get. I was told to avoid the weekends and arrive as early as possible, and I should have a decent shot. However, when driving up from Phoenix, arriving early in the morning is a little easier said than done, but at least it was a Tuesday and surely that would work to my advantage, right?
Wrong. I arrived at the western gate of the park around noon. I nervously asked the ranger on duty if there were any vacant campsites available. She answered me as if she had answered this same question hundreds of times before on this day. Not a chance, but feel free to drive into the campgrounds and see for myself. To lessen the blow, she would not charge me entry to the park if I wanted to check it out, and that if I came across any vacant accessible campsites, to feel free to snag one up.
I smiled cordially and thanked her, but I will admit that as I proceeded towards the campgrounds, a wave of irritation came over me that such an iconic state park did not have a reservation system. And, I did not have a plan 'B' as I naively thought that on a Tuesday, I would certainly find myself a site, no matter what time I arrived. But, the optimist in me had not completely given up hope, yet...
I first drove the loop through Atlatl campground, and just as the ranger said, not a single vacancy. And then through Arch Rock Campground. And again... nothing. My heart sank even further when I saw just how beautiful and other-wordly this place actually was. I've never seen anything quite like this before. I knew I had to camp amongst the fiery-red sandstone rocks somehow. But alas, it was not in the cards on this day.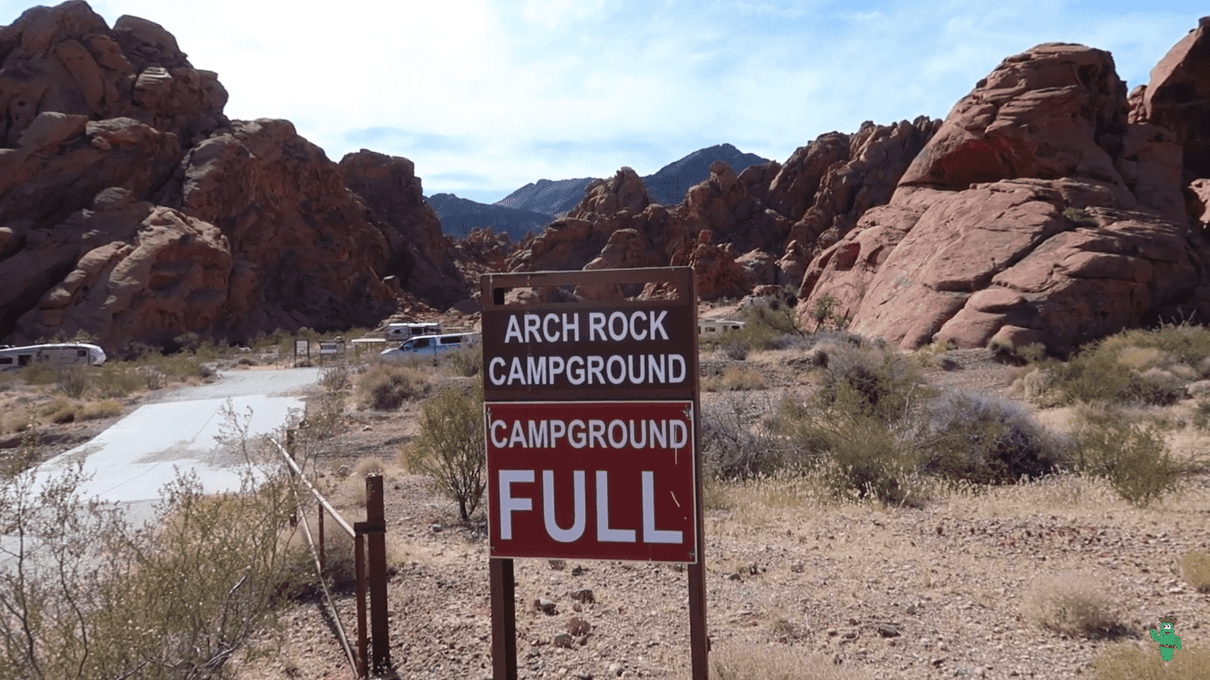 So I scrambled to figure out my plan 'B'. I decided to drive to the nearby town of Overton, and took a chance on an affordable motel named the North Shore Inn for the night, which, by the way, ended up being a very clean and nice option for the price, especially if camping is not your thing or you need a backup plan like I did. There is also some BLM land right off of route 169 between Overton and Valley of Fire that you can stay on for a night or two, but it looked a bit too crowded and full of RV's for a tent camper like me, so I passed and opted for the motel instead.
But enough about that. I was still determined to make this camping thing happen. So, early on the following morning, I got into my car and headed off back to the campground during the 7 O'Clock hour. I had visions of patrons lined up, waiting on other campers to leave, fighting over vacant spots. I was nervous. Could I actually pull this off? The day before made it seem unlikely, being that it was prime camping season here and all.
I decided to head toward Arch Rock campground first, as my drive through the previous day helped to make up my mind that it is the more majestic of the two campgrounds.
As I drove past the entrance to Atlatl campground, which you pass on your way to Arch Rock, my heart sank as the sign still said "Campground Full". Undeterred, I drove around the bend to Arch Rock, and once again, I saw those same words. Seriously? Perhaps I was too early? Maybe I was too late? How could this possibly be?
I drove in anyway. After a few feet into the campground, a kind woman flagged me down and asked if I was looking for a campsite. I let her know that indeed I was, and she said I could have hers once she and her husband finished breakfast. Ah! Such a relief! Followed by slight disappointment...
The campsites near the front were not as entangled in the sandstone as others, but beggars can't be choosers. I took her up on her offer and waited, still convinced that hordes of other campers beat me to the better sites. After all, the sign in front of the campground still said it was full. After exiting my car, I casually looked around and noticed there were many other sites open in the nearby vicinity, and decided to scout further.
Luckily I did, because there were indeed many better sites, already completely vacant, right up the road. I did not hesitate. I snagged the first one I saw that was nestled up nice and tight against some magnificent red sandstone. I did not want to risk losing it. The hordes of campers were surely on the way, right? Best move in now! And so I did. Site 6. Not as close to other sites, more private, with a little room to breathe. Within sight of the restrooms. Looked pretty good to me. So I set up my tent and paid my fee at the self-pay station. Locked and loaded. All mine for the next couple days!
I immediately noticed that you get some very nice amenities at each campsite. You'll get your own water spigot for drinking water, a campfire ring with attached grill, a stand-up barbeque grill, and a picnic table, covered by your own private ramada. Out of all my recent journeys, this campsite had the best campsite amenities, beating out all the National Parks I had stayed at in the past few months. A little surprising, since this was technically a dry camping experience, meaning no running water (flushing toilets, sinks, showers, etc...).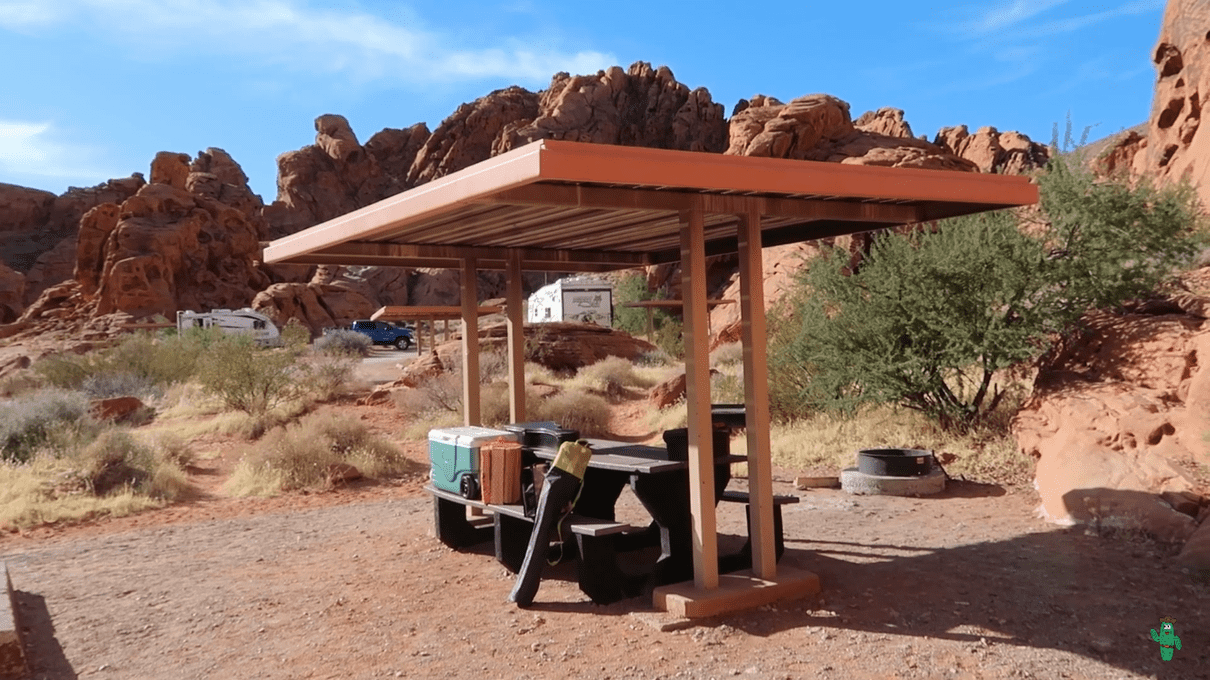 Each site has a long private driveway, making the camp sites accessible to sizable RV's and campers. I did not perceive a size restriction while there in terms of driveway length, but certainly some of the twists and turns on the campground loop might pose some challenges to the largest of vehicles, especially in the back section of the campground.
To my surprise though, despite the large driveway lengths, the tent pads were a bit too small in my opinion. I have a 10 ft. x 10 ft. tent, and the width of the tent pad was a couple feet too small, requiring my tent to overflow out of the pad a bit. I also had to get a little creative with staking in my tent as I hit solid rock a few times outside of the tent pad, which was starting to bend my most heavy-duty tent stakes. But with a little creativity, I made it work. Thankfully I did a good job with it, because there were some very gusty nights out there in the desert.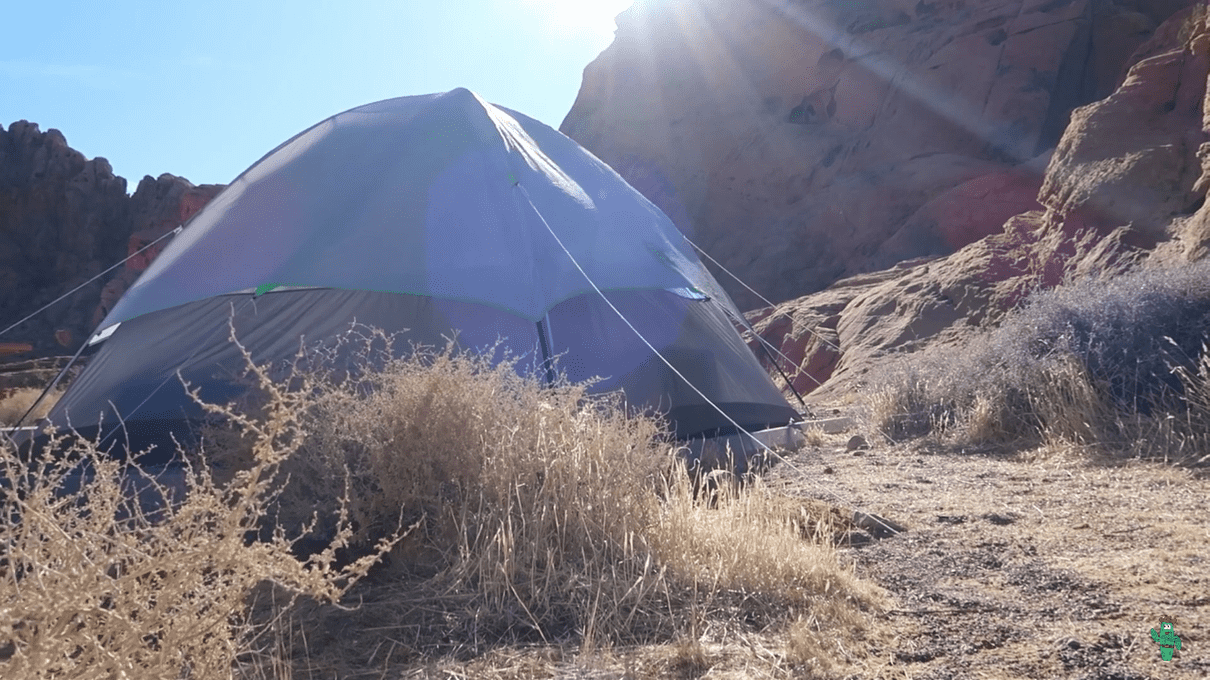 After setting up camp, I decided to check out the restrooms. Being a dry camping experience, I'm always thankful for any restroom facility (flushing toilets or not), and at Arch Rock, you'll be dealing with vault toilets. And I'm not going to lie. The smell could singe the hairs off the inside of my nose at times, especially when other campers failed to keep the seat cover down. And even though my campsite was comfortably far away from them, there were a few times when the wind blew just right that I could smell the stench from my site. Thankfully that only happened a couple times, but it made me wonder if they were a bit overdue for emptying.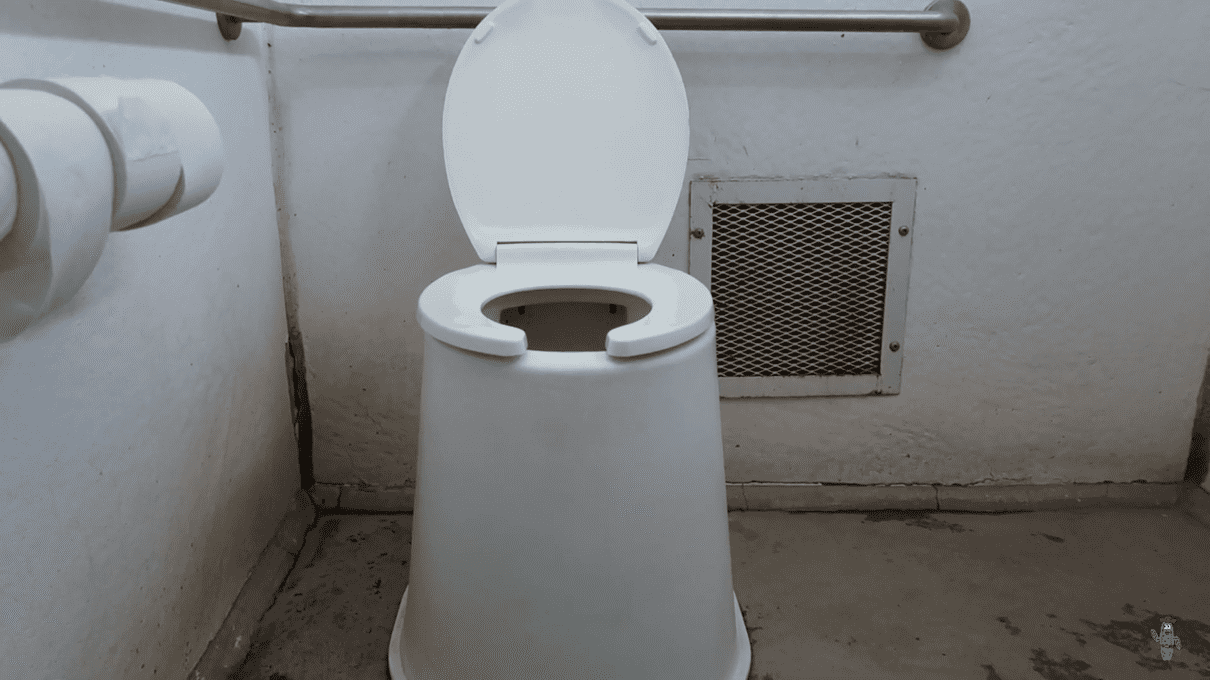 If dry camping is not your thing, consider staying at Atlatl campground, right around the corner. They have complimentary showers (with hot water), flushing toilets, and sinks. And even if you don't stay there, I took advantage of those showers a couple times during my stay at Arch Rock. Just know it is a bit of a hike on foot, and parking is slim, so you might have to walk like I did.
Another pro tip I have for you is that there is running water at the restrooms behind the visitor center, and if you get there before it opens, you'll have it all to yourself. Decent place to brush your teeth and freshen up early in the morning.
After checking out the facilities at Arch Rock campground, I explored the sandstone rocks up against my campsite. After climbing up a few feet, I discovered the secret of site 6. A hidden private grotto, out of view of the rest of the campground. It was covered in graffiti, but nonetheless a very cool, fun little feature.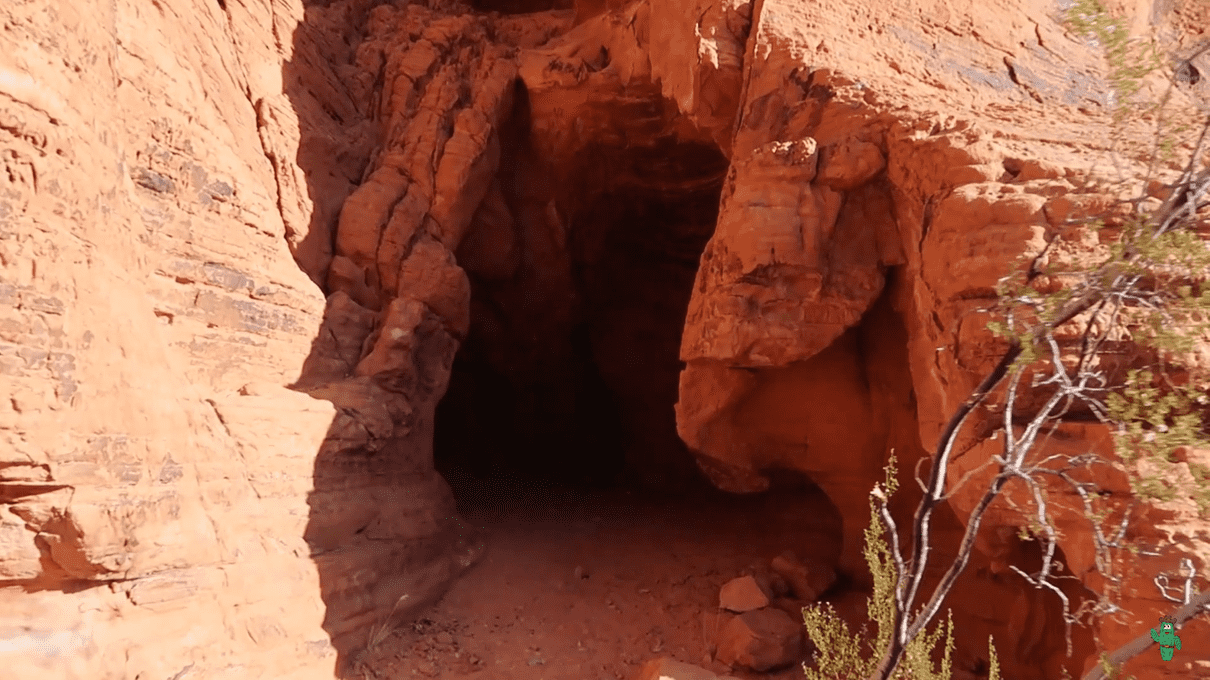 At this point, I decided to circumnavigate the rest of the campground and see how filled up it had become. It was probably around the 9 O'clock hour at this point. As I headed towards the back of the campground, I quickly realized that there were still vacancies. There were still even better, more secluded campsites than I had chosen. Part of me felt foolish for painting images in my mind of campers fighting over sites and rushing my decision. I'm a little too 'Type A' for my own good I suppose.
So, one lesson I have for you is to maybe take your time and take a spin around the campground before making a choice if you get there early. I'd be lying if I didn't say that part of me wishes I snagged a site like 18, 21, 22, 23, or 24. Those were among the best of the best I thought. Check out our video if you want to see what I'm talking about.
Technically, I still could've switched sites at this point, but being as though I had already set up my tent, paid my fee, and had my own private grotto, I felt content and didn't want to mess around with it. And don't get me wrong, site 6 is amazing and I loved it, otherwise, I probably would've.
The only sites I did not care for were the ones in the center near the entrance. Like the one the thoughtful fellow camper offered me. Those were too close together, away from the rocks, and lacked the seclusion of many others. So shop wisely, but even if you do end up with one of the less private ones, Arch Rock campground is still amazing and you will be happy to be there regardless.
Now, a few other things to note. Cell phone coverage is almost non-existent at this campground. I have Verizon. I was able to squeeze off a text message or two to my wife from the campground intermittently, but more often than not, I couldn't. I had the best luck trying underneath the ramada at my campsite, which is made of metal, so I assume that must've boosted the signal just enough the few times I found a sweet spot.
As for nearby supplies, the town of Overton is about 17 miles away (about 30 minutes one-way if you drive the speed limit). They have a full-sized grocery store, gas stations, fast food, and just about anything you would need. It was a much larger town than I initially imagined.
At night I was able to see the Milky Way from my campsite, although you may be surprised to read that you can see the lights of Las Vegas on the horizon, even though Vegas is about an hour away by car. But it was a faint glow, and not enough to dampen the beautiful night sky.
Finally, perhaps it was coincidence, or maybe the mystic healing power of those large sandstone formations, but people were especially friendly and talkative at this campground. Not enough to be intruding though. If you've watched any of our videos, you'd know that I love my seclusion and peace and quiet, but Valley of Fire does something to bring out the best in people's spirits, and I enjoyed that.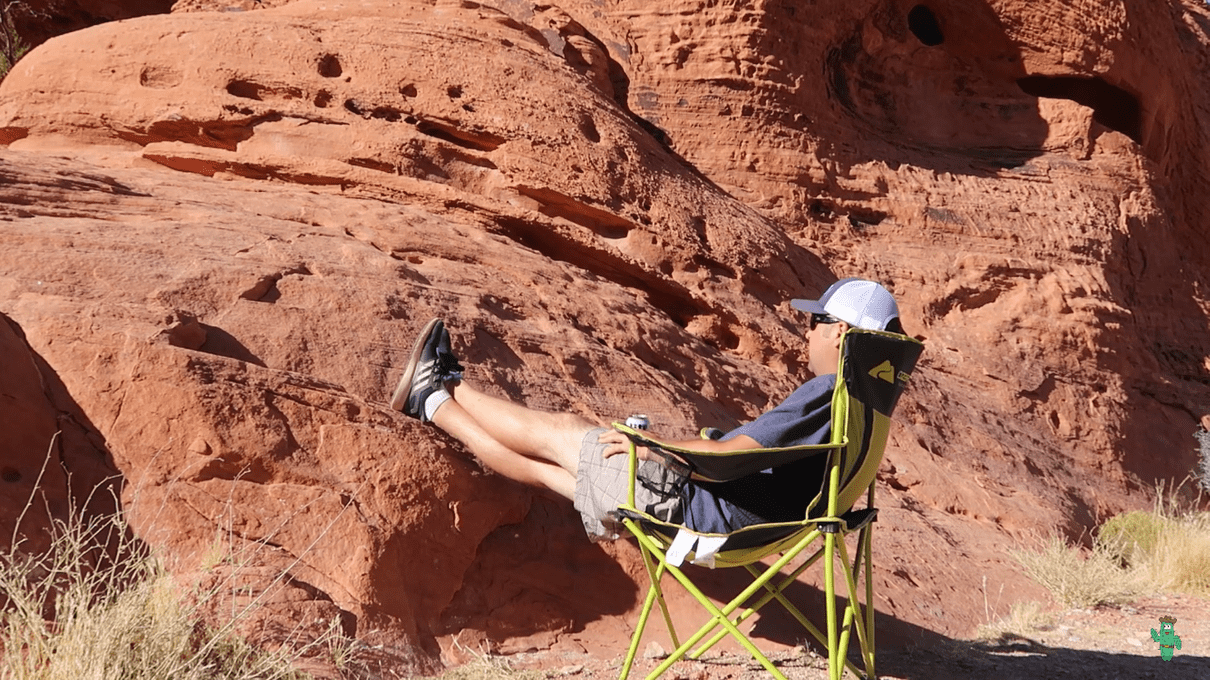 Overall, I was captivated by this campground. It currently ranks as my all-time favorite. Perhaps one day something else will beat it, but there is nothing like camping in this Martian landscape. I will never forget it, and I can't wait to go back someday. My only major gripe is that there is no reservation system, which is a shame for those of us on tight schedules. But, if you really want to make it happen, aim for the middle of the week, and head out early in the morning. Oh, and ignore those "campground full" signs because they apparently don't bother updating them, even when the campground has 75% vacancy!