There is something majestic about ponderosa pines. They're one of my favorite trees. Did you know that if you get up close and personal with one and take in a whiff, you'll be delighted by the scent of vanilla and butterscotch? Don't believe me? Well, if you ever find yourself at the North Rim of the Grand Canyon at the aptly named North Rim campground, you'll have your chance to test this out for yourself. That's because you're going to be camping in a dense forest of ponderosa pines. Just don't blame me if people give you funny looks while taking a sniff for yourself!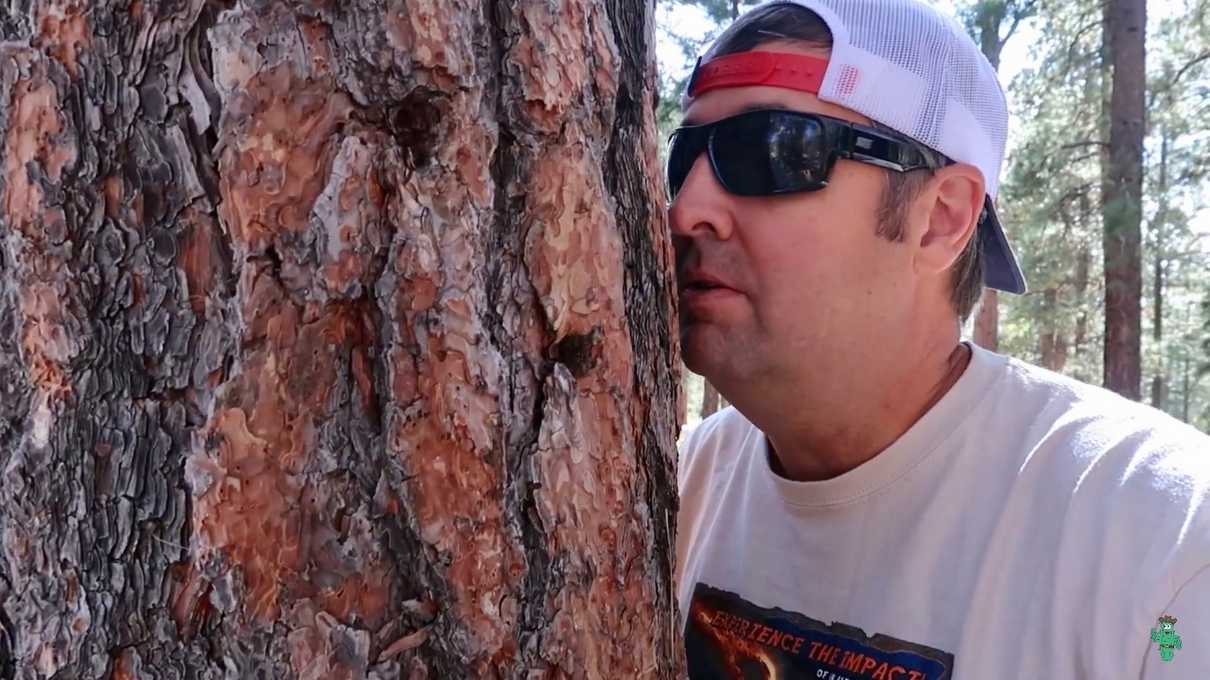 If you've visited the South Rim and experienced the pinyon/juniper forests common there, you may be surprised to know that the North Rim is a bit of a different world. The North Rim is located at a higher elevation than the South Rim, and as such, experiences much cooler temperatures. Because of this, you'll experience much different flora and fauna there.
In fact, the difference in elevation is enough to warrant shutting down the North Rim for the winter season, unlike the South Rim, which you can camp at and visit year round. So, know that the park, as well as the campground, has a much shorter season than many other parks. The campground closes on October 31st and won't reopen until mid-May of the following year. And, it's still highly possible that you may get snowed on early on in the season. Be prepared for cool temperatures during your stay! Yes, you'll be in Arizona, but it ain't the desert!
If I had to choose between visiting/camping at the South Rim or the North Rim of the Grand Canyon, I'd choose the North Rim all day long. Don't get me wrong, the South Rim is an amazing place, and the Mather Campground is a fine campground and you won't be disappointed. It's just that the North Rim has a much different vibe. Things feel a bit further removed. More peaceful. Less people.
This vibe is reflected in the campground itself. One of the first things I noticed when I arrived at my campsite, site 52, is how well spread out the campsites are. I've stayed at several National and State parks in recent times, and I'd say the North Rim reigns supreme when it comes to how far apart the campsites are. Yes, you can still see your neighbors, but they are much further away than at most campgrounds. The ponderosa pines and occasional aspens also help break up lines of sight, adding an element of slightly increased privacy in most cases.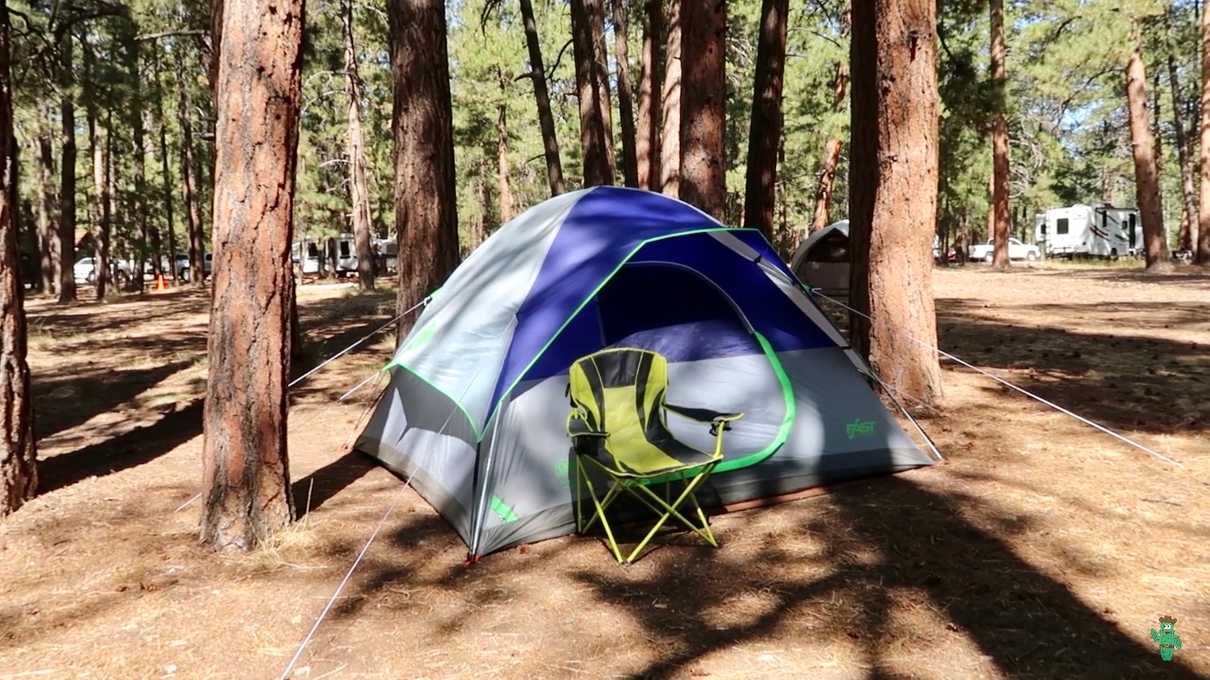 As with most National Parks I've been to, you'll enjoy a few standard campsite amenities. You'll get a fire ring with attached grill, a picnic table, access to nearby drinkable water, and several restrooms with running water (flushing toilets and sinks). One thing I remarked on when I was there was just how clean the restrooms were at all times. The cleanest of any park I've stayed at. So kudos to the staff that maintains them, or perhaps the courteous campers that have good aim! Probably a combination of both.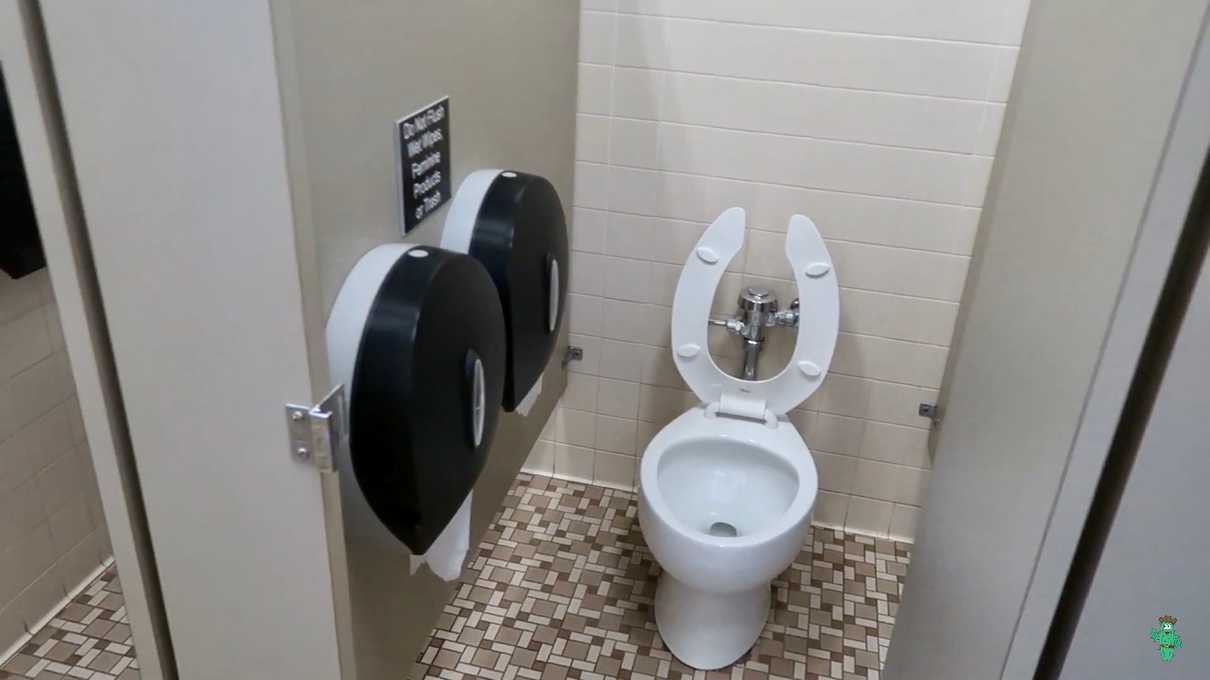 But the amenities don't stop there. Within walking distance of your campsite, you'll find a laundromat, as well as showers, all of which are coin-operated. At the time of this writing, a shower cost me $1.50 for 6 minutes. A quarter per minute.
Another super handy thing is that there is a general store located here, once again, immediately adjacent to the campground. If you are familiar with the general store at the South Rim, which is pretty much a full-sized grocery store, the one at the North Rim is much smaller in comparison. I'd say it's a tad larger than your average convenient store, but not by much. It's very clean, and you can buy plenty of snacks and essentials here, as well as a respectable selection of frozen meats, produce and vegetables, as well as some craft beer if that's your thing. You can also get yourself a cup of hot coffee too. I was honestly surprised at how much they had to offer, considering how remote the location is. Everything you'll need is there, including ice and firewood.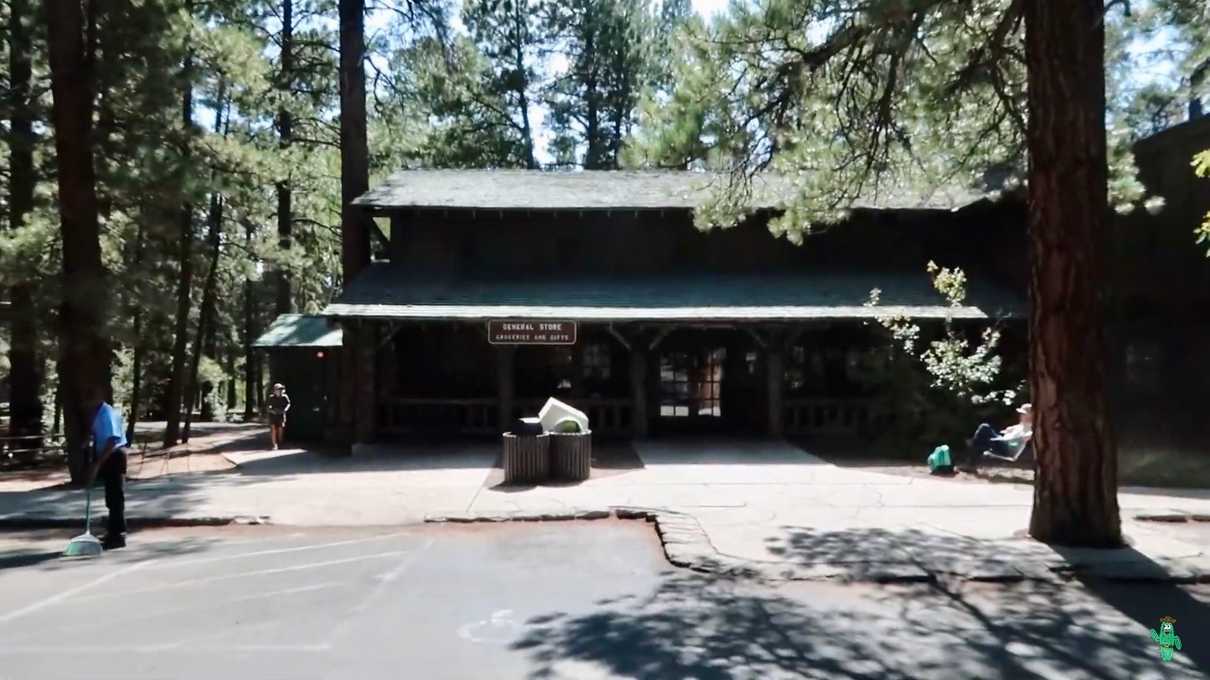 As I normally do, I made a video and take a deeper dive into the general store if you want to learn more.
Speaking of remoteness, you may also be surprised to know that the North Rim has its own gas station. And thank goodness they do, because I imagine if they didn't, people would get stranded there all the time. At the time I visited, gas was 20 cents more per gallon than my local gas station in Phoenix, but I suppose they could gouge you much worse if they wanted to since you have no other options. And, during your stay at the park, you'll be driving… a lot. Things are very spread out at this park, more so than you may realize. So by the end of your stay, you'll probably be running on empty and need to fuel up before making the long trek out.
The station is full service, so you'll not pump your own gas. Not sure if tipping was expected, but I did tip and appreciated getting my windshield cleaned after all the driving I did. The attendant was very appreciative and friendly. Only thing is that when I fueled up, they lost their internet temporarily and accepted cash only, so luckily I had cash on hand. You may want to keep that in mind when you visit!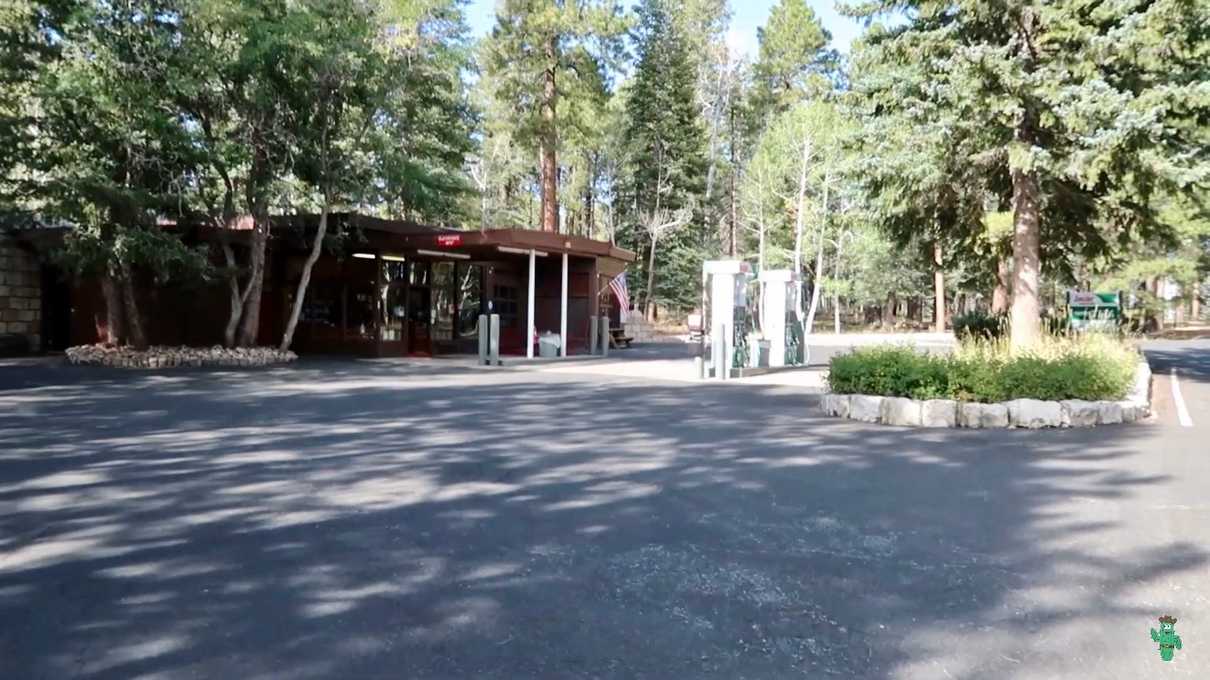 As mentioned, it can get cool at the North Rim, even when you'd think it wouldn't. I learned my lesson the hard way. I camped there September 24th-26th of 2019 and brought my sleeping bag rated for 50 degrees. On my first evening, I woke up shivering cold. I think it got into the low 40's, maybe upper 30's that night, so come prepared. Thankfully, the General Store saved the day and I was able to buy a very warm blanket for a reasonable price, which kept me warm for the remainder of the trip.
A few extra things you may want to note is that cellphone coverage was extremely spotty for me (I have Verizon), and more often than not, I did not have any service. I was able to send a text message here and there, but don't be surprised if you struggle a bit with it.
Also, even though the ponderosa pine obscure the night sky a bit, from what I could see, the stars were brilliant. I'm sure if you got out from under the trees, you'd be treated by quite a light show.
On the morning of my departure, I was greeted by three mule deer right outside my campsite. It was a nice parting gift.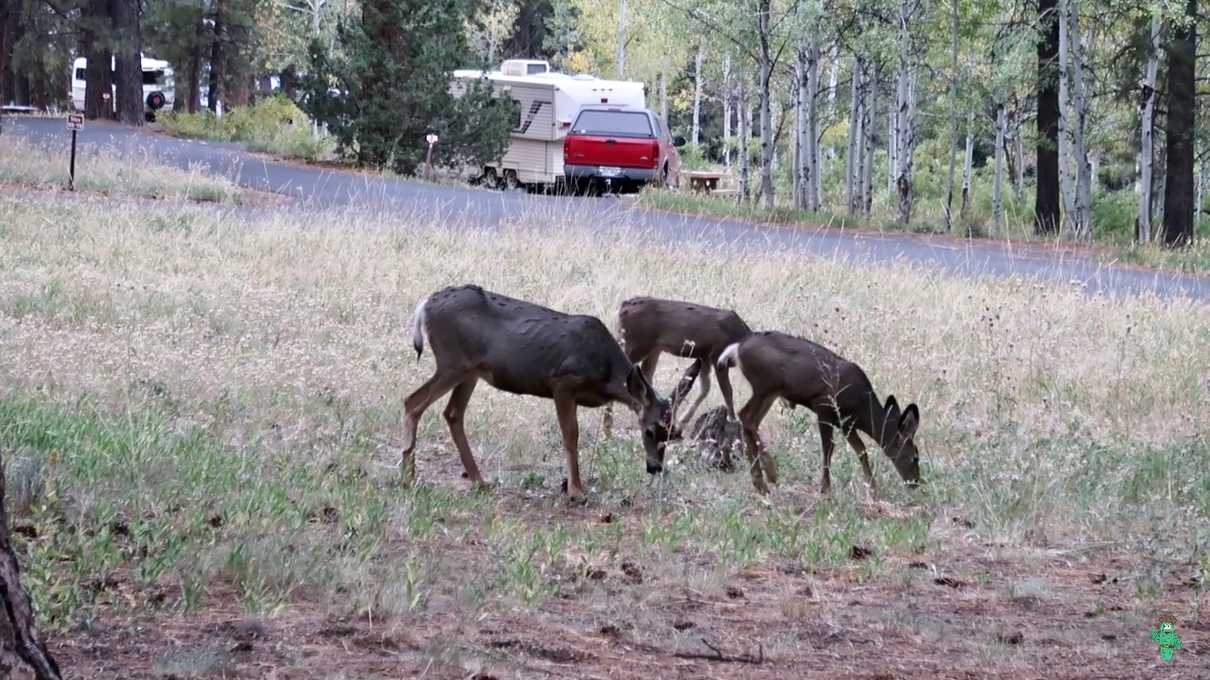 Before I hit the road, I hopped into the general store one last time to get myself a cup of coffee. It was one of those times that you have to leave somewhere with a heavy heart. I knew I was going to miss this place. Many months later, I still think about it often.
I think I used the word 'vibe' a couple times earlier in this post, and that's the best way I have to summarize all this: the North Rim simply has a good vibe to it. Not sure how else to express it.
Camping there provided me with a very tranquil escape from the craziness of every day life, and I cannot recommend this place enough. If you ever get the chance to visit, and I hope you do, you will not regret it!