On a late September morning in the year 2019, I packed up my campsite at the North Rim Campground at Grand Canyon National Park, and then hit the road. My destination: Bryce Canyon, Utah. Yeeeeehhhaaawww!
It would be my first trip to Bryce. I was very excited, but at the same time, uncomfortable. My plan was to snag a spot at one of the two campgrounds located in Bryce Canyon: either the North Campground, or Sunset Campground. Unfortunately, due to maintenance projects and the like, they shut down the reservation system on recreation.gov, and the campgrounds were first come, first serve only. I'm not a fan of that, especially when I have to drive for hours, with a likely chance of being let down.
As always, I left early. The recommendation I heard was to get there before noon if I were to have a chance. So, I was on track to hit that, until I realized upon crossing into Utah that I switched time zones, and the clock instantly fast forwarded an hour. Womp womp. For a Type A personality like me, it's not often that I overlook a detail like that, but alas, it was what it was. Let's wipe that little bit of pie off of my face and proceed.
Eventually I made my way to Bryce and pulled up to the entrance station. With much apprehension, I asked the ranger if there were any vacant campsites available. Somehow, I already knew the answer, and you the reader, may have guessed by the title of this post what the result was.
So I asked the kind ranger if he knew of any good back-up campgrounds in the area, and without hesitation, he mentioned a place I passed on the way a couple miles down the road named Ruby's Inn RV Park and Campground. The place with the large teepees out front. Yeah, it's pretty hard to miss. Seemed a bit cheesy to me, but what are ya gonna do?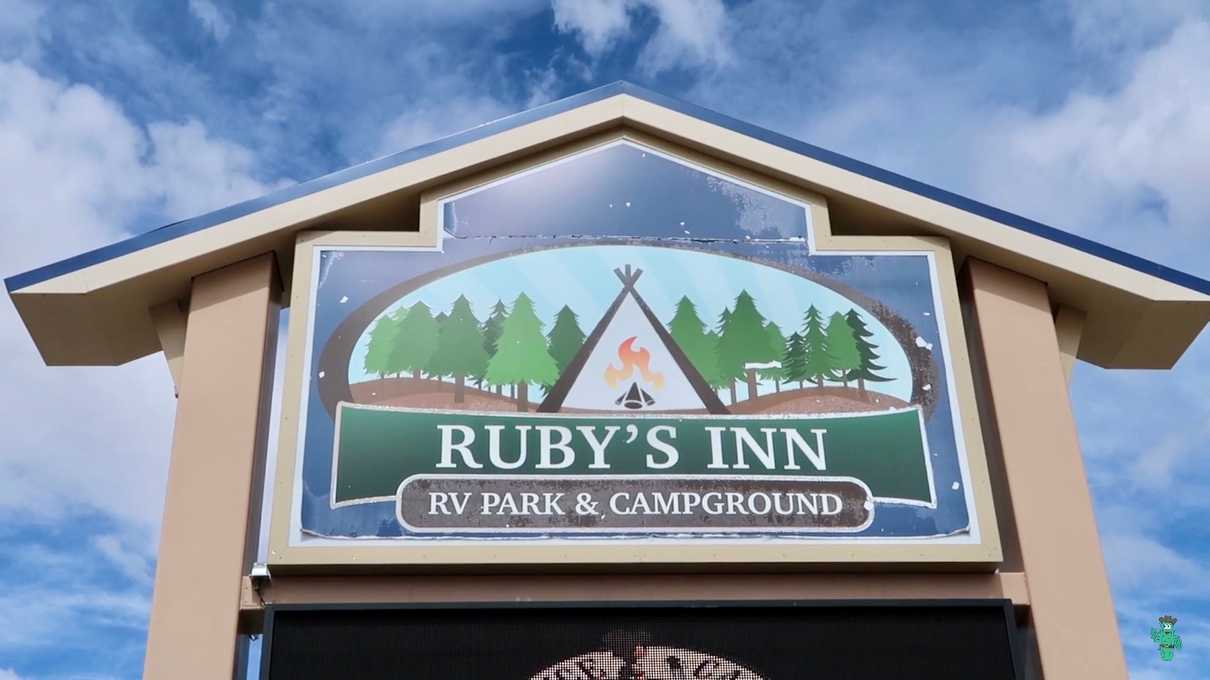 I thanked the ranger, drove into the National Park and proceeded to find a place to turn around and exit. Uh, yeeeeaaah… that's a lot easier said than done at Bryce Canyon.
Enough about the camping situation for a minute, how the hell do I get out of this madhouse that is Bryce? I think I officially entered the roach motel of National Parks. You can come in, but you will never get out! Bwahaha!!!!! (queue up the echo effect on the maniacal laughter).
Shortly after you pull into Bryce, you'll see the visitor center, and there was no way I was pulling into that mess of vehicles! That would be certain death.
Then I saw where you turn to go towards the campgrounds, so I figured this is where I would turn around and at the same time, maybe inquire about the campground vacancy one last time in case the ranger up front had bad info.
Ummmm... big mistake. There is a parking lot in this area, and you can circle back around in it, but I immediately found myself stuck in a traffic jam. This was on par with rush hour in Los Angeles. People waiting for others to leave so they could find a parking spot, blocking all traffic from flowing through. People honking, yelling at each other. A couple times I was certain a fight was gonna break out. It's times like this that brings out the worst humanity has to offer.
I timed it. Took me just short of 30 minutes to escape that parking lot nightmare. No exaggeration. And it was a teeny parking area. I swear there is a miniature black hole in there sucking cars in towards the center.
At this point you may be wondering why I'm going into so much detail about this traffic situation. This is a blog post about a campground, is it not? Well, I assure you, there is a good reason, and it's absolutely relevant to the tale of this plan 'B'.
After having obtained escape velocity, it was not long before I rolled into Ruby's Inn. I was let down at this point and defeated. Road weary. Annoyed about the Bryce Canyon reservation system (or lack thereof), and I'd been through the wringer. I wouldn't be getting my National Park campground video on this trip. A checkbox left unchecked. Dang it.
My spirits were low. I've stayed at places like this before, and they often ain't so great for tent campers like me.
Regardless, I put on my game face, paid my fees, and set off to pick a campsite. There were still plenty of vacant tent spots (although I did overhear that the RV park was already at capacity). Thankfully, I had a bit of time to be selective. Perhaps a benefit of being a tent camper. But be warned my RV friends… this place seemed pretty hoppin', and I witnessed some RV'ers without reservations get turned away.
As I drove around, I noticed a few things off the bat. There are trees in the campground portion, but they are pretty sparse compared to many other places I've been. Some sites had no trees at all, but most did. I also noticed that a lot of sites, especially some of the most secluded ones, were very sloped. For example, my favorite site was site #6. It was up on a hill, further back than most sites, and bordered the woods adjacent to the campground. But the ground was a little too sloped for my taste. Be sure to watch our video tour if you want to see some of these other sites.
I settled on site #8. It was level enough and had some shade from a couple pine trees. But, I noticed the individual campsite amenities were a bit sparse. It had a picnic table and a fire ring, but it was a rock fire ring, no attached grill, so make sure to bring some pokers to cook your hot dogs.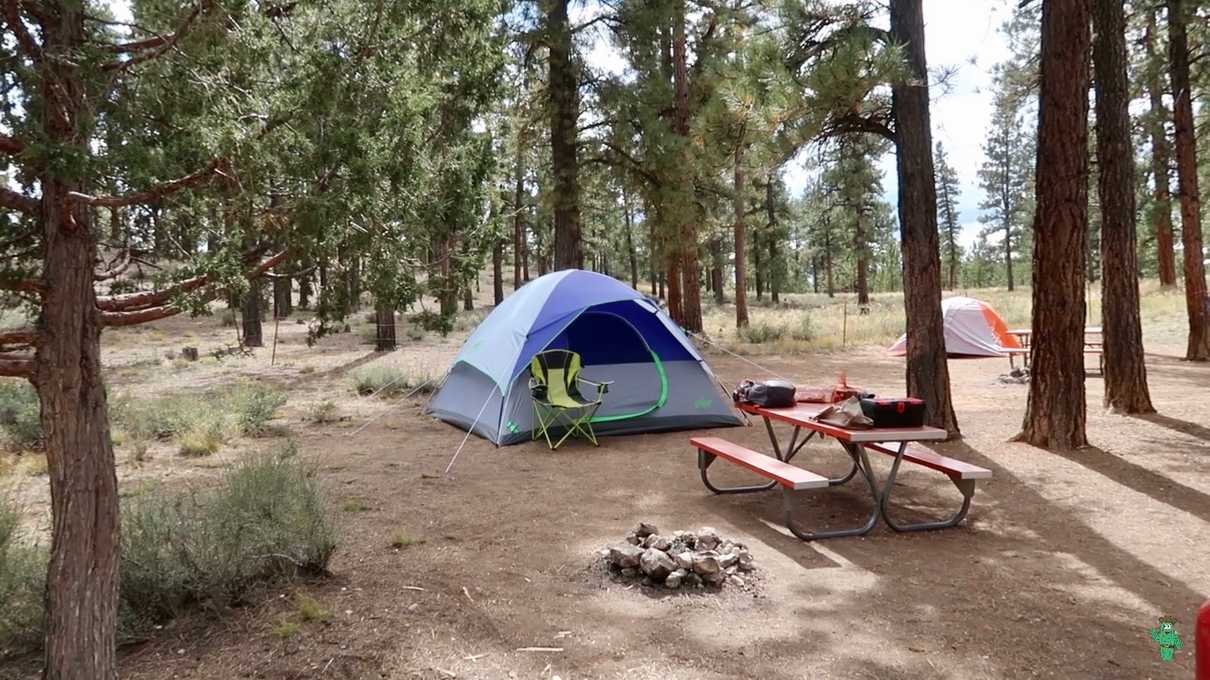 The biggest downside I found is how close the campsites are. Compared to all other campgrounds I've stayed at this year, this one wins the 'you're gonna get comfy with your neighbors' award. These sites were very close together.
To illustrate this point, I snore. I snore loudly. I'm on CPAP therapy which helps with that, but sometimes when I'm on the road, I don't bring my machine. I didn't on this trip. A couple spent the night in the site immediately adjacent to mine (site #7, I believe), and it was mere feet away. Check out our video if you want to see just how close. The next morning, they frantically packed up and moved to another site. My insecure side tells me it must've been my loud snoring. If you saw just how close the sites are, you would understand. My wife would certainly understand! And if that's what caused them to flee, I certainly don't blame them as I would've done the same.
But, how about we now focus on the good stuff? Because there is some of that too!
They have public wifi at this campground. I got a full LTE signal (I'm with Verizon). So, I got to enjoy watching YouTube on my phone at night on this trip, a first for any camping trip I took this year, and that was kinda nice I must say.
And next up, the bathrooms. They were really nice! Clean, pretty up-to-date. Better than most campgrounds I'd say. Nice big utility sink for washing your dishes. And, best of all, individual showers. Plenty of hot water that never ran out. You're given a code to the shower doors when you pay your camping fee. I liked that!
I also walked around the park and they have a laundromat, and firewood and ice. All the essentials to keep you comfortable on your camping adventure. I also read, but did not see for myself, that they have a heated pool somewhere in there.
Also, right down the road is Bryce City, and there is anything you might need. Restaurants, inns, stores... an entire tourist industry awaits you at the gates of Bryce Canyon.
So when it comes to overall amenities, Ruby's scores very high.
And now for the best thing of all. At the front of Ruby's, there is a dedicated stop for the official Bryce Canyon shuttle service. It's the last stop going into the park, and the first stop coming out.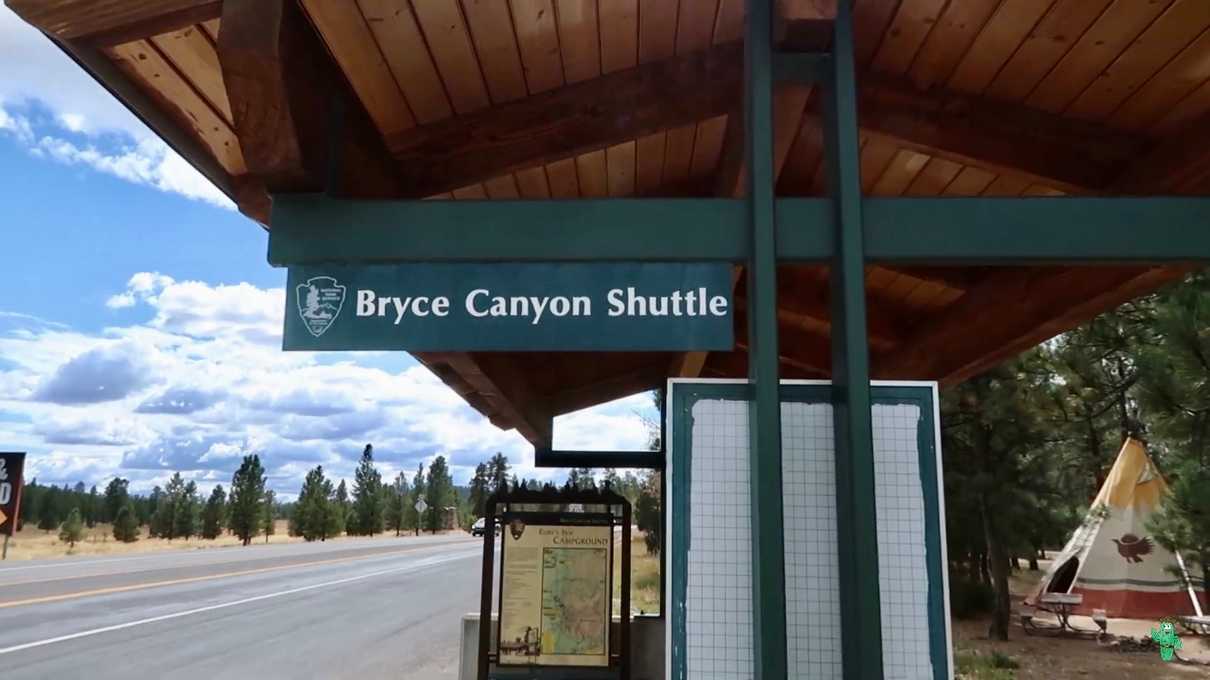 Now remember the absolute traffic nightmare I described early on in this post? That was enough to convince me never to drive into that place ever again. This shuttle stop was a godsend! I think that alone may have made my stay at Ruby's worth it on its own.
So overall, would I recommend staying at Ruby's, from the perspective of a tent camper? Of course, I would've preferred to stay inside the National Park, but Ruby's ended up being a pleasant experience, and I would absolutely recommend it.
My only major gripes are how close together many of the campsites are, and that there is no stand-up grill or fire ring with attached grill at the campsites. However, those things are easy to overlook considering all the other great amenities you get, the close proximity to Bryce, and the shuttle stop. It's a fine plan 'B' if you need one, or perhaps even a good first choice if staying inside the National Park is not important to you. Ruby's Inn FTW!!!!