If you've chosen to read this, I surmise you're thinking of either visiting ZooLights for the first time and are looking for information, or you're contemplating visiting ZooLights during the pandemic and trying to gauge whether or not this is a safe event.
Either way, we have you covered in this post as well as a video. Welcome to ZooLights 2020, the Pandemic Edition!
What is ZooLights?
Every year, the Phoenix Zoo decorates the zoo with millions of Christmas lights, as stated by the ZooLights website. And yes, we can attest that this is true. The place is bathed in Christmas lighting! There's something to see in virtually every corner of the zoo.
The highlight for us was the light show that occurs in a lake, not too far from the main entrance. Most, if not all paths from the entrance take you directly to it, so I don't think you'll miss it.
Seeing the lights reflect in the water is an amazing sight. At times it looked like an Impressionist painting. Best of all, there's a synchronized light show that runs about every 10 minutes or so. Only minor gripe is they play the same music track over and over. So by the end of the night, you'll be well acquainted with the music. But to be honest, it never got old. We got excited every time it started.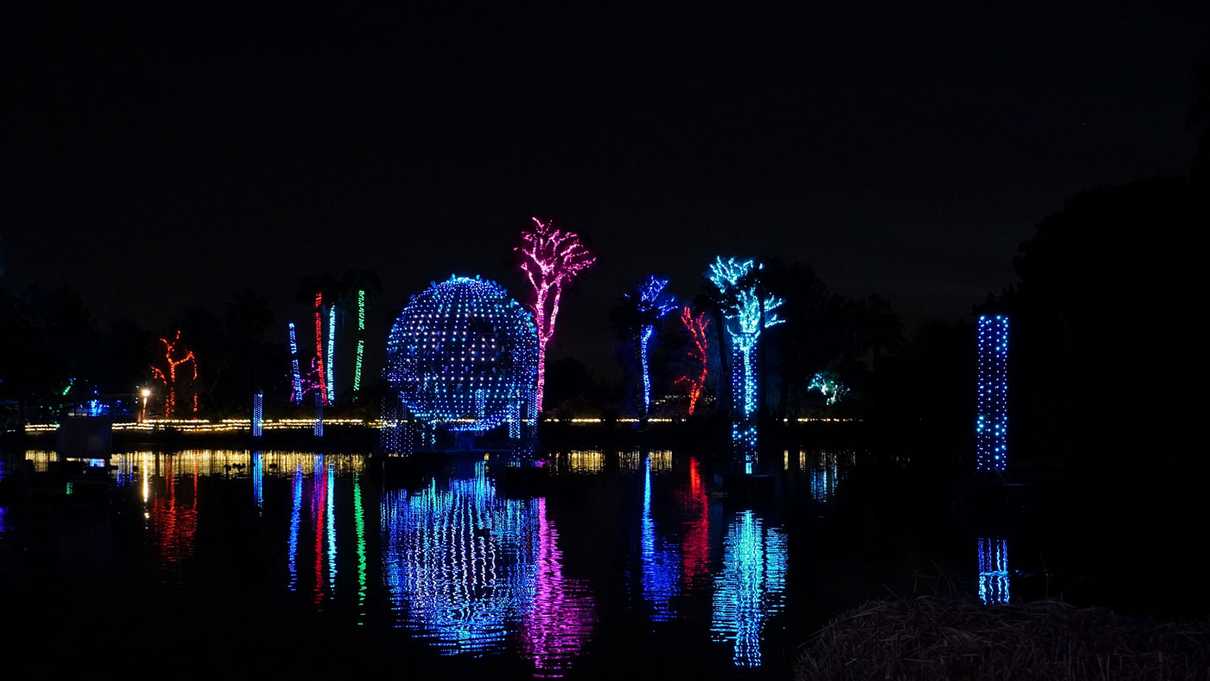 Outside of the big light show, you'll be covering a lot of ground, should you choose to see everything. Amy and I were there for about 4 hours. Granted, we stopped and took a lot of photos and moved at a slower pace than most, but the time flew by!
What ZooLights is Not
Don't expect to see a lot of animals out and about during the event. You will pass many of the animal enclosures, but most creatures were not spottable. There were a few exceptions however. We saw an elephant feeding, a Galapagos Tortoise sleeping, and a few other interesting sightings. But, the animals are not the stars of the show at this event. It's the lights.
Perhaps to make up for that, there's a large section that features glowing lanterns. The lanterns portray a wide variety of animals, both living and extinct. The lanterns were beautiful and well crafted, and certainly one of the highlights of the experience for me.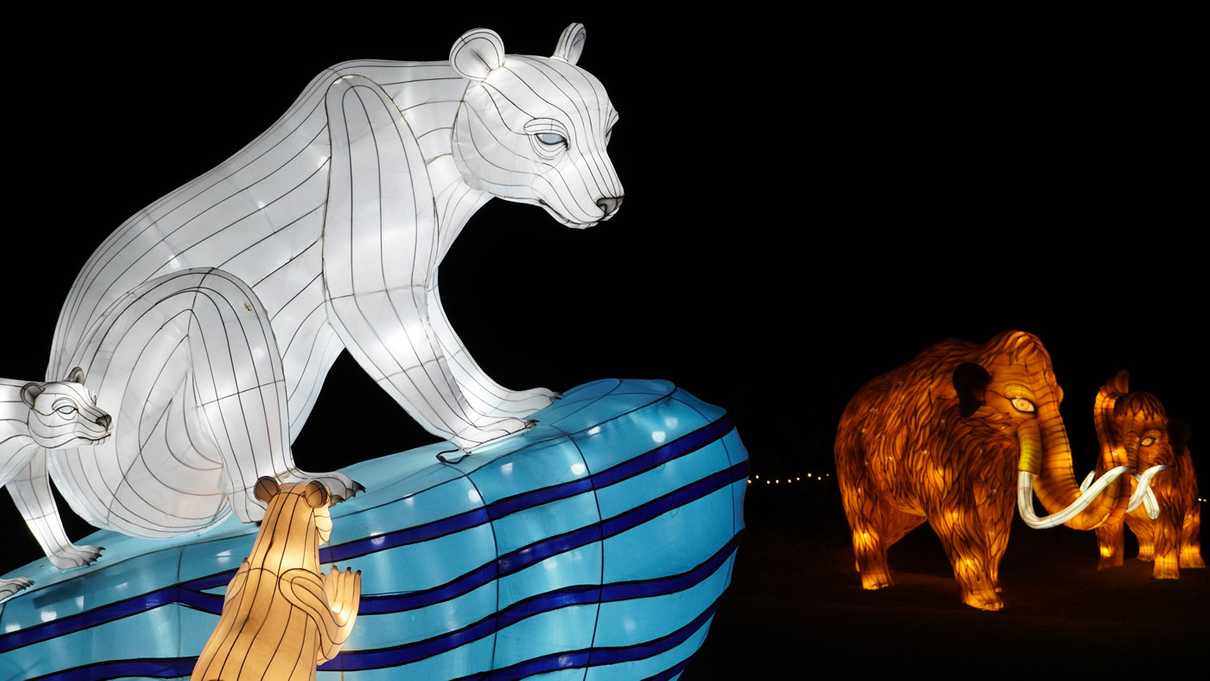 What the Pandemic Experience Was Like
Okay, for those of you who are extra cautious this season and worried about the 2020 plague that has befallen mankind, here's the scoop about what ZooLights in the age of COVID-19 is like.
First of all, the event is completely outdoors. The zoo also has plenty of signs reminding patrons that masks are required to be worn inside the zoo. When waiting in lines, they have markers to help people maintain distance from each other. Pretty much the standard measures we have all become used to these days.
But as we've found with most things like this, once you get inside, not every patron will uphold certain social contracts, but most do. I did see a handful of folks who ditched their masks in the darker corners of the experience from time to time, for example.
It did get pretty crowded at times too, even for early on in the season. There were many large groups of people cycling through the various areas. Also, since this is a kid-friendly event, there were many excited children running around, chased by a parent, often times intersecting my 6 foot social bubble. This happened a few times, but mainly when waiting in line to get in.
Waiting in line was the most uncomfortable spot, and once we got in, there were plenty of opportunities to break away from the pack.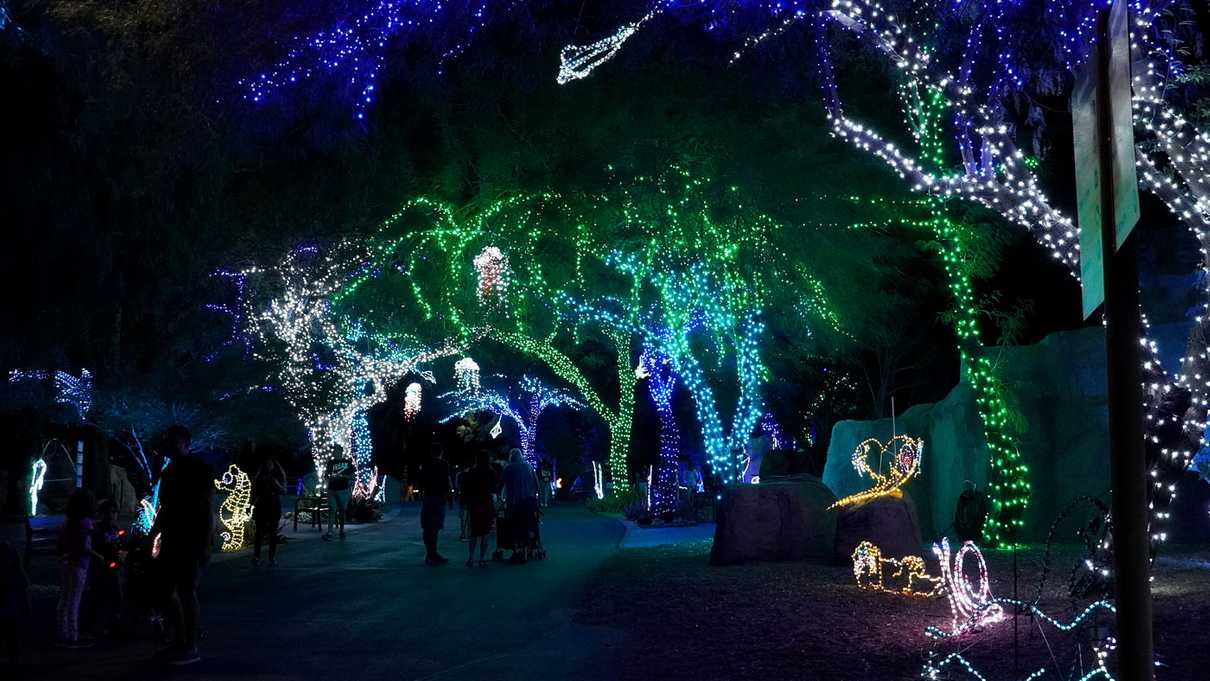 ZooLights runs from Nov 4 to Jan 31, 5:30pm to 10:30pm.
ZooLights has both walk-thru only and drive-thru only nights. Check their calendar for dates and to purchase tickets. For additional information you can check out our informational page for pricing, the weather forecast and more.
Our Final Verdict
This, quite simply, is an amazing event. We needed a little extra holiday cheer this year, and ZooLights delivered. This was our first time, and we had no idea how extensive and well done the light displays are. It far exceeded our initial expectations.
As for the pandemic, social distancing and mask wearing stuff... yes, it's a calculated risk. We're not going to tell you what you should or should not do. We felt a little uncomfortable a time or two, but accepted the risk and did our part to uphold our social contract. In short, yes there will be a lot people, and most will do the right thing, but some of course will not. Just like at your local grocery store.