This would not be my first walk down the Waterfall trail at White Tank Mountain Regional Park. The first was over a decade ago, and it was an overcrowded mess of people. When I hike, I seek solitude and peace of mind. Things not easily found in a sea of people. That original hike created a bit of an unconscious bias within me against an otherwise beautiful park, and I never returned... until now.
If you read a couple reviews of the trail on Google or the like, you'll see I'm not the only one. The trail is often reported as being extremely crowded. If you're lucky and are there during a time when the water is flowing, you'll likely be greeted by hordes of people. People climbing on rocks that they are not supposed to. Parents yelling at their misbehaving children. People blasting Night at the Roxbury-esque music out of their tinny cell phone speakers. Want to get a nice photo at the waterfall? Good luck with that! For a hiker like me, it's the stuff of nightmares.
So lesson number one. Be strategic about when you go. In the cooler months, and especially on the weekend, you'll probably have a high likelihood of experiencing that scenario. There are many other trails and better places to escape to during times like those.
But, this tale is not about that. I happened to be camping at the brand new Willow Campground inside the park, in the middle of the week. It was very late afternoon, and with some apprehension, I decided to go poke my head over at the trail and check to see how crowded it was. I wanted to get some video of something other than the campground, and the Waterfall trail has lots of interesting things to see.
As I pulled up to the parking lot at the trailhead, I was delighted to see that there was only a single car parked there. I almost couldn't believe it, as I was predicting the after-work hikers to already be here by now. The weather was about as perfect as it gets around these parts, and being spring in the desert, there was a healthy offering of wildflowers blooming.
Shortly after beginning the trail, I saw a couple walking towards me. The car I saw in the parking lot almost certainly belonged to them, meaning that I may very well be the sole person out on that trail!
The first portion of the trail is nicely paved. Very smooth, and very accessible.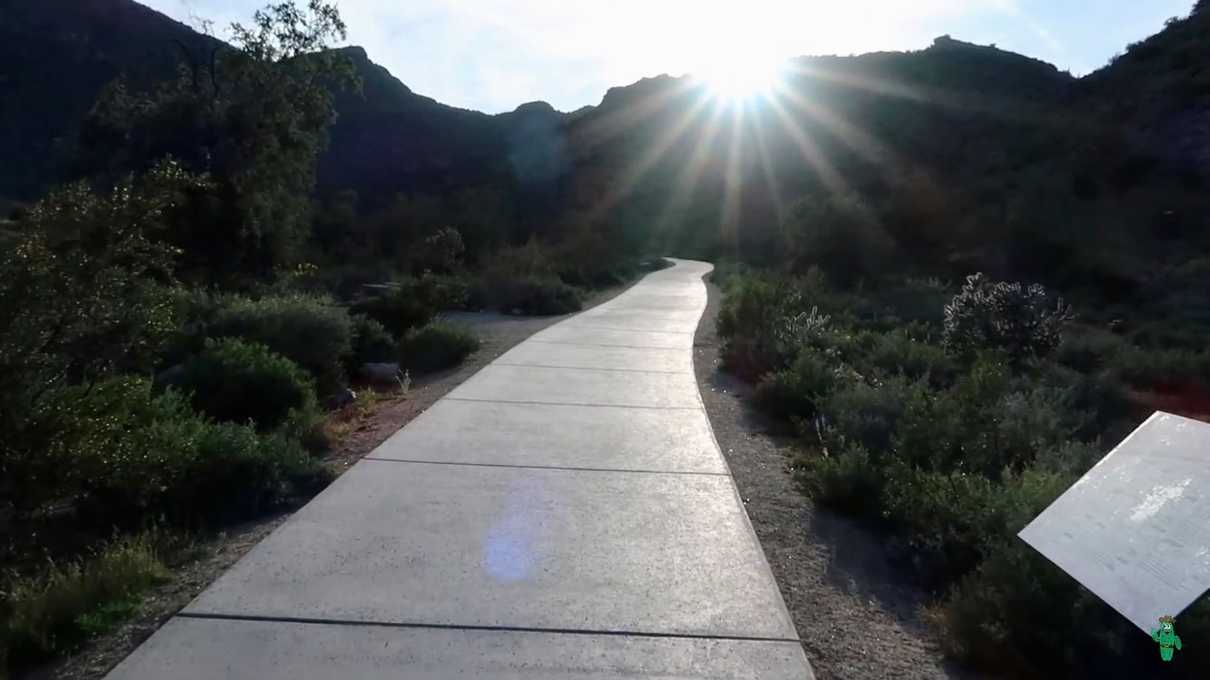 The trail is also very flat and not very long. It's just short of a mile one way (so let's just say a couple miles total, round trip). Unfortunately, after a certain point, the pavement gives way to a rocky trail and all accessibility is lost, but there's still incentive to visit for those not wanting to leave the pavement.
That's because the waterfall is not the only attraction here. About midway down the trail, near where the pavement ends, you'll encounter something that I personally think is equally, if not more impressive, compared to the waterfall.
The Waterfall trail hosts an impressive collection of native American petroglyphs. There's plenty of signage along the way to educate you about them too. One such sign claims that some of the petroglyphs are over 3000 years old.
I've seen plenty of this type of ancient graffiti throughout my travels in the southwest, and this collection is quite impressive and among my favorites.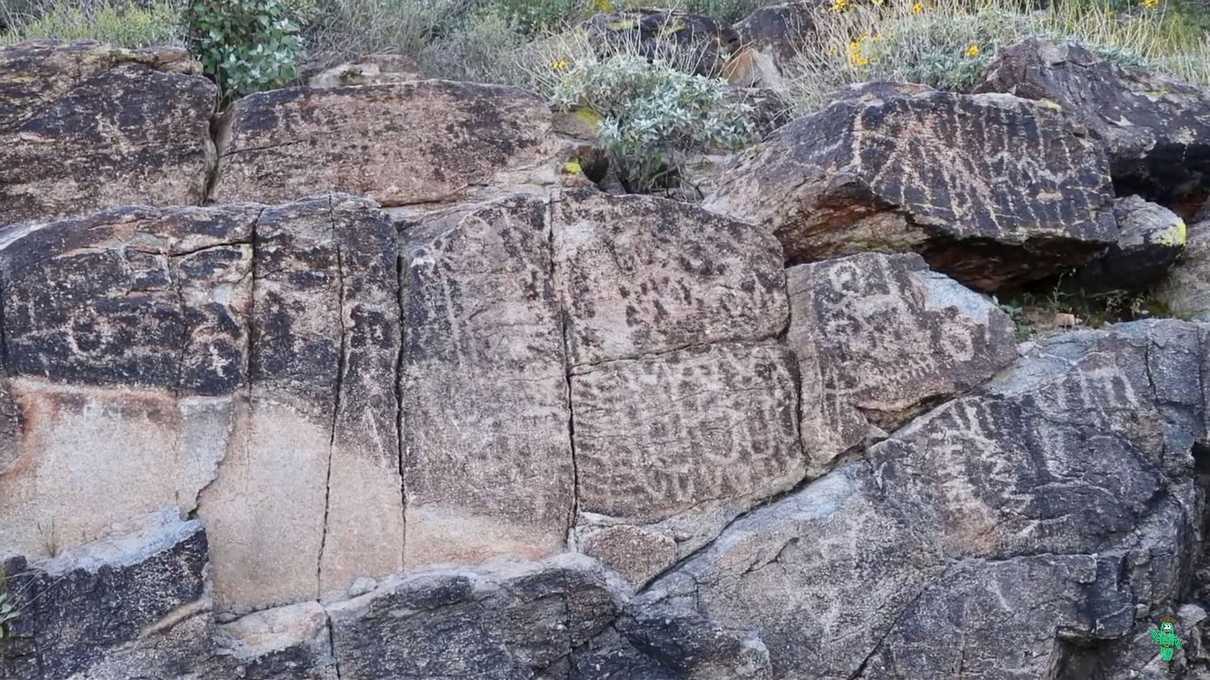 It's right around this area that the paved trail ends. For those who wish to proceed, you'll see a few more petroglyphs along the way, but after this point, your main destination is the waterfall.
By now, you'll have noticed a wash off to your left, which during my visit was completely dry, but still quite beautiful. It's covered in polished white rocks that look a bit out of place for the Sonoran desert.
Not too far off in the distance, small mountains loom. It appears that the trail does not have many places it could possibly go, hinting that the waterfall must not be too far away.
By the point you arrive at the base of the mountains, you're not far. Around this spot, you'll see the wash with the white rocks disappear between two tall cliffs.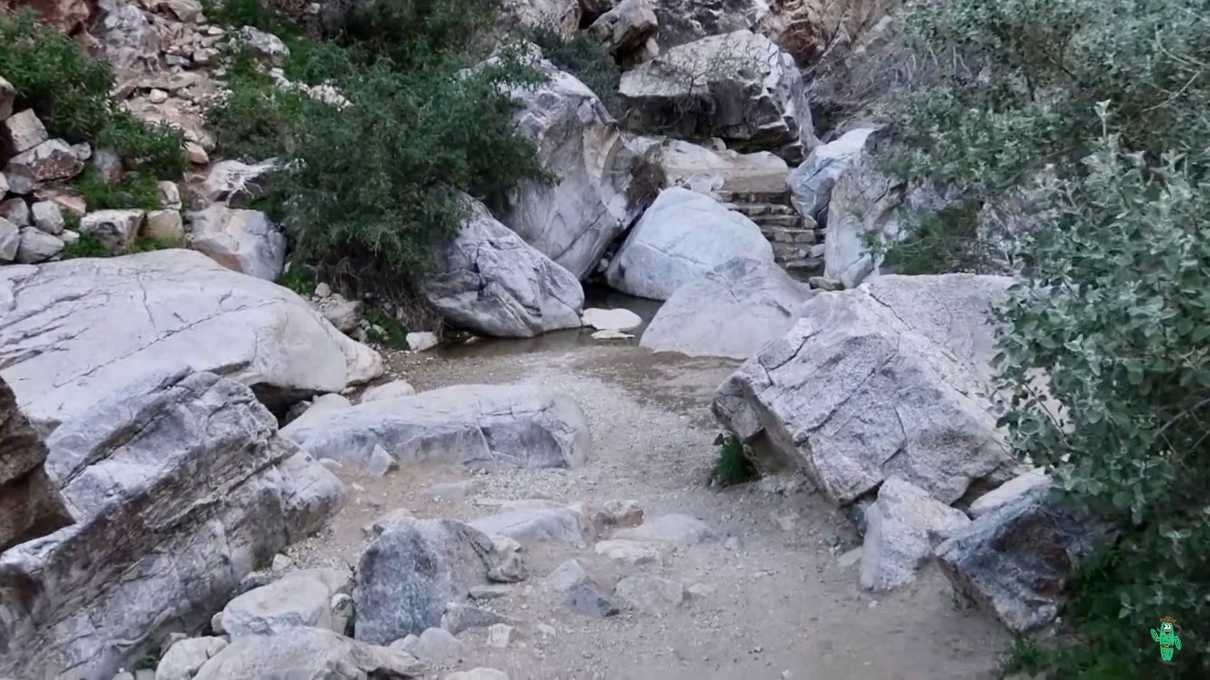 There's some signage that talks about the geology of the area. Apparently the rocks got their white color from a sort of natural mineral process that bleached them.
If you're lucky, you may see some pools of water that have collected in the white rocks. These would be examples of the tanks, or tinajas, that White Tank Mountain Regional Park is named after.
When I arrived, I had no expectations of seeing water and assumed that the waterfall may not be flowing, but seeing the tanks full of water gave me hope, and I knew I musn't be far from my destination now.
There are a couple sets of stone steps you will climb, and some rocks that you may need to "leap frog" over if you don't want to get your feet wet when there is water. It wasn't too tricky, but the polished stone can be slick, even when dry, so tread carefully.
After entering between the high cliff walls, you'll come to a dead end. On this day, there was a still pool of water that beautifully reflected the granite rock walls in the area. I heard a gentle trickle off to my right, and there it was. The waterfall. It was technically flowing that day, but don't expect Niagara Falls here. Not by a long shot.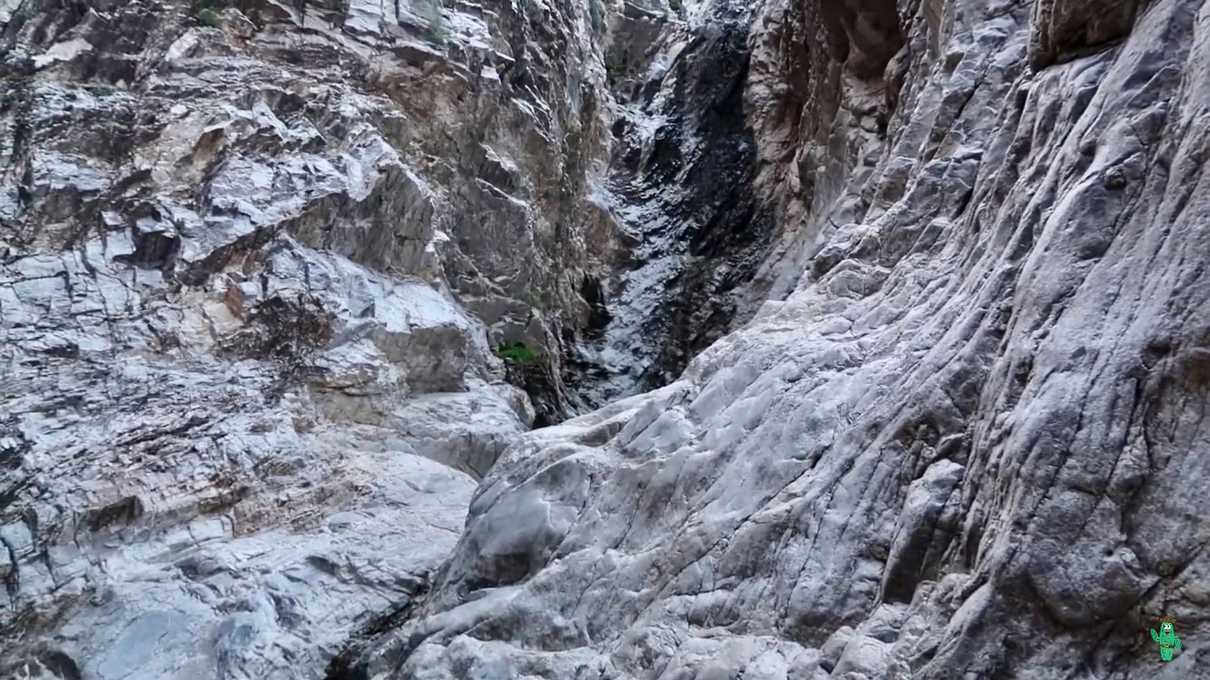 At best, the rock looked wet. I had to look pretty closely to see the water trickling down. But, I was thankful to see even that. Many times of the year, I hear it's bone dry.
I was still completely alone and had not seen anyone else. I really enjoyed being in this alcove of stone. The cliff walls are high and impressive, and the sound of the gentle trickle and cooling effect of the water made for a refreshing and peaceful scene.
If you live in the Sonoran desert, it's definitely an out of the ordinary experience. You don't really see spots like this. It's a bit of a novelty actually.
I've seen a photo or two of the waterfall when it's really flowing. It's pretty impressive for the desert. I imagine if you want to see something like that you would have to venture out after a heavy monsoon thunderstorm, which may not be the safest thing to do. But, perhaps on a future adventure!!!
I was running out of daylight at this point and it was time to make the trek back down to my car. On the way back, crickets made their songs amongst beautiful yellow wild flowers. I did end up passing a couple families on the return trip, but that was it.
I only had one word in my head to describe the experience... pleasant. One of the most pleasant experiences in recent memory.
If you're in the Phoenix area and are looking for a trail with lots to see and plenty to learn along the way, this is one of the best in the valley. Just don't blame me if when you go, you don't find the same pleasant seclusion I was thankful to find on that day. Either way, you'll likely get an experience you'll never forget. Let's just hope it's a good one!