I'm often surprised by how many people have never been to, nor ever heard of Tonto Natural Bridge State Park. That includes some fellow Arizonans. The main attraction here, the world's largest travertine natural bridge, is truly a sight to behold.
At 400 feet long, 200 feet high, and about 150 feet in girth at its widest point, viewing this geological wonder will be sure to put some awe in you.
Getting to the park is not difficult. It's off a main state route, and all roads to it are paved. The only word of caution I have is that the initial descent into the park has a steep grade, but they do have an area to detach a trailer before the descent if needed.
Once you enter the park and pay your fee, you may wonder where the bridge is. You won't see it initially, but rest assured, it's there, and it's not far!
The park proper is well taken care of and manicured. There are shaded picnic areas with grills, and restrooms (both with running water and without). The flushing toilets are in a separate building near the historic lodge, and I was very impressed by how clean and up to date they were.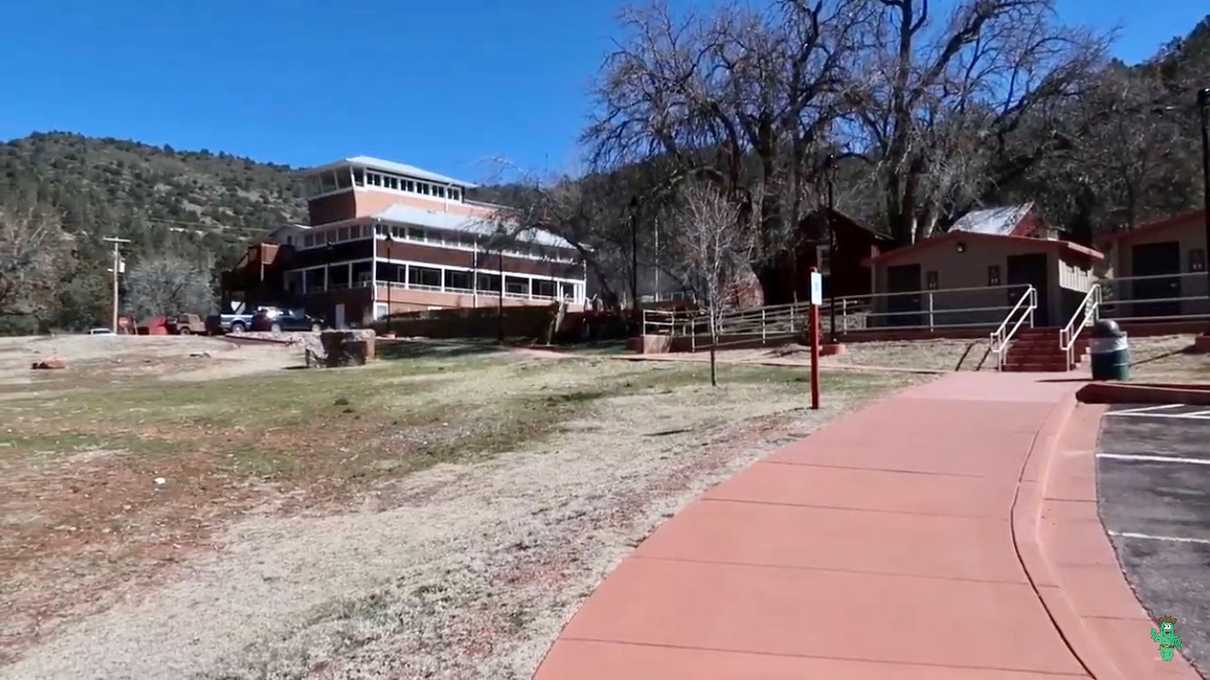 You'll be given a map of the area when you pay your entry fee, but they also have maps posted around the park that show the trails. I'll link to a digital version of the map here.
There aren't many trails to speak of in the park, and each of them are short, but all worth hiking. The main trails of interest are the Anna Mae and Gowan trails, which descend to the bottom of a very small canyon where Pine Creek resides.
Depending on when you are reading this, you may not be able to hike down one side of the natural bridge, thread through it, and then ascend up the other side. Many of the trails do not currently connect.
On the Gowan trail side, there is normally a wooden bridge at the bottom that takes you to an observation deck that delivers a spectacular view of the natural bridge from below. This has been temporarily closed. The reason is that they are going to replace the wooden bridge with a steel one. They are also going to use a system of airbag-like devices to proactively break off a section of rock wall because it is likely to fall at some point in the future. There was no estimate of when everything will reopen. My best guess is months from now, or maybe into next year. Seems like a huge project to me.
If you decide to go down the Gowan trail to the bottom, you may be disappointed because you will not get a good view of the natural bridge from down there due to the closure. If you want a little workout though, by all means hike down the 200 feet to the bottom. When I went, there was a peaceful scene at the bottom and I enjoyed watching a rainbow trout swimming in clear pools in the creek.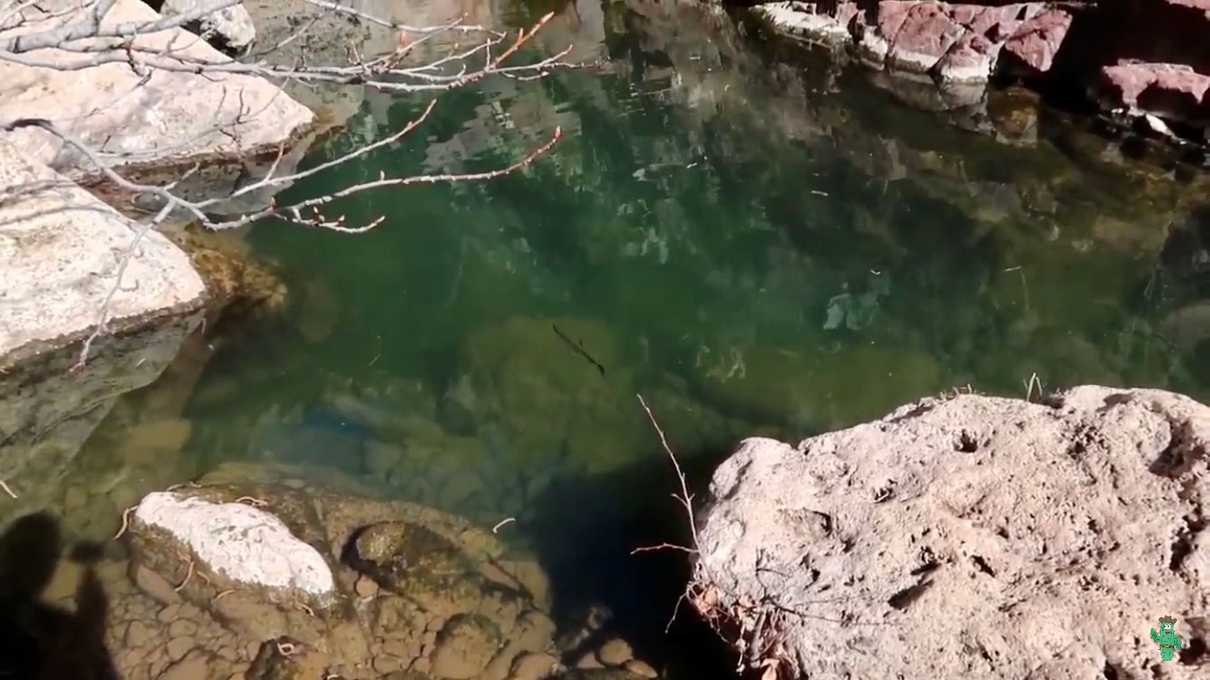 For the time being, if you want to experience the bridge up close and personal, you'll want to hike down from the other side on the Anna Mae trail. This trail also descends about 200 feet. It's a dirt and gravel trail, and getting down only takes a few minutes.
When the trail hits the bottom, you'll have to walk down the creek for a hundred feet or so. At this point you'll be stepping from stone to stone over the creek bed, to avoid getting your feet wet.
The creek was flowing when I went, but not too much. It was pleasant, but I hear they sometimes have to close it after a heavy rain. So, your experience may differ, but it has typically been a very gentle flow whenever I've visited.
The rocks down there were bone dry, but well-polished, and very slick. It's very easy to lose your footing here, so be careful.
After you make your way around some large boulders, you'll get your first view of the bridge from the bottom. You'll see straight through to the other side.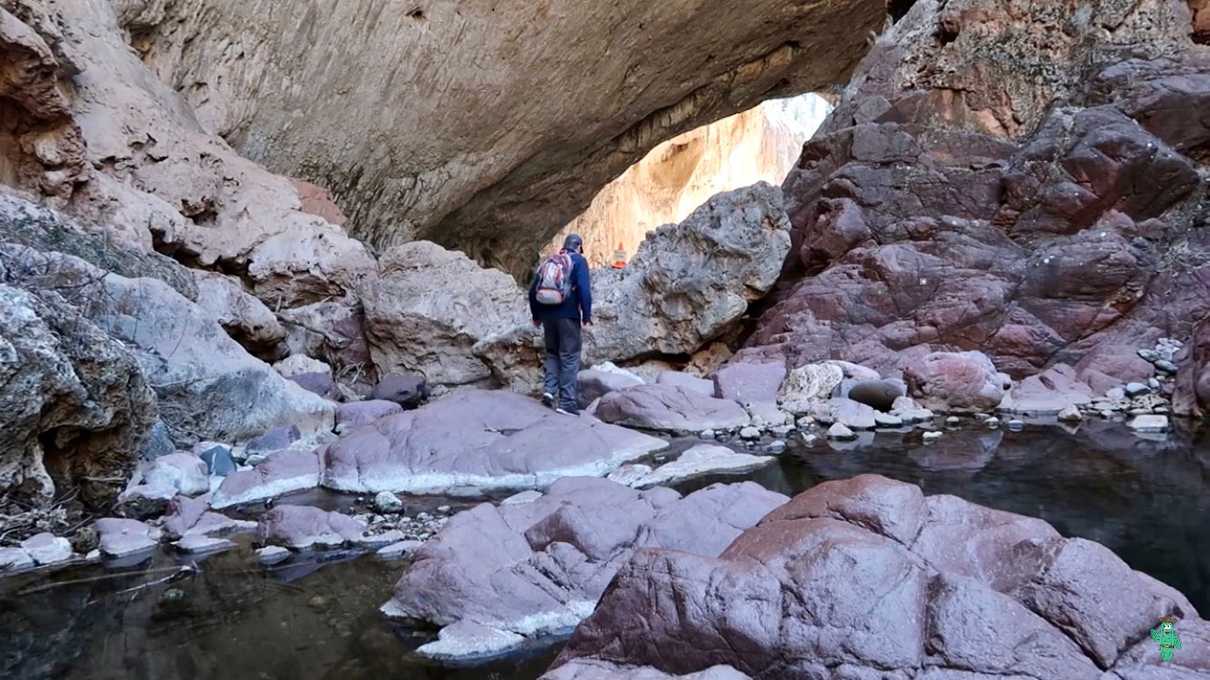 Whenever I've been, there is usually a waterfall flowing from the other side, making for a beautiful scene (just like represented in the main picture for this post).
You are able to thread your way through the bridge out to daylight on the other side, but a word of warning! There is much more slick rock under the bridge, usually bone dry, yet it is very slippery. At one place in particular you will need to go down some of this rock, and even if you sit down and slide on your butt, if you are not careful, you may build up enough momentum to not be able to stop, and worst case, fall into a pool of water below, and probably injure yourself badly in the process. This is not for the unwary!
I recommend sticking as close to the large boulders as you can and go slowly! You will see notches in the rock that are certainly man made that can assist with giving you some grip, but not much.
Ironically, it's easier going back up than down in my opinion, which you'll have to do since you are forced to turn around once reaching the other side (because of the aforementioned closure).
To me, the highlight of visiting the bridge is the walk through it. Seeing the waterfall, looking up at the ceiling and experiencing the immensity is what makes it worth it. But it's absolutely not for everybody! I would not classify it as being too physically demanding to get down there, rather, it's the danger of navigating the slick rock that makes it treacherous in my opinion. The signs at the trailheads (including the Gowan trail) will tell you that the descent itself is extremely difficult from an effort perspective, although I would disagree. I think they are erring on the side of caution), but use your best judgement.
For those of you who may not want to venture down, it is still well worth visiting this park. There are four overlooks that give you great views of the natural bridge. I would say overlooks 1 and 3 are the best. 1 is my particular favorite. They all seemed easily accessible to me. Nicely paved sidewalks will lead you to all of them. And they are close together, so you don't have to walk far to see them all.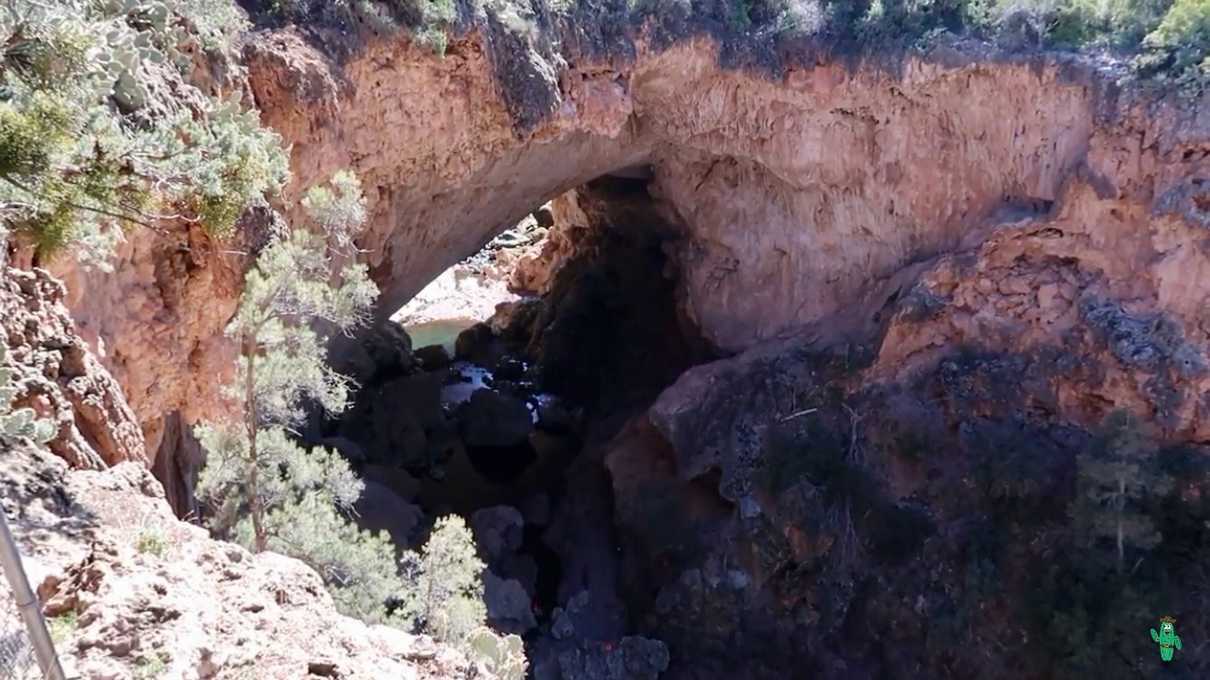 There is one other little gem in this park that I particularly enjoy, and that's a trail known as the Waterfall trail. This is best enjoyed after hiking down to the natural bridge, after you've built up a sweat, and certainly on a warm day. This trail descends down a ways towards Pine Creek to a spot where water gently flows over deep green mosses and tiny little grottos. It is an idyllic little spot, and absolutely refreshing. You'll not want to miss this, unless it's a very cold day or rainy day. You will get a little wet down there, mainly from small splashes of water, but nothing too bad. Of course, you may purposely want to douse yourself, which might not be bad on a hot Arizona summer day.
The walk down to the waterfall is very short, although there are some dirt stairs you have to go down. It's not as deep of a descent as the Anna Mae trail, and I think most can get it done, but once again, use your best judgment. If you do, I think you'll find the effort worth it.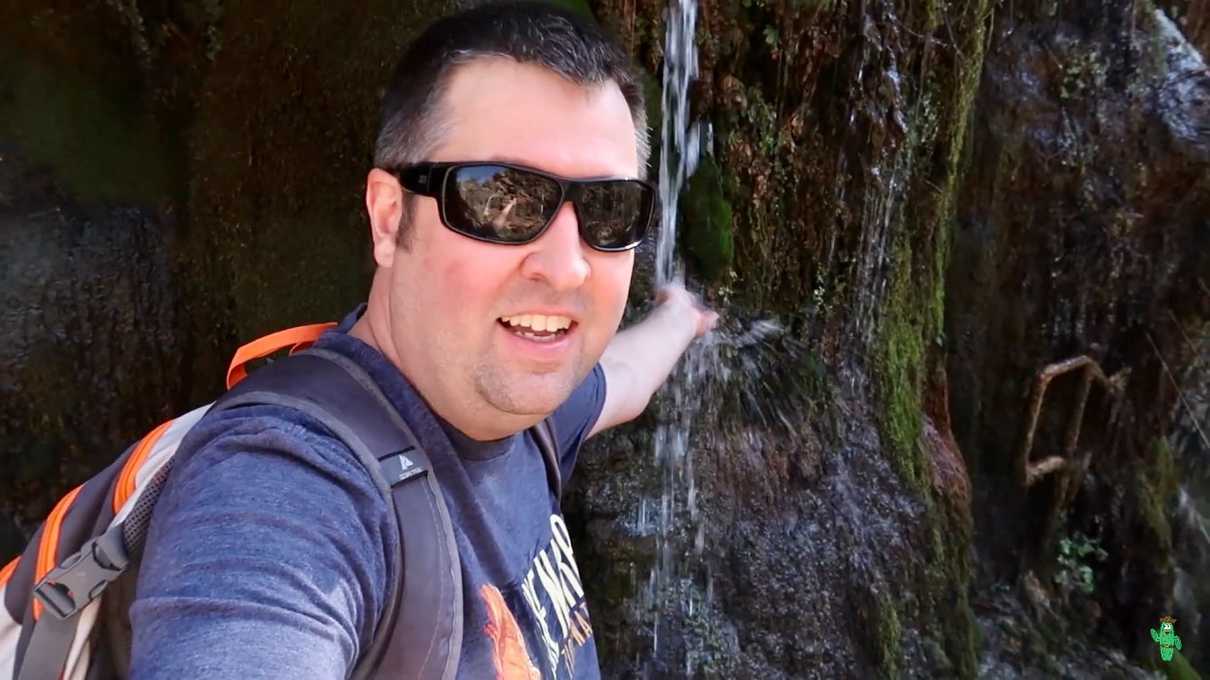 Before you leave, you may want to check out the historic Goodfellow Lodge if you already haven't. Chances are you paid your admission fee here, but they do have a gift shop, some old photos and some interesting taxidermy on display. It's a really neat building. The ranger on duty told me that you can rent rooms there and spend the night, but you must rent the entire building, so perhaps it would be a great place for a special event like a wedding or work function.
If you're ever in Arizona, and can fit a quick stop at this park in your itinerary, I don't think you'll be disappointed. A half day should easily do it. And if you live in Arizona and can make a day trip of it (especially those of you who have never been), stop procrastinating and get out and see it!
As always, we made a video of our entire experience if you want to see everything I've told you about in more detail.