The American Southwest has many intriguing native American Indian ruins dotting the landscapes. Some locations have deteriorated into piles of rubble, with desert plants reclaiming what remains. Much is left to the imagination in such places.
Others are intact and very well-preserved. Montezuma Castle is one such example, but it's completely off limits, and only viewable from afar. These types of places simply whet our appetites. They leave us wondering what life behind the walls was like, leaving so much unanswered.
Tonto National Monument is the first location I've ever visited where the structures are not only well-preserved, standing mightily atop high cliff tops, but also accessible to the public. Yes, you actually get to enter these structures... where people like you and I once laid their heads at night, ate meals, and lived life... hundreds of years ago. All before this "Old World" became the "New World".
Tonto National Monument is a couple hours east of Phoenix, but very easy to access by car. Upon arriving, you will enter the experience through the visitor center, where you'll flash your National Parks pass or pay your entry fee.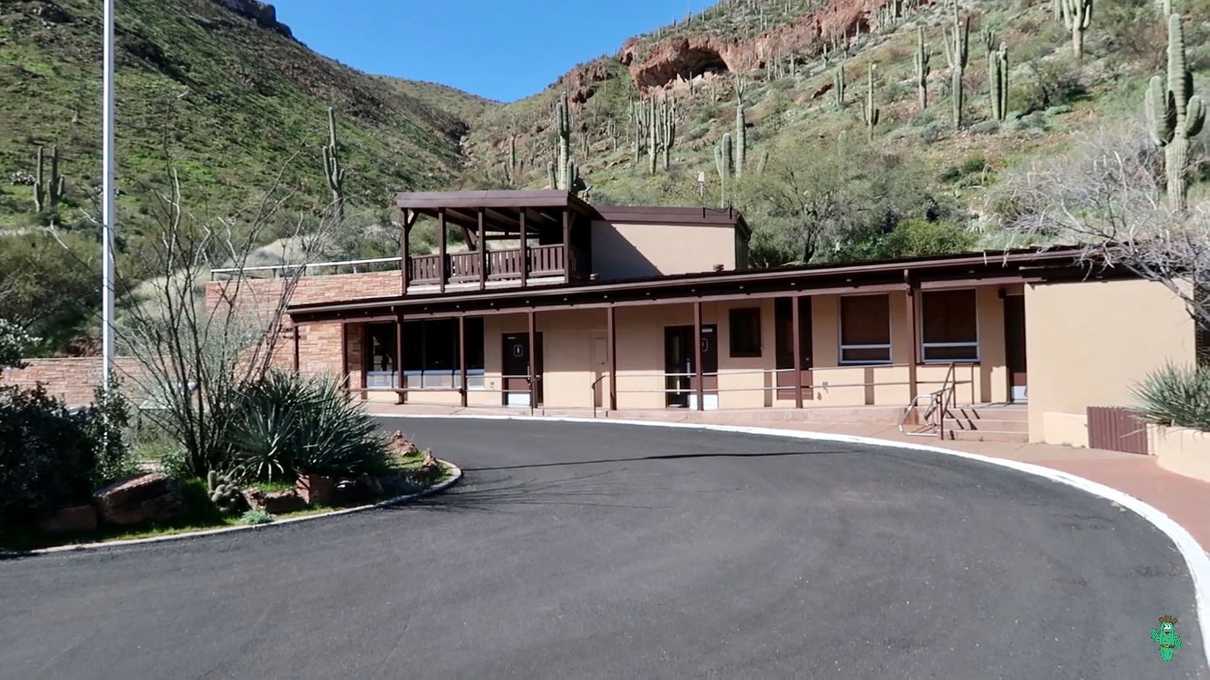 There's a very small museum exhibit with artifacts on display here, and we'd highly encourage you to spend a few minutes learning about the people responsible for the dwellings. Trust me, the museum won't take you long to go through as there isn't too much known about the culture that once lived here... the mysterious Salado people. But what little there is to learn will certainly enhance your experience.
Once you proceed through the visitor center and up some stairs to the base of the trail, you can look up the hill and should be able to clearly spot the ruin.
The ruin sits at the top of a steep hill and appears far away at first glance. The trail ascends 300 feet in total. It might seem a little daunting to you at this point, but trust me... it's not as bad as you might think.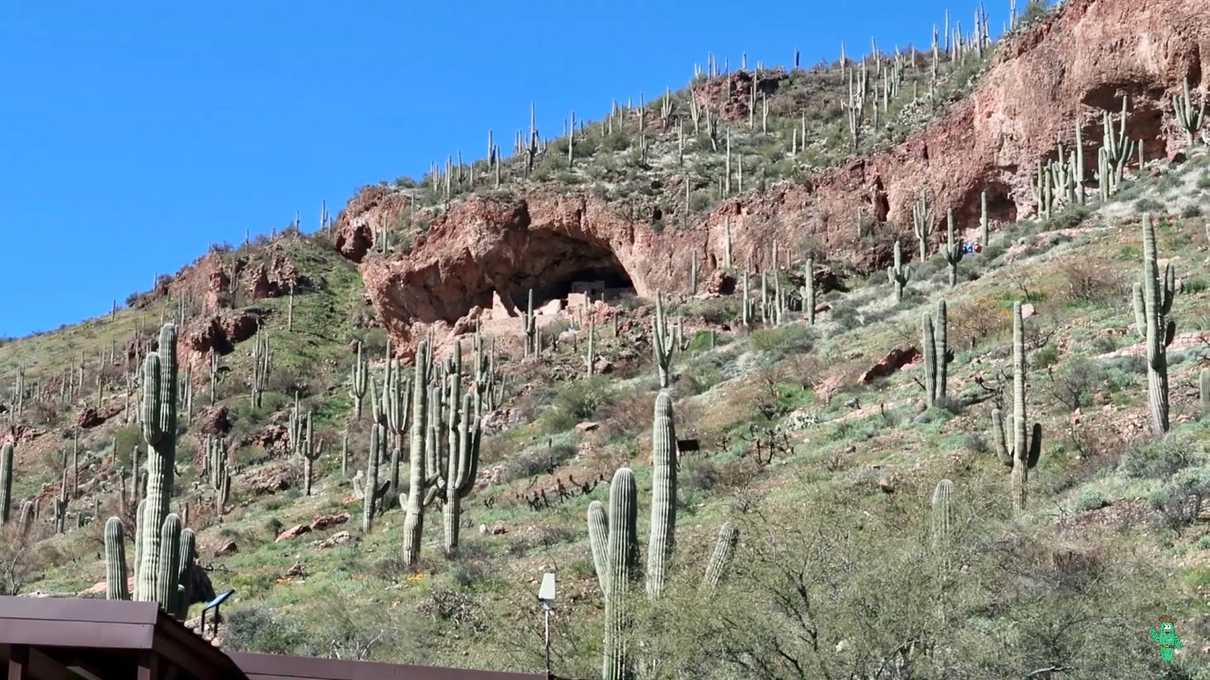 The trail switches back and forth many times, gradually ascending the hill. There are many signs adjacent to the trail on the way up that will educate you about the flora and fauna indigenous to the area, as well as the Salado culture, affording you many opportunities to stop and learn, catching your breath in the process. There are also plenty of benches where you can sit and enjoy the view on the way up, and what a spectacular view it is!
The trail is completely paved, but isn't considered to be fully accessible. The visitor center at the bottom is considered to be fully ADA compliant, however. If you want to get a good sense of what the hike to the top is like and see if it's something you would want to undertake, we recommend checking out our YouTube video.
One other note is that there is another trail in the park that leads to another ruin, known as the Upper Ruin, which we visited on a special occasion a couple weeks after our visit to the Lower Ruin. That particular experience requires making a reservation, and can only be reserved November through April. It shuts down for the warmer months. We'll have a feature on that experience in the very near future.
After ascending the hill, you'll finally arrive at the base of the ruin. If you were only allowed to hike up and view the ruin from the outside, I would say that alone would be worth the price of admission. But as you already know, at Tonto National Monument, you actually get to go inside the ruin!
You'll likely be greeted by a ranger or volunteer at the entrance of the ruin who will share some basic info with you such as the age of the ruin (over 700 years old), and will offer you a laminated map of the structure, outlining what the various rooms were used for. The map is to be returned upon exiting. They will also be happy to answer any questions that may come to mind during your visit.
But at this point, you are free to roam about. And this is the highlight of the journey.
You'll be able to walk up close to the various rooms, and even enter a couple of them.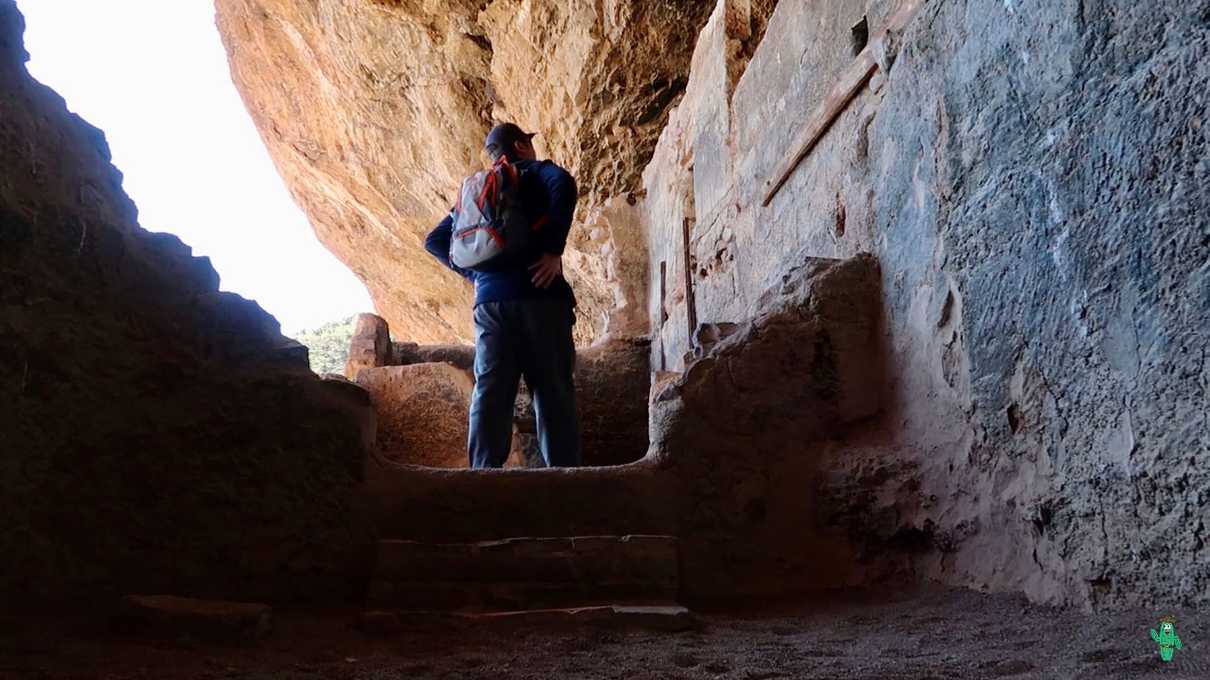 Take a moment when inside the ruin, perhaps during a quiet interval when nobody is talking, and listen to the wind and the birds outside. Imagine living here 700 plus years ago. This place is very real, and if you try, you can take yourself back in time. And when I say real, it's truly that... about 80% original, which is pretty amazing considering how old it actually is.
You will of course see evidence of modern man's preservation efforts throughout the ruin. You'll see concrete plugging holes where once there was wood. Metal braces holding up walls here and there, installed many years ago before folks had more natural ways to preserve such structures. And yes, there is occasional graffiti on the walls and remaining wooden structures. But all of these things are pretty few and far between in my opinion and do little to detract from the overall experience.
Some of my favorite relics to look at in this ruin are the many remaining wooden things that have survived the test of time. The occasional wooden pole sticking out of a wall, or the assembly of wooden beams that form a ceiling in one of the accessible areas.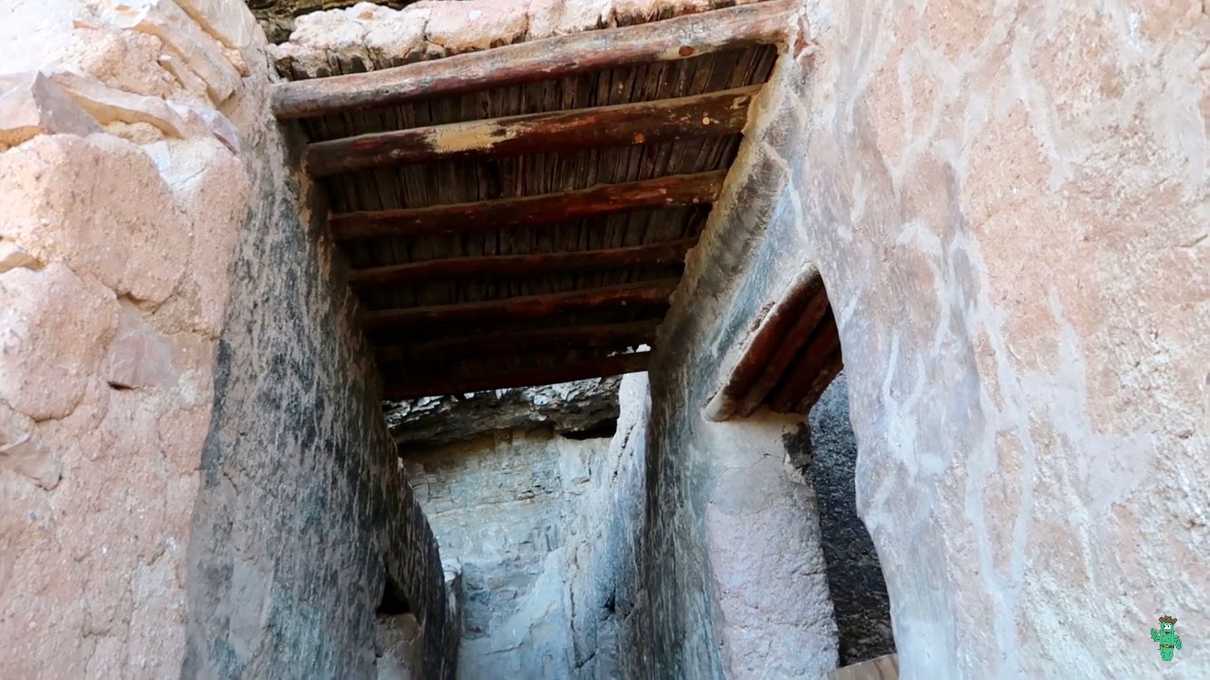 And this is original wood. Over 700 years old wood. To put that into a Western perspective, this was from the time of the High Middle Ages... a time when the Crusades were still underway. For some reason, seeing something organic like this wood that has travelled through time and survived might be the most mind-blowing part for me.
I probably spend more time at locations like this than most, firstly because I'm a huge dork and have a fascination with this sort of stuff, but also because I spend a lot of time filming and photographing. I probably spent a good 40 minutes to an hour exploring the ruin. For the more casual observer, you'll probably hang around for 20-30 minutes.
Just don't expect an endless network of structures to explore... it's probably about the size of a modern home, and you cannot enter every single room, though you are able to peek inside virtually all of them.
The main rules to abide by are that no pets are allowed, and you may not eat within the structure, although bringing plenty of water is highly encouraged by the staff. Oh, and certainly do not touch anything!
Once you're finished with your tour of the ruins, you'll be able to enjoy the fantastic views of the valley below on the way back down, with Roosevelt lake being clearly visible the entire time. Even though the lake didn't exist during the time of the Salado, the view certainly did, and it makes me think that these people could not have chosen a more ideal spot to call home.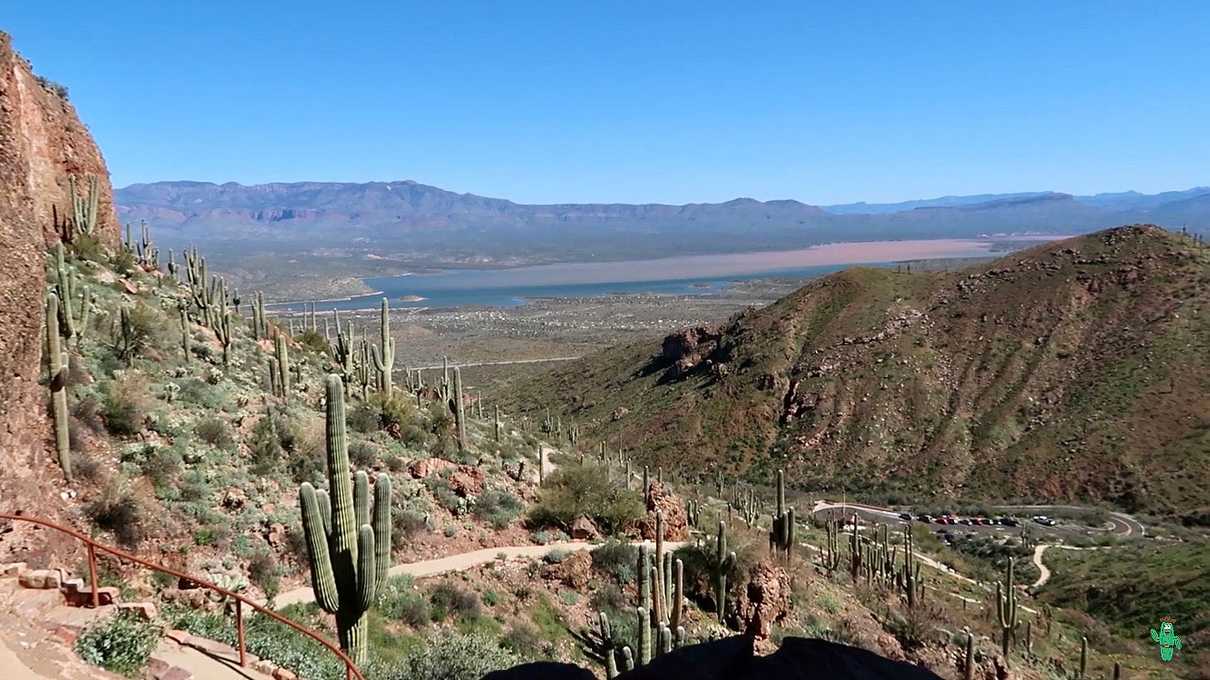 If you can fit Tonto National Monument into your travel itinerary, I would absolutely recommend doing so. Visiting here pairs well with visiting the Miami-Globe area, which is not far. Miami-Globe hosts a partially reconstructed village ruin made by the Salado people dubbed Besh-Ba-Gowah (Apache for "Metal Camp" or "Place of Metal"), as well as many other historical sites dating from the pioneer days when westerners migrated to the area to mine the abundant copper, gold, and silver present in the hills and mountains. Visiting Tonto also makes for a fantastic day trip for those living in the Phoenix area as it's not too far away.
I find that this region of Arizona is rich in historic treasures and is often overlooked. Now that the Cactus Atlas has been prospecting for new adventures, this region of the Sonoran desert has proven very lucrative and we will be taking you on many more adventures there in the very near future!