I've lived in the Phoenix area for almost 20 years. Many years of that was spent living in the city of Scottsdale, in the northeast quadrant of the Phoenix metro area.
On an almost daily basis, whether commuting to other parts of the valley on the 101 Loop, or even sometimes from the random parking lot or side street, the McDowell Mountains have served as a beautiful and recognizable backdrop to the overall scenery.
I remember the first time a coworker pointed out the protuberance that is Tom's Thumb, high up on a section of the McDowells. Ever since then, anytime I drove by the mountains, Tom's Thumb has beckoned. I never took the time to learn what it is, how to get to it, or to even look up pictures of it. It's one of those things in life that we all probably carry that remains a personal mystery. Something I never had time explore. Something I never thought to look up when it was convenient. Something I somehow never spoiled. But something that I pondered anytime I saw it, bookmarked in my mind as something to do someday. Filed away, yet always nagging me.
So What the Heck is Tom's Thumb Anyway?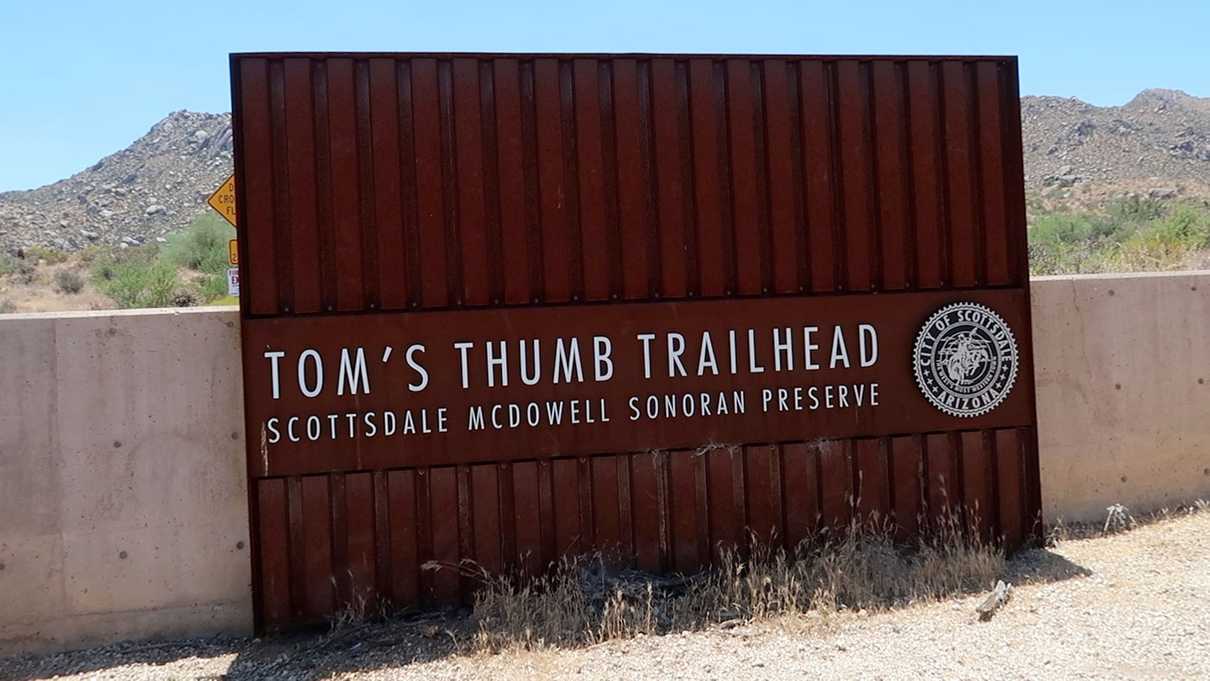 Well, on a random Saturday in the middle of the summer of 2020, it just happened. All the years of procrastination and I finally buckled. I decided, quite spontaneously, that I would wait no more.
I simply put on my hiking boots, threw a bunch of water and a couple snacks into a backpack, pulled up Tom's Thumb on my AllTrail's app, mapped the directions on Google, and got in my car and went.
How I never spoiled what it actually is, is the true mystery. I honestly never saw any pictures of it up close all the way up until this moment. I was always confused about how you actually access it. Where is the trailhead? My assumption was that it was on the city-side of the McDowells, but that is not the case.
It's actually accessed on the other side of the McDowells. And there is a park there. And beautiful facilities. Not a secret at all. Actually miles and miles of trails back there.
Okay, so obviously this is a thing. And after getting out of my car and walking to a large building where the trail begins and seeing my first spoiler on all of he educational signage dotting the trailhead, it was time to get the party started.
The Hike Begins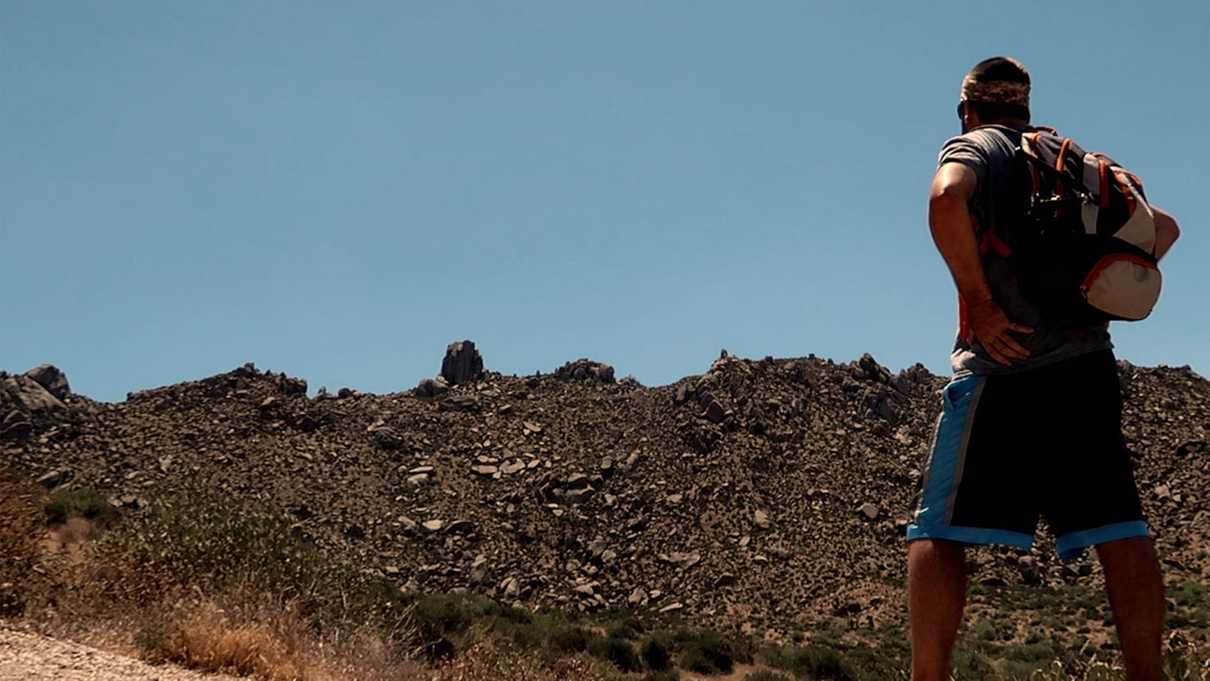 Despite having seen a couple spoiler images at the trailhead, seeing the actual granite rock monolith high up on the mountain before me still presented me with the promise of adventure and discovery.
Although you'll see varying distances between online resources and the signage at the trailhead, you're looking at hiking about 4 miles round trip. A couple miles up to the top, and then back the way you came.
The trail is not the hardest I've done by any stretch, but it was certainly a good workout. One to not be taken lightly in the summer months as for most the of the way up, you'll be very exposed to the sun at most times.
I can tell you on the day I did this hike, as you'll see if you watch our video, even though I brought plenty of water with me, I had a bit of a time with it. I think I did not drink enough water before setting out, and this hike tested me. Let that be a lesson to you and be prepared and careful!
The hike is beautiful. This side of the McDowells is unique. On the other side facing the City of Scottsdale, Saguaro cacti are a common sight. For whatever reason, on this side of the mountain, Saguaro are scarce. Rather, you'll see lots of large, round boulders. Hundreds, if not thousands of them. A nice gently rolling landscape. Facing east, you'll see Four Peaks and vast landscapes stretching in front of you for who knows how many miles...
I was surprised at times at how different the landscape on this side of the mountain looks compared to other familiar landscapes of the Phoenix area, such as that around Piestewa Peak, for example. This was a refreshing change of pace from what I am used to.
The Prize at the End of the Trail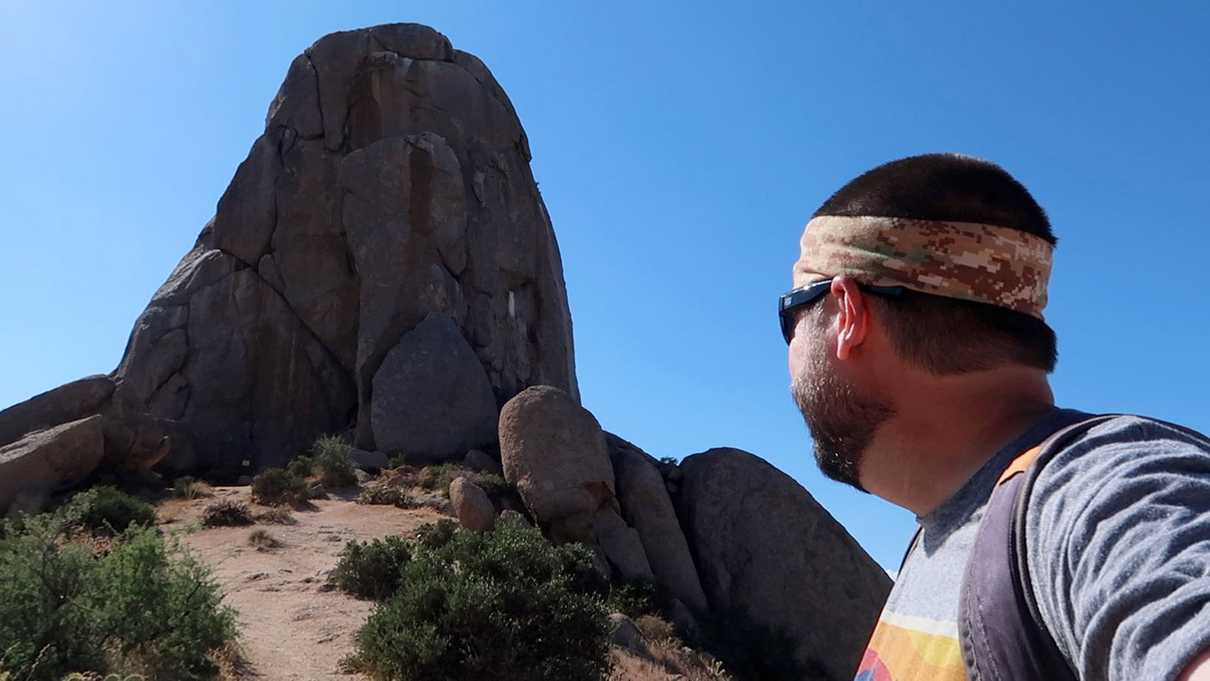 After a long hike to the top, I finally made it. After all of the years of wondering, I was staring Tom's Thumb in the face. If you want to see something really goofy and fun, watch our video. I celebrate my achievement in interesting ways to say the least. But even though for many, the novelty of this achievement might mean little, for me, this was a momentous occasion.
Seeing Tom's Thumb from a distance on God knows how many commutes to work and wondering about it, here I was, touching the granite monolith. I know most would not consider this bucket-list material, but for me, this was a grand achievement. Feeling that cool granite with my own hand, seeing how different it actually looks up close... it was all quite amazing.
And, outside of the satisfaction of achieving a personal goal, I know I'll be back. The trail was amazing, and one worthy of doing for a good workout. A good general purpose trail with amazing views.
So whether you are looking for a good all-around hike, workout, or perhaps you too want to see Tom's Thumb up close, this trail is a great option for just about anyone. If you're ever in the area, I can not recommend Tom's Thumb trail enough. One of the best I've hiked in the Phoenix area to date!