Early in March of 2020, I finally camped overnight at the Lost Dutchman State Park Campground. One of the things I enjoyed most during my time at the park was the beautiful backdrop of the Superstition Mountains. They are prevalent from any place you go within the park.
I knew that I wanted to get a closer look, but wasn't sure the best trail to hike due to my limited time at the park. I only had a few hours at my disposal on the morning of my departure and needed a balance of something that would take me deep enough into the wilderness, while allowing me to get to my next destination on time.
When I checked into the campground, I asked the advice of a ranger. She told me a good choice would be the Siphon Draw Trail. Even though this trail eventually turns into a primitive trail that takes you to the top of the infamous Flatiron, the recommendation was to hike to the bottom of a waterfall-like feature and then turn around. She said the hike was fairly simple, and it fit my timeline.
So, if you dropped by this blog post to hear a tale of hiking up to the very top, this post may not be for you. But rest assured, I plan on returning to do that. I was a bit disappointed that I couldn't do it on this trip to be honest. I believe I'm fit enough. I'm certainly adventurous enough, which you'd know if you've seen some of our other adventures. But alas, time was not on my side on this trip.
Regardless, what I can tell you is what I did end up seeing was fantastic. And if you're looking for a good balance of amazing scenery, a hike that will get your heart rate up a bit but not kill you, this may be for you.
So, early in the 7 AM hour, I left my campsite and located a make-shift sign set up on the road pointing me in the direction of the Siphon Draw Trail. If you're camping at the park, the trail is very close to some of the campground loops. Shortly after heading off that way, I encountered a map.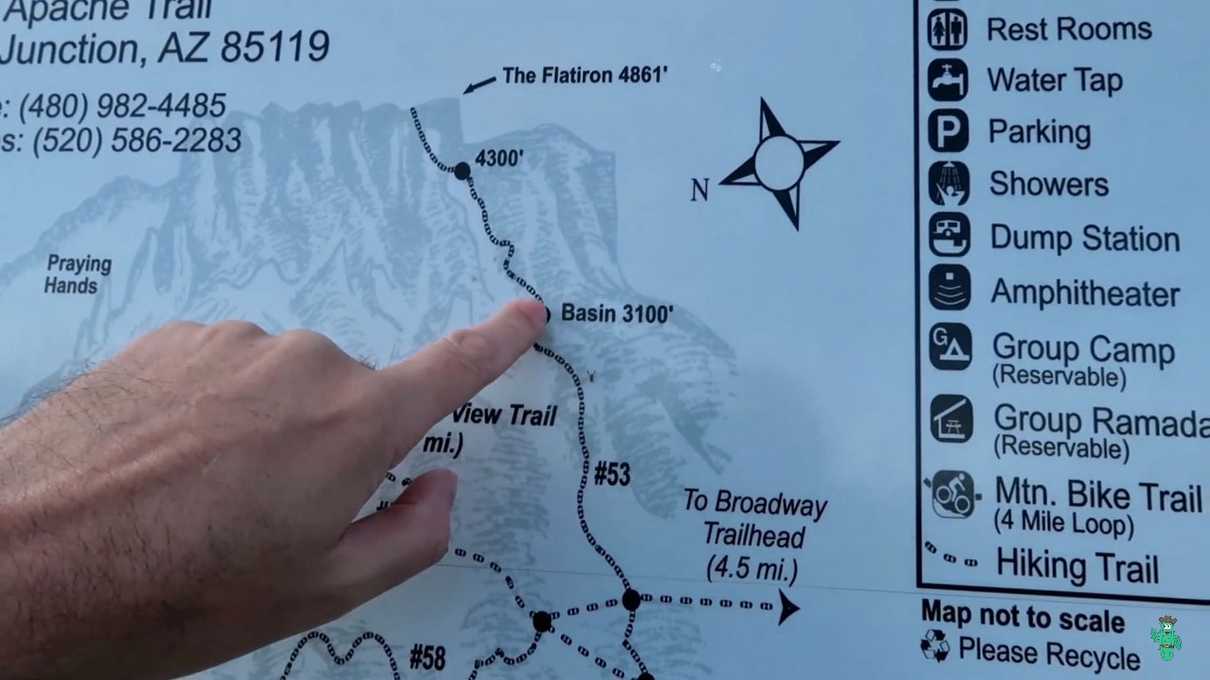 It was not clear to me exactly where the waterfall feature would be, but the map shows something called the "Basin". In retrospect, I do believe that is the point I hiked to. I googled a couple images of the Siphon Draw Basin and the pictures did indeed match what I observed. Looks about right to me regardless.
The early part of the hike cuts through very typical Sonoran desert. There's a slight grade most of the time as you are climbing in elevation, but nothing that I found very strenuous.
The best part of the early part of the hike is the ever-present facade of the Superstition Mountains. It is a very iconic and awe-inspiring scene.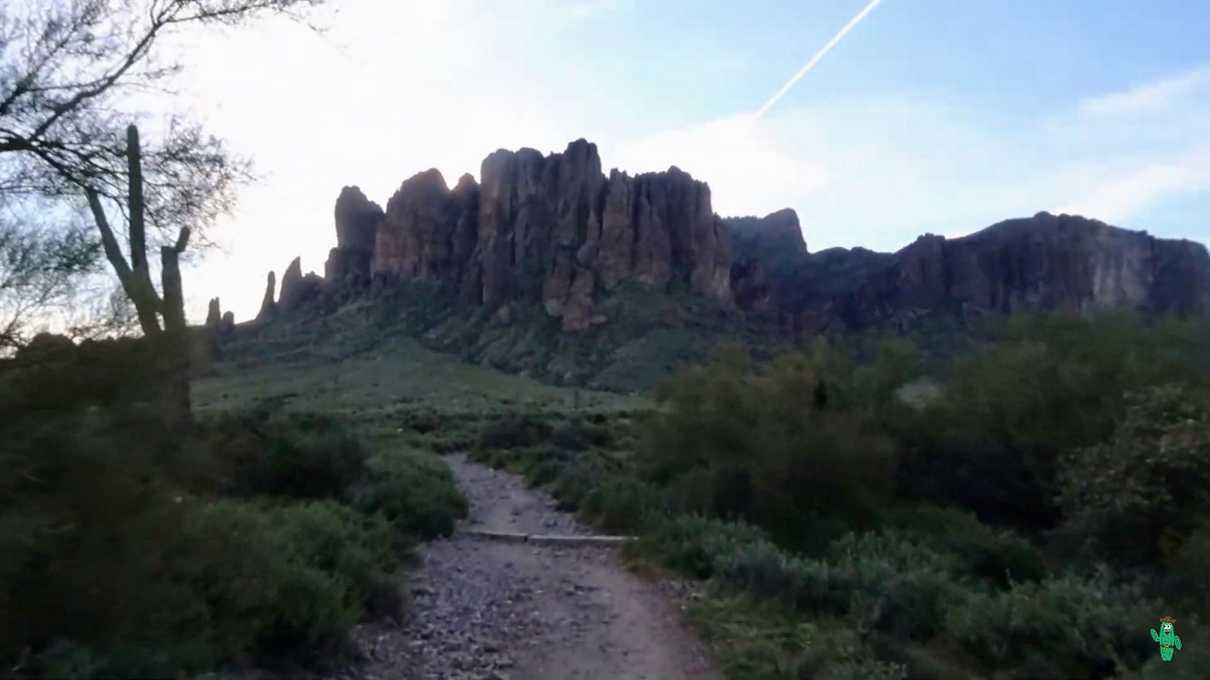 In the early morning hours it is very peaceful and beautiful. I wondered if I'd get to see any of the wildlife that inhabits the area including bob cats, grey foxes and mule deer. Turns out that I did not, but what I did get to see plenty of were beautiful wildflowers, which were in bloom around the time I was there.
These were not as pretty as other blooms I've seen in recent times, such as on a recent visit to Tonto National Monument, but the flowers here contrasted well against the large stone features of the mountains and made for a very beautiful scene.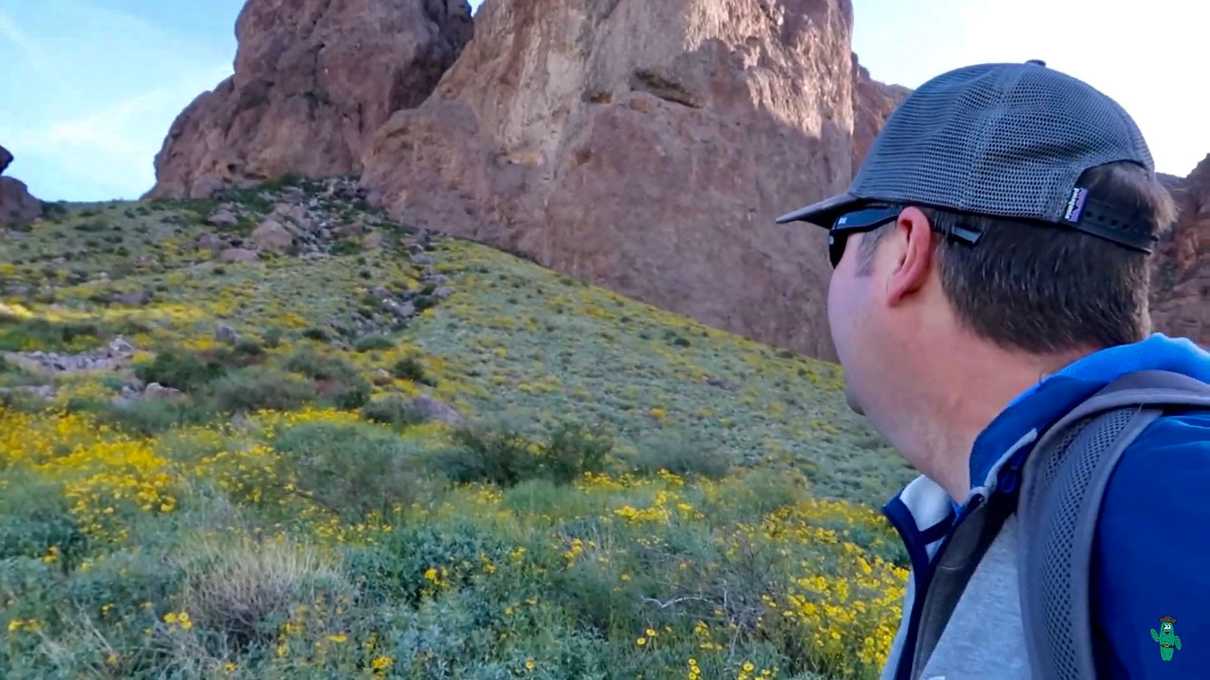 I don't think I was out here during the prime of the bloom, but certain spots were thick with flowers. I almost regret not trying out the Jacob's Crosscut Trail which I believe may have taken me through areas with more flowers. Maybe next year.
For now, I was headed directly towards the steep facades of the Superstition Mountains. I could now see that the trail ascends into a canyon, in between high cliff walls. As previously mentioned, you climb in elevation at a pretty gradual pace in the earlier sections of the trail. Every once in a while if you look back, you will get increasingly more scenic views of the landscape below.
As you start to enter the canyon area, the grade of the trail increases. By no means would I rate it as difficult, but your heart rate will almost certainly increase. The trail also becomes a bit more rocky, and I wished I had worn my hiking boots to get better ankle support in this section.
As you enter this area, you'll have a clear view of the Flatiron. It's pretty obvious what the Flatiron is. At least it was to me. Although it was hard to photograph in the direction of the Flatiron because the sun had come up in that direction, the pointy feature at the top of the feature is the infamous Flatiron.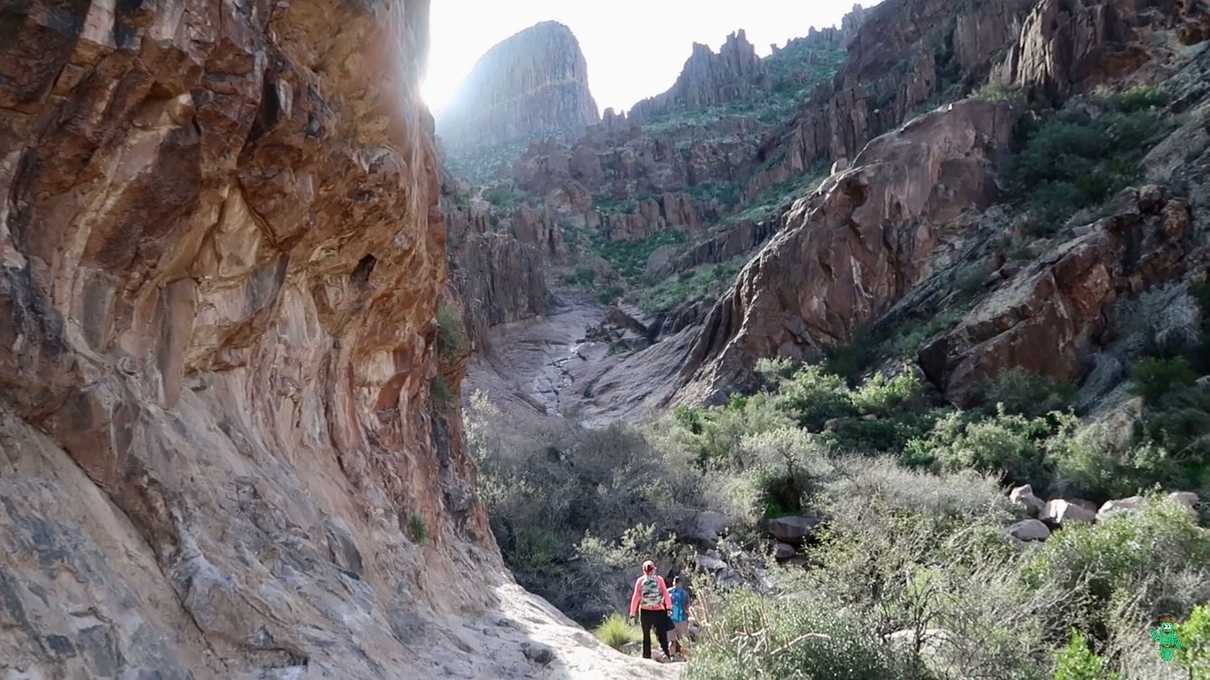 So yes. The trail will eventually continue past the basin and go all the way up there. I heard conflicting things from people about the level of difficulty. Some said it was easy if you take your time. Others said it was difficult, especially once you near the top and the trail becomes misleading. You also may have to do a teeny bit of rock climbing. For now, just know that you can hike up there if you want.
As for the basin and the "waterfall", as usual, when someone refers to something as a waterfall in the desert, don't get your hopes up. You'll be lucky if you get to see even a trickle of water, although I'm sure if you're in the right spot at the right time, like after a monsoon thunderstorm, things would be much more intense and dangerous. On this day, I felt fortunate enough to get the trickle version.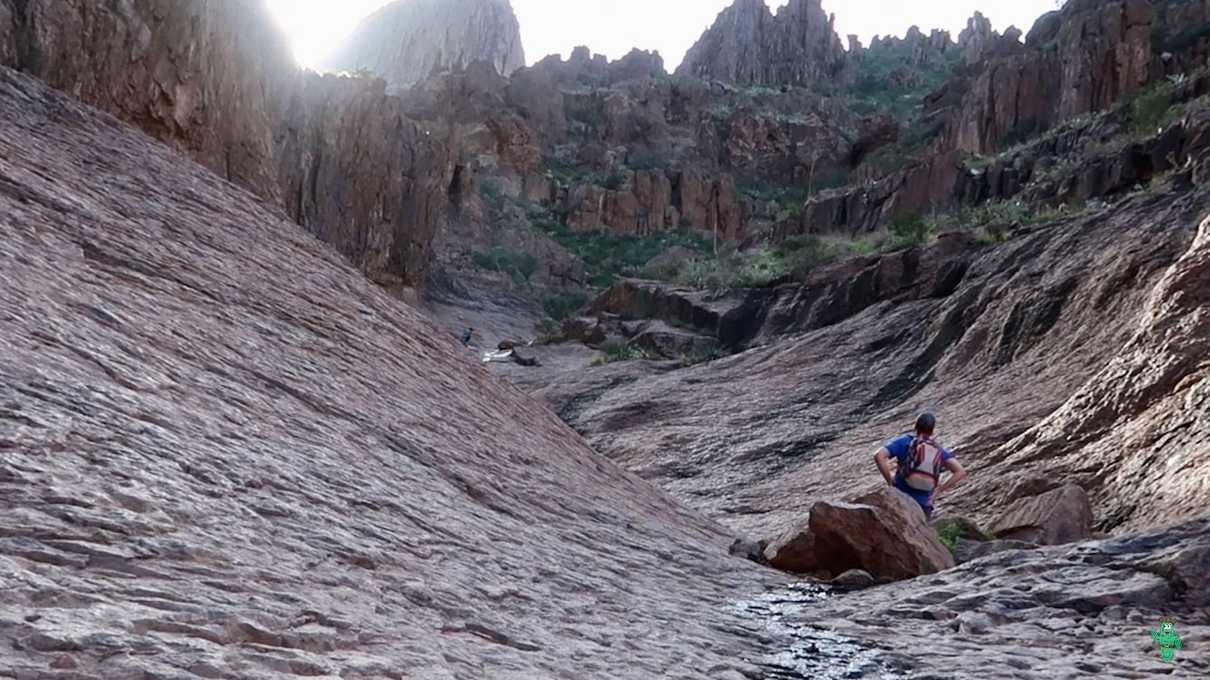 And just like that, I arrived at the turn around point, at least for me. I hung out for a while and watched others proceed up towards the Flatiron. I was bummed. I really wanted to keep going, and Flatiron was looking a lot closer. I invested in going this far, which technically was maybe over halfway. But alas, I had a checkout time at the campsite, and my tent was still set up. I needed to leave enough time to pack up and head to my next adventure.
The basin area was indeed beautiful and well worth the journey. But for me, the best part of the hike was the journey back down, since I got to enjoy all the beautiful views that were to my back most of the way up.
I particularly enjoyed seeing how the tall canyon walls framed the landscape below. It was breathtaking.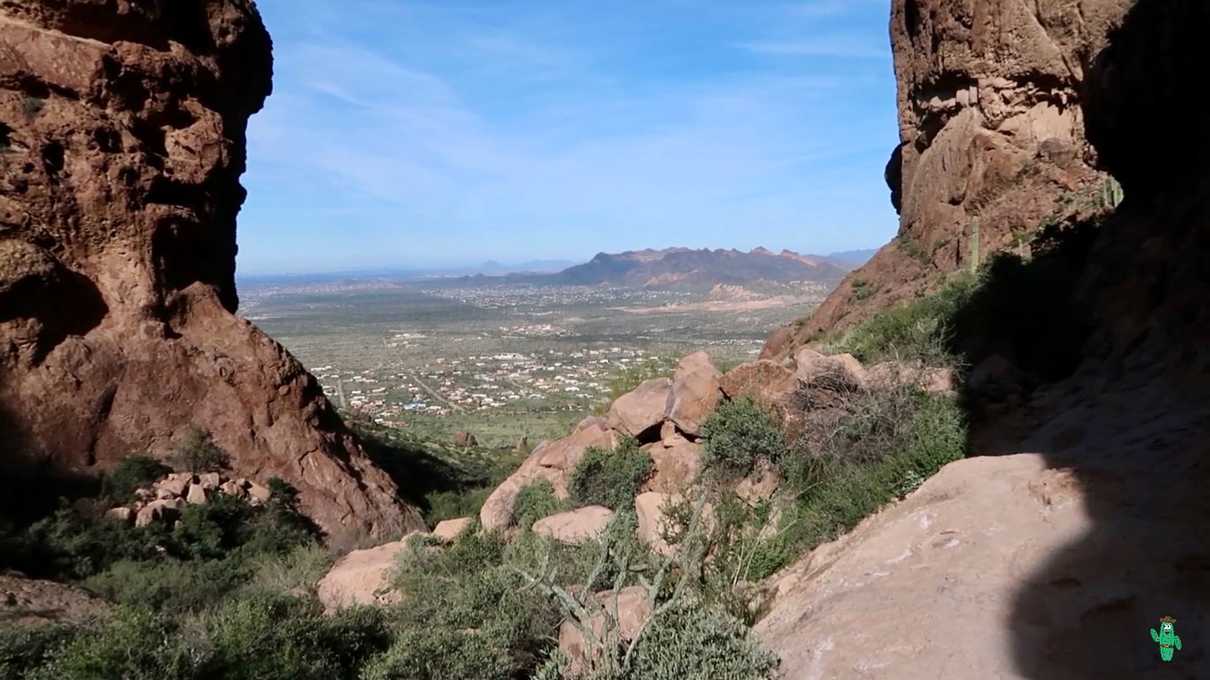 As I made my way back down, I remarked on how this may just be my new favorite trail in the Phoenix area to date. It is certainly the most beautiful. Unfortunately, it's pretty far from where I live and not a good choice to get in that quick Sunday afternoon hike, but I for sure will be back. Especially to tackle the entire thing.
My main advice to you is this is certainly best suited for the cooler months in Arizona. In summer, I'm sure it's a blazing inferno. I also heard tales of rattlesnakes being common sights around here, and the danger becomes more as you head up the primitive trail and start doing some bouldering. A ranger told me that the day before, as a hiker was climbing up a boulder, they almost "kissed" a rattler. So you may want to bring a hiking stick and knock it around a few times before stepping in spots you can't see well.
Other than that, I highly recommend checking it out sometime. I would even go so far as to consider this an international destination. It's one of the most beautiful places in Arizona and I can't wait to go back!