I'd heard of Patagonia Lake State Park many times. Talked about it with coworkers several times at the water cooler at work. It's always been held in high regard by fellow campers. Living in the hot deserts of Arizona, who wouldn't want to camp near a nice cool lake from time to time?
I decided it was high time to get down there and check it out for myself. So, a couple weeks before my birthday, my wife and I were trying to think of something different and unique to do. I'd read that at Patagonia Lake, you can rent a variety of water craft. I was also itching to figure out my next camping adventure. I'd heard that at Patagonia Lake, you can reserve special boat-in only sites, two of which are on small, private islands out the lake. How cool is that?
So, not only could I go boating for a day (something we have never done), I could go out and document these boat-in sites, which are very hard to find info about on the internet. You're welcome!
Upon arriving at Patagonia Lake State Park, we headed to the marina, where all of the rental boats are located. Our original plan was to rent a row boat or some type of manually-powered craft, but upon seeing the size of the lake and how much distance we wanted to cover (as well as it being an extremely windy day), we decided at the last minute that we required power.
So we rented a pontoon boat. I'm hesitant to list pricing on our website because this place was a little casual about how things are priced. You have to call to find out, so I imagine it varies based on time of year and demand. Just know that a day out on the lake on a pontoon boat is going to cost you hundreds of dollars up front. Mainly because a hefty deposit is required (in the hundreds of dollars), and the daily fee itself was pushing a couple hundred bucks.
Normally that would be too rich for my blood, but it was my birthday after all, and we were on a mission for the Cactus Atlas. I'd also maintain that for very occasional boaters, a couple hundred bucks is a much cheaper proposition than owning your own boat, and all the work and problems that comes with it. But, if that is still too much for you, the row boats and kayaks are much more reasonably priced and the lake has plenty of no-wake areas to make paddling around safe, fun and stress-free.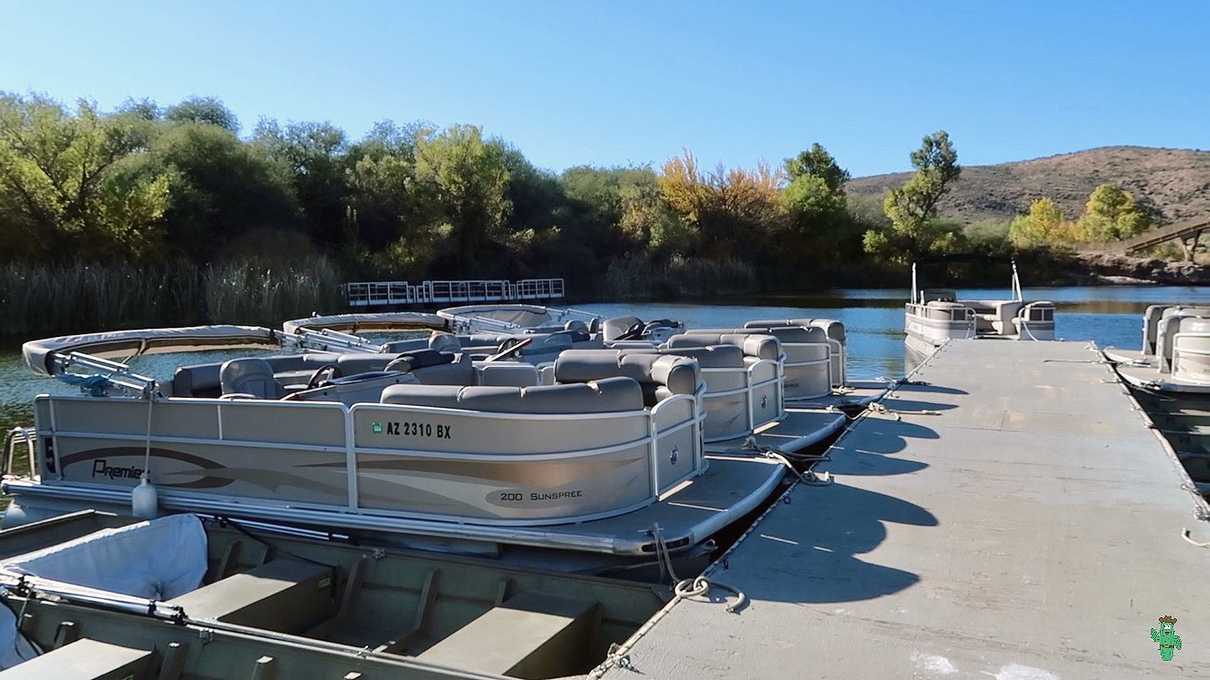 After boarding our vessel and acquainting ourselves with the controls, we discovered that operating a powered boat like this is as simple as it gets. If you can drive a car, you'll feel right at home. I'm saying this for those of you who may not have done it before like us. I admit I was a little nervous at first and didn't know what to expect, but after five minutes or so, I had it down pat. By the end of the day, I was doing some fancy maneuvering in and out of some tight places, like docking into some of the boat-in campsites that I'll discuss shortly.
I also want to say that we were there on a nice fall day, during the week. There was virtually nobody out on the lake that day, and we had it all to ourselves. So if you are looking to cut your teeth on boating, I can't think of a better way than making time to do this during a non-busy day like this because the stress factor is almost non-existent.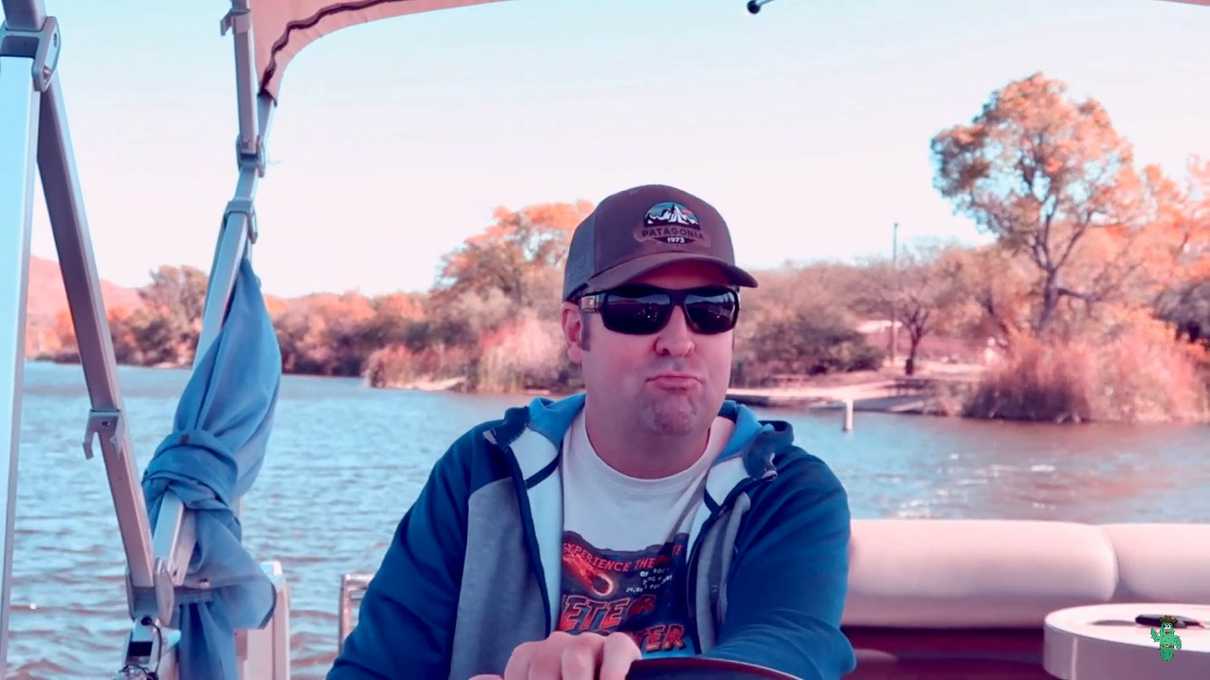 Chances are you stumbled upon this article because you're interesting in doing a boat-in camping adventure at Patagonia Lake, and like me, you struggled finding any pictures or information about the special boat-in sites online. I was surprised that I could not find a single picture of the best sites on the internet when I initially researched.
Normally I don't push our videos too hard on our blog posts because I assume you came here to read, not watch video. I'm going to break my rule this time and tell you to stop reading, and just watch our video if you want to learn about the sites and see the best ones. I'm not going to talk about all the campsites in this post... it would be too long. And I couldn't possibly describe in as much detail what I show in the video. Trust me, you'll thank us later!
But if you want to read on, I'm going to talk about what I, (and the guy working at the visitor center that day), think are three of the best and most popular sites. There are many good ones, so don't think these are the only game in town. And depending on when you visit, the best ones are very hard to come by, so you may end up needing to seek out a different spot when you visit.
Sites 111, 119 and 120 are probably among the most coveted boat-in sites at the park from what I've heard. 119 and 120 are on their own islands, and 120 is probably considered by most the best of the bunch.
We'll start with 111. It was very unique, and sits at the end of a small peninsula that extends out into the lake. Like every other site that day, 111 was not reserved, nor did it have campers occupying it, so I was able to get out on foot and explore it.
As with all of the boat-in campsites at Patagonia Lake, you get a couple amenities in the form of a metal fire ring with an attached grill. You'll also get a picnic table and a trash can. But, you don't get much else.
At site 111, you might get excited at first to see a porta potty on the premises, but you'd quickly discover that it is not operational. As I confirmed with folks at the visitor center, you are responsible for cleaning up after yourself. There are no restrooms in any form at these boat-in sites. Seems like toilets were once an experiment here, but I imagine the overhead of maintaining them at these isolated locations was a bit too much, and I don't blame them.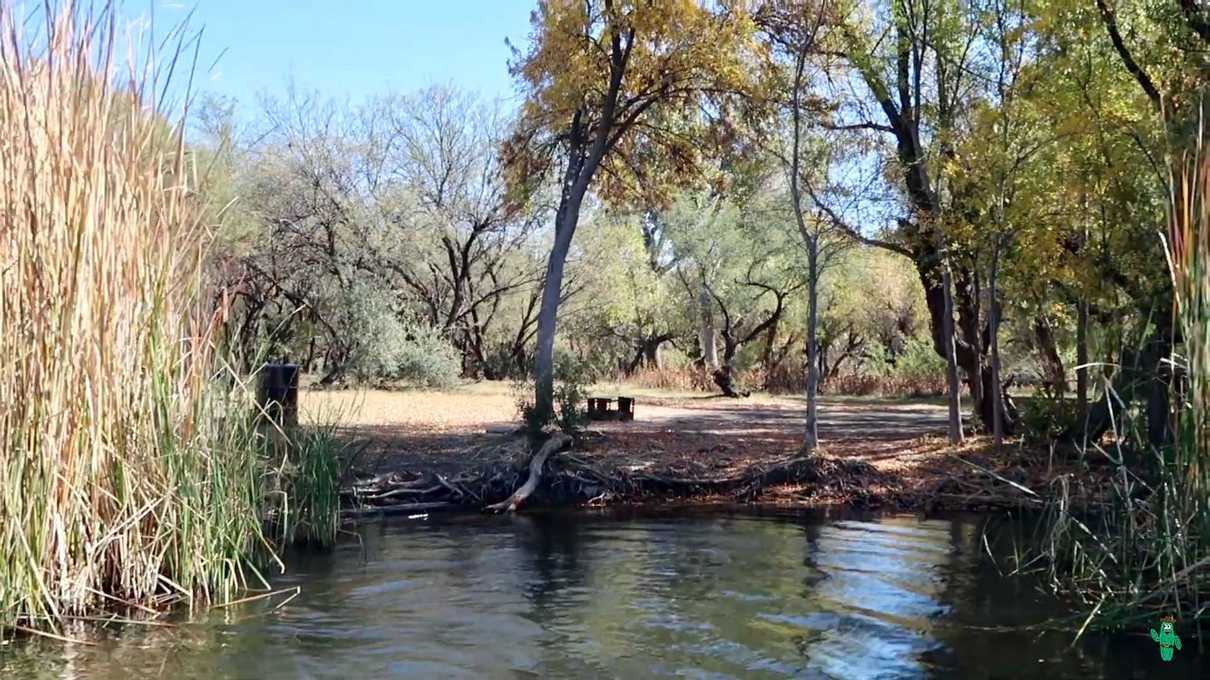 Site 111 is immaculately private, as most of the boat-in sites are. No neighbors, and it is in a nice shaded, wooded area, immediately adjacent to the water. I could see why this particular site is so popular.
We had no issues navigating our pontoon boat into the designated docking spot, even for a boating greenhorn like myself.
After exploring the campsite on foot (you can see much more of it in our video), we headed out to check out some other nearby sites.
Eventually we made our way to the first, and smaller of the two island sites, site 119. This would be the first and only time on our boating trip where I struggled a bit with docking our boat. Not sure if it was partially because of the windy conditions, or the location of this site, but the current was very strong and pulled our boat away from the island quickly. There was also some shallow rocky areas right off shore that I was paranoid about scraping the bottom of the boat on (I wanted our several hundred dollar deposit back), so I surveyed this site from the boat, a few feet right off the shore. But, this did not prevent us from getting a really good look at it.
I loved this site, although it seemed a bit small. Seemed suitable for a small tent, and maybe good for one or two people at most.
I would say this island was one of the most exposed of all the sites I had seen that day. It has a few small trees, but on a windy day, there would not be much to break up a strong breeze. You might also get a lot more exposed to the sun at this campsite, so bring sunscreen!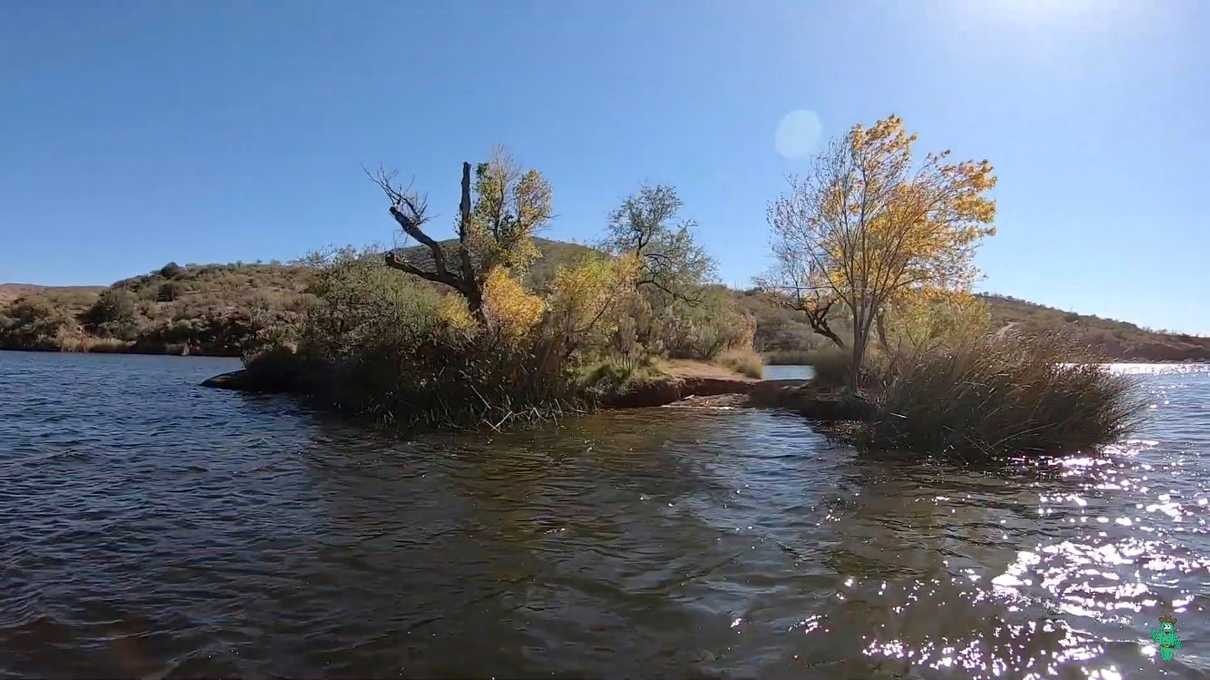 I did see a picnic table and trash can on this island, and I'm sure it has the fire ring too. Being that it's a tiny island, and most of it was covered in thick vegetation, there's not much room to roam around. Nonetheless, I'd absolutely camp there, and it was among the most unique and novel sites of the day. I can see why it is also one of the most popular.
After surveying 119, we cast off towards the "mac daddy" of all the boat-in campsites at Patagonia, site 120. Or so I've heard.
As we approached 120, I could immediately tell that the island the site sits on is significantly larger than 119. It's nicely wooded too, providing excellent shade.
One thing that we loved on this particular early November day is that autumn color seemed to be in its prime here at the lake, and site 120 had some of the best fall color we'd seen on this trip. It's an absolutely beautiful spot.
This time around we had no problem at all docking our pontoon boat. It was quite easy and the current was not as strong in this region of the lake. I was able to hop off the boat and take a look around.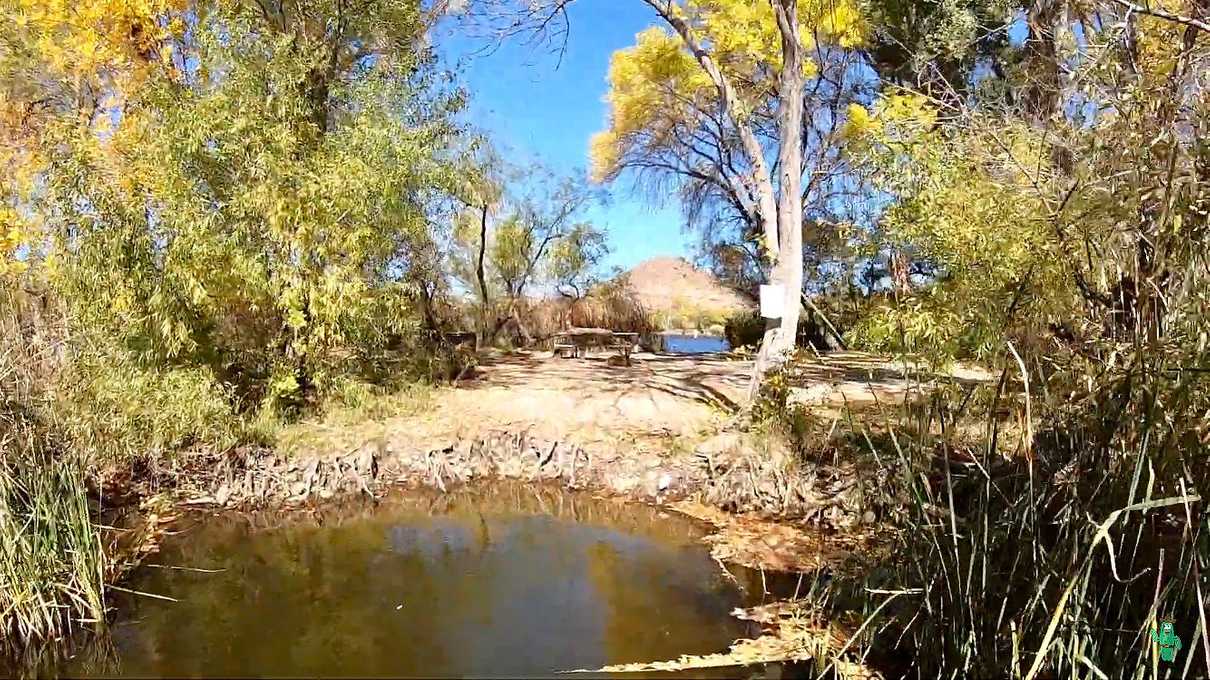 The first thing I noticed as I walked ashore was the wonderful smell of dead leaves. The smell of the woods! For some of you, that might seem strange to hear, but for those of us that live in the desert, a nice, earthy woodland smell is quite the novelty.
This particular campsite is nice and large. You could easily accommodate several large tents here if you wanted. It has all the same amenities as the rest of the sites too.
The only slightly troubling thing was all the poison ivy warning signs posted at this location. I saw plenty of it too. The main campsite was clean and clear of any plants however, so if you don't go wandering off into the vegetation or grab the wrong leaves in case you forgot toilet paper, you should be fine. I honestly wouldn't worry about it too much.
I could immediately see why site 120 is quite possibly the most in-demand site here. It's a beautiful and spacious campsite, very well-shaded, and as private as it gets. I very much look forward to returning one day and experiencing an overnight adventure here. Site 120 would be my personal first choice if I was able to choose.
As mentioned earlier, I was visiting during the week. I never saw a single camper, nor did I see any reserved signs on any of the sites that day. They also have a website where you can reserve the sites, so for busier times, you're definitely going to want to book in advance. I've heard that in the summer, it can be very hard to get one of these sites, so don't get your hopes too high!
But if you can go during the week, off-season, we found the weather to be absolutely fantastic and the fall color gorgeous, so it seemed like a wonderful time of the year to experience camping out on the lake.
I unfortunately did not have time on this trip to do a full camping experience, but we will absolutely be back to camp at Patagonia Lake, both at one of the main campgrounds on the mainland of the park, as well as on one of the boat-in sites, so keep an eye out for us!