Early on the last morning of my multi-day stay at Valley of Fire State Park, I set out to beat the crowds at Mouse's Tank. This trail is often mentioned as being one of the most popular trails in the park. It's also one of the first stops you'll see as you head down the White Domes Road from the visitor center. Many times when I drove past it on my trip, the parking lot looked pretty full.
On my way to Mouse's Tank that morning, I noticed a large group of big horn sheep hanging out in the parking lot at the visitor center. Not one to miss an opportunity to film those majestic creatures, I made a quick side stop. Early morning and late afternoons seemed to be the best time to see these guys during my stay. Being as though I had seen many the afternoon before at nearby Rainbow Vista, I figured I'd have a good chance at seeing some at Mouse's Tank.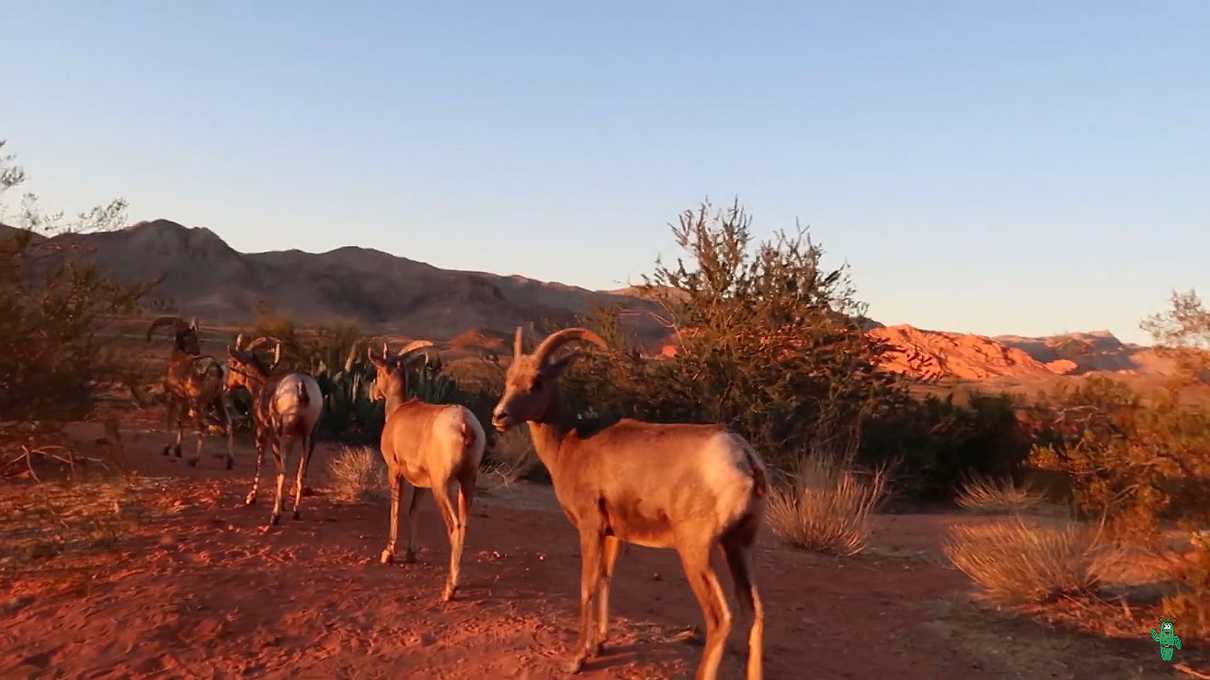 As I pulled into the Mouse's Tank parking lot, I noticed the only other folks to beat me to it were a small group that were part of an organized tour. They were using the restrooms and getting ready for the hike, so I decided to move quickly past to be the first person to enter Mouse's Tank for the day.
Mouse's Tank is a very easy trail. It's an out-and-back trail, about 3/4 of a mile in length. It's flat, with not much, if any, elevation change. The most challenging thing for some will probably be the very fine sand that you walk through. If you wear good hiking boots as I did, that will probably keep the sand out. Wear sneakers or something similar, and you'll be dumping sand out of your shoes by the end for sure.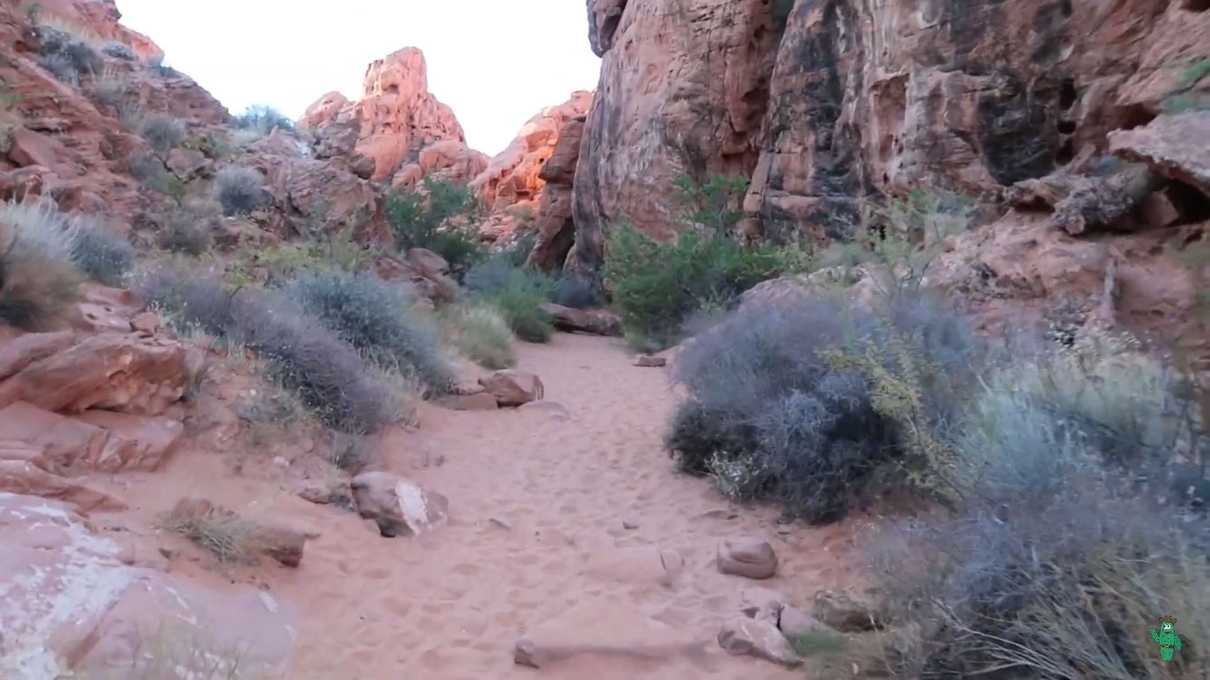 The popular features of Mouse's Tank are the many sets of native American petroglyphs that dot the area, as well as the natural tank that you'll find at the end of the trail, named after an outlaw named Mouse, who allegedly hid out in this area back in the days of the old west. A tank, for those of you who may not know, is simply a feature in the rocks that serves as a spot for water to naturally collect after it rains.
As I started down the trail, a notable feature here are the fiery-red sandstone rock formations common to this area. I would say that this particular area, as compared to many others in the park, gets you a bit more up close and personal to the Martian landscape that draws so many to Valley of Fire. You will be walking in a narrow, canyon-like passage as you head towards Mouse's Tank.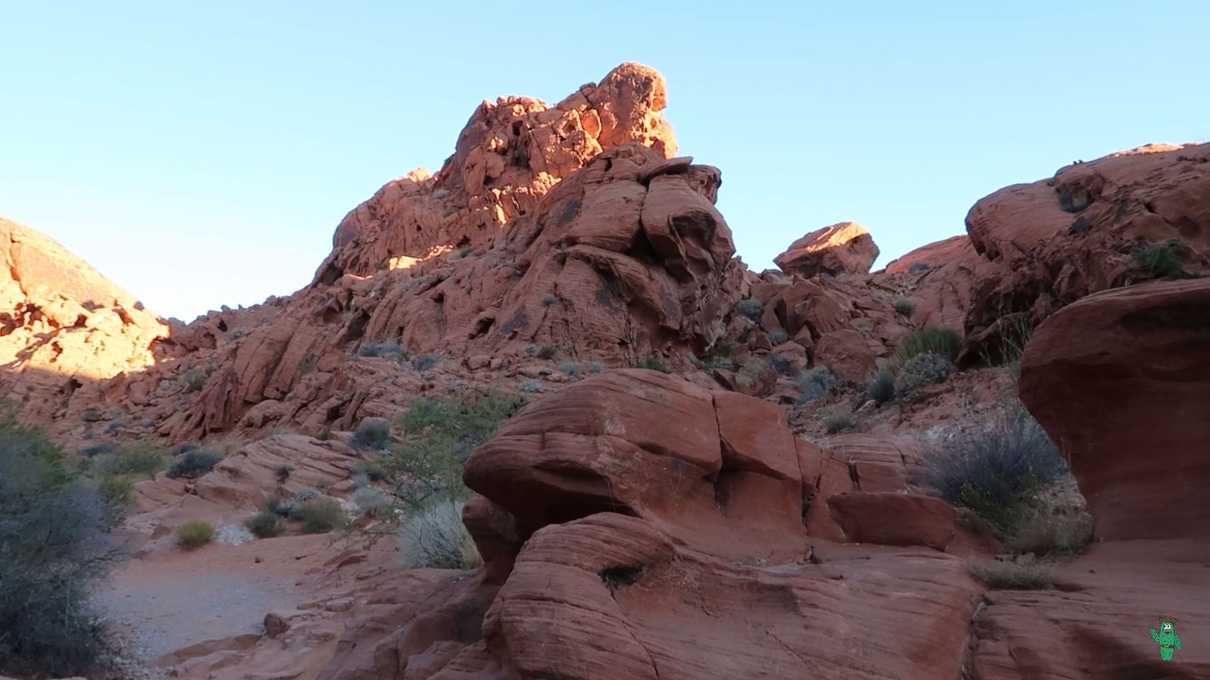 I scanned the walls of sandstone for the many petroglyphs that are supposed to be around this area, but I was being a bit hasty as I could hear the rather loud voice of the tour guide not far behind. Kinda makes it hard to film with loud voices, so I decided to press on and create some distance.
And before I knew it, I arrived at a sign marking the trail's end. Off to the left, I found what I believe to be the official Mouse's Tank, now full of dry sand. Not any water in it this time around!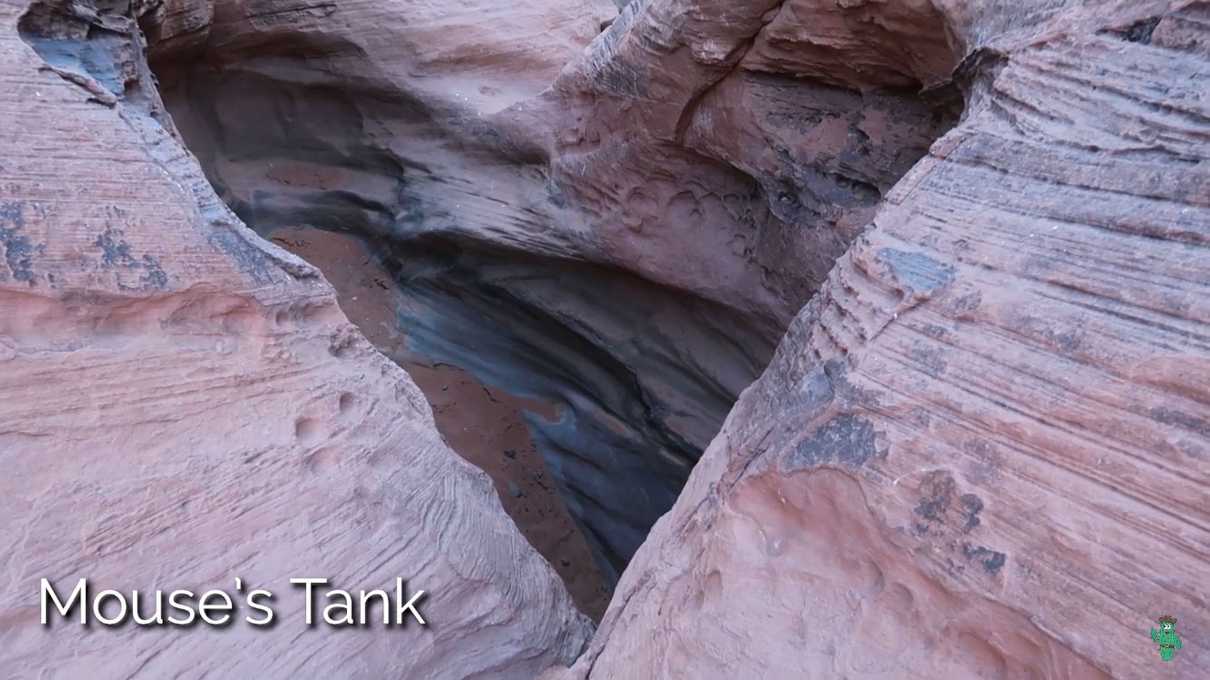 Also in this area is a spot overlooking the beautiful red landscape. Seemed like a great Instagram photo spot, so I took a few selfies.
Even though that sign I mentioned earlier indicates the trail's end, it was clear to me that another little spur trail continued even further, evidenced by hundreds of footsteps in the sand leftover from the previous day's hikers. Might be something to see down the way, so I set off to explore.
And I'm so glad I did! Not only did that little spur take you deeper into the little canyon area, I also discovered a very well-formed natural stone arch. You will likely also want to explore that area too, and it is a very short spur. It'll only add a few extra minutes to your journey. Check out our video if you want to learn more.
After taking in the sights at this area, I decided it was time to head back. The tour group had caught up and was congregated near the official Mouse's Tank, and the tour guide was giving a talk about petroglyphs.
So I guess I owe some thanks to the tour guide, because I finally saw some of the petroglyphs that she was pointing out to her tour group. Not sure how I missed them! There seemed to be pictures of big horn sheep, and even an atlatl carved on the wall. In our video, I speak about how some of these petroglyph's are thought to be as ancient as 4000 years old (2000 B.C.).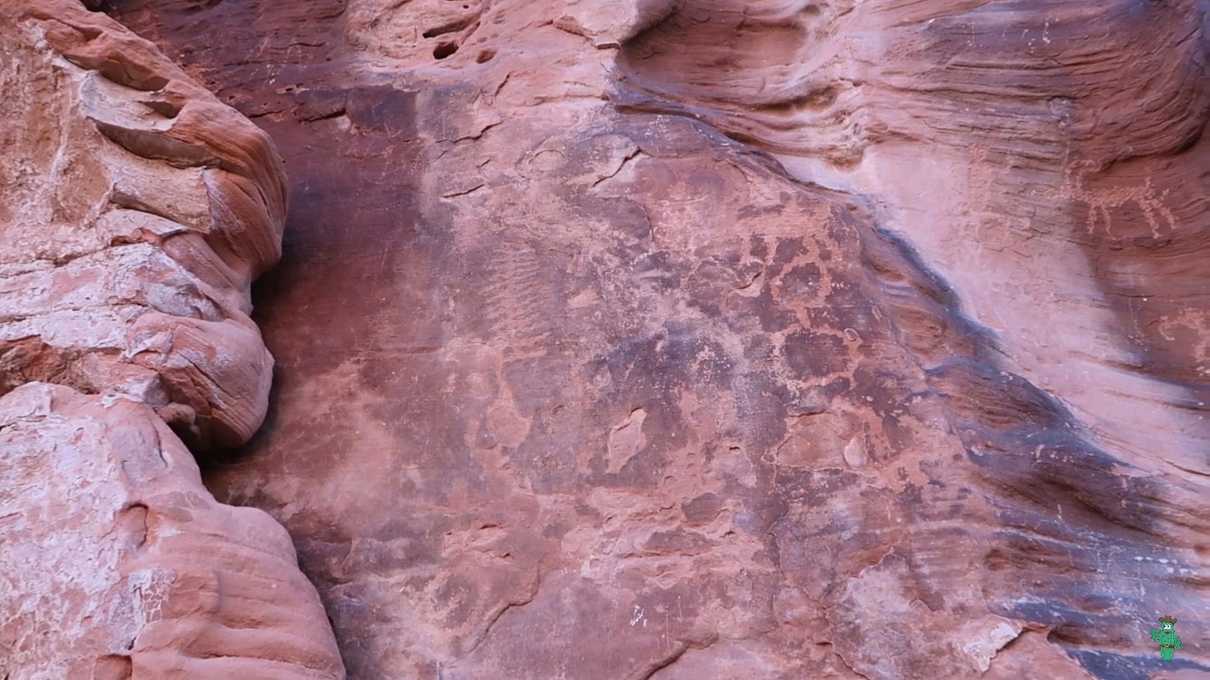 I got that figure from an official park sign located at the top of the stairs of Atlatl Rock, which you can see in one of our other videos. Weeks later, I shared some pictures on a Facebook group and mentioned the age, to which a very passionate person corrected me and pointed out there is no way they are that old. His argument and back-up facts seemed logical, so I decided to reach out to Valley of Fire State Park and got a response from one of the park interpreters who did confirm that he thinks the dates are not likely correct, and that the oldest petroglyphs are more likely around 1500 years old, with some of them being made as late as the 1800's. Although, there have been some archaeological findings which date people living in this area as far back as over 7000 years ago!
Regardless, petroglyphs are amazing things to look at and to wonder about. On the way back to my car, I was not in as much of a rush, and my eyes were now better tuned to locating these things. I found two other spots with many more etched into the stone, but who knows how many others I unknowingly passed by on my journeys through the park?
At this point, the sun had risen over the tops of the sandstone to the east of me, and the bright rays of the sun made looking in that direction impossible. Luckily, I felt as though I had made a thorough enough exploration of Mouse's Tank, and got all the footage needed for my YouTube video.
So overall, what did I think and would I recommend it? For me, this was indeed one of my favorite areas of the park. The petroglyphs were plentiful and not hard to see once you know what to look for. The tank itself was neat, especially combined with the lore of the location, but the arch hidden at the end of the spur was a little neater I thought.
The biggest draw for me however was the walk through the narrow, red sandstone walls. The park hosts a wide variety of colored landscapes, ranging from white to the rusty reds, but its the latter that appeals to me the most, and Mouse's Tank is one of the best spots to get a closer look at that type of landscape.
If you are trying to construct an itinerary for your visit to the park, especially if you only have a day to spend there, you might want to prioritize The White Domes trail or the well-known Fire Wave higher on your list of things to check out, but Mouse's Tank should be a close third. But, I don't see why you would have any trouble seeing all three of those things and more over the course of a one day visit if you use your time wisely. And, if you are luckily like me and have more than a day, than it's a no-brainer.
Unfortunately, despite being out there bright an early, I never did see a bighorn sheep roaming about Mouse's Tank. Maybe next time.