Located within the San Rafael Swell are countless miles of hiking trails and canyons to explore. One of the more worthy sites is Little Wild Horse Canyon and Bell Canyon, a short drive west of Goblin Valley State Park and north of Hanksville in south central Utah. The slot canyons are popular with families and have a wide variety of twisting narrows and light scrambling which provide physical activity and adventure for all ages.
The Little Wild Horse Canyon Loop is one of the easier slot canyons in the area to access. Though it is down a dirt road, a regular passenger car should be able to reach the trailhead with little to no problem. No 4x4 needed! 
At the trailhead are vault toilets but no water. From the parking lot trailhead it is an easy 0.5 mile hike to where the split occurs. To the left is Bell Canyon and to the right is Little Wild Horse Canyon. Throughout the loop trail is plenty of signage to help guide which direction to go when entering and exiting the two canyons.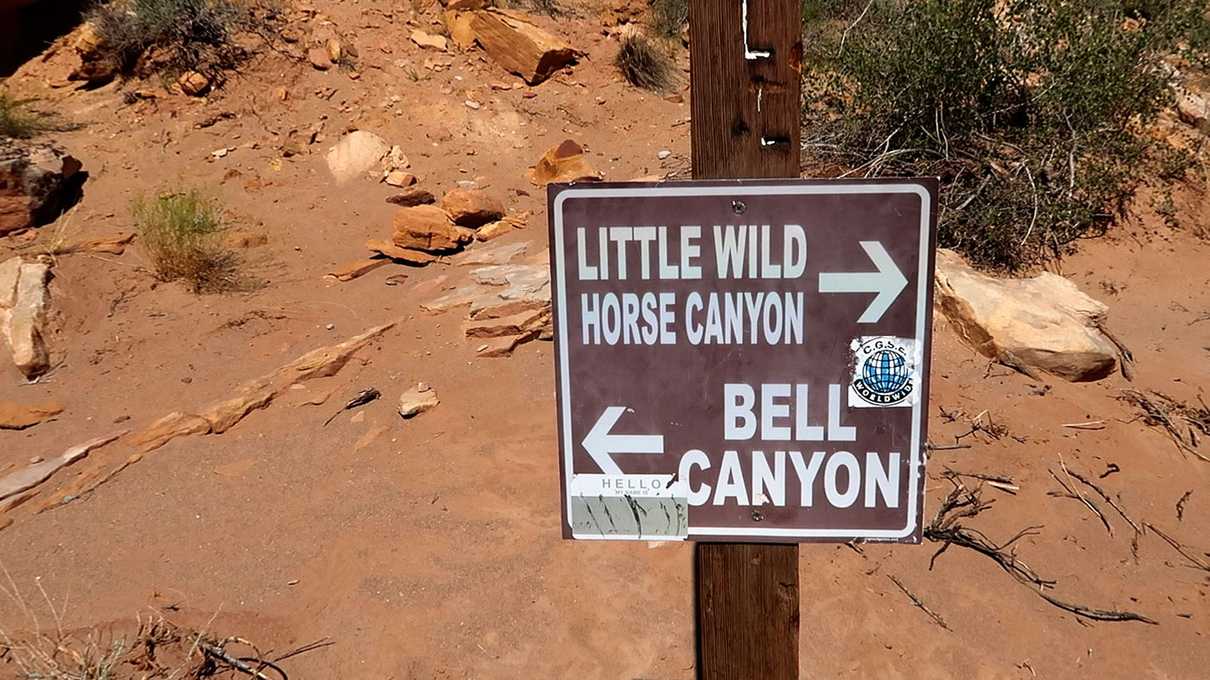 Multiple Ways to Experience
There are multiple ways to hike through the two canyons. For those looking to get in some physical activity, the entire loop is 8 miles with only a few sections of climbing over boulders or scrambling. Most start up Little Wild Horse Canyon and drop down into Bell Canyon back to the trailhead due to the more gradual elevation gain going counter-clockwise.
If time is limited or hiking the loop is not of interest, many find Little Wild Horse Canyon to be more than enough and hike in as far as they like and head back. There's nothing wrong with this at all! This canyon is certainly the more impressive of the two canyons and as such is the more popular. The most varied texture and color as well as the narrowest areas of the loop can be found in Little Wild Horse Canyon. Some areas are roughly shoulder wide and a few hikers might find turning sideways easier to get through.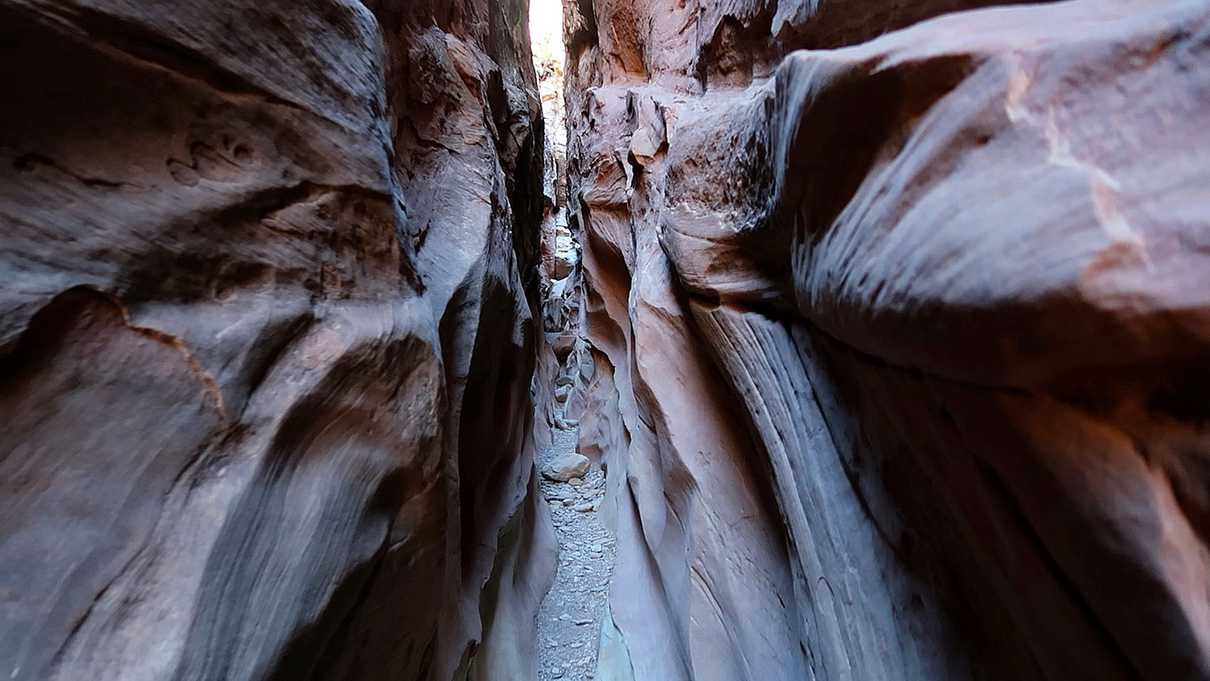 How Hard Is It?
In Little Wild Horse Canyon the trail feels relatively flat for the most part, however, one might have to do a bit of scrambling over rock boulders and areas of "walls" which rise a couple feet. Adults shouldn't have much problem in average physical condition as there are plenty of places to get stable footing. Most agree that the obstacles provide a fun challenge and add to the experience.
Families taking children along shouldn't fear. Children can easily be boosted up should they need assistance, however, many online reviews from families state that their children were capable of climbing over the walls and boulders with no issues and were eager to see what lurks around the next corner.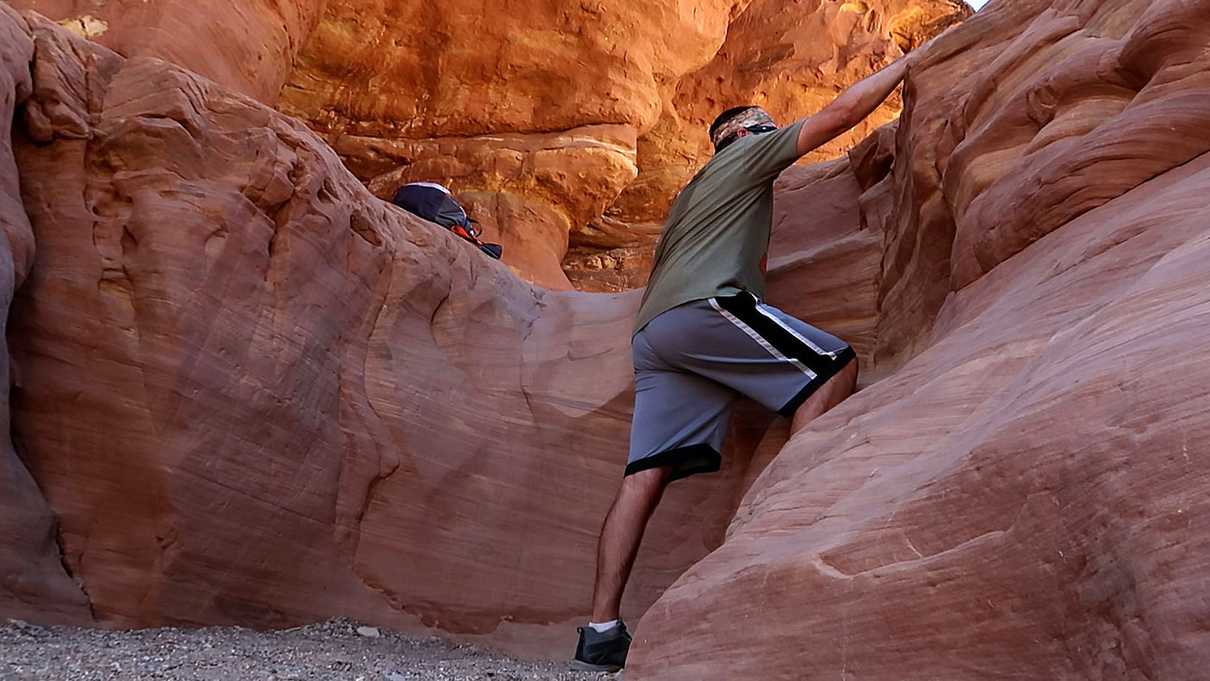 Hiking the Whole Loop
Should one choose to hike the full 8 miles loop, Little Wild Horse Canyon is 3.6 miles from the junction through plenty of gorgeous twisting and turning narrows to an open and exposed portion that connects the two canyons in the back. This wide 1.6 mile section leads to a 4x4 road that can be followed straight into Bell Canyon. A number of signs are posted in this section showing a map and where you are located on the trail and help guide your way. You're unlikely to get lost here.
From the north entrance into Bell Canyon back to the previous split is a 1.8 mile hike. Bell Canyon has far less twists and turns than Little Wild Horse, and is a bit wider with only one section of narrows. Due to this, there is less shade, however, this canyon would be ideal for someone who may have issues with restricted spaces as Little Wild Horse Canyon certainly has areas to go through that are narrow for periods here and there.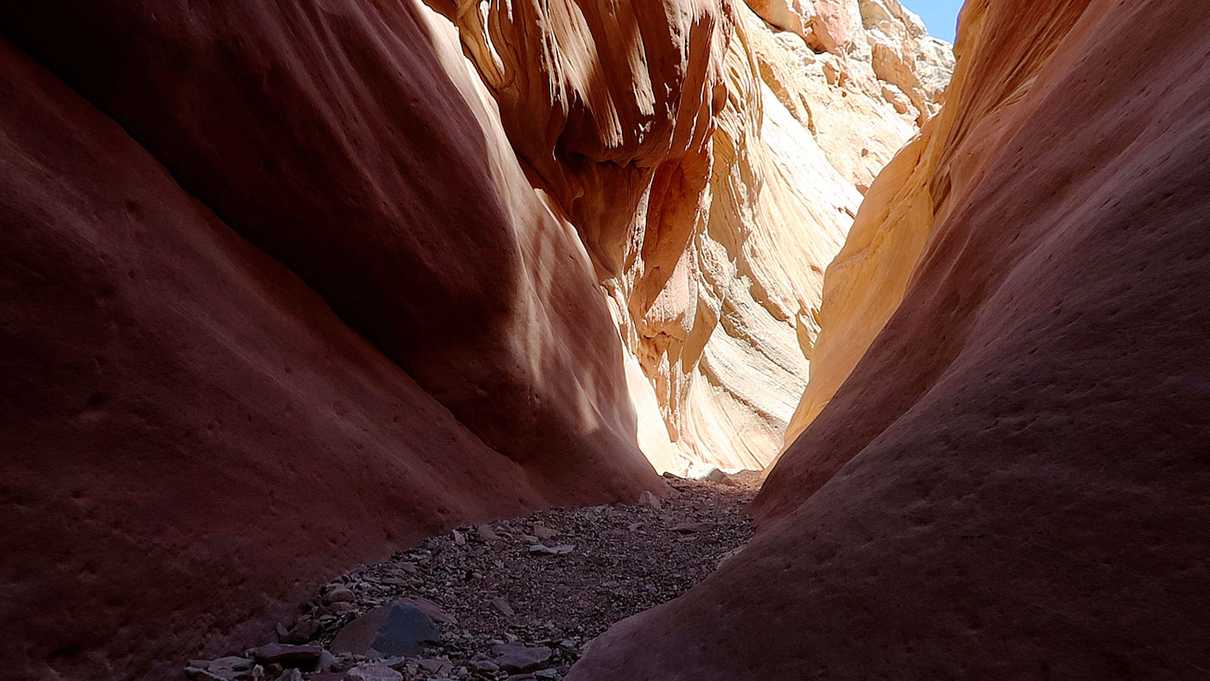 Spring and summer are the most popular seasons for hiking the slot canyons and caution should be taken in late summer when monsoon storms can often bring sudden heavy rain and flooding. 
Regardless of which direction you go, how far you go, or which canyon you choose, this area is one not to be missed and a great place to stretch your legs, get in some exercise or just marvel at nature. Be sure to bring sunblock, water and a camera!