While we fully recommend supporting National Parks, sometimes you just don't have time to do it all. Luckily if seeing the Painted Desert is your thing, there is a free option with views that rival any of the overlooks inside nearby Petrified Forest National Park's overlooks. In fact, we might dare to say they beat any views inside the nearby National Park.
Just a short drive north of I-40 on SR-87 is the Little Painted Desert County Park. When researching for our trip to Homolovi State Park and the Winslow area last year, we noticed this park on maps. Curious as to what this place was, we did a little research. Little shows up online aside from some reviews and brief information about the area but we quickly realized this park was worth a visit.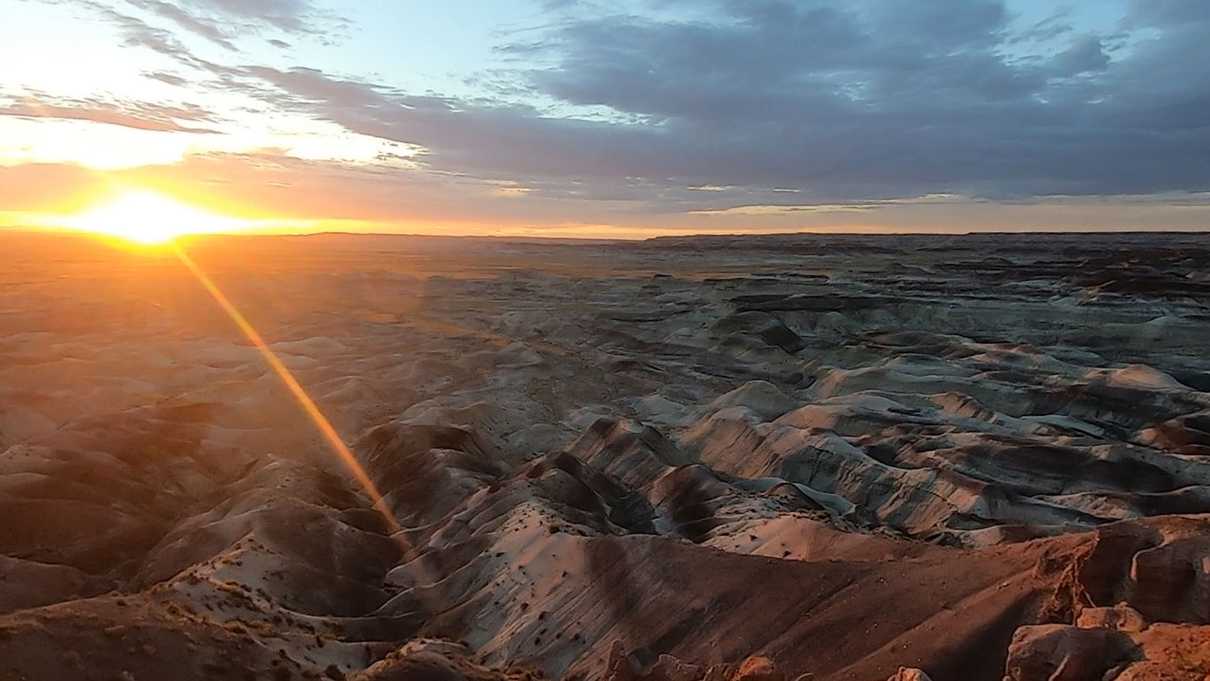 Finding the park is fairly easy. There is a turn onto the park road that can be missed as signs have eroded but using navigation should get you there with no problems. Despite the ease of getting there, this park does not seem to experience heavy traffic. During our entire visit we only saw one other car that was entering as we left. That said, there are some drawbacks to this.
This park is not exactly in great condition. At one point this might have been a great stop to picnic and spend time with friends and family, however, it seems that funds are no longer spent toward park upkeep and the grounds are not maintained. 
There are a couple covered picnic tables with grills but time and neglect have made this area less than desirable. Litter and garbage were strewn here and there around the ground and overgrowth of weeds and brush covered any paths that once might have been there. At the time of our visit the litter was not so bad that one couldn't stop to rest at the tables but you probably won't want to spread out a picnic lunch.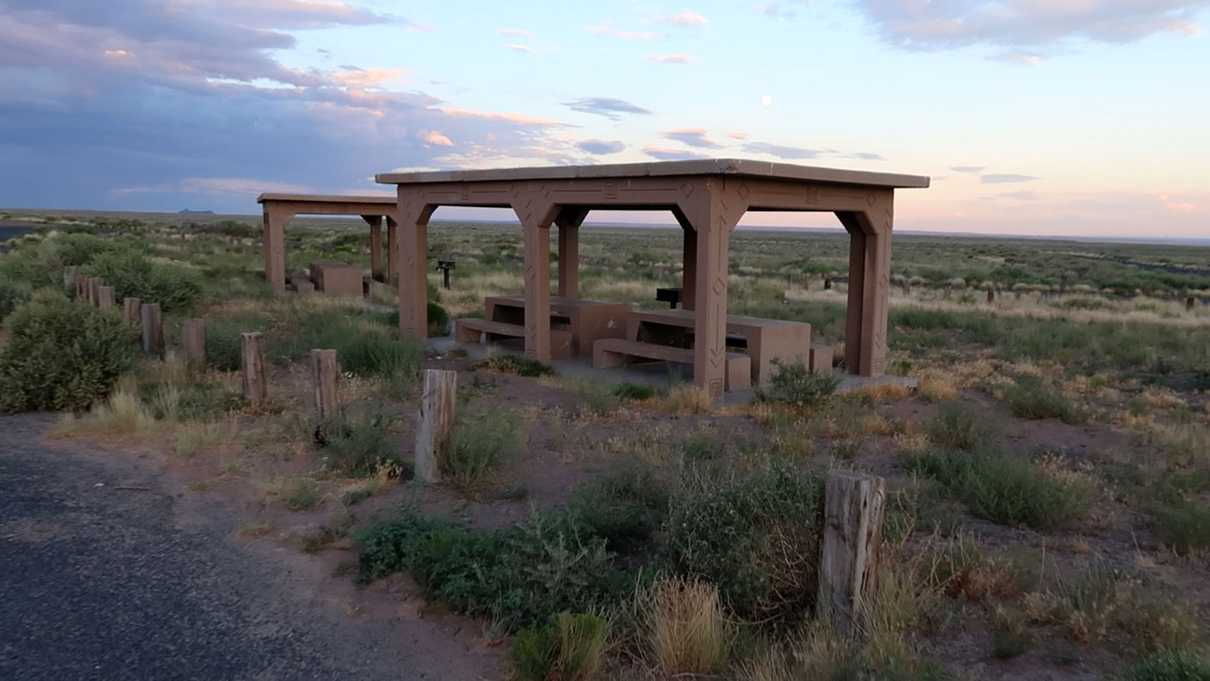 In worse conditions are the restroom facilities with vault toilets. The restrooms clearly had not been serviced in quite a while. Broken bottles and various garbage were left in the facilities and the entire building was covered in graffiti.
So if you're looking to stop here, make sure you are aware of these things and utilize restrooms elsewhere before stopping. Nothing was so severe as to cause us to leave, but it was certainly a shame to see. We've read online that groups of volunteers sometimes stop through to clean up the park. This is entirely possible because the grounds surely could have been in worse condition. Mostly what you'll see should you visit is a park that is no longer maintained but keep reading and you'll see why it's still worth visiting.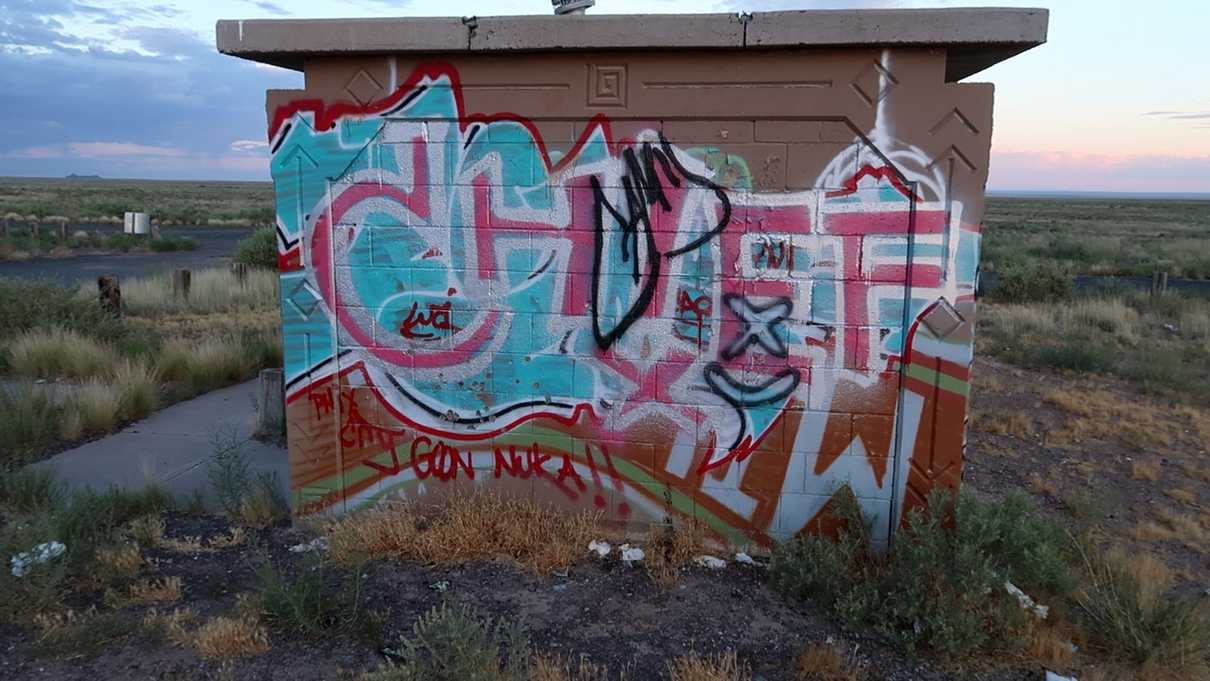 Should you choose to come and are able to overlook these minor details, you will be in for a complete treat. What you are coming for are simply amazing and spectacular views. Step out and walk along the short rim trail and colorful hills stretch out as far as the horizon reaches. The banding of colors - white, grey, violet and red - rival those inside National Parks. 
What one really needs to come here for, however, is for sunsets. The colors take on an impressive punch of saturation. The setting sun overlays a warm glow of reds onto all of the color stripes and shadows create sharp contrast to all of the hills. As you will be facing west at the rim, you also get a fantastic view of the sun as it dips below the horizons. All this beauty for not a penny!
There are no marked trails taking visitors down into the badland-like hills, however there are no signs indicating one cannot. In fact you will see evidence of hikers venturing down from the rim. Should you choose to hike into the hills you will definitely get some great perspective views but make sure you take water. Afternoon temperatures can get quite extreme.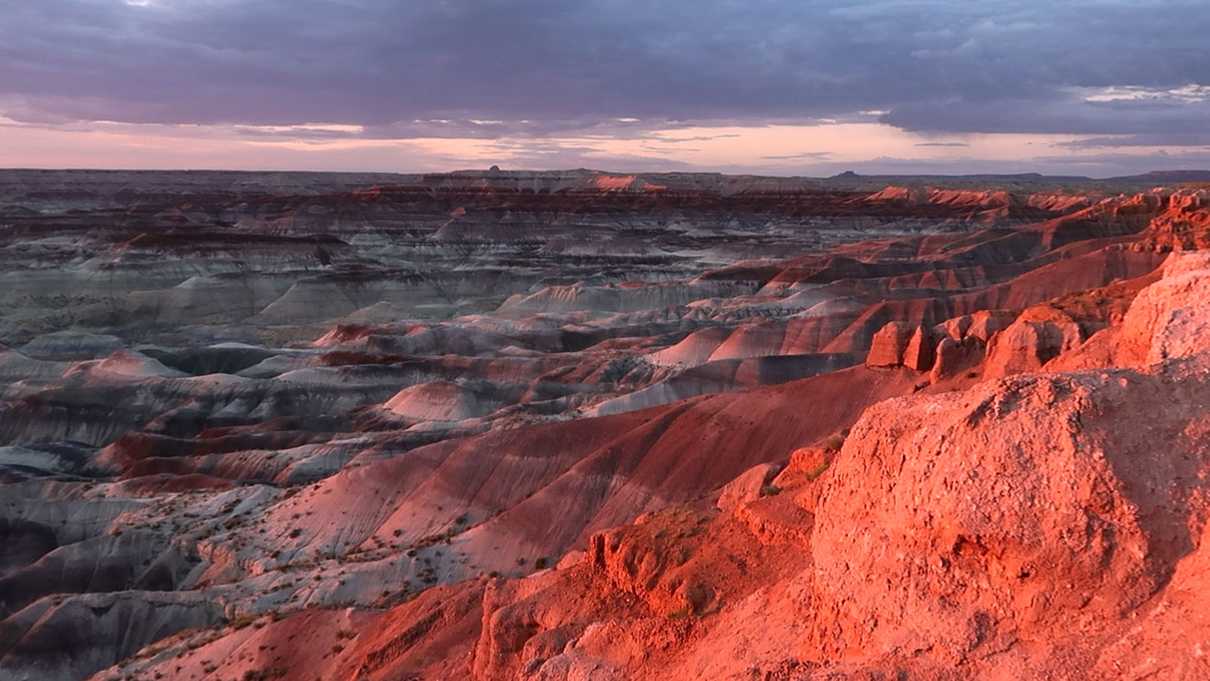 This quick stop can be added to any trip through the area. It is a mere 20 minutes from downtown Winslow and if you're staying in the area it makes a great place to catch a sunset. Just be sure to bring your camera!