For many, a once-in-a-lifetime vacation includes seeing some of the most iconic National Parks in the Southwest: Grand Canyon, Zion and Bryce. If you are ever planning such a trip, chances are good that you'll be driving a stretch of road known as route 89 as you progress from Arizona to Utah, or vice versa.
Route 89 cuts through a large town named Page, Arizona. This is the site of Lake Powell, Glen Canyon Dam, Antelope Canyon, and of course, the well-known Horseshoe Bend. Page is certainly an international destination in and of itself, and Horseshoe Bend is partially to thank for that.
Horseshoe Bend is a couple miles south of the main town of Page, and the parking lot is clearly visible from route 89. You'll likely see a sea of cars, RV's, and tour buses parked right off the main route, and that is your queue to pull on over and join in the action.
Don't let the crowded parking lot deter you as it did me the couple times I decided to pass it by. Once I submitted to the throngs, it still ended up being very navigable and enjoyable experience, despite my usual aversion to large crowds.
If you decide to check it out, you'll first pull up to one of several entrance stations where you'll pay a fee based on the type of vehicle you're driving.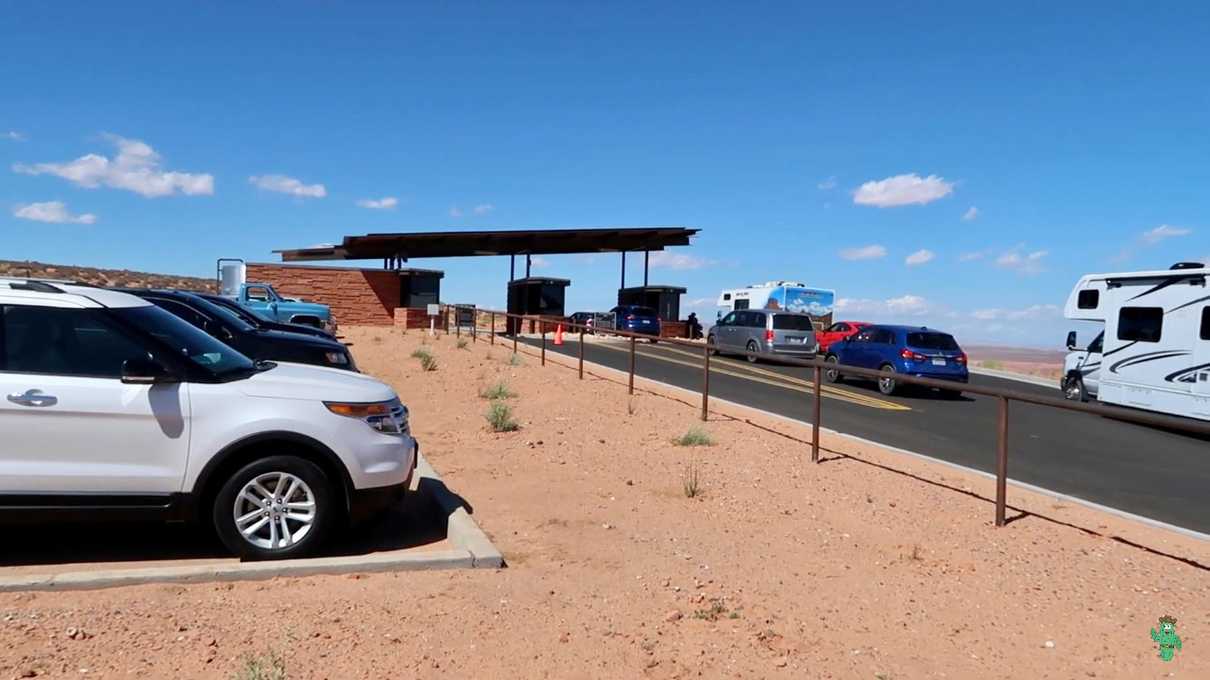 Once you do, even when its crowded, there seemed to be more than enough parking for everyone. When I went, there were plenty of vacant parking spots and I never saw anyone waiting.
There are multiple restrooms here too, so it's the perfect place to stop and take a bio-break if needed on your road trip.
As you exit your car, you'll see a spot where all the people are going to and fro. This would be the trail you walk to get to the overlook for Horseshoe Bend. And yes, you will be doing a bit of walking. About a mile and a half round trip in fact. The good news is that it's an easy walk for most. I saw young children and senior citizens, and people of all fitness levels. Nobody seemed to struggle.
It's a crowded, yet wide enough, out-and-back style trail. The trail is mostly downhill on the way to the overlook, but you'll have to walk back the way you came, mostly uphill.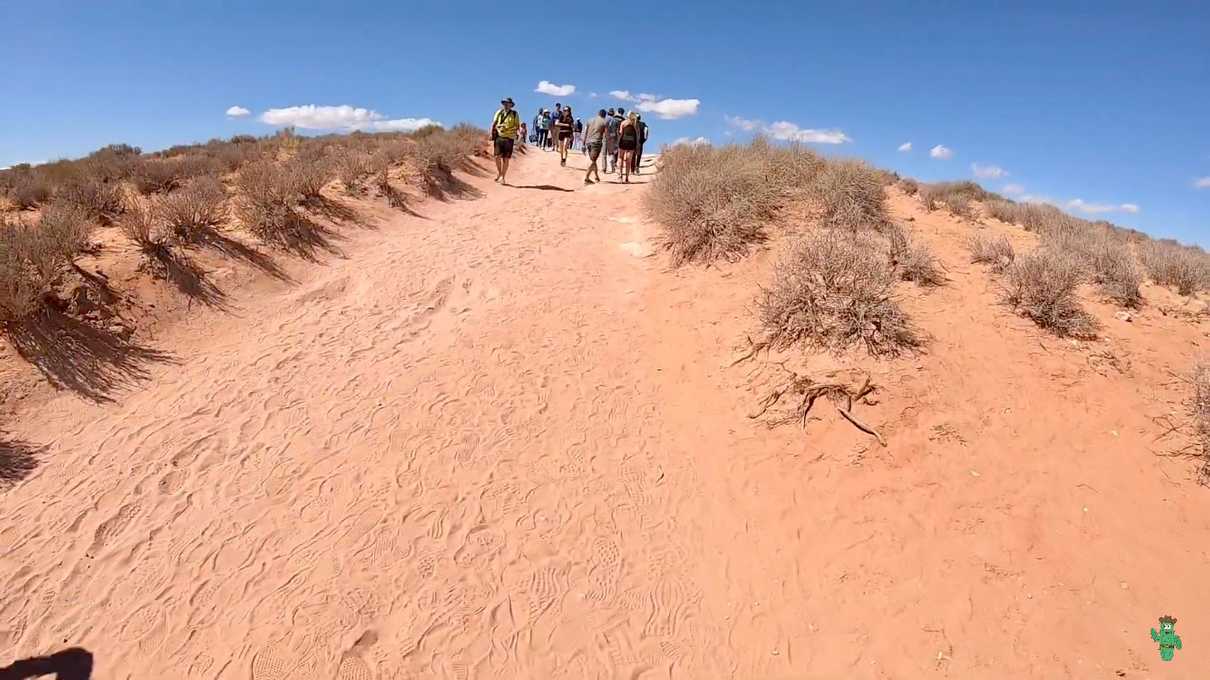 You'll definitely want to bring a few bottles of water with you, and there are signs warning you of the same at the trailhead. No water fountains or concessions to be had during the hike or at the overlook. It's desert terrain, and although when I went it was not super hot, you could easily get dehydrated. In the summer, it can get uncomfortably hot, and there is almost no shade throughout the duration of the experience, so bring plenty of sunscreen!
Now for the advice that you will thank me for the most. Wear sandals, or perhaps hiking boots that are nice and sealed, because you are going to be walking through a lot of sand... deep, fine, beach-like sand. And if you're like me and did not realize that and wore sneakers and socks... you're going to be dumping a lot of sand out of your shoes throughout the day. Nothing like gritty sand all up in your socks during a nice, sweaty hike!
Probably needless to say, there is nothing accessible about this trail. Unless someone has a wheelchair with off-road capability, I don't see how this trail is accessible for everyone. Maybe one day they'll pave it.
Now, if you braved the sand and the crowds, eventually you'll make your way down to the overlook.
And I'm not going to lie. There are A LOT of people. There's a railed area directly in front of the best photo spots, and it takes a little doing to nudge yourself in there to get your Instagram selfie on. But with a little patience, you can get it done.
However, the railed area is not the only place to view the Horseshoe. You can walk on either side for quite a ways and go right up to the edge of the precipice. I did this several times, but be warned! There are no rails in those spots and the edge of the cliff is sandstone, covered in a small layer of loose sand, so I could see it being very easy to slip. And in some places it is straight down... to your almost certain death.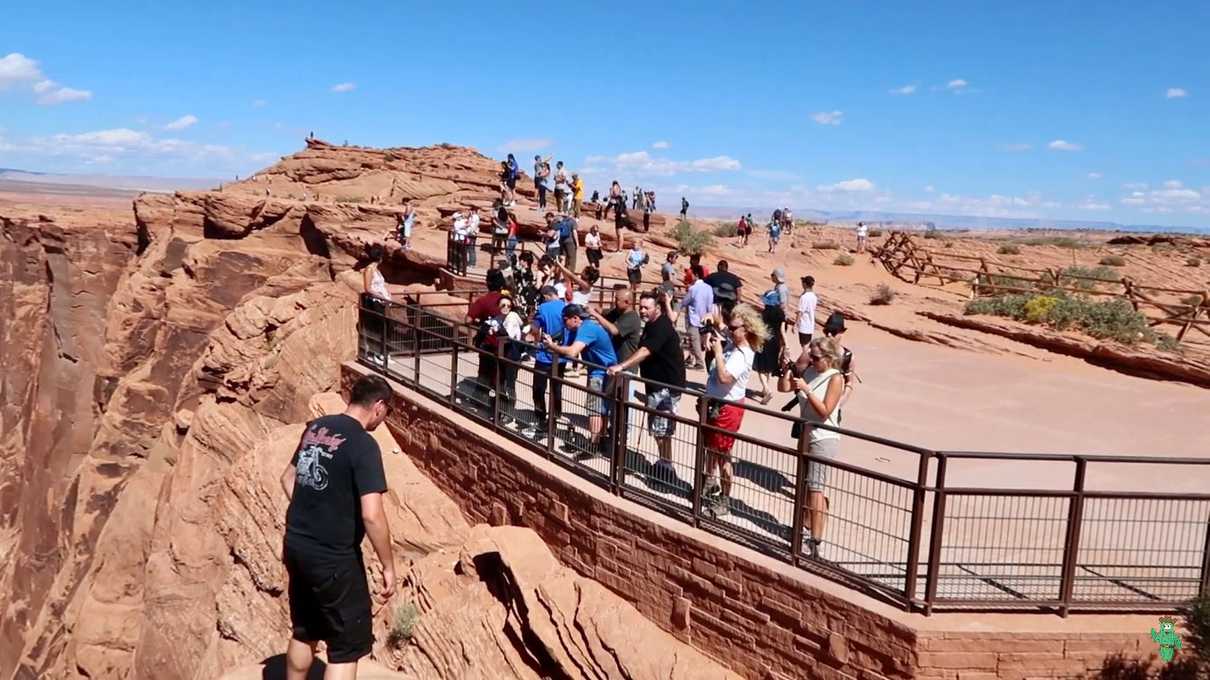 You will see many braver than I hanging out on the ledges. I was only able to get a couple feet away from the edge before the tingling in the back of my neck was too much to handle. The word of the day: vertiginous. And if you don't know what that means, you'll learn it there!
I haven't researched it, but I would not be surprised if people have died here. It can be pretty intense at times!
If you're a wimp like me, your best bet is to stay behind the railed area. Besides, I did not see any better vantage points than from behind the rail.
It's worth exploring a little bit off the beaten path if you have time though. There are some worthwhile photo moments to be had in other spots for sure, just none better that I saw than at the railed section.
And once you do claim yourself a spot at the rails, you'll be treated to the view you've probably seen many times before, except this time, your mind will be blown at the actual depth and scale... something that pictures can't describe.
The only issue you may run into as I did is being able to get the entire vista in one frame. I suppose you will need a wide lens to be able to do that. I really struggled using my Canon G7X Mark II on video anyway. I was not able to get the whole thing and the surrounding landscape in frame all at once. So, choose your camera and equipment wisely if you want awesome photos.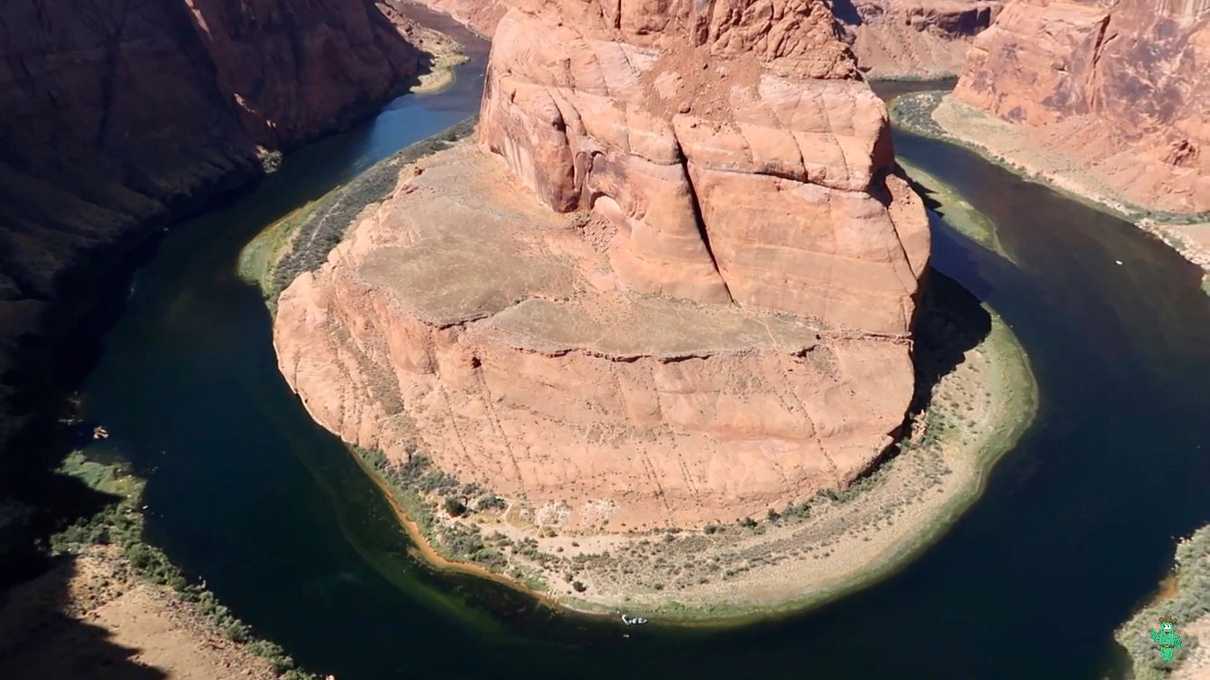 After I took in the scene before me and reached a point of satisfaction, it was time to head back to the car. Back through all that sand I told you about, for a second round. This time, all uphill. But it wasn't bad and I was back at the top before I knew it.
First thing I did was to take off my shoes and dump out all the sand that had collected. Ahhhh..... much better!
As far as natural attractions go, I must admit that this was one of the neatest things I've seen all year. I thoroughly enjoyed it, despite the crowds, and it's essential to see it in person.
I imagine sunsets here must be beautiful too as the viewpoint faces west. We have much more that we want to explore in Page, so don't be surprised if one day you see us sampling different times of day here.
I think that any time I make my way through Page on route 89 in the future, I'll be making a stop. You can never have too many Instagram selfies at such an iconic location! I hope that you too will be able to experience Horseshoe Bend for yourself!