If you're like I was, you may have never heard of Natural Bridges National Monument. On a recent road trip where I set out to explore Goblin Valley State Park and the San Rafael Swell, I only discovered Natural Bridges because I noticed I would drive by it on my trips to and from Goblin Valley, prompting me to investigate further.
Luckily I did, because Natural Bridges National Monument is now easily in my top 5 favorite National Park Units I've ever visited, if not my top 3!
For those who enjoy a more casual, easy-going adventure, stick to the rim and tour the various overlooks for each bridge as you wind around the park in your vehicle. That is worth it on its own. But if you want a bit more, you can dive deeper, heading down to the canyon floor, where you can "thread the needles" of each bridge, a term we invented while filming our experience there.
A Wonderland of Bridges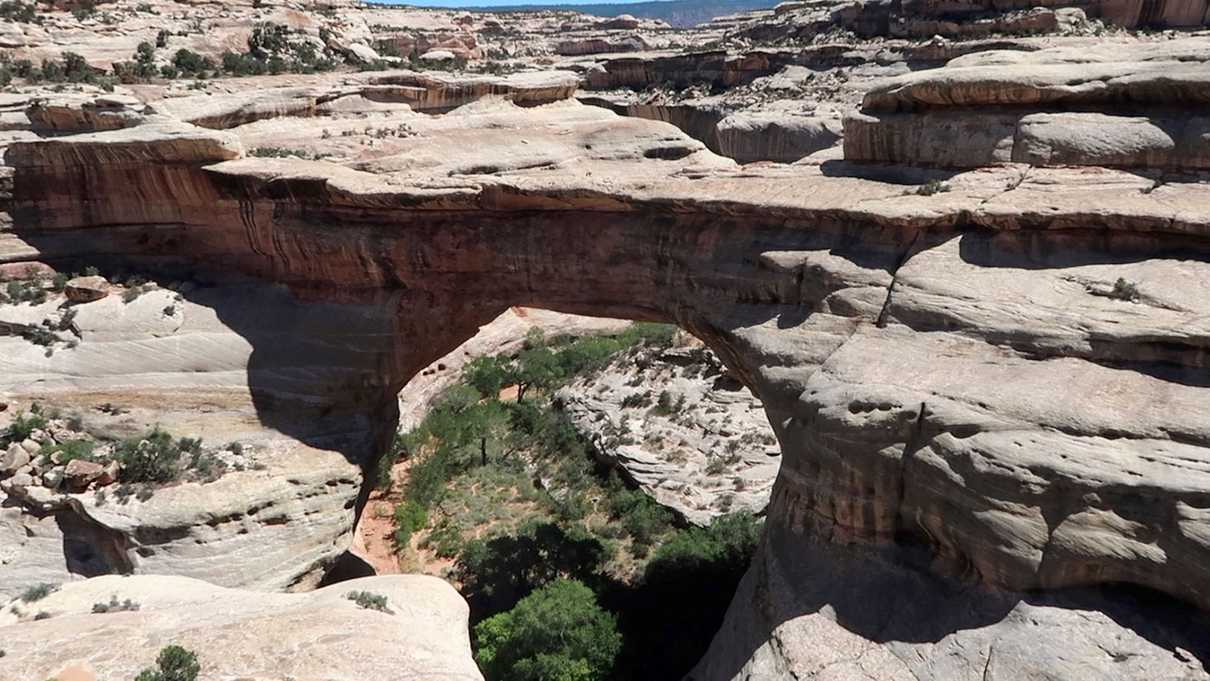 Did you know that Natural Bridges National Monument contains not one, but three, huge natural sandstone bridges? It's one of the world's most dense collections. It's almost uncanny how close in proximity the three bridges actually are.
It should be no surprise that Natural Bridges National Monument is Utah's first ever declared National Park area. In 1908, President Theodore Roosevelt established this park as a National Monument. If any park is worthy of a National Monument designation, it's this one.
As mentioned, there are three main attractions at this park. Three natural bridges, named Sipapu, Kachina, and Owachomo bridges. The order listed here represents the order you will encounter them on your one-way drive around the main park loop.
In order to enjoy these natural wonders, you may simply drive the loop and stop and each bridge's overlooks. By doing so, you will only have to walk a few feet down accessible, paved trails to get nice views of the arches. This is ideal for those short on time, or not wanting to descend down into the canyons on foot. But of course, this park offers several hiking options for the more adventurous.
A Taste of Adventure
For our video adventure, I opted to hike to the bottom of the canyon for each of the three arches. There's an option to hike down to the bottom once and loop through the three canyons if desired, but for this adventure, I decided to descend to the bottom using the out-and-back trails located at distinct trailheads for each arch.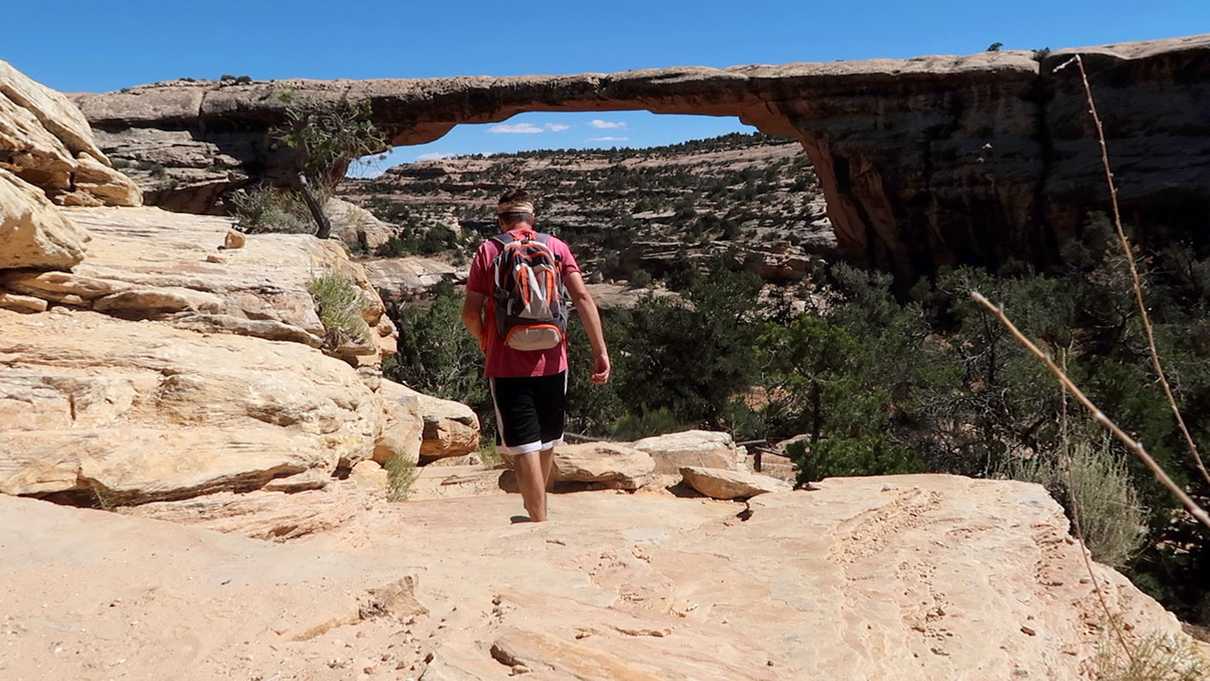 I did this because the hikes down are not too far (in my opinion). I found that each hike gets progressively easier as you move from Sipapu, to Kachina, ending with Owachomo.
The signs say to plan for about 1-2 hours to do Sipapu, and again about the same timing for Kachina, and to plan for between 20-60 minutes total for Owachomo.
However, I believe Sipapu represents the overall deepest descent of the day, and there are even ladders on this trail to help you navigate some of the steeper walls.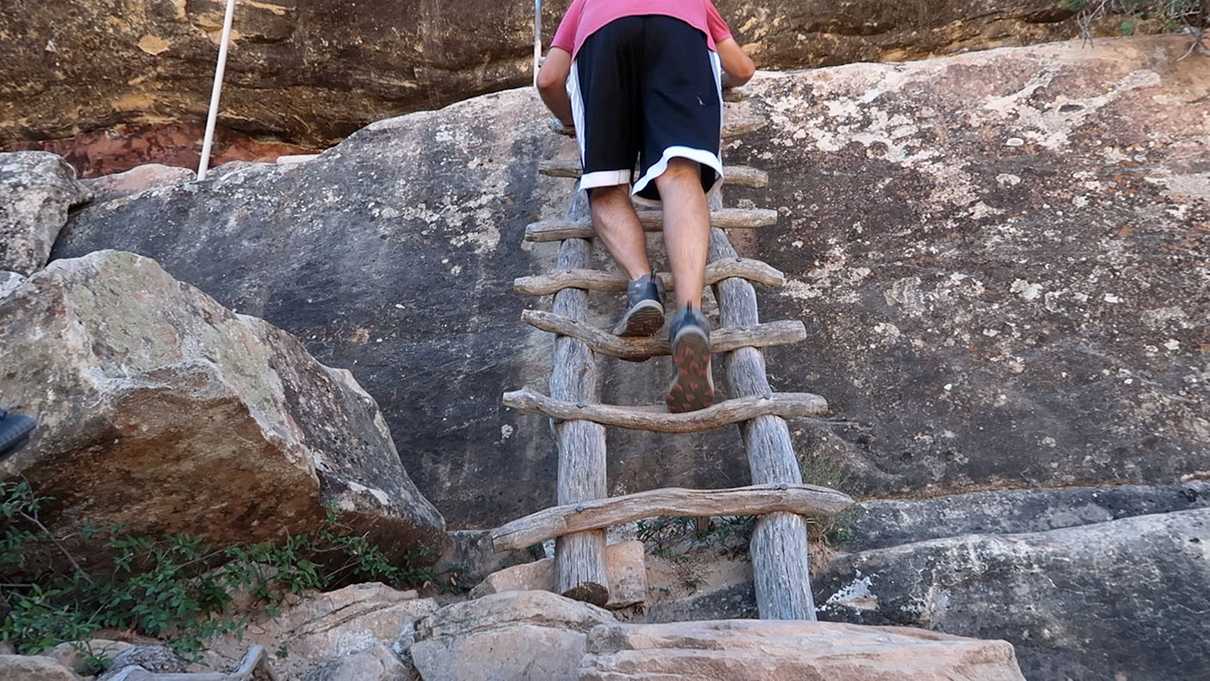 But if the sound of ladders starts to deter some of you, I would say that they are not as bad as you night think. You can watch our video if you want to see in more detail.
Overall though, I was able to hike to each of the arches using the three distinct trails, all while filming, with plenty of time to spare before the park closed.
I believe many folks could get the three hikes done, but if you only have it in you to do one of them, the easiest by far is Owachomo bridge. It's a fairly short walk to get underneath it, and the trail is by far the least technical (no ladders, for example). Just be sure to bring a couple cold drinks and some sunblock with you because as with most of the trails in this park, this one is very exposed (little shade).
Threadin' the Needles
I decided during my time that if you hike down to the arches, it would be a shame to not walk all the way under each bridge, to "thread the needles" so-to-speak. That was my favorite part of the hikes. It's awe-inspiring to stand directly underneath these rock bridges, and not only that, to enjoy the cool shade provided by each.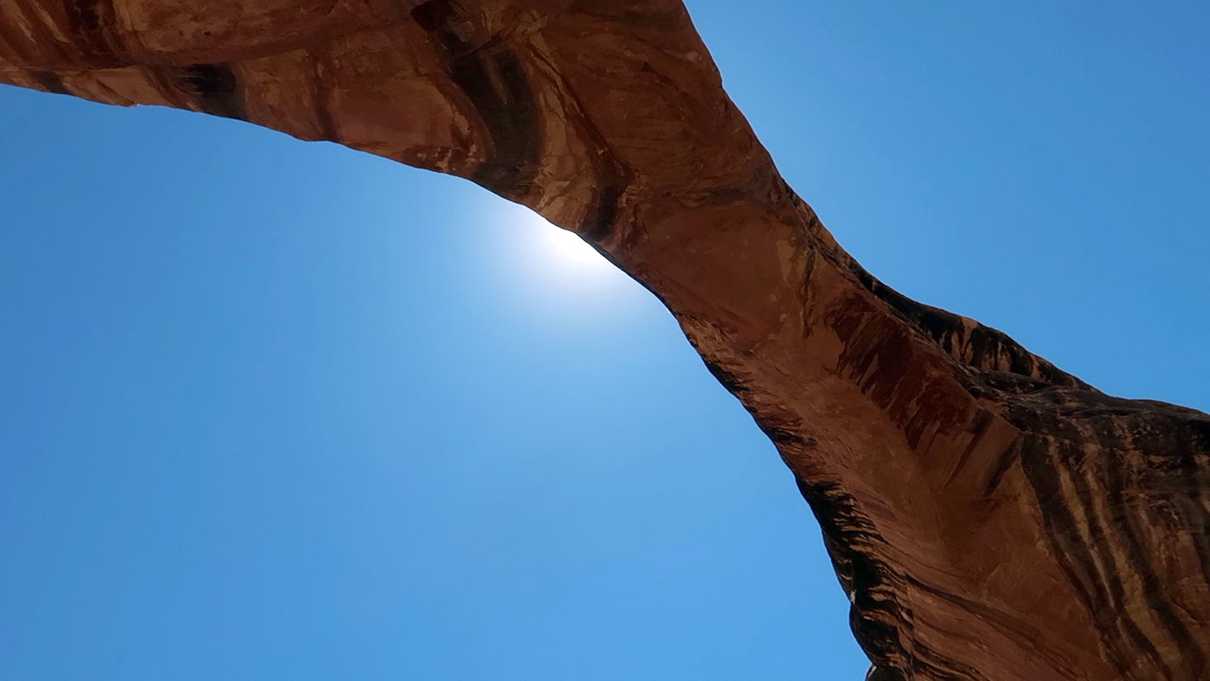 The only real challenge I had was to find good photo spots at ground level, as my camera was rarely able to capture entire bridges in a single frame from below. They really are that big.
However, all along the way as you descend, you'll get some great photo opportunities that those who don't venture down will miss out on. Some of my favorite spots of the day were about halfway down to Sipapu, where you'll get amazing views of the bridge.
The Verdict
I'll just come out and say it. This park is absolutely amazing. Each of the three bridges are each worth seeing up close. Most of the trails are worth hiking for the adventure alone, despite the reward of seeing a large natural bridge up-close at the end. I mean, wooden ladders? Yes please!
Threading each of the three needles is something I wish one could get a small reward for, a hiking pin perhaps, like some other National Parks do. If anyone out there who works for the National Park Service is reading this, you need a pin called "Threadin' the Needles", awarded for hiking under each bridge. Take a cue from some of the other parks!
But pin or not, I will always carry the memory of walking through each of those bridges inside of me. It was easily one of my favorite hiking days of 2020, and one that I can't recommend enough! Now go thread you some needles!