For many, Sedona, Arizona needs little introduction. It's one of the most iconic landscapes in the American Southwest. Certainly one of our favorites.
For us, the main draw is the unique geology and colorful red rock formations dotting the area. One of the most well known formations is Bell Rock, highly visible from route 179, one of the main roads into Sedona. If you look at the picture above, hopefully it's glaringly obvious how Bell Rock got its name.
There are a couple parking lots you can use to access the trails to Bell Rock. We parked at Courthouse Vista, on the northern side of Bell Rock, as it is probably your nearest entry point. The parking lot seemed to fill up pretty quickly as the morning went on during my trip, so if you strike out there, you can try parking at Bell Rock Trailhead on the southern side, off of 179, immediately north of the Village of Oak Creek. Parking there will add some distance to your hike.
Do note that parking does require paying for a Red Rock pass. They have machines at the parking lots, and they only accept credit cards. Check out our information page for pricing info. When I went, the machine said that it was a "fee free day", but curiously when I returned after my hike, there was a warning ticket on my windshield from the park service indicating that I forgot to pay. Very odd and annoying, but since it was just a warning, I guess I should be thankful. Watch our video if you want to see how it happened.
If you park at Courthouse Vista, you will be right on the doorstep of Bell Rock. It should be very obvious which direction to go.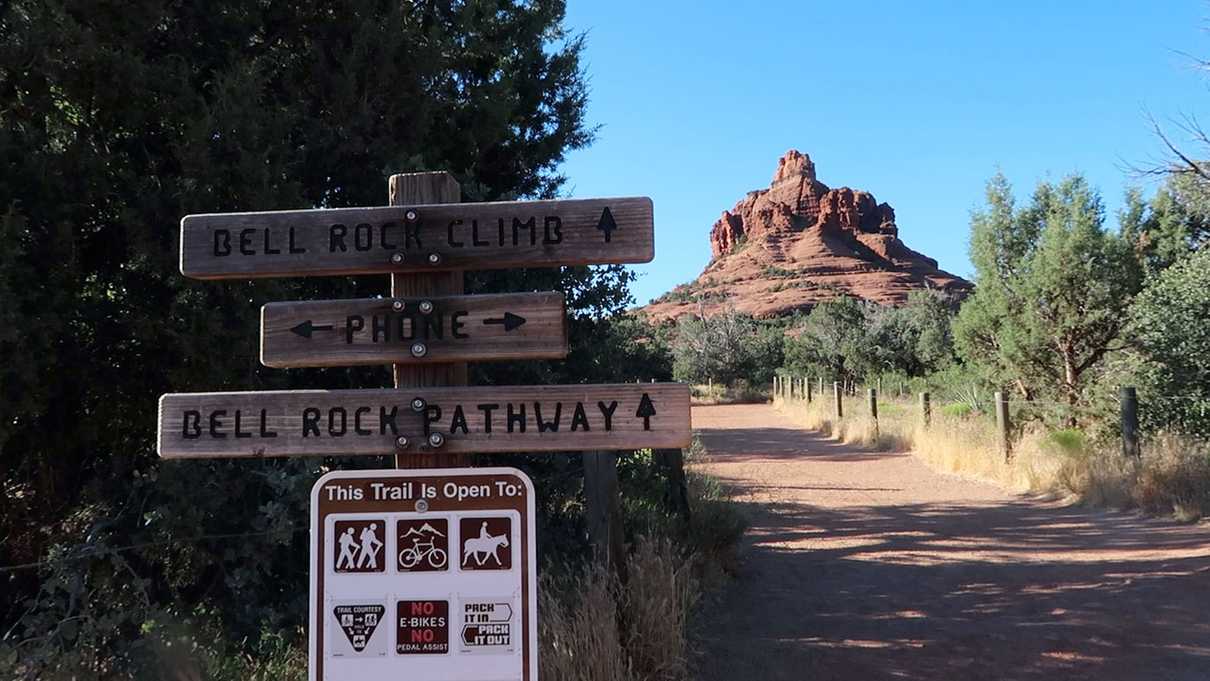 Even though the beginning of the trail is very clearly marked and easy to navigate, I very quickly strayed off the main trail and ended up making my own path the majority of the way up.
Along the way I saw rock cairns and other markers to guide hikers, but most folks seemed to just head straight up the side of the rock. The ascent is very gradual much of the way, and it does not take long to emerge out of the juniper forest at the base, which means wide open areas of smooth rock to climb most of the way.
So that's what I did. I made my own way towards the top. To confirm, I was hiking the northern slope of Bell Rock, so I can not speak for what the south side is like, although I imagine it's similar.
Much of the hike went like this: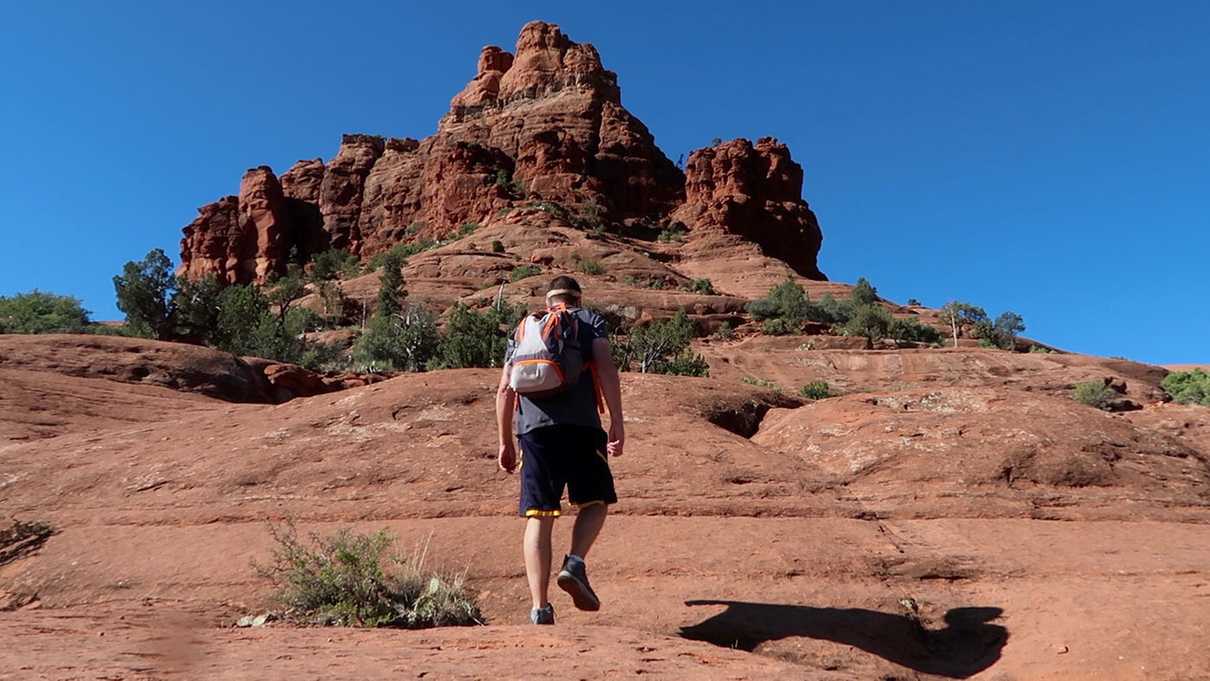 As previously mentioned, I hiked the north-face of Bell Rock. If you didn't know, Bell Rock is one of several famous vortexes in Sedona. I've read that the northern side of Bell Rock is supposed to be the most potent in terms of its vortex energy.
For those who may not know, a vortex is a place on the earth's surface where ley lines intersect, causing an invisible energy to flow up or down, into or out of the earth. Ley lines are invisible lines of energy that circumnavigate the earth, kind of like latitudinal and longitudinal lines in concept. Of course, none of this is scientifically measurable, although some claim that evidence of vortexes is present through twisted juniper tree limbs, or compasses getting stuck pointing in directions they should not. I do admit that I did see a juniper tree or two with twisted, spirally limbs during my hike that day.
Vortexes are thought to provide varying benefits to the believer, and the benefits differ depending on what type of vortex it is. Bell Rock is thought to be an upflow, or "masculine" vortex, where the energy flows upward out of the earth.
I'm a bit of a skeptic and lean more towards measurable, scientific observations, so I have a hard time buying into this sort of thing, but I have an open mind and decided to perch myself high up on Bell Rock and meditate for a spell to see what happened. Not quite to the very top, but almost.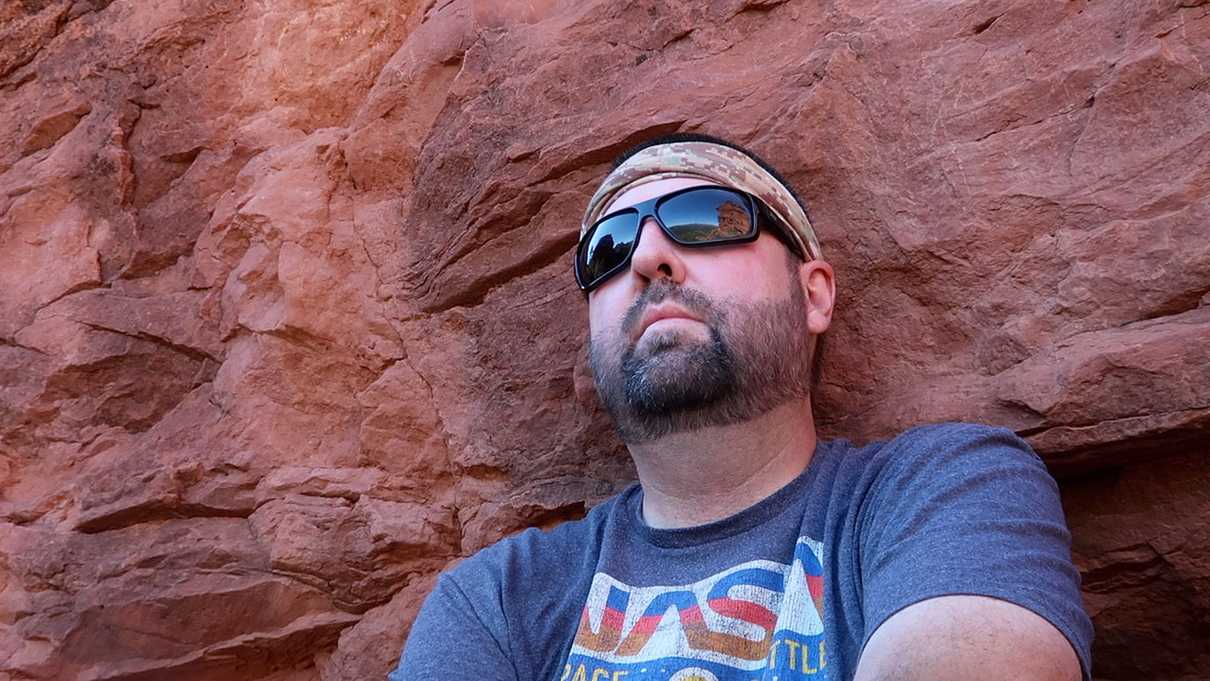 The main thing to know is the way up becomes less clear as you ascend, but if you are patient and have a keen eye, you should be able to spot the footprints of those who came before you. I'm a little skittish of heights, so if I could do it, I'm sure you can too. There is a bit of scrambling up some rocks here and there, but nothing technical.
The views from my spot near the top were second to none. Although Bell Rock does not appear that large when you drive by it, when you're sitting near the top, you command amazing views of Sedona and the surrounding country. It's quite a sight to behold.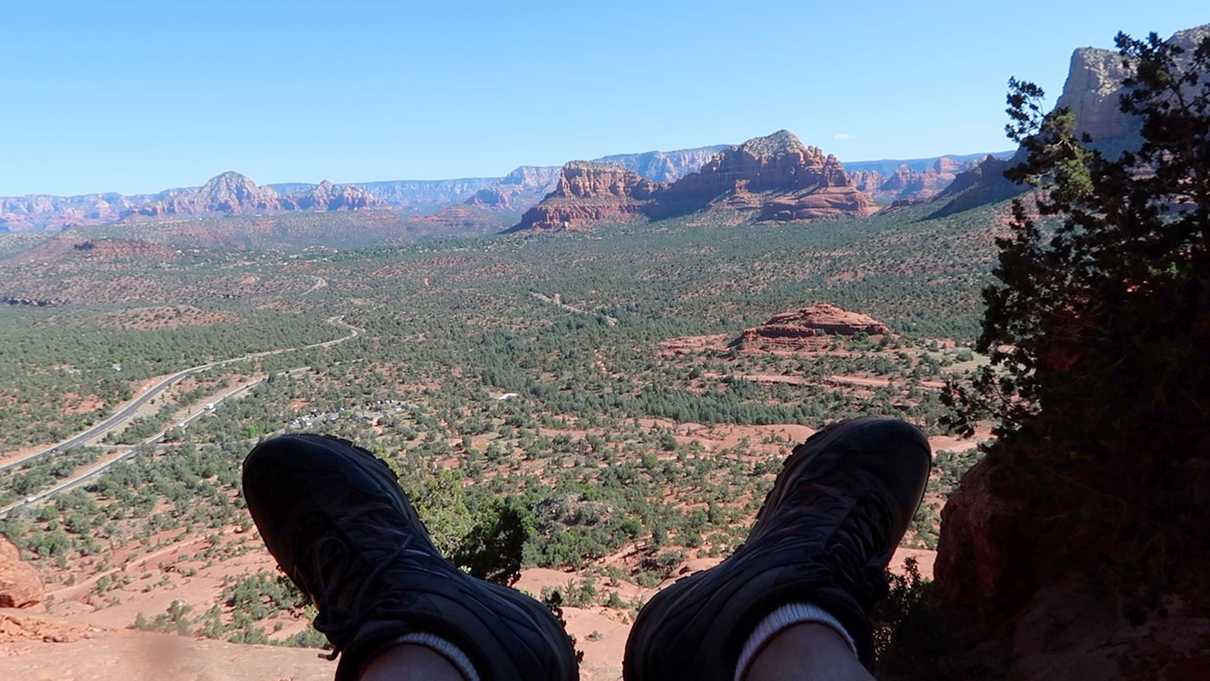 Now whether you are there to seek mystical energy, or if that is not your thing, one thing I think everyone can agree on is that a hike up Bell Rock is worth it for the views alone.
During my time at Bell Rock, I looked for evidence of the vortex and even conducted a little experiment with a compass. I also pondered some of the crazy stories I've heard about this place. Things that will amaze some, and for others, make them shake their heads. For that stuff though, I'll direct you to our video. You kinda just need to see and hear it for yourself. Be warned though... there is some out-there stuff surrounding this place!
At the end of the day, I can only tell you one thing. I came out of it feeling great. Kind of like I had a runner's high. It was strange though because I didn't feel like I exerted myself to warrant feeling like that. Perhaps it was the deep breathing and meditation I did at the top? Maybe the fact that it was Saturday morning and I was free? All of those things? Or perhaps, maybe there is something to that vortex thing?
Whatever the case, I can't say I came out a believer, but it was definitely one of the finest morning hikes I've had in a very long time. One I'll be happy to undertake again in the near future.