On June 30th, 2013, nineteen wildland firefighters known as the Granite Mountain Hotshots, sacrificed their lives protecting a small town named Yarnell, located next to the rocky Weaver Mountains in Central Arizona.
Today a memorial park run by the Arizona State Park system offers visitors a unique opportunity to hike to a memorial located in a canyon, the precise location where the Hotshots gave their lives.
If you've searched for information about the trail on the internet, you will have probably noticed that the trail is often described as difficult. I decided to take the journey myself and am here to report to you my personal experience hiking it.
The first thing to note is that this state park is located high up on a mountainside, right off of very scenic Route 89. The parking lot is very small and only hosts about 12 vehicles.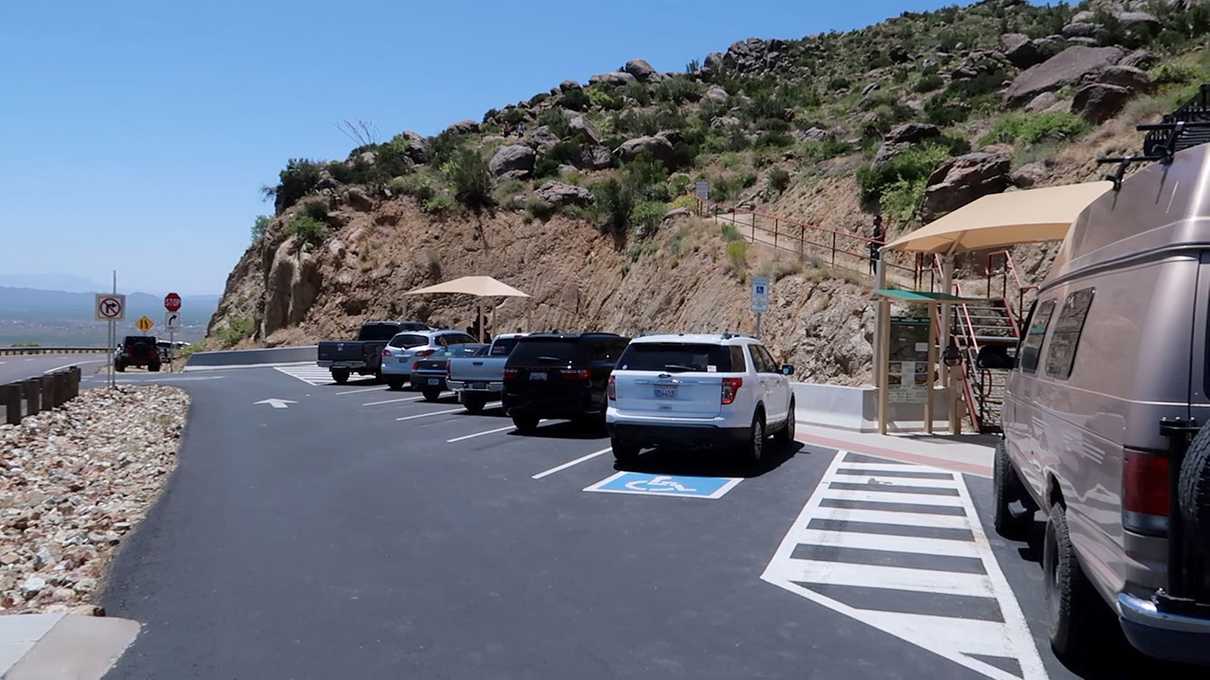 On my visit, when I pulled in, there was only a single vacant spot. Had I arrive a few seconds later, those close on my tail certainly would've claimed the spot and I may have proceeded to my back up plan that day.
If you're unable to snag a parking spot, there is a shuttle service that runs Friday through Sunday, 8 am to 5 pm. You would need to go to the nearby town of Yarnell, to the Yarnell Fire Department, in order to take advantage of the shuttle service. Due to the Covid 19 crisis, at the time of this writing, the shuttle is limited to ten people or less at a time. As for me, I just wanted to avoid the shuttle altogether due to the concerns of the pandemic and probably would've opted to skip it had the parking lot been full on that day.
The official site recommends beginning the hike no later than noon. Knowing my general ability to hike the sort of distance and elevation required by the trail, I knowingly decided to not follow that advice, and I began the hike closer to 1pm. I did this because I wanted to increase my chances of arriving at the memorial site later in the day, hopefully avoiding crowds and having the location to myself. Keep in mind I make videos of my experiences and I wanted to be respectful. It's easier to act appropriately when there are fewer people, or better yet, no people, around.
I'll let you know now that my plan worked out. By the time I got to the memorial, I was the last hiker of the day. I got the place all to myself as I'd hoped. I got back to the parking lot by 6 pm. So it took me almost 5 hours to do the whole thing. Signage at the trailhead says to give about 4 hours for the complete hike.
And no, I'm not that slow! Since I film a lot along the journey, it takes me a lot longer to do a hike than for someone committed to hiking from point to point, so I'm probably not a great indicator of how long a hike will take. But, 4 hours seems about right had I hiked non-stop in my current physical shape. I'm sure it would take less for those in great shape.
I'd say this trail is probably not for everyone. You'll be hiking uphill for miles, with little reprieve, and no shade. The trail is well-kept and clear, and the ascent is very gradual, but it will certainly test some folks.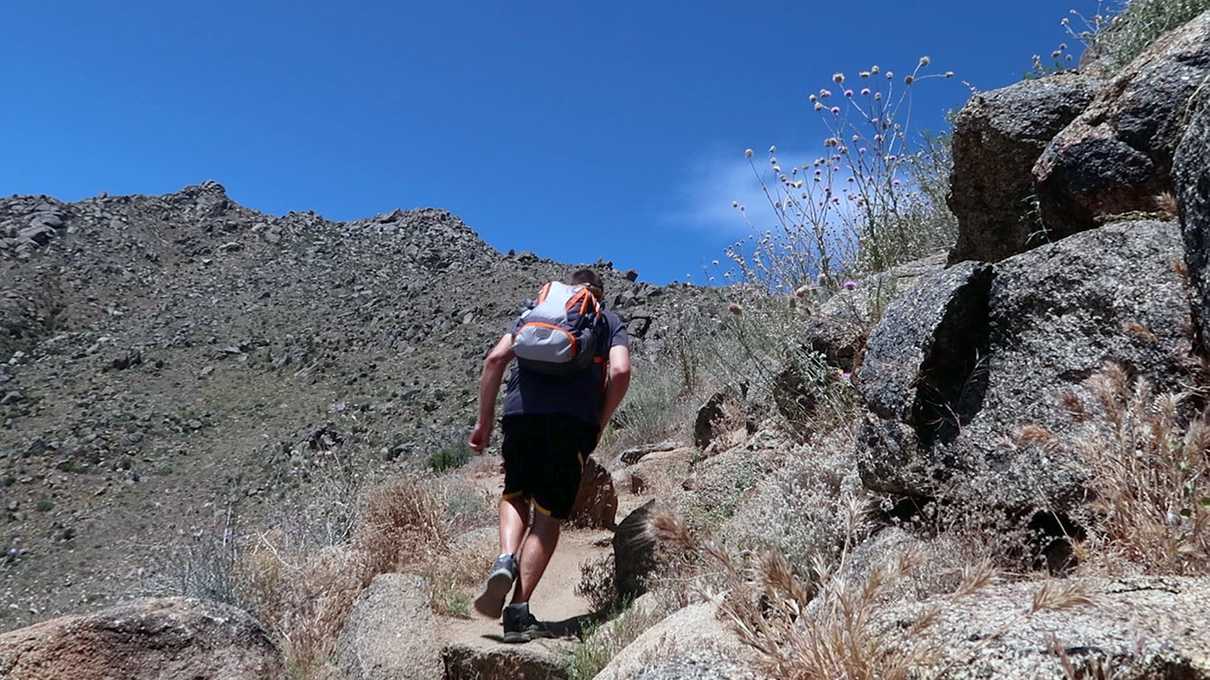 Along the trail are many beautiful benches, placed in ideal locations that offer amazing scenic views, allowing those of us who might not be in the best of shape to catch our breath once in a while. I thought that the country up here is among some of the most beautiful I've seen in Arizona. The Weaver Mountains rise up out of the Sonoran Desert, and many of the views face south, out onto flat valleys where you can see the Sonoran Desert stretch for miles.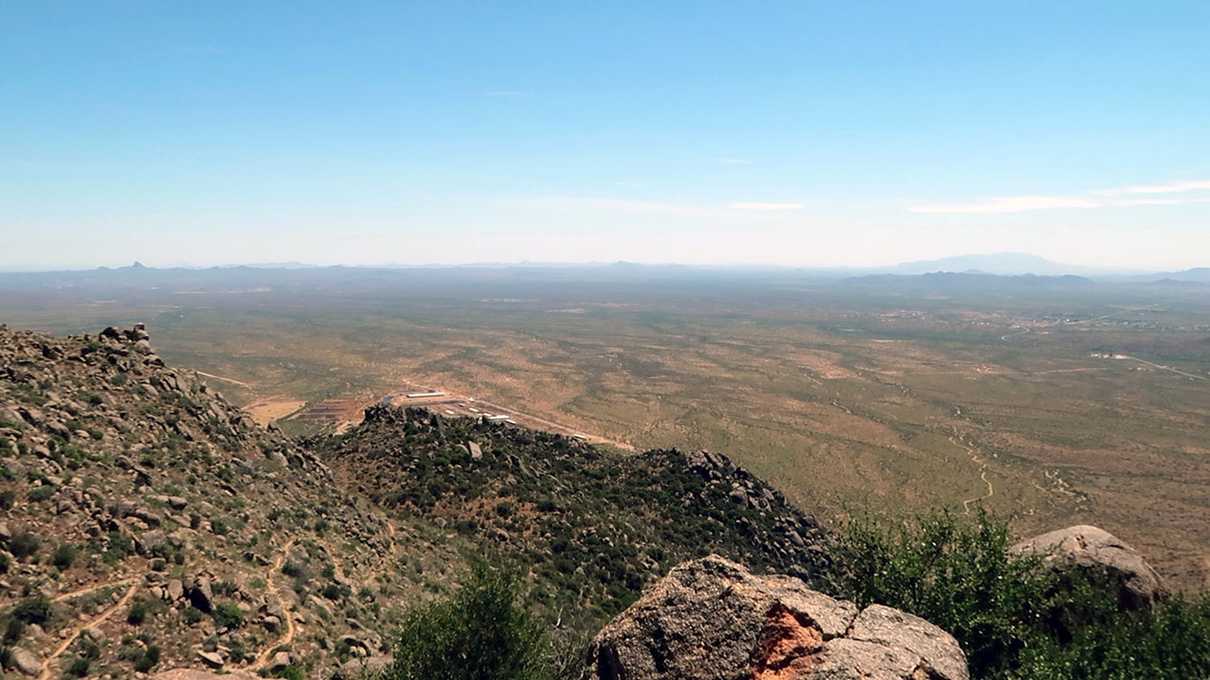 In retrospect, I had little difficulty getting the hike done. But, I can't say it was easy, and it was definitely long. I also felt sore for days afterwards. But to me, the length of the trail, and the endurance it will demand from most normal folks, is what makes this hike special.
This is not your typical hike. To me, it was a sort of pilgrimage. You're traveling to a sacred location where 19 men made the ultimate sacrifice. The journey should not be easy. Each person should give a little of themselves to the experience and contemplate those who put their lives on the line to protect others. This is about the Hotshot crews that have to traverse this sort of terrain hauling chainsaws and other heavy equipment, all while putting themselves in harm's way.
Although it's been about seven years since the Yarnell Hill Fire, you'll still see the charred remains of trees along the journey. A grim reminder of what occurred here many years ago.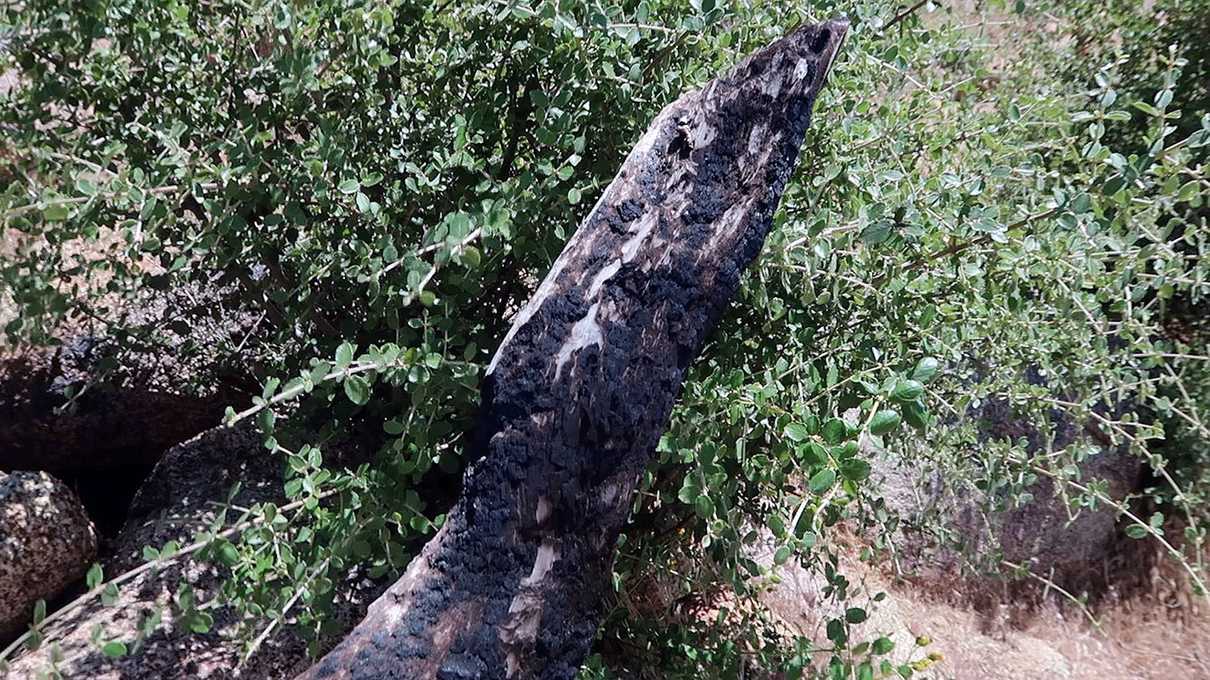 I was actually a little surprised to find the occasional charred tree stump, and other evidence of the fire this many years later. It was actually quite eerie and a connection to the reality that was June 30th of 2013.
To me, that is partially why I considered this to be a pilgrimage. There are real, in-your-face reminders that still remain of what happened here.
Another thing that made this such a sacred trail are the evenly spaced-out memorial plaques dedicated to each of the 19 men who died here.
You'll see their faces and read a little bit about them. The plaques are very beautiful, and give you a deep, human connection to the tragedy.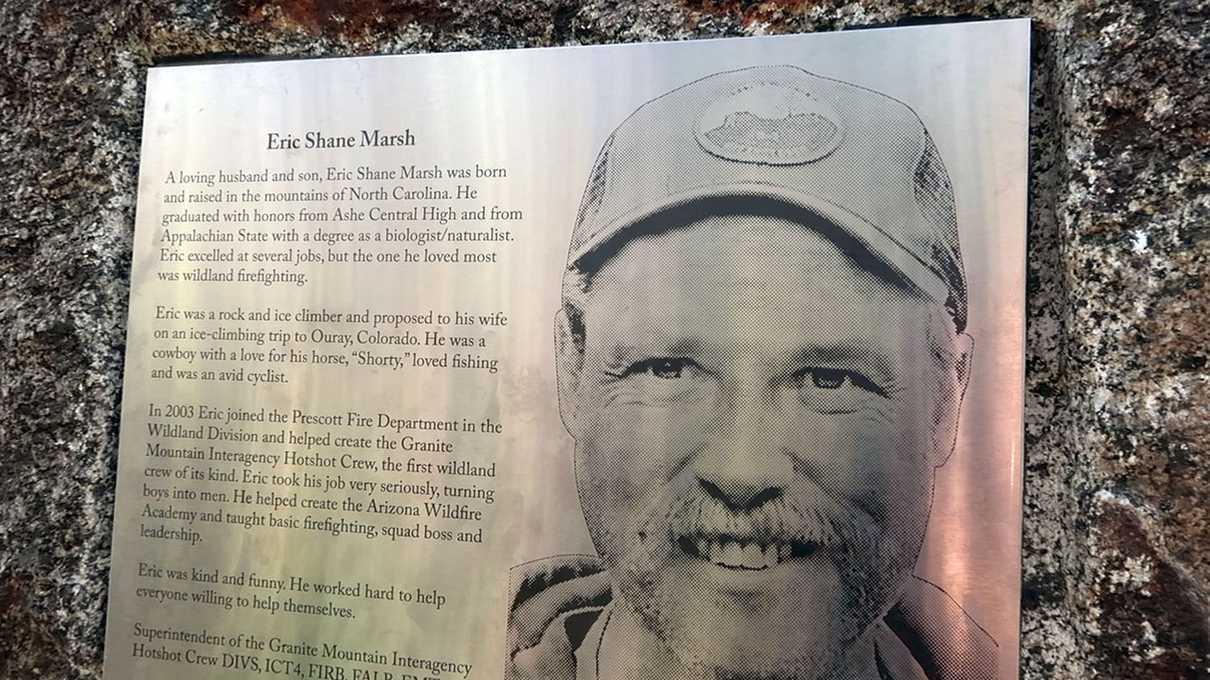 This to me was a very poignant way to build up an appreciation for these guys by the time you get to the actual memorial site. I'll admit that prior to the hike, most of the names and faces were very new to me. I even watched the film "Only the Brave" recently, and while it was a great movie, I did not commit names to my mind.
Seeing these plaques off the trail really cemented those names and faces in my memory. Things really hit home when I saw artifacts like cans of beer and baseballs left at certain sites. Yeah, things get a "bit real" out on this trail, and I think that is exactly what is intended.
After hiking upwards for what seemed like an eternity, you'll eventually cross over the mountains to the other side and things start to flatten out a bit. At this point, you'll see the town of Yarnell far off in the distance and for the observant hiker, you may even notice a tiny oval-shaped feature in a canyon far below. Once you realize that the oval is the actual memorial, you might initially be surprised at how far off the goal appears to be. I even saw a couple hikers turn around at this point. I could see how some might be disheartened by how far you still have to go at this point.
But, definitely don't give up just yet. Even if you don't think you have what it takes to hike down to the memorial, there's still incentive to push a little further. That's because a little ways down the trail is an observation deck that overlooks the memorial from high up above. There's a tribute wall where many others have left patches, t-shirts, and all manner of memorabilia.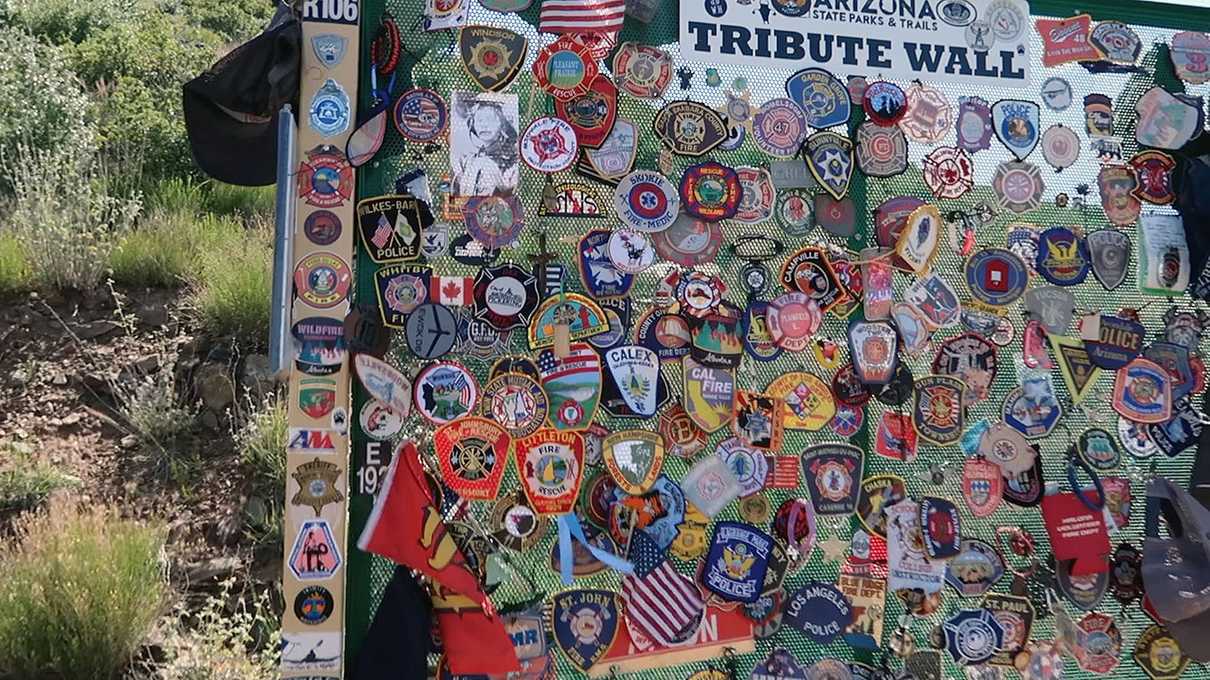 To me, it's a very impactful tribute. You'll also find a couple signs that discuss the Yarnell Hill Fire timeline and will see a picture of the scene below you, taken in the aftermath of the fire. You'll be amazed at the desolation the fire left in its wake.
With shade being almost non-existent on the hike, the observation deck offers a bench and a little bit of shade, offering hikers a chance to cool down before continuing.
Most importantly though, you'll get a good view of the memorial from up high and this view puts a lot of things into perspective.
I noticed a lot of folks turning back at this point. I think it's a respectable goal for many. Take a look at the photo below and you'll see that the memorial is far down in a canyon.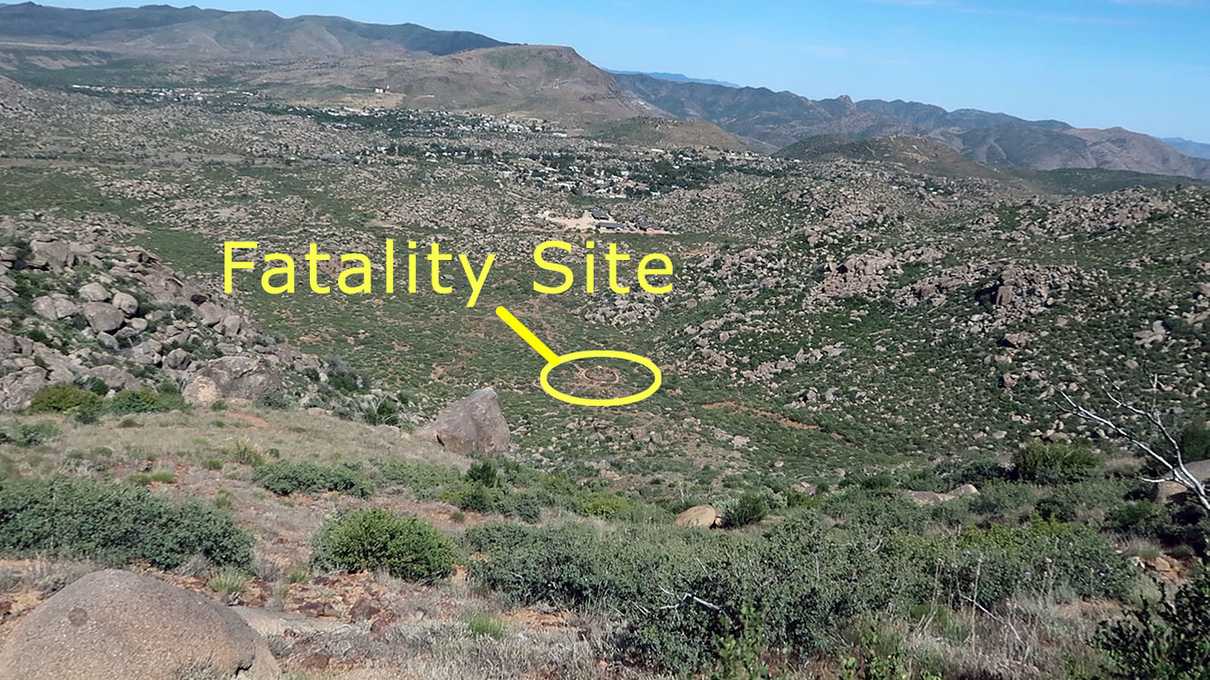 And yes, you will have to hike all the way back up when you are done, so you definitely don't want to overlook that detail!
Turns out that the hike down was not too bad in my opinion. The descent is gradual and there are many switchbacks. You'll be down at the bottom before you know it.
Once you do arrive at the bottom, the scene is very somber. If I haven't clearly stated it yet, this is the actual location where the Granite Mountain Hotshots died fighting the fire. You'll see 19 gabions connected together by chains, representing the united team that perished here.
In the center of the gabions, you'll see markers showing where each individual team member perished.
As you walk around the site, you'll see a lot of items left by others in remembrance of the Hotshots crew. I saw packages of chewing tobacco, fire department patches, crucifixes, American flags, t-shirts, baseball caps, and even a running digital watch connected to a gabion.
As mentioned, my plan for starting later in the afternoon worked and I had the entire memorial site to myself. The wind was fairly strong that day and prompted me to ponder the windy conditions that put the Yarnell Hill Fire into overdrive.
I tried to imagine a wildfire burning faster than could be outrun and the Hotshots deploying their fire shelters, hoping it would buy them enough time to survive the inferno.
This place had a much deeper impact on me than I had anticipated. This moment was the culmination of the pilgrimage I made. Seeing the faces and names of the 19 crew members on the way up. Seeing the charred remains of trees all along the trail, including one still standing in the middle of the circle. Thinking of the image I saw at the observation deck above of the same area I stood, but taken after the fire... the wasteland that this had become. The awe that nature could be so unforgiving. What these guys sacrificed.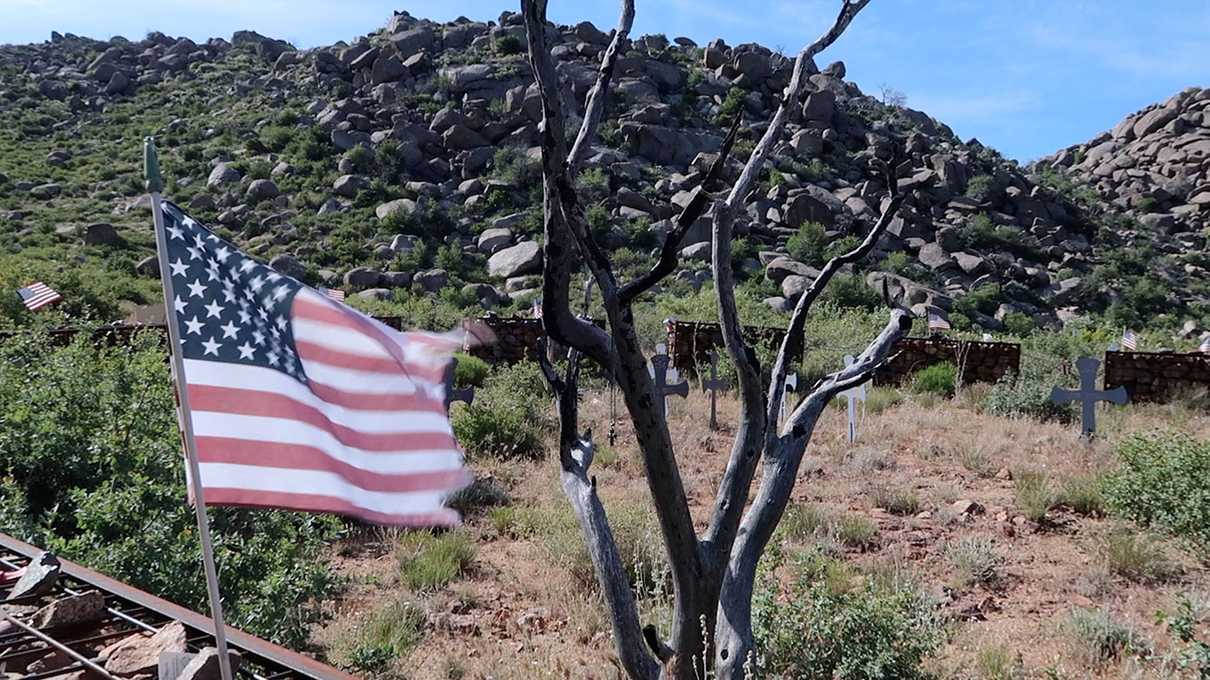 I struggle to put this into words. I'm not sure many would be capable of that. It's something you have to experience for yourself to truly understand.
If you want to get a better idea, perhaps check out our video. Sometimes images do a better job at conveying the feelings of the moment.
I wish I could've spent more time than I did at this site. But, since I started the hike late, I could see that it would not be long before the sun would be below the mountains in front of me. I had a very long hike back.
In retrospect, the hike back up to the observation deck was not as grueling as I feared. It went by very quickly. And, once you get back to the top, your uphill hiking for the day is almost done. Most of the journey will be downhill from here.
But, hiking downhill has its own challenges. For me, sore toes pushing into the front of my hiking boots as I descend. Something I just can't ever seem to avoid no matter what I try.
But that's a small gripe. I rather enjoyed the hike back. The shadows were longer at this point, and this time, you'll be facing many scenic views as opposed to having them at your back.
Well, I survived to write this. And if you undertake the same journey, I'm confident you will too. I would say that so far this year, this is hands down my favorite hike. The best views I've seen, and some of the most beautiful terrain. And all that combined with an intense emotional experience. I hope you get a chance to do this one in your time too. It's something I'll never forget.