Being Arizona residents, we are fortunate to have a lot more opportunities to visit the Grand Canyon - one of the seven natural wonders of the world. I feel a little guilty about that as it affords me more time to explore everything the canyon has to offer. Part of that includes boarding a train and taking a relaxing step back in time by riding the Grand Canyon Railway.
Early one August morning we departed the hotel Monte Vista in Flagstaff and made our way to Williams to grab a bite to eat before boarding the train. The depot was easy to find; it's located right next to the Grand Canyon Railway hotel and a short distance from downtown Williams. Check-in was a breeze. We showed them our National Park Pass and ticket confirmation, were handed our tickets and set off to wait until it was time to board. I couldn't wait. It seemed surreal to me that within a few hours we would be in the Grand Canyon National Park.
Shortly before boarding, the railway provides a little entertainment in the form of a staged shootout. A number of men dressed in Old West attire enacted a comedic disagreement with gunfire. Smiles were everywhere; it was clear the crowd was enjoying the show and excited for their day.
Wanting to mix up our journey a little, we booked two different rail cars for our initial and return trips. First up was the Pullman Class car - built in 1923. When you think of the height of rail travel and people traversing across vast landscapes, this is likely the image that comes to mind. This car looked old, but historic… it was like stepping back in time.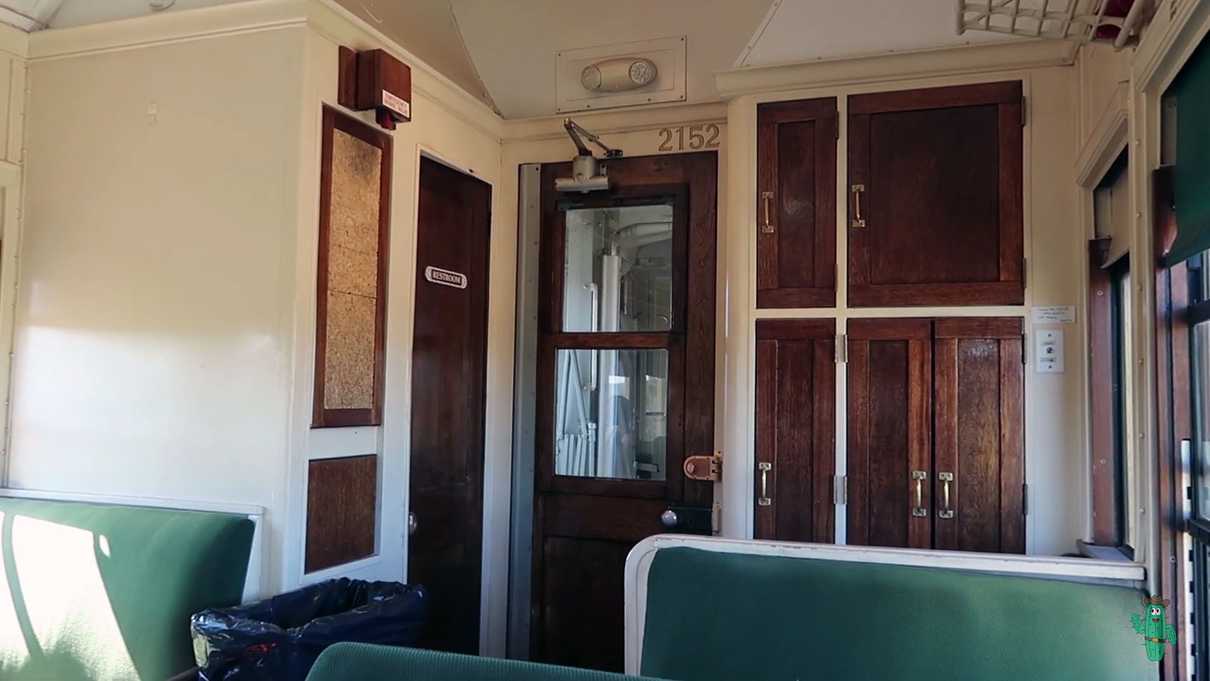 As it was early in the day, we opened the windows (this car isn't climate controlled as the others are), flipped the seats to face one another and kicked back. This was truly relaxing and the combination of the rail noise, gentle rocking and landscape slowly passing us by was hypnotic. Pinyon and juniper trees began to disappear as wide open plains took their place. Soon after that we entered into a grove of ponderosa pines. The Grand Canyon was near. Two hours and fifteen minutes after departing Williams, we arrived at Grand Canyon Depot.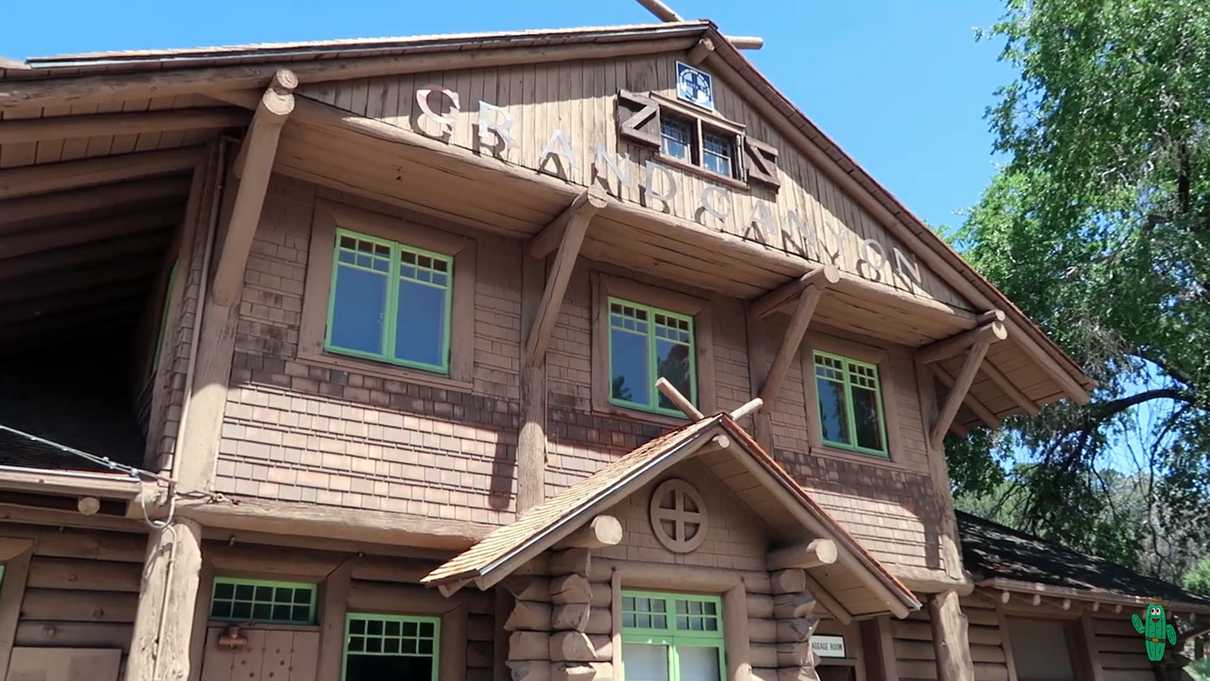 Now if I'm being honest, there was one small drawback to all this. Unless you are staying overnight at the canyon or take the first train up and last train back during peak time when the railway runs two trains a day, you will only have roughly 3 hours to try and take in the majesty that is the Grand Canyon. Let me tell you… it isn't possible. The canyon requires time and exploration to truly walk away feeling like you've seen it all. That being said, there are tour buses you can add to your package and park shuttles that can take you to some of the more popular destinations.
We were told to arrive back at the station at 3:15pm and departure would be promptly at 3:30 pm, with no exceptions. So with our small window of time we set off to do a little bit of exploration within walking distance and save further parts of the park for another time. The historic El Tovar Hotel with its dark wooden interior is a nice respite from the sun and heat. A lot of people were lounging in the rocking chairs located in the front. It was tempting but there was more to see.
The rim trail is a nicely paved path that leads to such destinations as the gift shop, the famous Kolb Studio and the Maswik Lodge (another hotel with a cafeteria) a bit further on. Despite it being lunchtime and both being hungry, we stuck close by and checked out the gift shop's viewing decks. Words cannot describe what you see nor can photos accurately capture the awe inspiring beauty that is the Grand Canyon.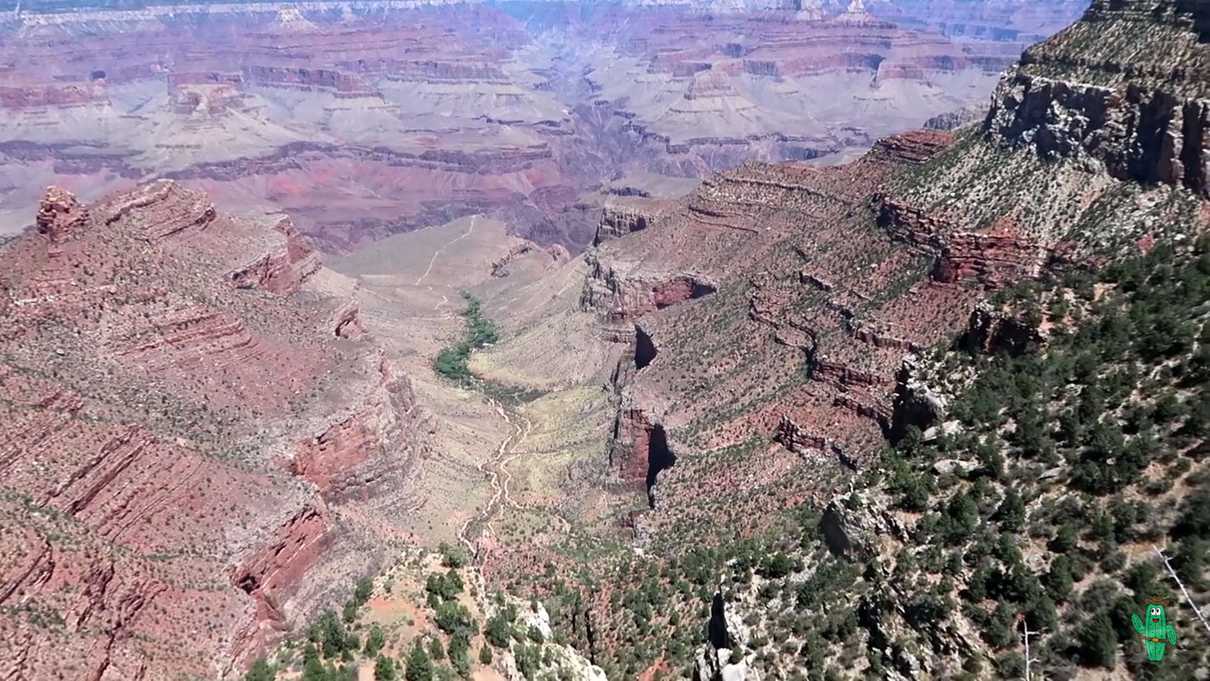 Before we knew it, three hours had passed and it was time to make our way back. For our return trip, we booked one of the Coach Class cars. These were air conditioned, which was welcome later in the day with rising temperatures. Remember what I said about a strict 3:30pm departure? Yeah… this train waits for no one.
The return trip was a lot more lively with interesting Arizona facts as told by our attendant, as well as a musician making his way from car to car providing song and opportunity for audience participation. Soon after we were informed that some bandits were approaching the train and we were likely going to be robbed. That's right. Those cowboys from early in the day were on horseback alongside the train, and about to board. This is where you tip the crew, and what a fun and unique way to do it!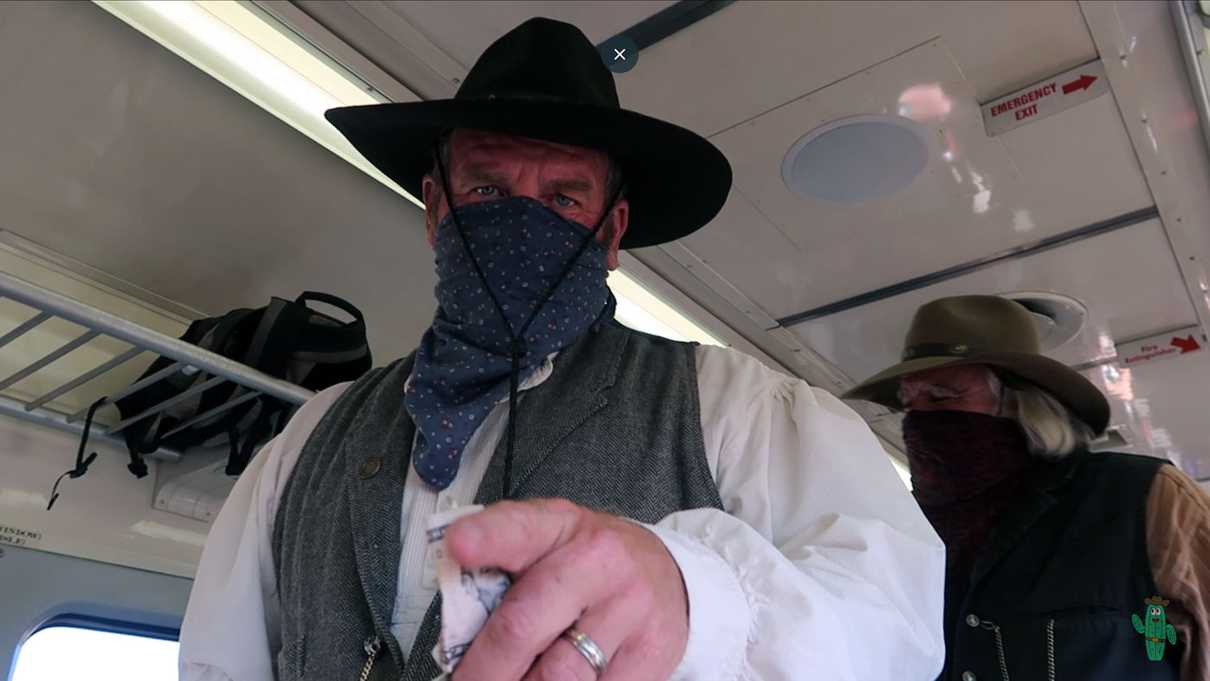 All this excitement stirred up our hunger, having only purchased a soft pretzel while at the canyon. Thankfully a cafe car was on the other side of the Pullman class we road on the way there. Heading through the Pullman car to the snack car, I can say confirm that we made the right decision to upgrade on our return trip. It was warm and everyone looked quite sleepy as a result.
The snack car offers a few tables to sit and enjoy a snack while viewing the vast landscape through large windows. As for the food itself, there was a nice assortment of bagged chips, granola bars, fruit, sodas, milk, juice, water and wine. Items are cash only, however. They inform you before boarding as there are ATMs at the station. If you'd like to see the snack car in more detail, make sure to watch our video.
With the cafe car starting to gain popularity, we vacated our table and headed back to our seats. It wasn't much longer and we found ourselves back at Williams depot once again. I was almost sad that our day had come to an end. This was a trip I won't soon forget and ranks as one of my favorite adventures that I have had in Arizona yet. It's my goal to one day take this trip again and stay in one of the hotels.