If you've never been to the North Rim of the Grand Canyon, you might be surprised at how spread out all of the main sights are. And, unlike the South Rim, there are no regular, complimentary shuttles to usher you around the park. You'll most likely be driving your own vehicle from point to point. And, you'll be driving... a lot.
For example, to proceed from the visitor center, campground, or other locations near the main section of the park, all the way out to Cape Royal (one of the most popular overlooks at the North Rim), you'll be driving about 45 minutes one way. That does not include stopping at any of the points along the way. Then, you have to drive back the way you came, adding another 45 minutes to the overall driving time.
There are several points of interest in between of course. We made a YouTube video documenting my tour of all the main overlooks with the exception of one (Vista Encantada). I got it all done at a leisurely pace with plenty of time to take in the views, in about a half day.
On this particular tour, I focused on the main overlooks off of Cape Royal Road. There are of course others, such as the beautiful overlooks around the Grand Canyon Lodge next to the visitor center, but I visited those in another video I did about the North Campground.
So, no matter what direction you are coming from on route 67, your first order of business is to turn onto Cape Royal Road. You'll be driving through the dense forest of pines and aspens for a bit, but before too long you'll come to an intersection. Your choices are to stay on Cape Royal Road, or to head down another road, Point Imperial Road. The road to Point Imperial is out-and-back, so you'll be coming back the way you came and this adds a few more miles to the journey, but I'd say Point Imperial should not be missed and is one of my favorite overlooks.
Point Imperial is the highest point on the North Rim at 8,803 feet high. You will command views facing east and south from this point. You'll be able to see the Vermillion Cliffs off in the distance, as well as across to the South Rim. Since you're above everything else, you'll be able to see the flat desert plains off to the east extending for miles. It's quite a sight to behold!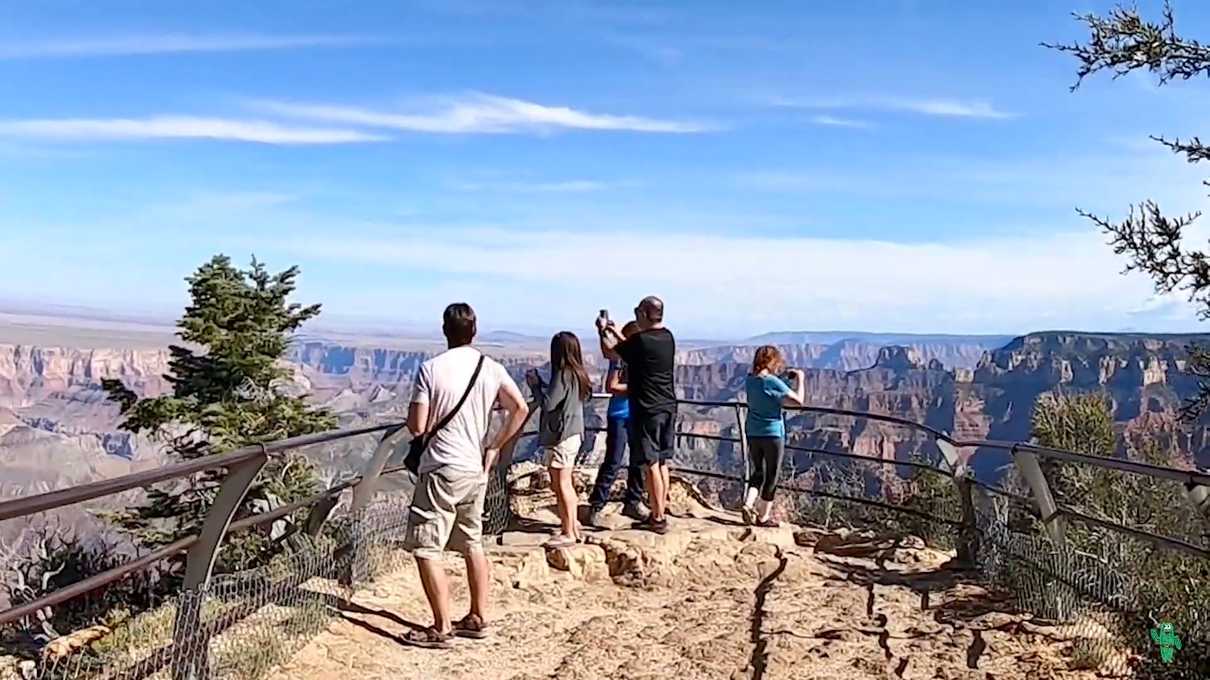 I think the aspect I enjoyed most was seeing the canyon and landscape beyond from such a high vantage point. I've been to the South Rim many times, and I've not experienced anything like this.
Point Imperial would also be a nice spot to have a picnic lunch, and even has restroom facilities and plenty of parking. I did see a tour bus or two parked here, and it was a bit busier than anywhere else I'd been in the park, but still very manageable.
After heading back out the way you came, you'll then continue on Cape Royal Road. Technically, the next stop would be a day use area named Vista Encantada, but since Roosevelt point was not far and the views seem similar, I skipped it on this trip to save a little time.
The pull-off for Roosevelt point might catch you off guard. I didn't see any signs warning that it was coming up and overshot the first entrance to the pull off and had to circle back around a bit, so keep an eye out and drive the speed limit!
Once you park, you'll immediately notice that this view focuses mostly on the easterly-facing direction, out towards the desert. It's a beautiful view, but has a similar feel to what we have already seen at Point Imperial.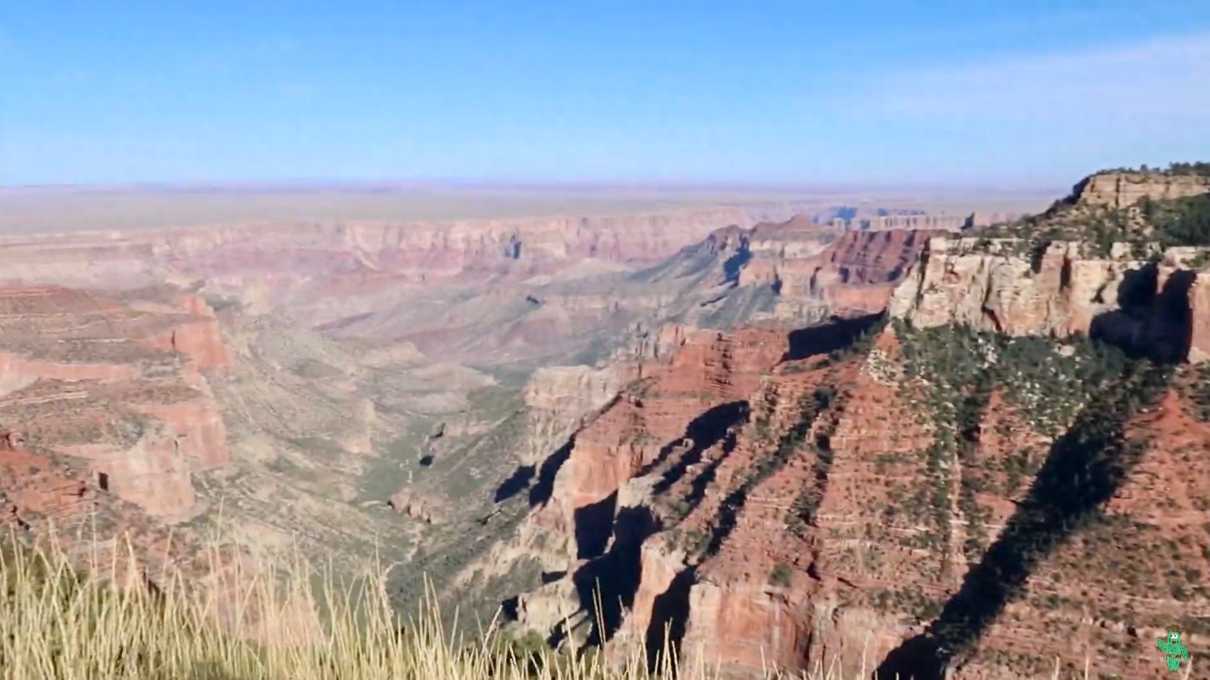 There is mention of a short trail in the map book, but it's a bit challenging to find and very overgrown with shrubs the further you go. It seemed that most people just walk a few feet onto the trail to get the most unobstructed view. I braved a few thorny plants to see if there were better views, but I didn't find any. Strangely, the further you go, the more obstructed the views seem to get, so I'd recommend just staying near the parking lot.
Next up on the tour was Walhalla Overlook. The first thing I noticed is the parking lot is much more sizable than the one at Roosevelt Point. Must be something to see! As I parked, visitors seemed to be congregated at the eastern end of the parking lot. I decided to take a look at the other end, and so glad I did. I believe the west end of the parking lot is where the official overlook is. Even though it's very easy to miss, there is a paved path that heads out to a railed overlook. And what an overlook this one is!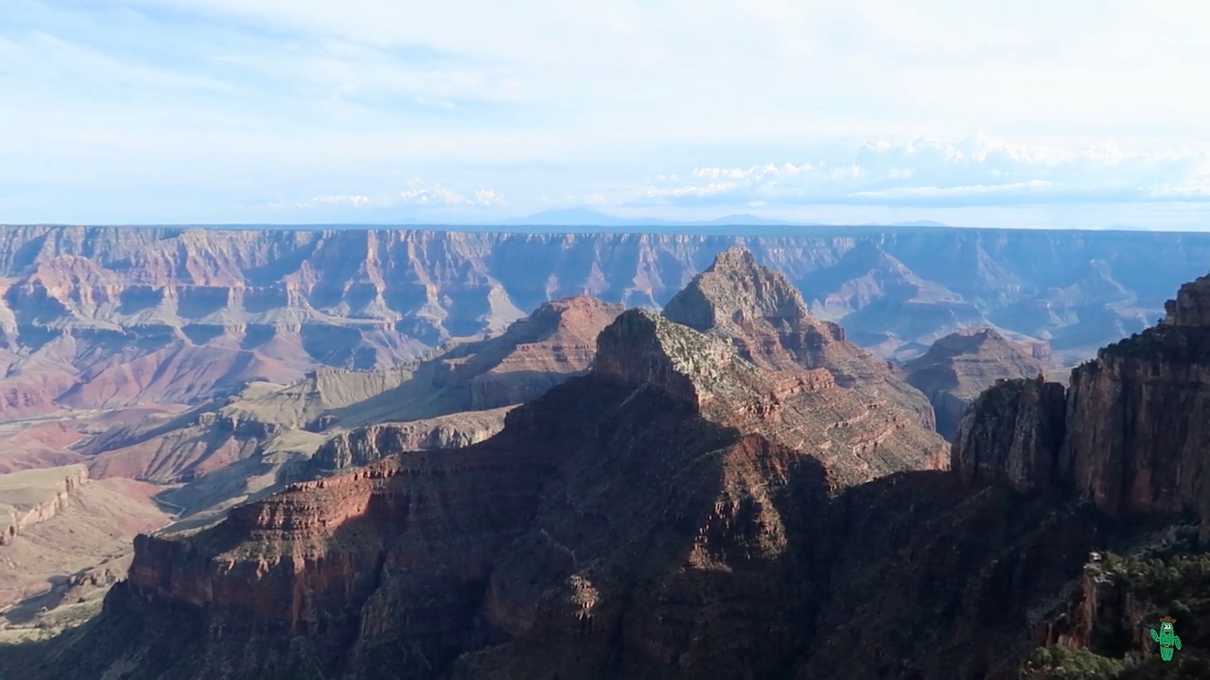 The focus of this overlook is south. You can see clear across to the South Rim and beyond, and on a clear day should easily be able to see the San Francisco Peaks of Flagstaff.
Another notable thing is that this is the first place I noticed a clear view of the Colorado River. Zoomed in with my camera, I could even make out white water rapids on the river.
Before leaving this spot, I decided to walk to the other end of the parking lot where most people seemed to be hanging out. There's a good view from that side too, similar to the overlook on the west end, but I maintain that the west side of the parking lot has the better view. Best of all, since it's very hard to see the path and there is no signage directing you to it, virtually nobody seemed to know about it, so you'll likely get that overlook to yourself. You may want to watch the video if you want to get visual of what I'm talking about.
Well, I only had one more stop to make on the journey, and I heard that it's the best. Cape Royal is well known for offering some of the best views facing east, west and south. It's supposed to be a prime sunset-watching point, which I tested out on another day of my trip. Also, Cape Royal actually consists of two main points. One being Cape Royal Point, and the other being the slightly frightening, Angel's Window.
Both overlooks are accessible from the main parking lot by walking down a short paved trail. You'll come to a fork in the trail where a sign will point you towards Angel's Window, or Cape Royal Point.
I decided to check out Angel's Window first. Angel's Window is an overlook built on top of a very narrow, arch-like rock protuberance that sticks out into the canyon for a few hundred feet. I'll warn you though, this overlook is not for the weary!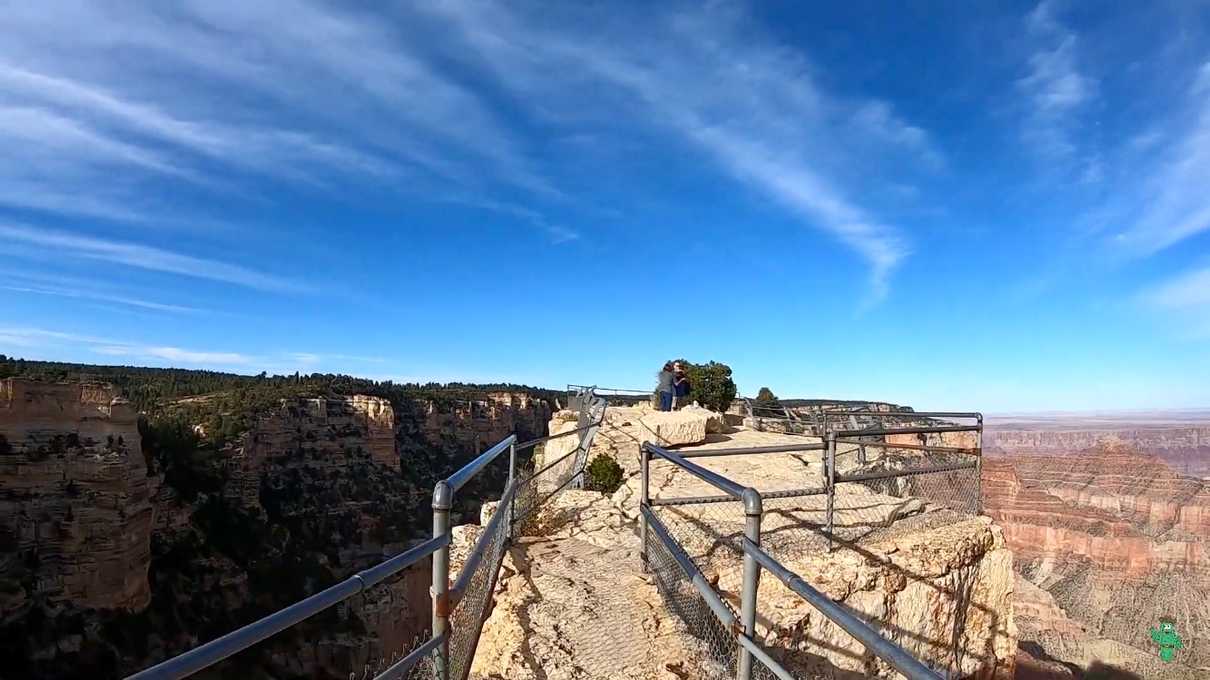 Even though it's railed, it drops off straight down for hundreds, if not thousands of feet, on either side. It's the most vertiginous view at the Grand Canyon, North Rim or South Rim, bar none. I'd be lying if I said the back of my neck did not tingle while standing out on this thing, but if you are brave and do it, the views are among the best of the best.
After braving Angel's Window, I set off towards Cape Royal point, which is just a tad bit further down the main paved path. I could immediately see why this is such a popular overlook. This is by far the best westerly facing view I'd seen on the trip, and I could see why it would be popular for sunsets. But, the overlook curves around and gives you some of the best views across to the South Rim, as well as excellent views facing east. It's pretty much got you covered from most any angle.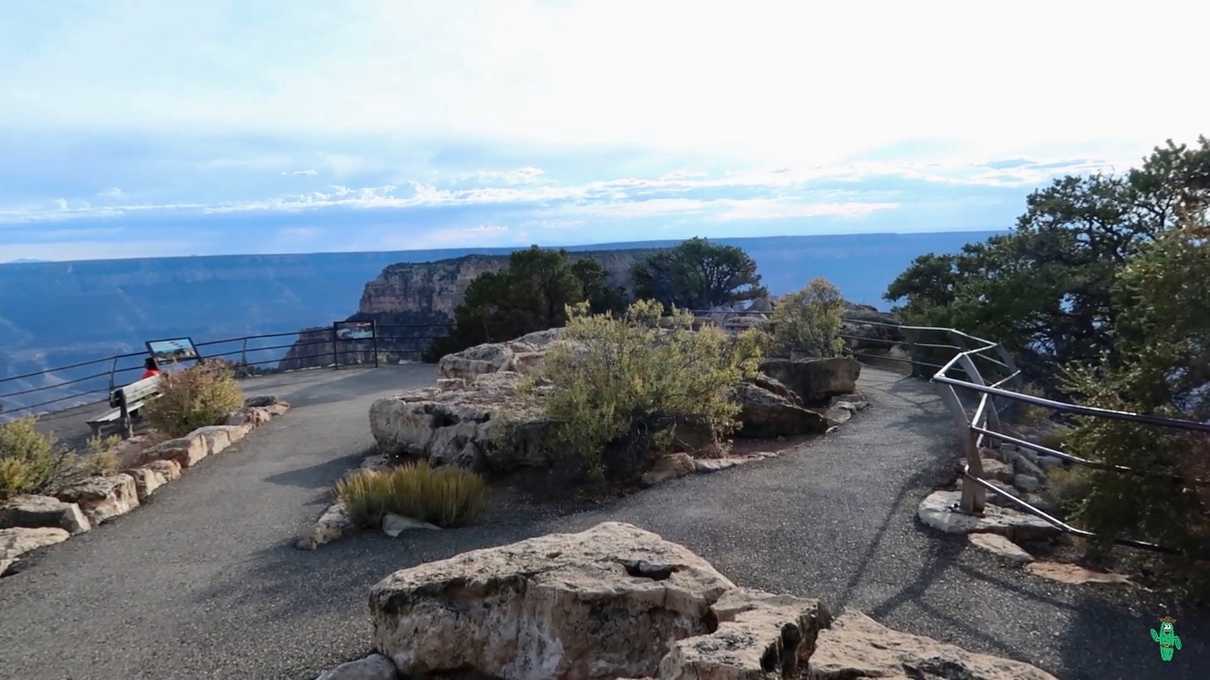 I also noticed that beyond the railed area, there were a few other spots you could get to off the main beaten path, one of which gave what I felt was the best westerly-facing view of all. So be sure to explore a little bit when you are there.
As I headed back to my car, I noticed what appeared be a dirt path and some waste receptacles near the west side of the parking area. I decided to take a peak, and found something really neat. There was a picnic table hidden in the trees, with a fantastic view facing west. I explored a bit further, and found a hidden area where they conduct small, private weddings. Nobody was parked near it and I assume few are even aware that this spot is tucked away, but the view here facing west is amazing, so I could see this being a nice spot to catch a sunset while avoiding the crowds over at Cape Royal Point, so it's worth a look if you ever visit.
And thus my tour of the main North Rim overlooks came to an end. I had to make the 45 minute drive back to the North Rim Campground, near the visitor center.
If you ever get a chance to visit, I would say these overlooks are among the must-see sights at the North Rim. It's really hard to pick favorites, but if I had to, I particularly enjoyed all the sites at Cape Royal as well as my time at Point Imperial. It's really hard to choose which one I liked best. Probably Cape Royal, only because Angel's Window is so over-the-top and thrilling. But the views from Point Imperial are among my favorite. But, that's not to diminish any other stop along the way. They are all special, and do a fantastic job of representing the magic of the North Rim.