The Enchanted Pumpkin Garden. A garden of pumpkins. Not just any pumpkins… but ENCHANTED ones. As a lover of all things autumn and Halloween, how could I NOT love it?
I had seen plenty of images online of expertly carved pumpkins by masterful carvers – grimacing pumpkins, snarling pumpkins, pumpkins smiling with ghoulish delight…! Over time I kept seeing the same name pop up associated with these masterpieces – Ray Villafane.
The Enchanted Pumpkin Garden is his brain child and located in my neck of the woods in the Phoenix metro area of Carefree, Arizona. Despite its location, I somehow never found time to visit. I vowed that 2019 was the year this would change. It would be the year I would see all the pumpkins, snap all the pictures, and eat all the eats!
So one Sunday in October, we got in the car and drove off to experience this seasonal attraction. Parking turned out to be a bit of an issue but after navigating through the winding streets surrounding the Carefree Desert Gardens, we found an opening and parked the car. You could already see the crowd and excitement beginning to build. This was going to be... AWESOME!
After paying our entrance fee and fastening our wristbands, we were immediately enveloped in a wonderland of autumn goodness. Pumpkins dangled from cobwebs made by a seemingly monstrous spider. A scene of cannibalistic zombie pumpkins unfolded over large rocks with a wooden hospital building set as a backdrop. These were not your usual pumpkins carvings. These were entire dioramas telling short stories that invite you in.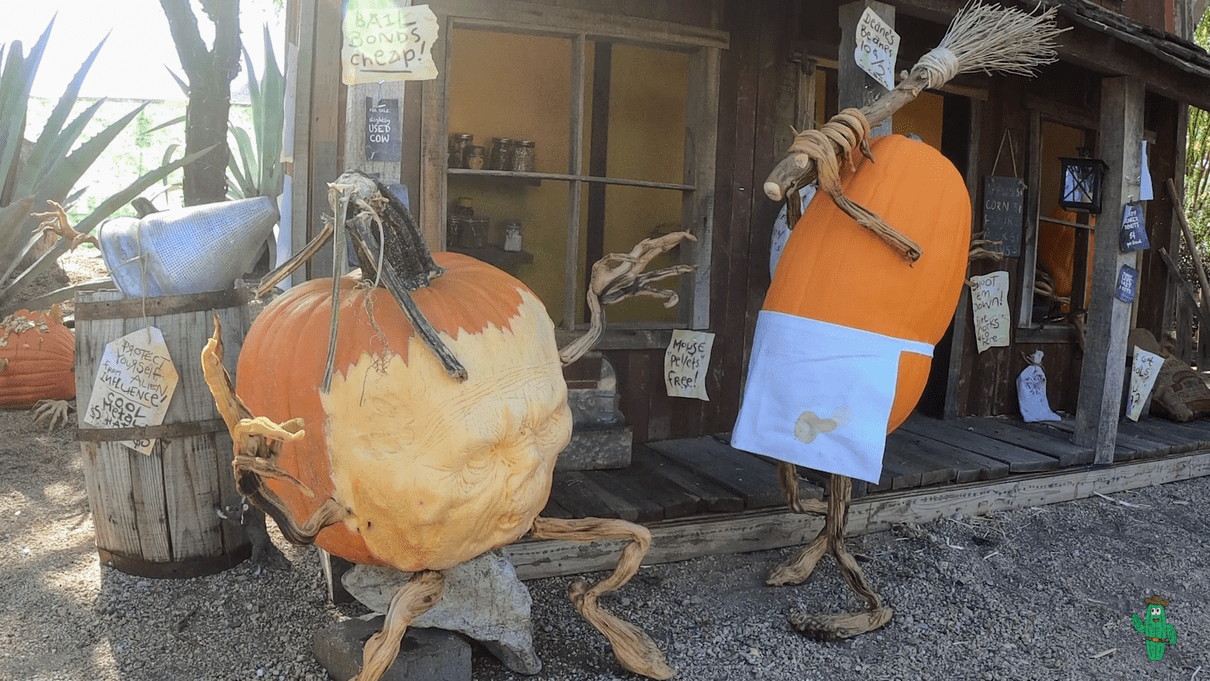 We pressed onwards into the Gardens and were met by an entire set of small buildings made to look like a town. There was a general store, pawn shop, jail… even a bordello! All the pumpkins were displayed to appear as though you just happened upon a moment captured in time. A storekeeper stood in mid-swing of beating off a shoplifter. A shootout was taking place in front of the bar. Upstairs, the bordello madame looked on at the events unfolding below.
Further on, we came across yet another grand scene – a hoe down! These pumpkins were rocking out to a band, grabbing snacks, even playing beer pong! A passed-out pumpkin was being "decorated" with permanent maker by his friends. Who knew gourds could be so lively? And what else was nearby? Why, an alien invasion, of course, complete with a crashed UFO! You just need to see it for yourself! We covered these scenes quite extensively in our video about the event in case you want to take a deeper dive.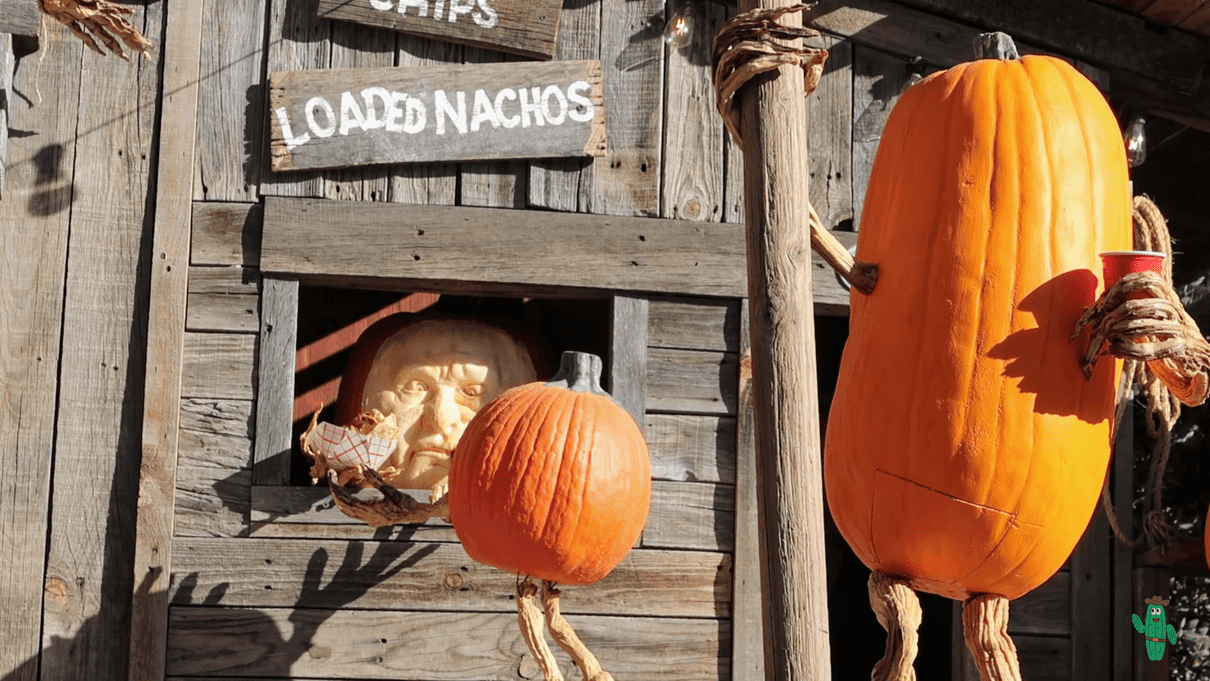 Everywhere we looked there were hidden details on such a small scale that made stopping to spend time taking in the scenes well worth the time. In the bordello there were boudoir-style paintings of pumpkins adorning the walls. Back in the jail, a menacing face peered out from the bars. Over at the hoe down, there was a small entrance to a mice-only bar. It was about midway through our experience that we noticed these small felted mice. They were hiding everywhere in each scene! These mice were raiding pumpkins seeds from an outhouse, sitting on top of a gun in the shootout, balancing rocks around a water feature.
Speaking of which, Ray Villafane himself just happened to be sitting around this water feature with this team… balancing rocks. Were these things here before? Stacks of rocks balanced in precarious positions that you almost wanted to reach out and touch as you couldn't believe your eyes. What couldn't this man do?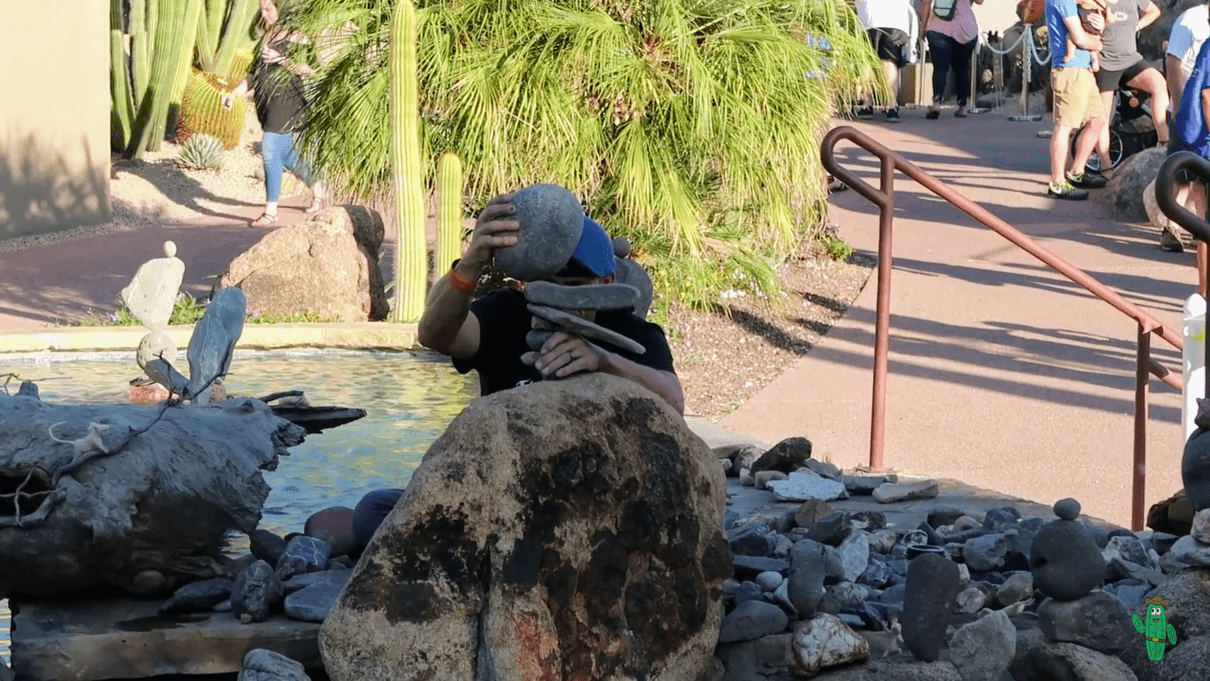 After wandering around a bit, it was time to grab a bite to eat. Located central to the grounds were some appropriately pumpkin-themed snacks. There were flatbreads, green chili mac 'n cheese, fresh potato chips with various sides, churros, a beer garden, chocolate-dipped strawberries… where does one even begin? Eventually we decided to split some of the green chili mac 'n cheese which was not your ordinary boxed mix affair. This stuff had some serious flavor.
And as if those choices were not enough, just outside the Gardens was a streets-worth fleet of food trucks offering just about anything one could imagine. Clearly guests were not going to go hungry! Also lined up alongside the food trucks were vendors from the area. One could purchase soaps, lamps, hand-blown glass pumpkins, jewelry, and more. It took just about all my will power to only window shop those pumpkins. They were gorgeous and if I didn't already mention it… I love all things pumpkin!
Should the kids need to burn off some energy, there were even a couple giant bounce houses and a haunted house. In addition to that there was a small petting-zoo and stage being set up for live music. All the food trucks, vendors and activities sat outside the ticketed area so anyone could come up and purchase a snack or peruse the wares.
After wandering around all the handmade goods, we made our way back to watch the Ray Villafane Studio carvers at work. This was quite possibly the best part of the entire attraction – getting to watch the masters make quick work out of these pumpkins. Crowds gathered around the carvers, taking pictures and even asking questions. The team was happy to talk to anyone who might have questions – young and old. I stood in awe while a 600 pound pumpkin began to get shaved down and eye sockets carved out.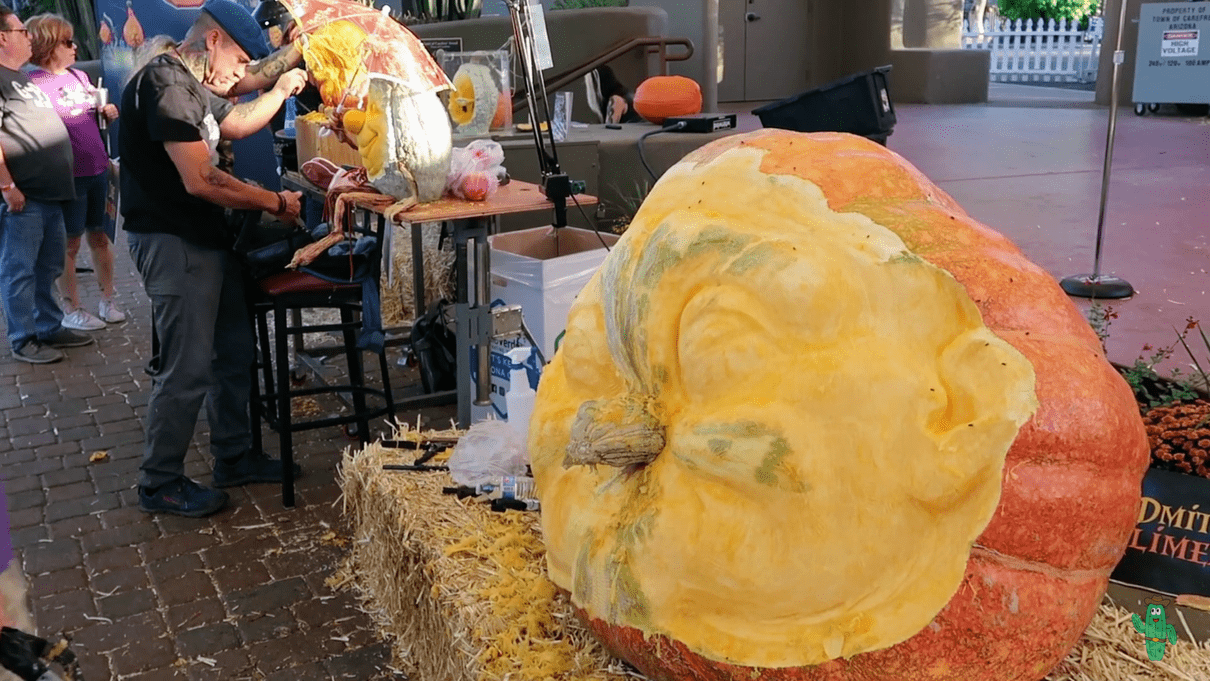 Unfortunately, the day was ending and we had to make our way back home. The Enchanted Pumpkin Garden delivered and was just that – enchanted. I regret missing out on years past but can rest happy as we have a new tradition and anxiously count down the days until these pumpkin friends come to visit again.