A Promising Silver Boom Town
The mining town of Calico was once a bustling mining operation in the 1880s. As the stories usually go, prospectors discover minerals and quickly set up mines. A town is built around them including hotels, business, schooling, law enforcement, and entertainment. People settle from around the country as well as others to become part of the community and economy. Things boom and often quickly. Such was the case of the town of Calico, California. Within just a few short years, Calico boasted a population of about 1200 people. At its height as many as 3500 citizens called the town home.
Unfortunately the town was abandoned just as quickly as it grew. Silver prices dwindled to a low as a result of the Sherman Silver Purchase Act. Borax mining also was abandoned in the area. Calico simply was not capable of sustaining itself with mining operations no longer profitable. Within twenty years the school and post office closed. People left for other areas and buildings were moved to nearby towns. Calico officially became a ghost town.
The Rebirth of a Ghost Town
Calico could very well have remained a lost piece of history were it not for the help of Walter Knott of Knott's Berry Farm fame. Calico and it's silver mine were part of his family as his uncle, John King, was one of the original founders. As a young boy, Walter spent time in Calico with family assisting in the mining industry as a carpenter. Clearly these days had an impact on him and started a love of American pioneer days.
In his own growing theme park, he added many buildings purchased from ghost towns, however, the memories of Calico must have remained. In the early 1950s, he saw a vision of restoring the town and offering the history and importance of this town to others. So Walter purchased the town and went to work to restore a number of buildings using old photographs. Eventually in 1966, Walter Knott donated the town to the county of San Bernardino and thus became a County Regional Park.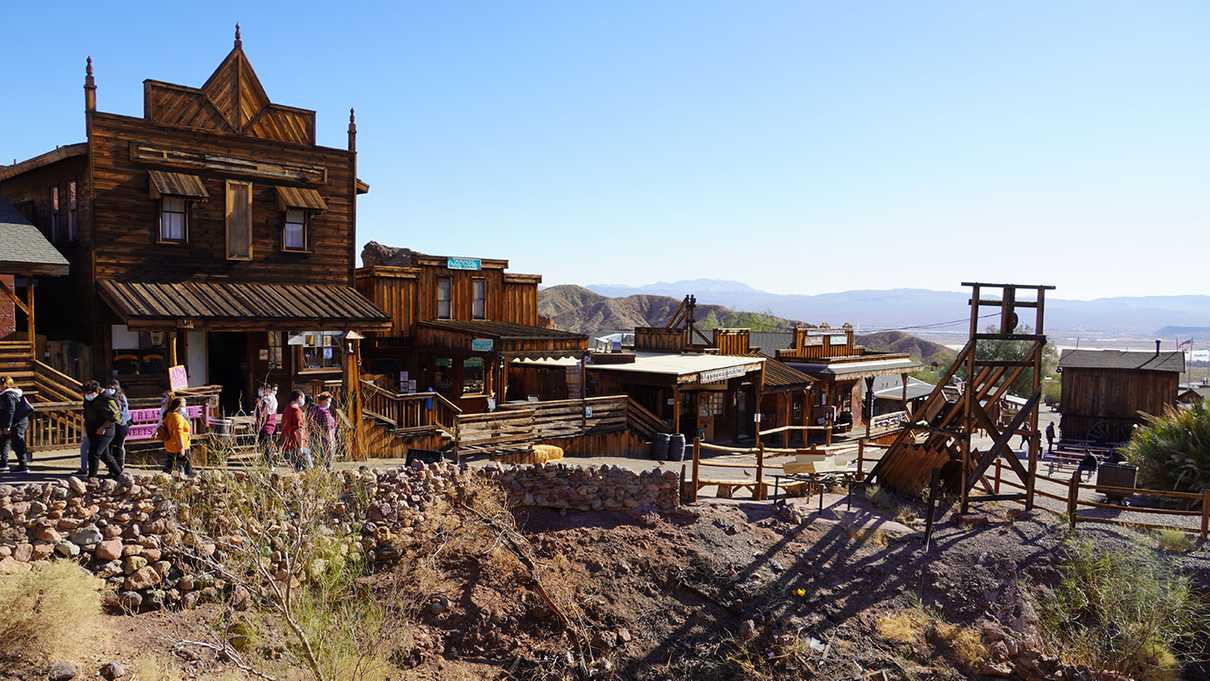 Calico Ghost Town as Attraction
Over time Calico has been rebuilt into a theme park destination of sorts. While many of the buildings that once stood in the original town are long gone, a few originals remain. The vast majority of those you can see today are reconstructions of buildings that used to stand in Calico. One such example is the Cosmopolitan Hotel. Now a sweet shop, the Cosmopolitan Hotel was one of the few two story buildings in town. Another example is a smaller replica of the schoolhouse built in the 1950s.
Not all buildings visitors see today had direct ties to Calico. Much like Walter Knott utilized buildings from other ghost towns in creating and expanding a ghost town at his Berry Farm theme park, he borrowed inspiration from other nearby mining towns. Many buildings served as blueprints during the reconstruction years of the 1950s. One of Calico's more unique structures is believed to have been inspired by the famous bottle house in Rhyolite, Nevada.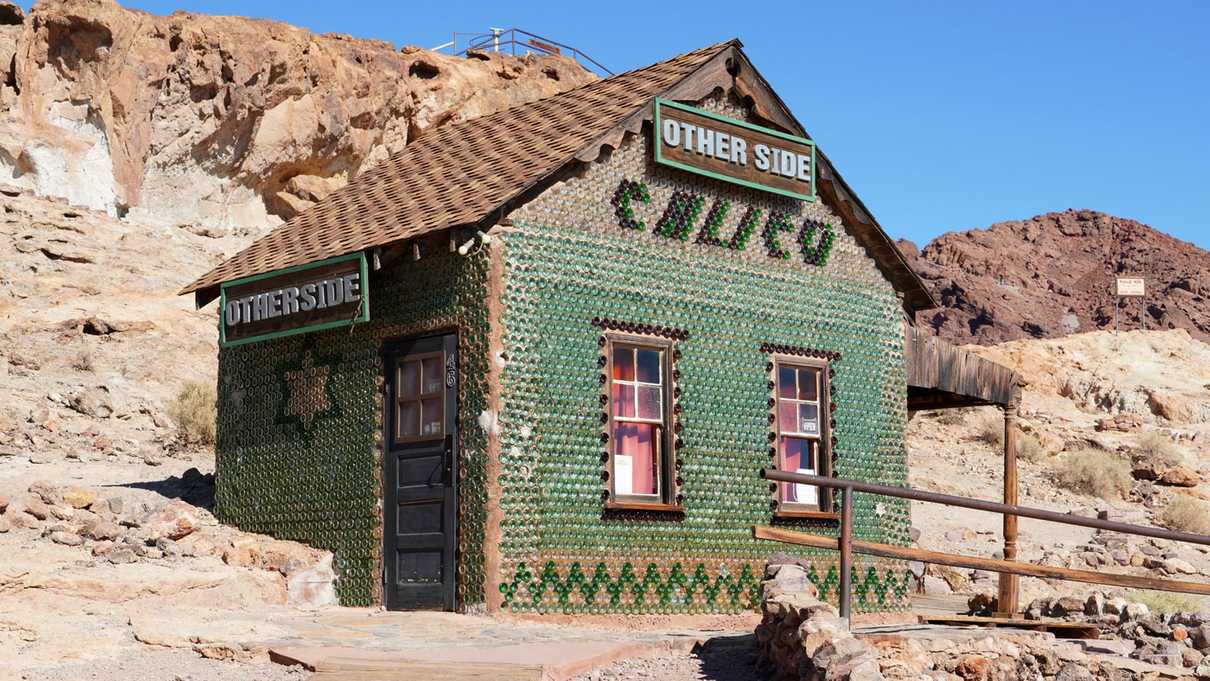 The remainder of the recreated buildings house numerous shops, restaurants and attractions including mine tours, gold panning and a mystery shack - a funhouse similar to other tilted house attractions that trick the brain with gravity illusions. For a small fee one can also take a trip on the Calico & Odessa Railroad, a short train ride that loops through some canyons around the hill while providing a bit of history and information about the town's history and mining. In addition there are also walking tours and recreated gunfights that add to the entertainment.
In addition, the town is said to have some haunted history with regular sightings around the schoolhouse and the old home of longtime resident, Lucy Lane. For those wanting a little more outdoor activity, the park also offers hiking and biking trails as well as camping. There are ten cabins and one bunkhouse available to rent on the property.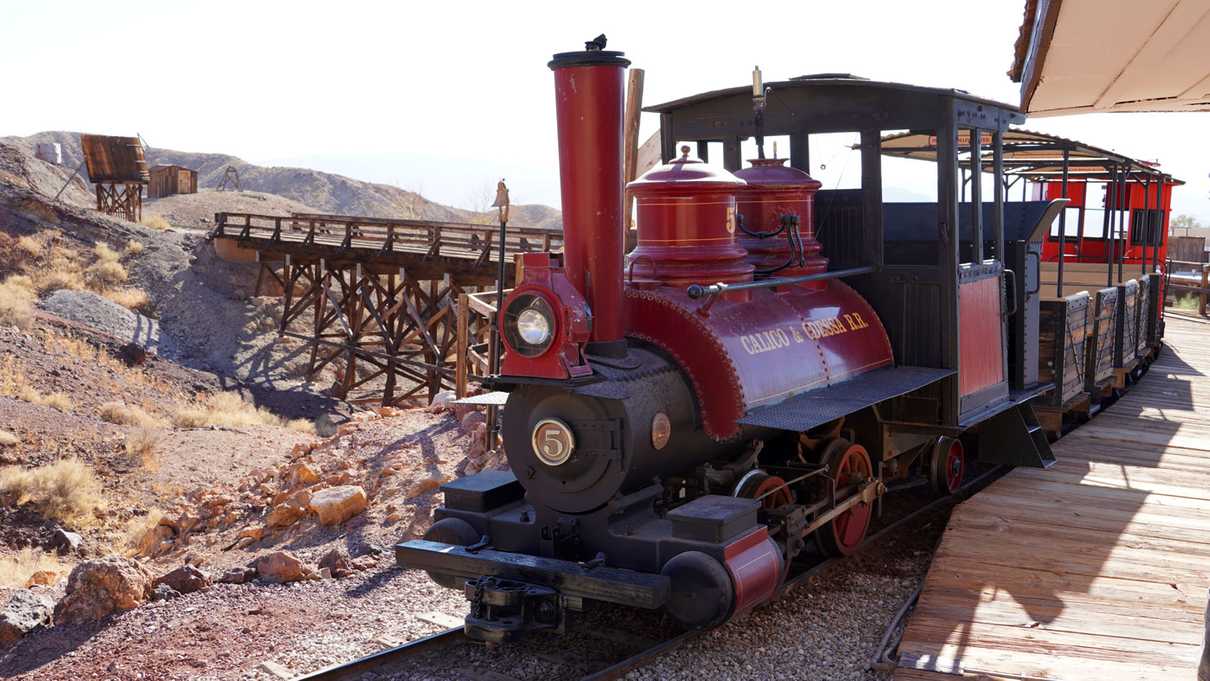 Part ghost town and part theme park, Calico allows guests to take a step back in time and learn about its history as well as life in those days. For the price of admission, it makes for an affordable way to spend part of a day.