Sometimes in life, you just need to get away from it all. Away from the endless meetings and compromises of a job. Maybe it's other worries that have you down. Whatever it is, you need to relieve the pressure of encumbering thoughts that weigh heavily on the spirit from time to time. With all happening in the world around Covid-19, racial tensions, and the demands of our day jobs, it was our time of need.
Weeks before, Amy and I took a scenic drive down State Route 89 between Flagstaff and Sedona. Along the way, we stopped to check out a small market perched at the bottom of a steep hill, deep within Oak Creek Canyon. The sign atop the market read the Butterfly Garden Inn. Another sign, positioned immediately adjacent to Route 89, read Don Hoel's Cabins. I could see some quaint cabins behind the market tucked away deep within the lush forest of the canyon. Slightly confused about the signs (is it Don Hoel's Cabins, or the Butterfly Garden Inn?), as well as being intrigued by this place, I went inside the market to inquire about the cabins.
One of the friendly hosts did one better than answering our questions. She gave Amy and I a tour of a couple cabins, and we were quickly sold. Turns out that the availability for renting the cabins was better than usual due to all happening in the world right now, so fast forward a couple weeks, and reservations had been made and we decided to book one of the two cabins we got to preview. Cabin 16, dubbed the "Cuban Crescent".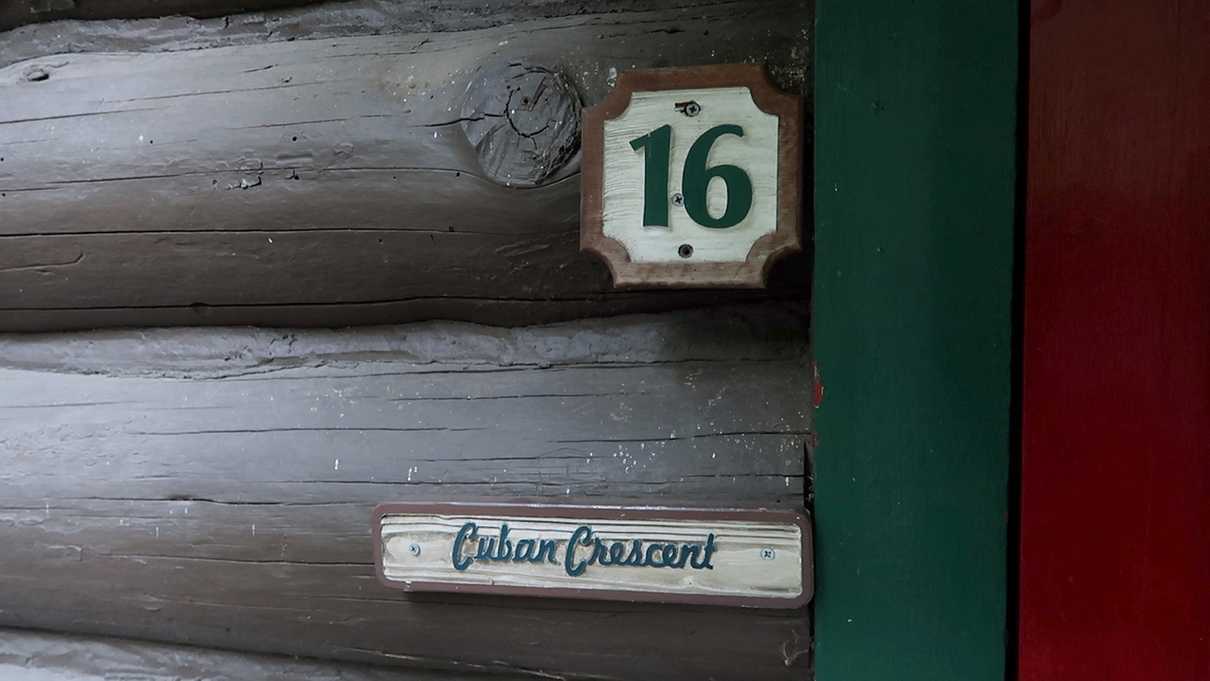 Before we continue the tour and review, I can clear up one thing. The place is currently called the Butterfly Garden Inn. It was formerly known as Don Hoel's Cabins, and has been at this location for a very long time. At least 50 years, if not more, according to what past guests wrote in the cabin's guest book. Not sure at what point it changed names though.
At any rate, as is not uncommon with rentals in the Sedona/ Oak Creek Canyon area, many of the cabins here require a 2 night minimum stay. For folks like us who are trying to sneak in a quick weekend getaway, a 2 night minimum might be a little difficult to arrange. But we made it work. We booked a Friday and Saturday night.
I found out that the summer months are the busiest time of year for this establishment, so under more normal circumstances, I imagine we would not have been as successful at procuring reservations on such short notice in June. But things worked in our favor this time around.
The original intent of this getaway was for Amy and I to have a little time to ourselves as a couple. We chose the Cuban Crescent because it seemed to be designed for couples. However, at the last minute, we had to change plans because one of our beloved cats was not feeling well. Since a deposit had been made and we really wanted to make a video of this location, I decided to undertake the trip solo-style. I would make the best of it and turn the trip into a meditative retreat.
I will say that they do have smaller cabins a bit more suitable for folks traveling solo. Not that there is anything wrong with staying in a larger cabin if you are flying solo. But, prices do vary and seem to be related to the amenities you get as well as the size. If you're on a budget, you might want to check out some of the smaller offerings. Not that the prices are too scary. I paid $215 per night for cabin 16 during the time period I stayed.
So let's take a peek inside, shall we? As I entered the cabin, the first thing that came to my attention was the kitchen to the right.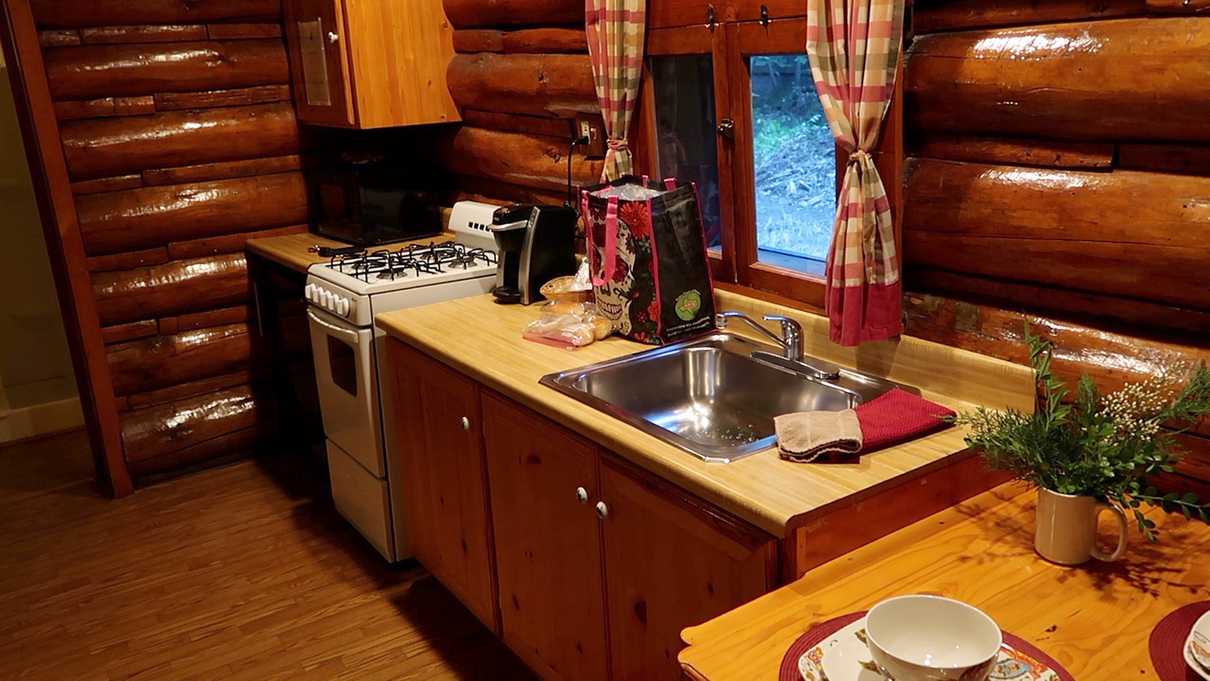 I immediately remarked at how immaculately clean the kitchen was. Like a curious child, I started poking my head in the various cabinets to see what small treasures I might find. I found plates, glasses, wine glasses, and all the kitchen utensils you might need to survive a couple nights here. A cookie sheet, steamer, tea kettle, skillet, and even a Keurig machine (to name a few). Most importantly, they had bottle and can openers. I don't know why, but it never fails that the one thing I forget on my road trips is a bottle opener, so thankfully this place has got you covered.
The kitchen also comes equipped with a small oven and gas range. It worked very well, and I was surprised by how perfectly clean it was, and how deep the oven went. Much more sizable than it appears on the surface.
There is also a microwave, and a micro fridge. The fridge is one of the few things I had trouble with on the trip. I suspect that the one in my cabin needed some servicing because the fridge never seemed to cool down to a normal fridge temperature. The freezer compartment worked well though and quickly froze some of the meat I brought for grilling.
Turning and facing the opposite side of the room, you will see the king size bed that occupies a large portion of the room.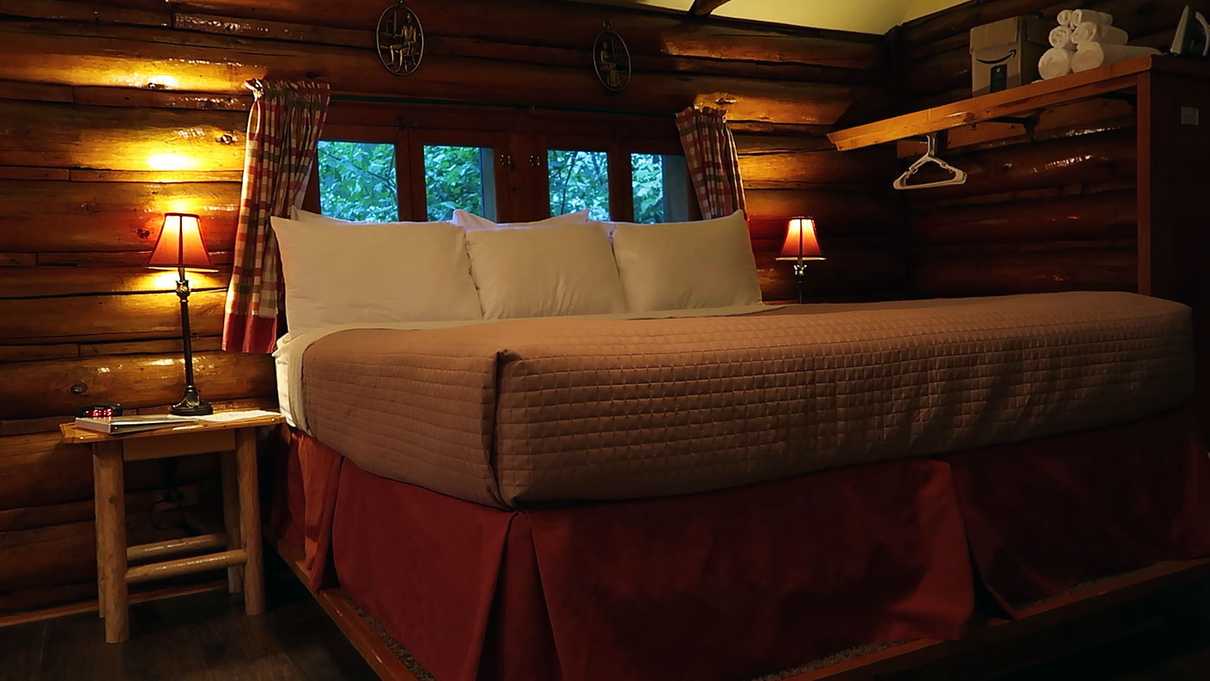 I found the mattress to be on the firmer side, which I like, and after sleeping on it for two nights, I can report to you that it was far more comfortable than your average hotel mattress. I also really liked the pillows. They were nice and springy and felt like they might be brand new. One thing I can not stand are hotels where the pillows are flat like pancakes. That was certainly not the case here.
During my first few hours in the cabin, I found it to be slightly warm and worried it might make sleep hard to come by. It's important to state that there are no air conditioners in these cabins. They rely on the shade of the canyon and deep forest to keep things cool. The windows do open and all have screens to keep the critters out.
It turned out that things did get nice and cool in the night. So I had some of the best sleep I've had in a long time. I even noticed that when I returned from adventuring the following day, although it was quite warm (in the lower 90's), the inside remained cool, almost as if an air conditioner was running . So, I think for the most part, lack of A/C is not something you should be concerned with. Things remained pleasant throughout my entire stay in that regard.
If you're planning on staying during a colder time, like in the winter months, the cabin does come equipped with a gas furnace.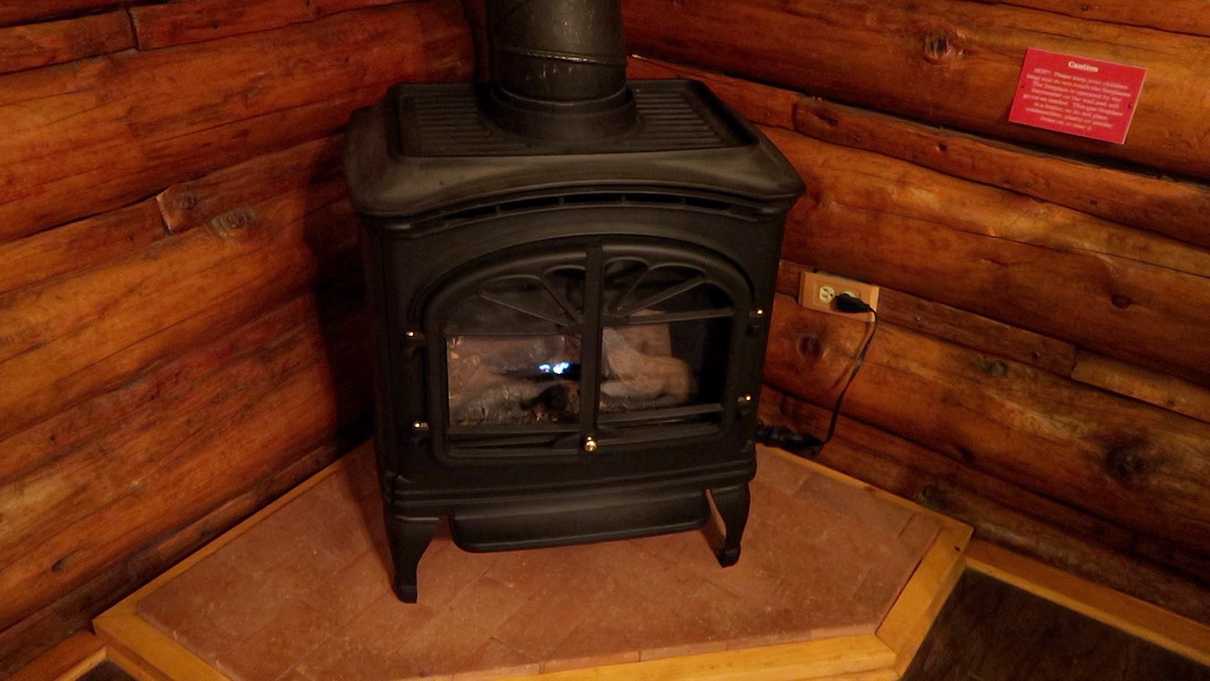 I did not need to make use of it on this trip, but I've seen many photos online of this property covered in beautiful white snow during the winter months. I would like to return here in the future and experience the cabins in colder times. Seems like it would be nice and cozy.
The cabin also has a small bathroom. As with all else in the cabin, the bathroom was perfectly clean. You get a toilet, small sink and a shower. There were complimentary soaps and shampoos lining some shelves above the toilet.
Of course, the bathroom fits the scale of the cabin, so don't expect a lot of room to maneuver. But, it gets the job done.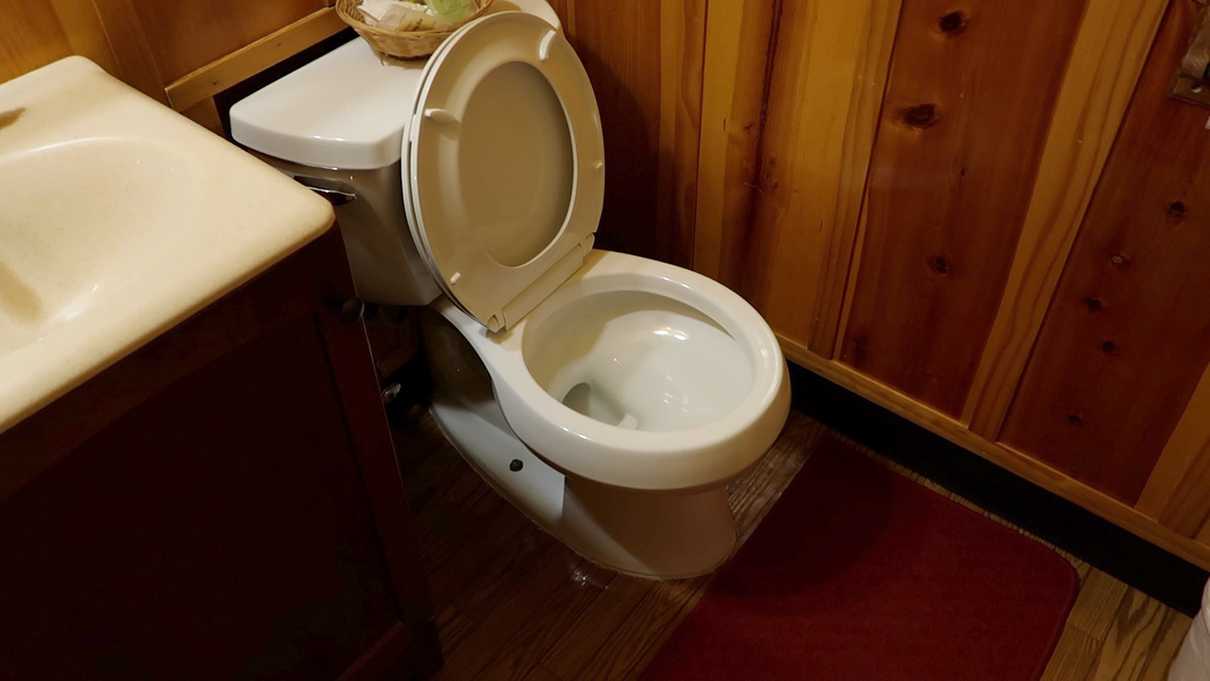 So far, so good. I found the interior of the cabin to be quite impressive. But, the best parts were outside. Cabin 16 sits on a nicely-manicured outdoor area, complete with picnic tables, hammocks, swings, and other fun little recreational activities such as horseshoes.
One of my favorite things to do during my stay was to lay in one of the hammocks, gently rocking back and forth while staring at the tops of the very tall pines and other trees common to this area. There was also an abundance of birds chirping. There were not many guests staying here during this time, so for the most part, it was always very quiet.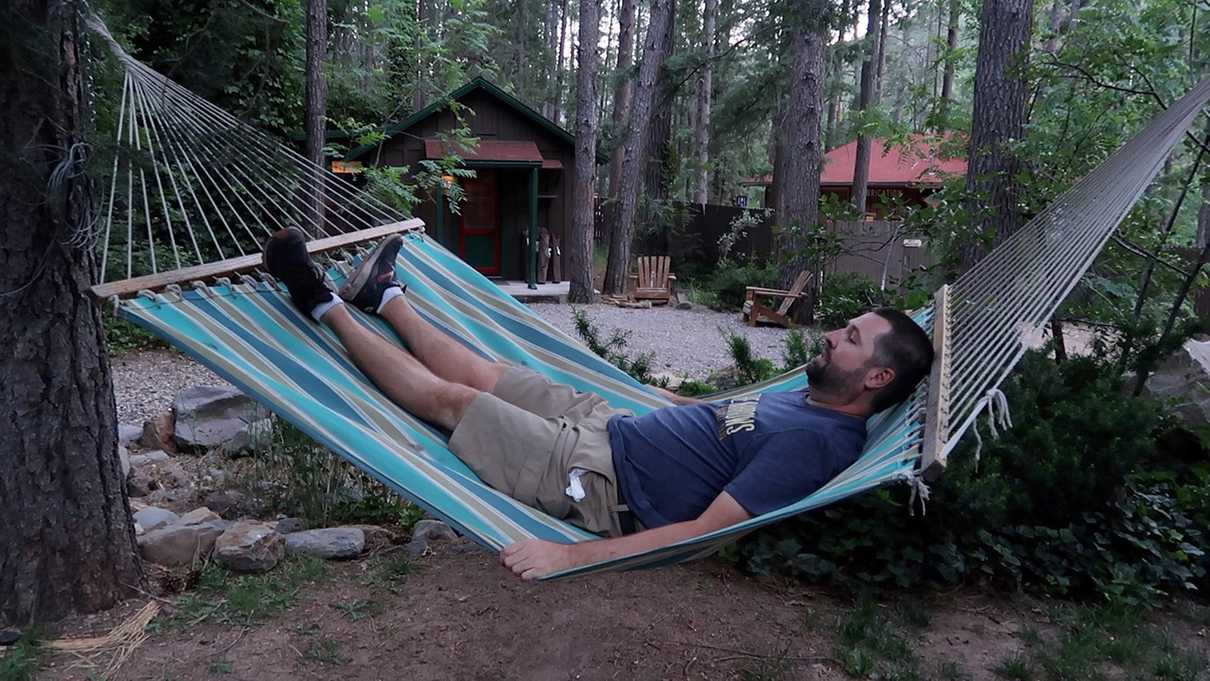 Speaking of relaxation, the best part was just a short walk across the road from the cabins, across Route 89. The Butterfly Garden Inn offers guests private access to beautiful Oak Creek. This was a very welcome thing, because those of you that know this area are well aware that during the summer, finding parking and a quiet place to enjoy the creek are next to impossible. I've lived in Arizona for many years and have driven down Route 89 many times and never stopped to check out the creek. It's a madhouse, and in these risky pandemic times, being around hordes of people is not something I have gotten comfortable with.
I went down to the creek a couple times during my stay. All you have to do is traverse a rocky path through the woods and you'll be welcome by one of the most idyllic scenes I've encountered in Arizona.
The private area borders an area with some tiny little waterfalls and deep, crystal-clear pools of water. A little ways downstream was an area of deeper, calmer water, where I saw a small family going for a swim.
For me, I enjoyed sitting out on the polished boulders in the middle of the creek and watching the water rush by. It washed my worries away as quickly as the water flowed.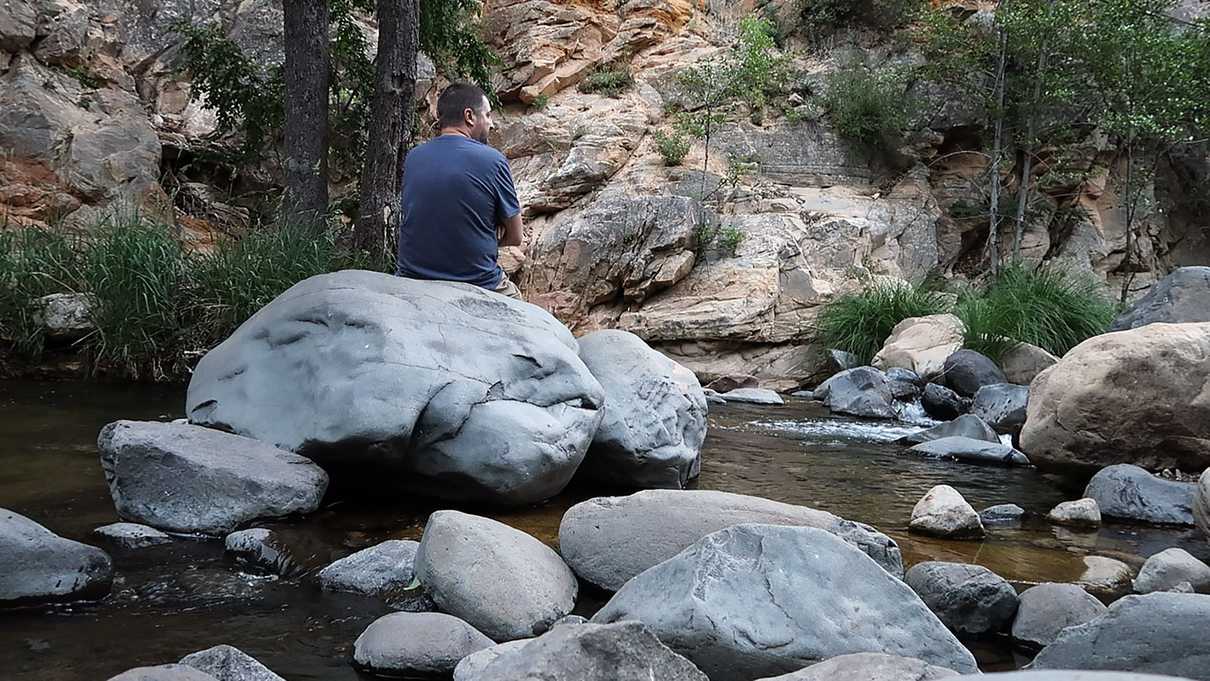 I also assume that it was part of the property, but someone made a sturdy swing attached to one of the trees. It was strong enough to support my larger physique, and I would be lying if I said that I didn't swing on it for a spell. If a chubby guy swings and laughs in the woods, does he make a sound? Only I will ever know the answer to that one!
After bringing my inner calm to levels I haven't experienced in quite a long time, I headed back across the street towards the cabins.
The area around the market is quite fun, and there are several antique and retro vehicles on display there. The market itself has just about anything you'd need if you were staying in the area. There's a small cafe that serves coffee drinks and sandwiches made to order. They even sell camping equipment, firewood and ice. And of course, they have the essentials like beer and wine. A perfect little store.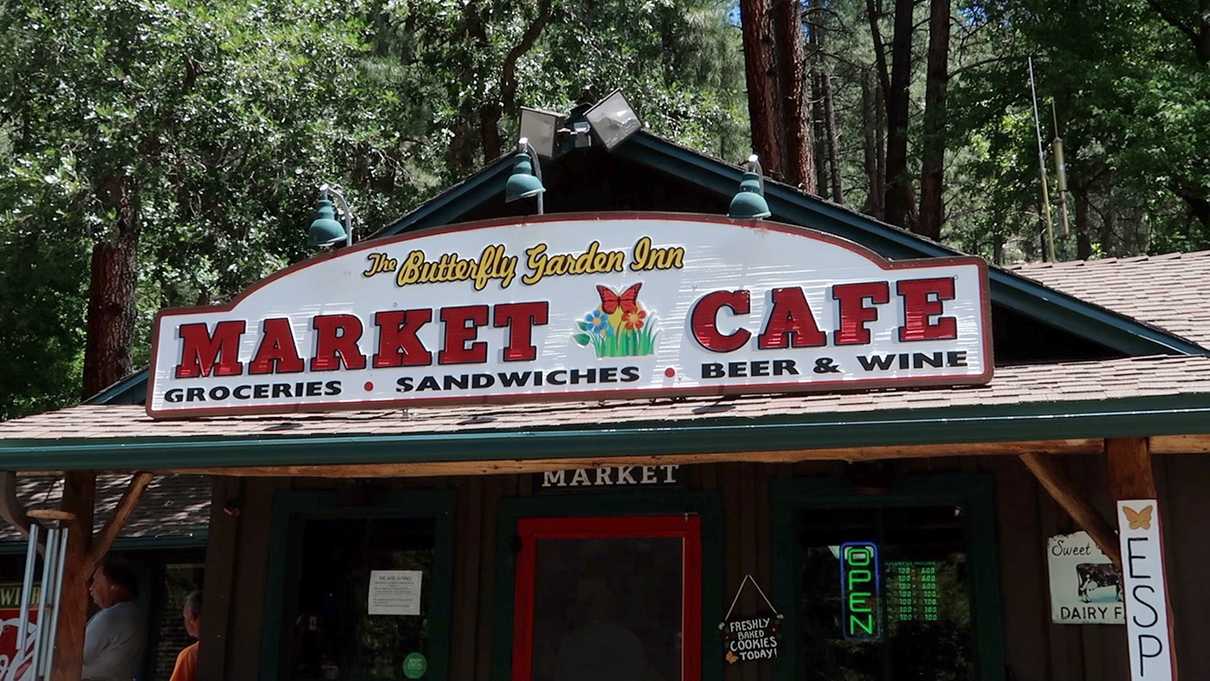 Attached to the market is a private lounge, available for guests of the cabin only. Inside is a comfortable room, with a couple tables, wood stove, a plaid couch and a television. It's one of the only places where you can enjoy some modern conveniences such as TV. I did try to turn the TV on and had no luck, so I assume there was some kind of trick to it, or perhaps the batteries in the remote needed changing. But I did not come to watch TV, so for me, this was not a big deal.
The main point of coming to the cabins is to get away from that stuff. That's why you will not find televisions in the cabins. That's why cell phones don't work very well either. Ideally you've come to disconnect from those things.
If you are worried though about being too disconnected, there is a land line phone on the premises for any urgent matters that might require your attention.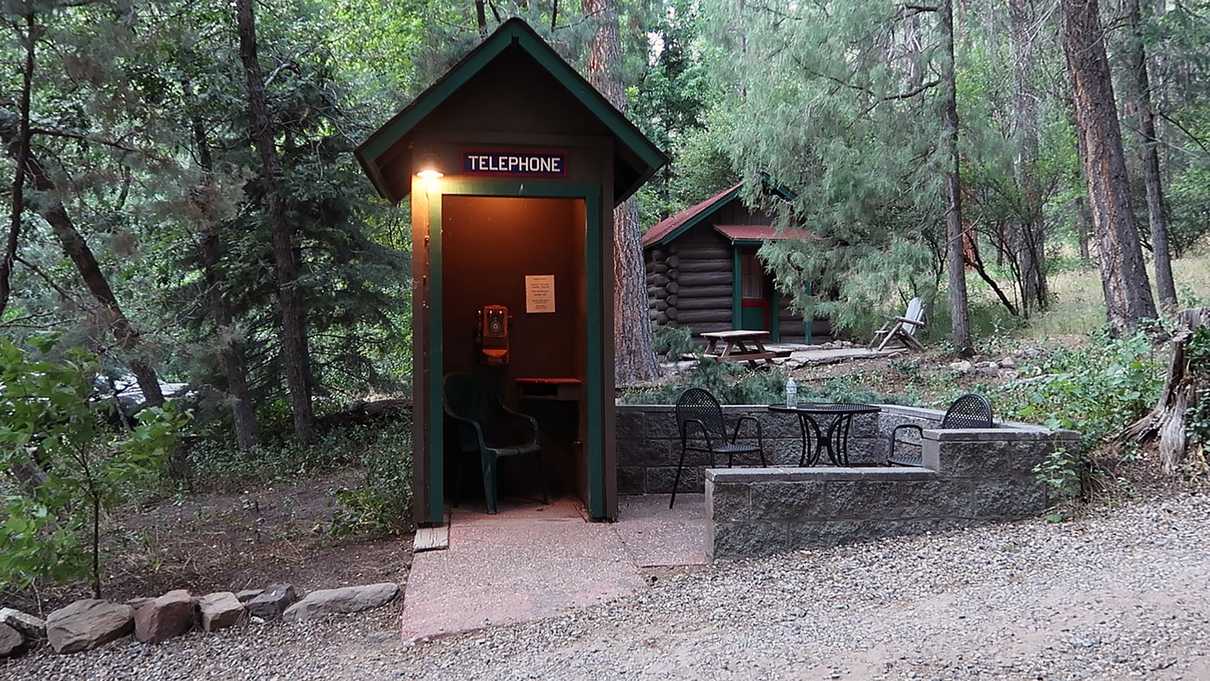 So far, you may be thinking this place is sounding pretty perfect. Well, you are not far off, but there were a couple minor bumps that need to be addressed in the spirit of giving a fair review.
Every cabin that has a kitchen (such as the one I rented) is supposed to have a propane outdoor grill. I came packing burgers and brats, and part of my getaway fantasy was to grill out in the woods. I even called prior to my arrival to make sure my cabin would have a grill.
Well, upon arriving, there was no grill to be found. I walked around the cabin, and a groundskeeper saw me and asked if he could help. He explained that the grills were currently being replaced with new ones, and they had taken away my grill hours before. He then pointed to a brand new grill feet away from my cabin next to a neighboring cabin, surmised that the place was currently vacant, and almost offered to wheel it over. Then he changed his mind. I told him it was getting late and that I would be happy if they could bring a grill over the next day, to which he said he'd see to it.
Well, the next afternoon came and still no grill. I went over to the office and inquired again. A grill was delivered within minutes, but clearly it was one of the dirty old grills they were in the process of replacing. Not a huge deal that it was dirty, except that I didn't think to bring anything to clean it.
Curiously, the cabin next to me remained vacant the whole time and the level of effort to bring the grill over was negligible. So I never got to grill out in the forest, which was a bummer. The slightly annoying part is that they should've easily known which cabins would have guests and plan accordingly, but they did not.
The other thing was the mini fridge I mentioned. It never really cooled down to a normal fridge temp. To me, clearly something was wrong with it, but to be fair, I never inquired about it. I put my perishable stuff in the freezer, and took it out the day of use and let it thaw in the fridge.
But, I think those things were coincidental, and they would not deter me from staying again. Honestly, the stay was bordering perfection if I could remove those blemishes. I'm confident that if I stay again, or had I made a bigger deal of it, things would've been made right.
The only other regret is that Amy could not attend this trip, and I do believe this place is meant for sharing. It's absolutely perfect for couples and family gatherings. And I do admit, it was pretty refreshing to have a couple days to myself there. But sharing it with others would be the way to go.
If you are ever vacationing in Arizona, or perhaps you live in the state and want a quick getaway, the Butterfly Garden Inn is definitely worth your consideration, and for many, it won't break your wallet.
When I returned to work the following Monday, I found a renewed calm and focus that still lingers. The Butterfly Garden Inn delivered on its promise to make me stop and take in a deep breath and kick things down a notch or two.