The Sonoran desert hosts many amazing parks that put you in the middle of picturesque landscapes. If you're not from Arizona and want to see our beautiful deserts, you'll most likely seek out a National or State park. I'd bet that's doubly true for folks looking to camp overnight.
If you're looking for a complete Sonoran Desert experience, just know that National and State parks aren't the only game in town. Some of our regional parks should be thrown into the mix too, and many of them will not disappoint.
One of the best examples is White Tank Mountain Regional Park. This park has many unique features located within about 30000 acres of healthy desert. In the heart of this is the new Willow Campground, located in the Willow Canyon section of the park.
Last November this place came onto our radar when we read about a campground open house. Yes, as of the time of this writing, this is a very new campground facility.
As I pulled up to my campsite, site W-18, the newness of the campground was immediately apparent. Everything about my particular campsite was immaculate. Even down to the Zen-like raking of the gravel on the site. By the way, whoever does the raking and maintenance of these campsites, huge kudos! You're doing an awesome job!
My campsite is very representative of most of the campsites here. You get a tent pad, shade, and a fire ring with an adjustable grill. And of course, amazing views of the surrounding desert.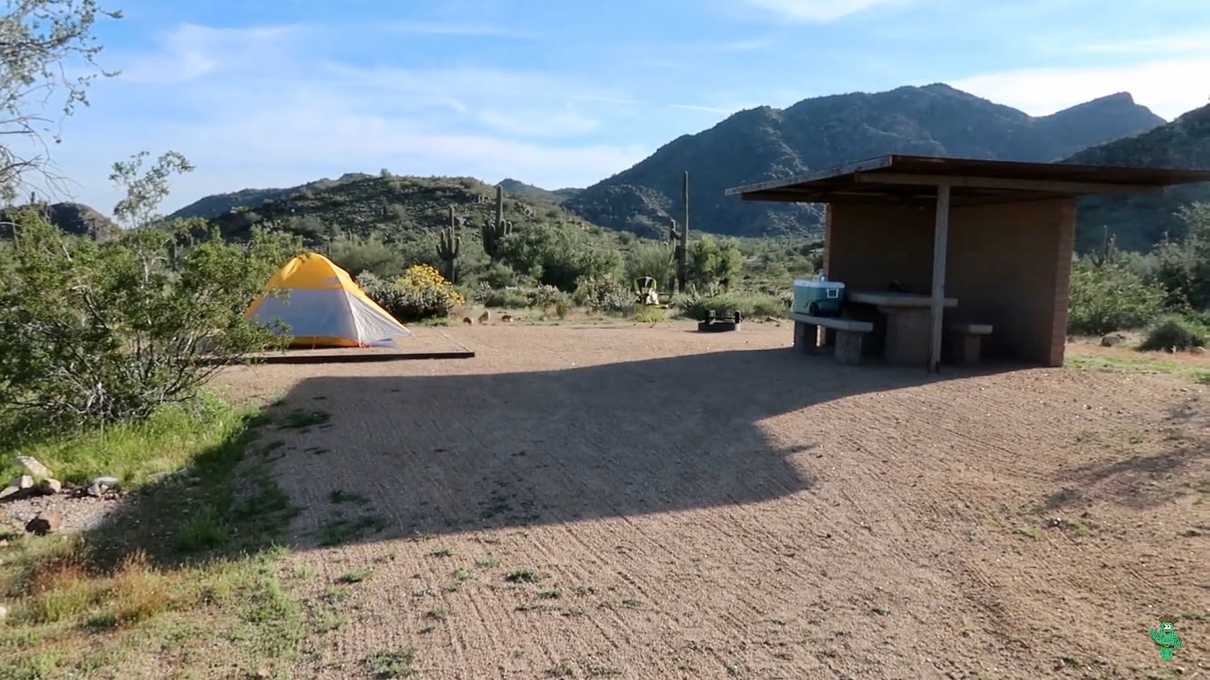 At this point you may want to consult the campground map. Notice that there are water spigots generously placed throughout the campground, so you'll not have to walk far for that.
There is also plenty of parking. Some sites, like mine, are considered walk-in, and have designated, paved parking spots. It looked like each of these get two parking spaces per campsite. For most of them, you only have to walk in a few short feet. In fact, mine didn't even feel like a walk-in site. Other sites had pull-through, or back-in style parking, but those were not paved, and usually sit right off the main road.
If you're an RV'er and I've got you interested, I hate to be the bearer of bad news. This campground is designed primarily for tent campers, and there is a max vehicle length of 16 feet. Fret not though, the nearby "Family Campground" caters to RV's, and is also located inside of White Tank Mountain Regional Park.
However, if you're a tent camper like me, I think you're going to be very pleased. As mentioned earlier, each site has a 12 x 12 elevated tent pad.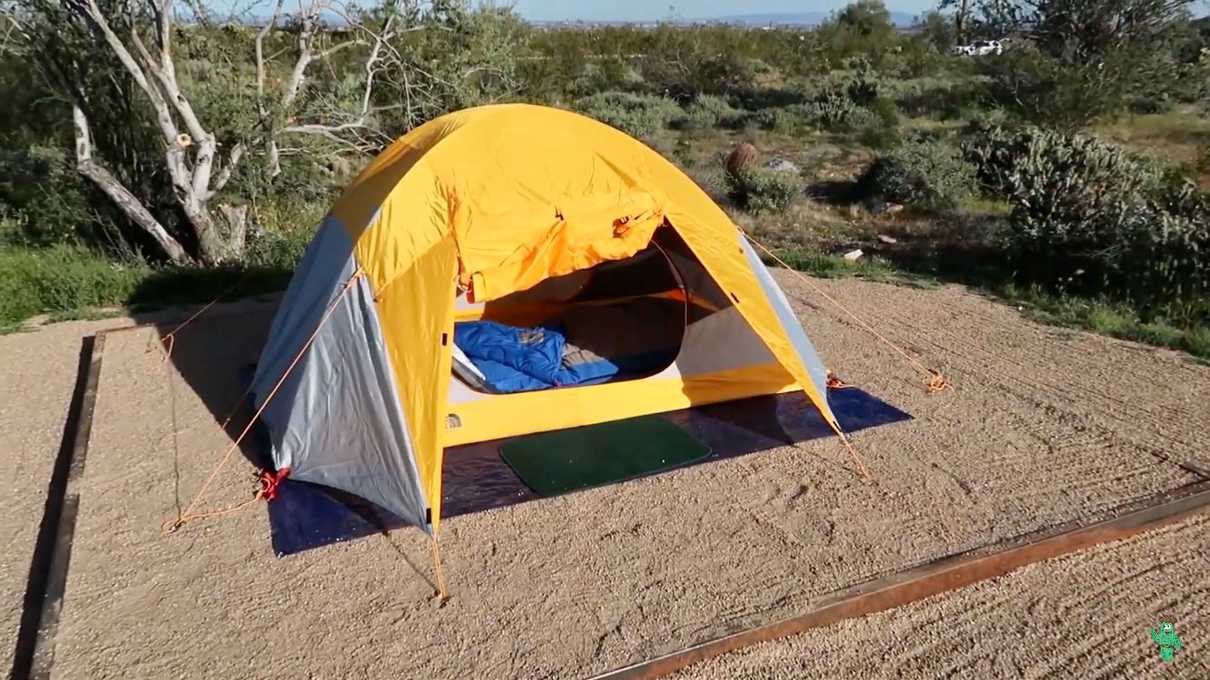 All of the sites are covered in fine gravel, clear of obstructions, and the tent pads are positioned far enough away from the surrounding desert plant growth to hopefully help deter creepy-crawlies like scorpions from visiting your tent in the night. This is the Sonoran desert after all!
As also mentioned, all sites have the same style of fire ring with attached adjustable grill, and shade is abundant in most sites, but not guaranteed.
Many sites, such as mine and the neighboring sites, have shaded ramadas, and they are very appreciated. They have brick walls on two of four sides, and I saw shade underneath it at all times of the day. I wish more campgrounds in the deserts of the southwest would implement something like this. Willow Campground could serve as a model for how to do this right.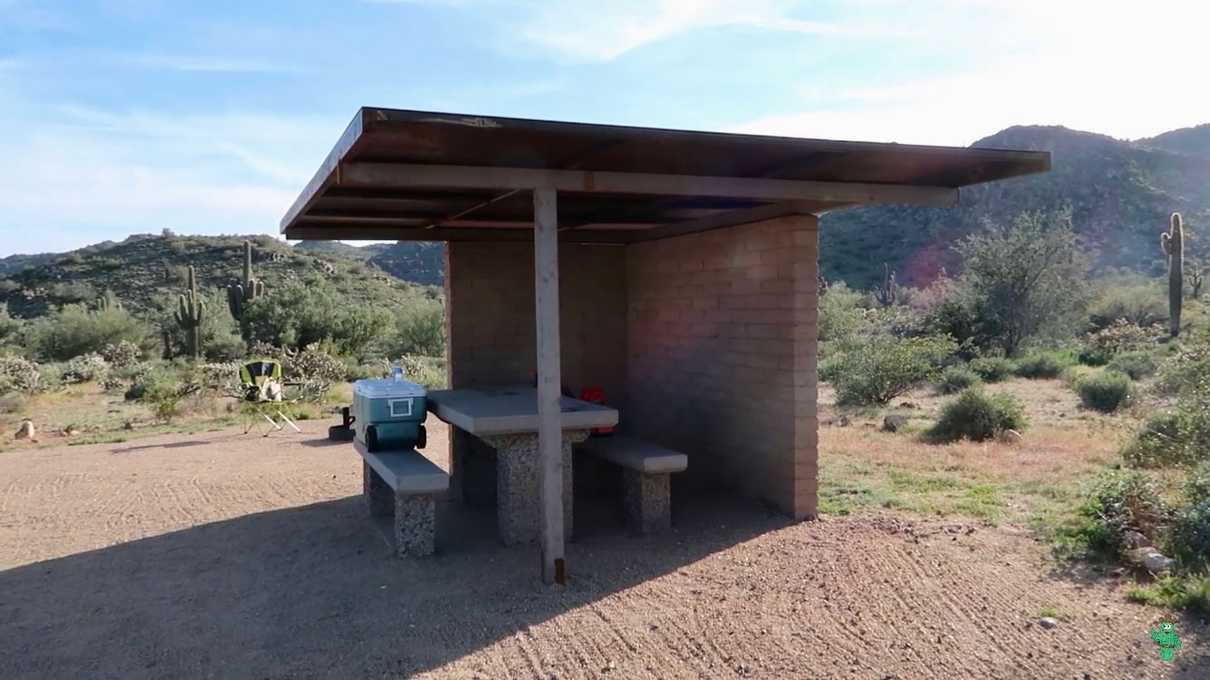 Curiously though, not all campsites at Willow Campground have these. I noticed that some sites have trees, such as palo verdes, positioned near the tent pad, which provide some shade. Some sites have larger trees than others. I assume that when they designed this campground, the criteria they used to decided whether or not to place a ramada was based on whether or not a tree sits on a given campsite.
If a ramada is something you want, check out our video tour as I show you which sites have these.
Another inconsistent thing I noticed is that a handful of sites have metal hammock posts, something I've not yet seen at a campground. My particular campsite was lacking this feature, but that's okay, as I don't own a hammock, yet...
A couple sites have posts to accommodate a single hammock, but one actually has three posts forming a triangle, with enough hooks to accommodate three people. How cool is that?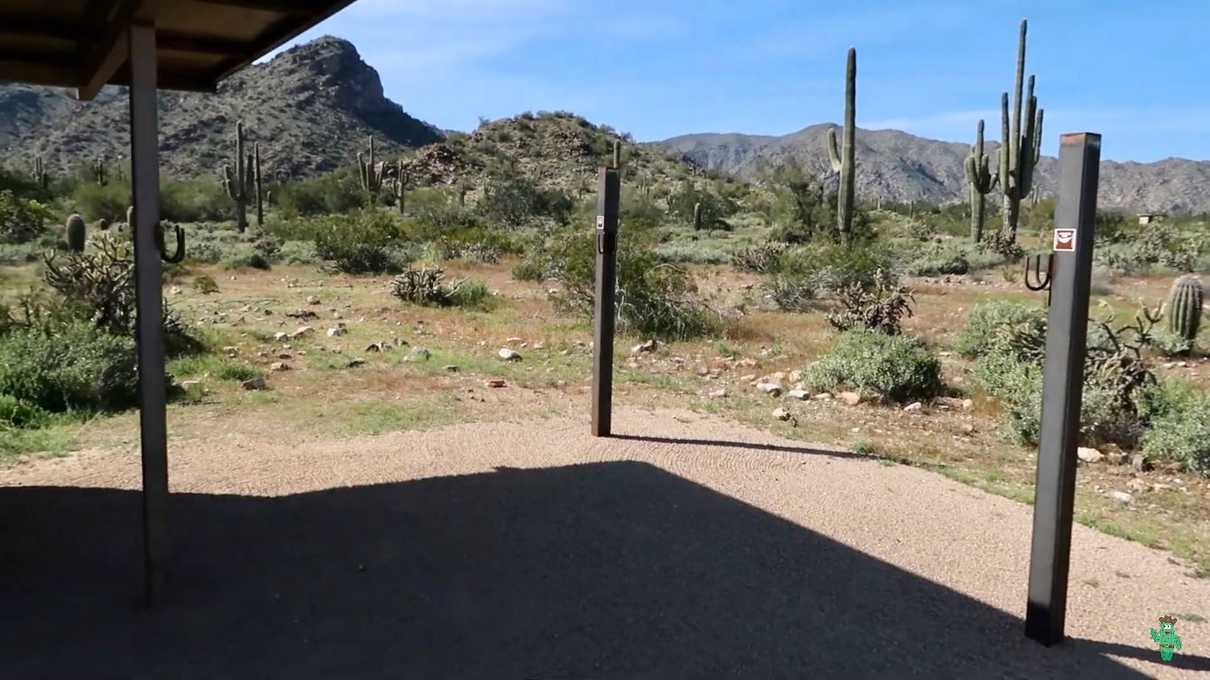 Located centrally within the campground are the restroom and shower facilities. The restrooms are as clean as you'll find, and have running water. They have flushing toilets and sinks, and even a diaper changing station.
Next to the restrooms are several showers. The showers are free (not coin operated), and they have one that's ADA compliant. I took a peek inside of these, and they are all new, and appear not to have had heavy use yet. These were easily the newest and cleanest campground showers I've seen on any of my journeys to date.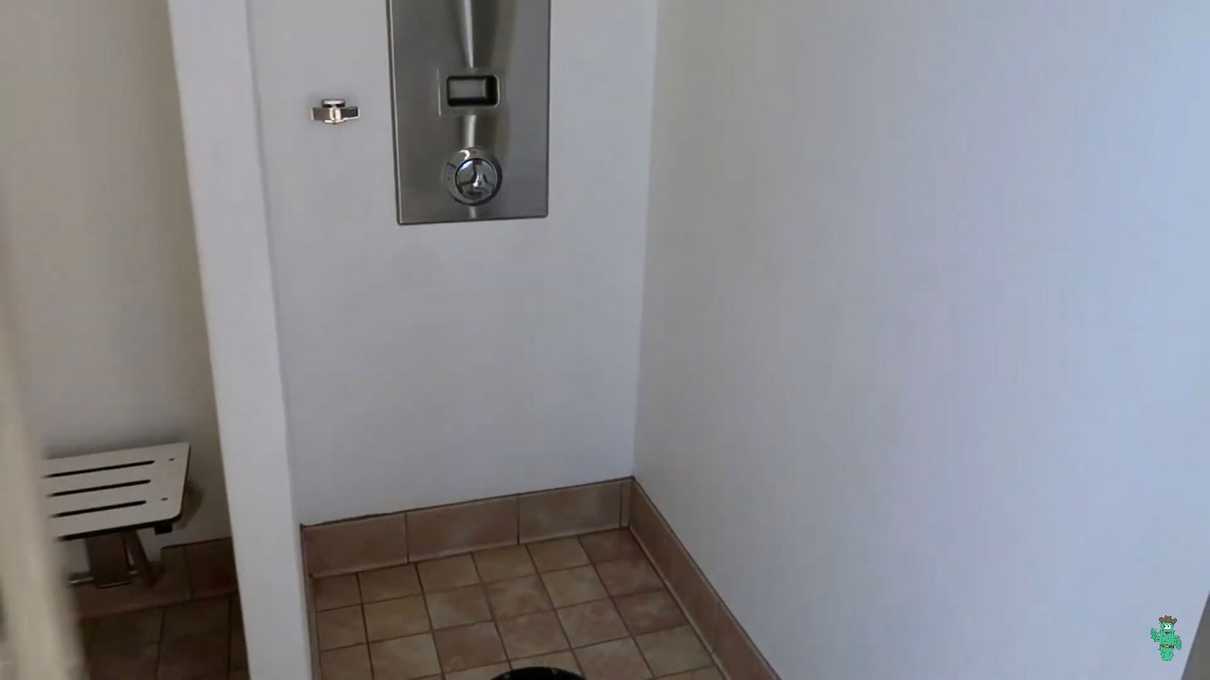 And if that was not enough, they also have a utility sink next to the showers, and it's one of the nicest ones I've seen at any campground.
So, not too shabby for a regional park, huh? I can tell you from experience that there are National and State parks whose amenities don't beat this place!
Another thing worthy of note is that cell phone service here was not bad, at least not for me. I have Verizon, and averaged one to two bars of LTE coverage in most places. I did a test call with my wife, and the call dropped a couple times. But, text messages worked consistently and I was even able to watch a couple YouTube videos on my phone by the campfire.
At night, you can see the lights of Phoenix and the surrounding suburbs, which makes for a pretty sight.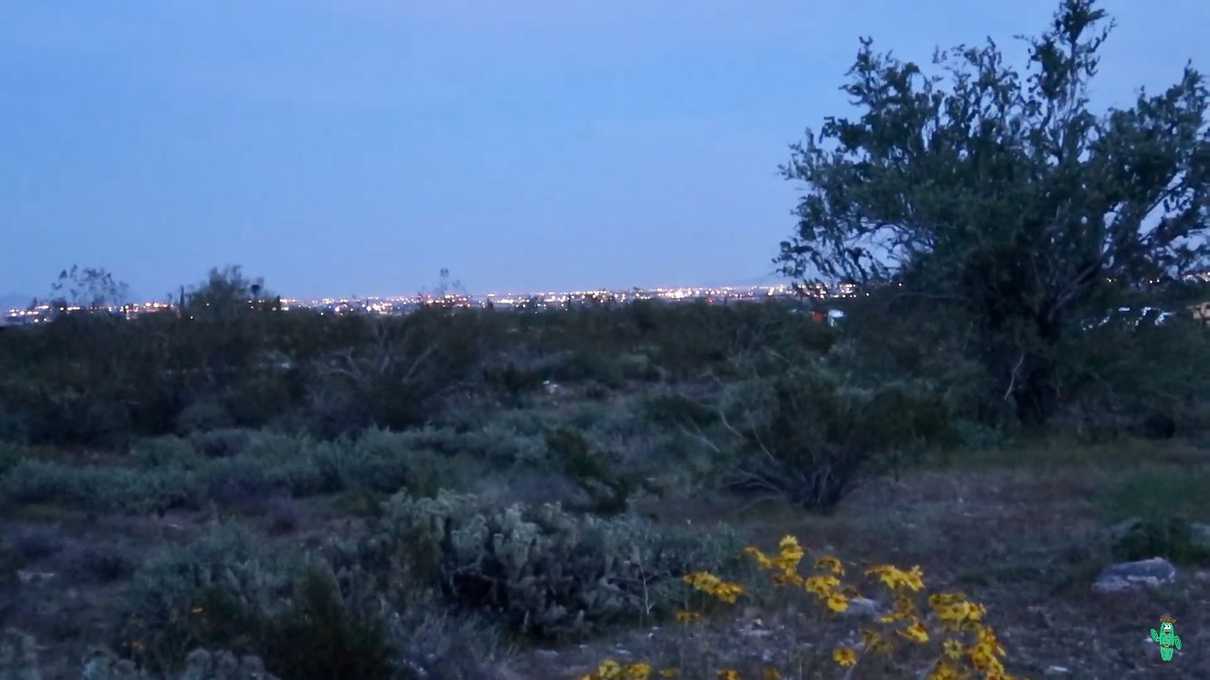 I didn't get to do much star gazing as there was a full moon that evening, but the moonlight showering down on the desert at night was quite the spectacle! I didn't even need my flashlight most of the time!
The coyotes must have loved it too as all throughout the night I enjoyed hearing their songs. At one point I heard several of them nearby, hootin' and hollerin'. It sounded like they were a couple hundred feet away from my site.
On the following day, I awoke and enjoyed the quiet scene of the Sonoran desert in the early morning light. This is one of those campgrounds that makes you feel a little sad to part ways with.
Reflecting upon my overall stay, I struggled to find anything wrong with this campground. The only thing that threw me off a little bit is the lack of any waste receptacles near the campsites. The only ones I saw were one by the utility sink (which appeared to be designated for food waste), as well as a dumpster located at the entrance of the campground... too far away to be practical to walk to for most of the campsites. You'll most likely be hauling your waste to the dumpster in your car on the way out. This was a very minor thing for me though, but if they positioned a trash can or two around the campsites, that would make this place almost perfect.
If you live in the Phoenix area and want a quick weekend camping getaway near town, this place has got you covered! If you're from out of town and want to experience the glory of the Sonoran desert up close, you'll find few campgrounds as nice as this.
I've lived in the Sonoran desert for almost twenty years now and will admit, some of the novelty has naturally worn off. I have Saguaro cacti in my yard and see the desert any time I leave the house. But, even for a desert dweller like me, Willow Campground is the kind of place that renews one's appreciation for the beauty of the Phoenix area, and it was certainly not lost on me. I hope that you too, will get to check this place out sometime soon!