I had my eye on Goblin Valley State Park for a long while. The unique formations, known as goblins, were unlike anything I've ever seen (in pictures). I had to figure out a way to get out there and see them with my own eyes. Only problem was, Goblin Valley State Park is in the middle of nowhere, Utah. About 8 to 9 hours away from my home town of Phoenix, AZ. And out that way, there aren't many options for lodging. Luckily, Goblin Valley State Park has a campground and I recently called it home for a few nights.
A Much More Convenient Spot Than I Realized
As I often do, when I go out to a new location, I do enough research to get started, but don't get my true bearings until I arrive. The main draw for visiting Goblin Valley for most is the state park. But as you'll learn when you visit, while impressive, the state park itself is not that large. You might kill half a day wandering around the Valley of the Goblins.
Luckily, the state park is not the only game in town. Bordering the park is the San Rafael Swell, a wilderness wonderland full of lots of surprises... like slot canyons and much more. One of the well known ones in the area is Little Wild Horse Canyon, which is just a few miles away from the campground. That is a must-see!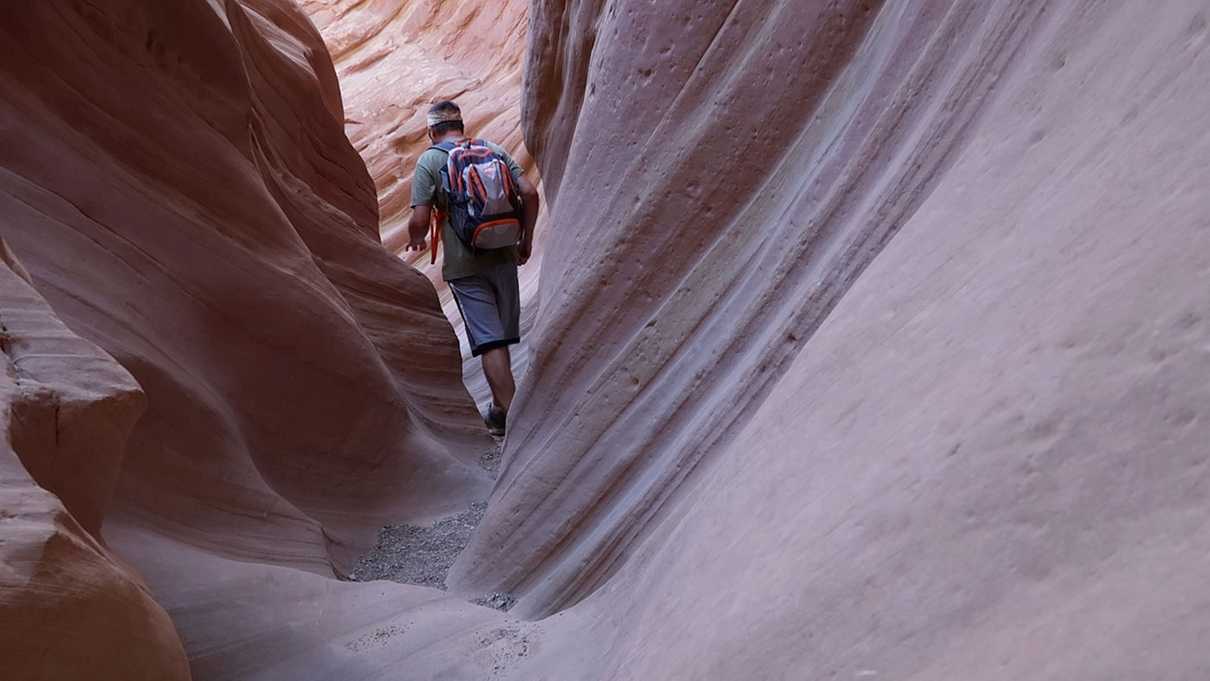 So what I'm telling you is there is much to do in this area, and Goblin Valley Campground makes for an excellent base of operations. In this regard, I give it very high marks.
The Good, the Bad, and the Amenities
I was overall pleased with the amenities at this campground. Each site has a picnic table under the shade of a small shelter. This is essential since the desert here is very exposed. It bakes in the sun. There really is no shade until late afternoon, when the nearby hoodoos start to cast their long shadows.
You also get a fire ring with an attached grill, and there were no fire restrictions during my visit, even in August. Not too surprising because there really isn't much that can catch fire in this landscape. It's just rock, and hard, sun-baked dirt.
The tent sites like mine, site 3, have huge tent pads. The biggest tent pads I've seen to date on my camping adventures. I did not measure it, but if you watch my video review, you'll see that just about any size tent will be accommodated.
The surrounding landscape that the campground resides in is a delightful anomaly of nature. Strange shapes and towering hoodoos abound.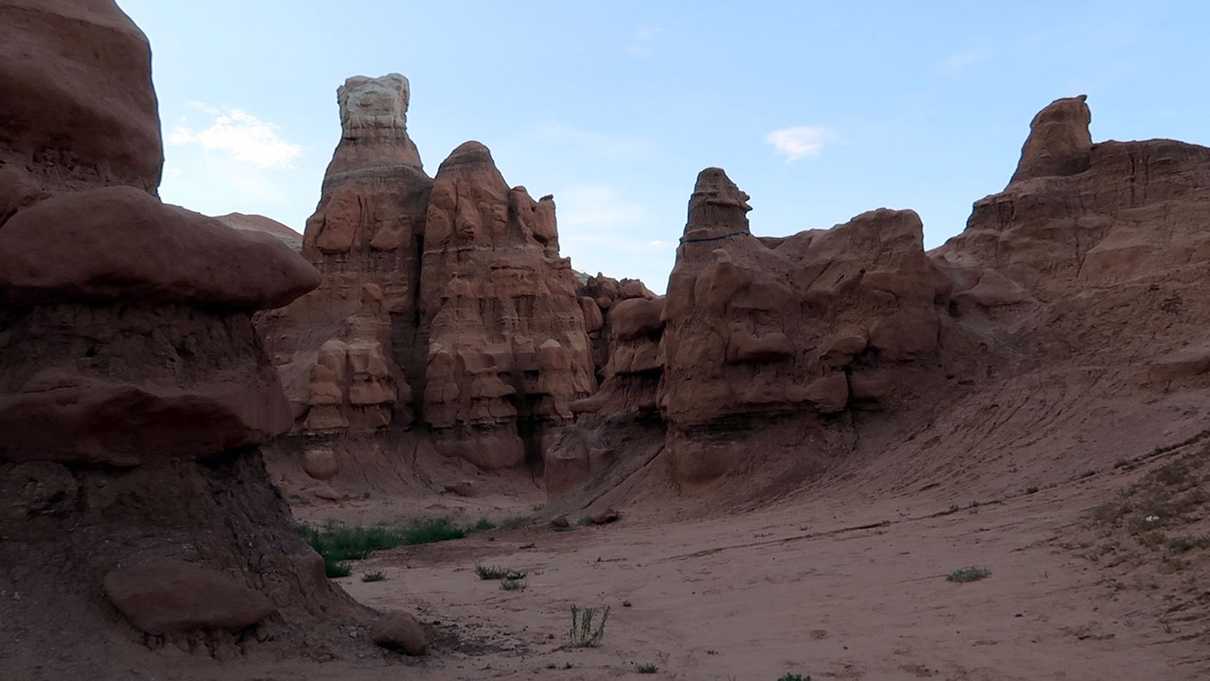 And even wee little goblins, the strange rock formations dotting the landscape, snuggle up nice and close to several campsites. Camping in such a landscape was a welcome novelty.
But, as I had read prior to my trip, sound seems to carry in this strange looking terrain. And that got put to the test during my visit. Privacy is not good here. You will have a direct line of site to your neighbors. While the sites are generously enough spread out in most cases, when you end up next to a family of six, with young ones ranging from 3 to maybe 8 years of age, things can get loud. And boy, did they. In fact, this particular raucous family made one night kind of a bummer. Thankfully they were only there on one of my three nights. But yeah, voices carry...
And I have one other pretty big gripe. When I spend $30 a night for a non-electric site, I don't expect to be pampered... after all, I'm camping. However, for state and national park units charging that much, I usually expect something a step above primitive.
The restrooms are in some serious need of updating and repair. They do have restrooms with flushing toilets, sinks, and even showers... one shower being ADA compliant. But, the water often ran brown out of the sinks. The toilet water was also intermittently brown, but not for the reason you think. I believe it was mud or rust.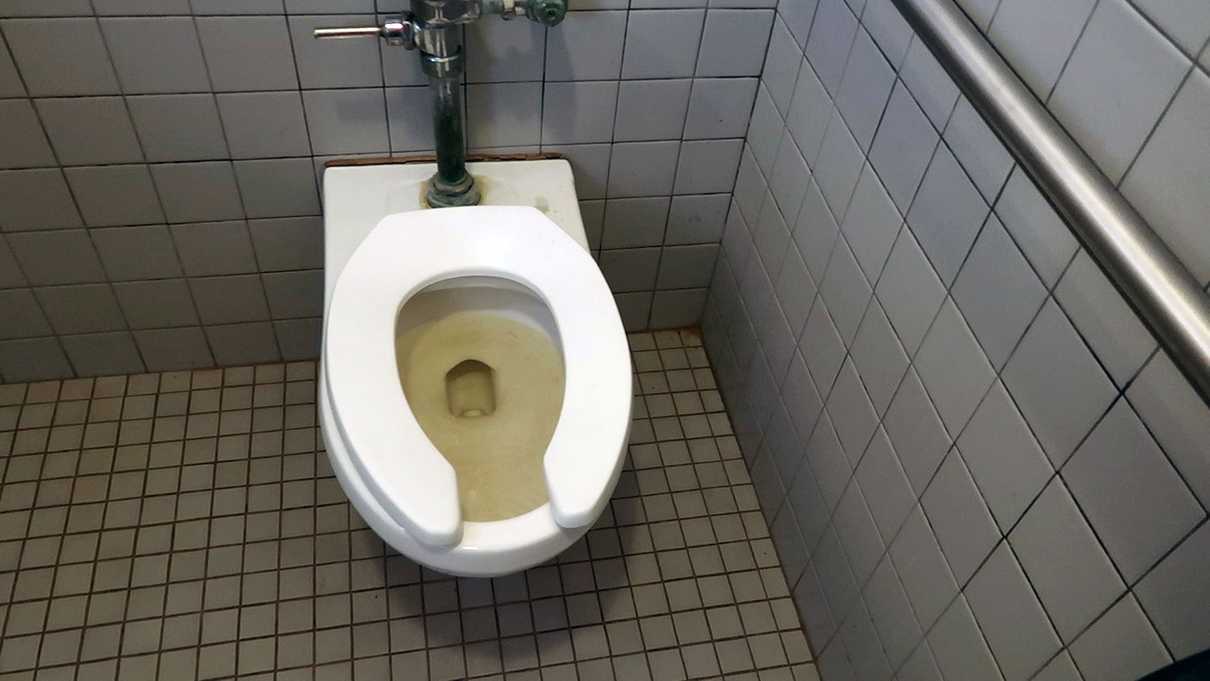 I saw signs warning not to drink the water there either without boiling it. The reason was out of date plumbing that needs to be replaced. I assume that was why the restroom water ran brown.
I did take a shower a couple nights, and I could not discern the color of the water, but I survived, and so will you.
All I'm saying is that for as much as they charge, you'd think they could do something about that. Based on things I've read online, it seems as though things have been like that for quite awhile now.
There were also some vault toilets on the other side of the campground from me, and quite honestly at times they were more appealing than the flushing toilets. Never thought I'd say that about vault toilets!
But, that's the worst of it. There were some other really nice touches that made up for it. For example, they have a frisbee golf course built around the campground, woven into the hoodoos. It was really cool, and made me wish I played!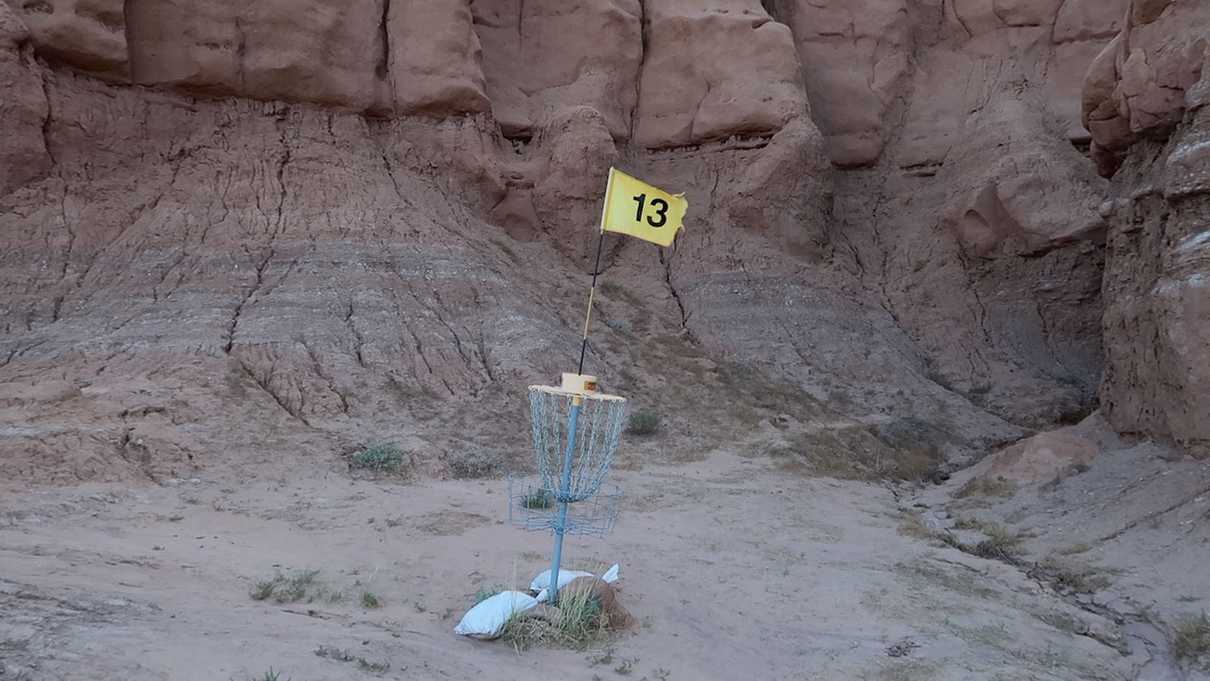 And at night, you will be hard pressed to find a better view of the Milky Way. By 9 o'clock or so, I would sit out on my fold out chair and stare at the sky. Seeing the Milky Way is such a rare thing for us city folk. That was such a treat!
Finally, you might be wondering about phone service and access to services/ supplies in the area.
There's a visitor center at the park, and they have a gift shop and even sell fire wood. But, the nearest real stuff is in the town of Hanksville, about 30 miles away. But don't expect too much. There are a couple gas stations, and one of them has a very nicely stocked convenience store. And, there's a burger joint called Stan's Burger Shak, which was actually quite delicious and highly recommended. But outside of that, there is not much else.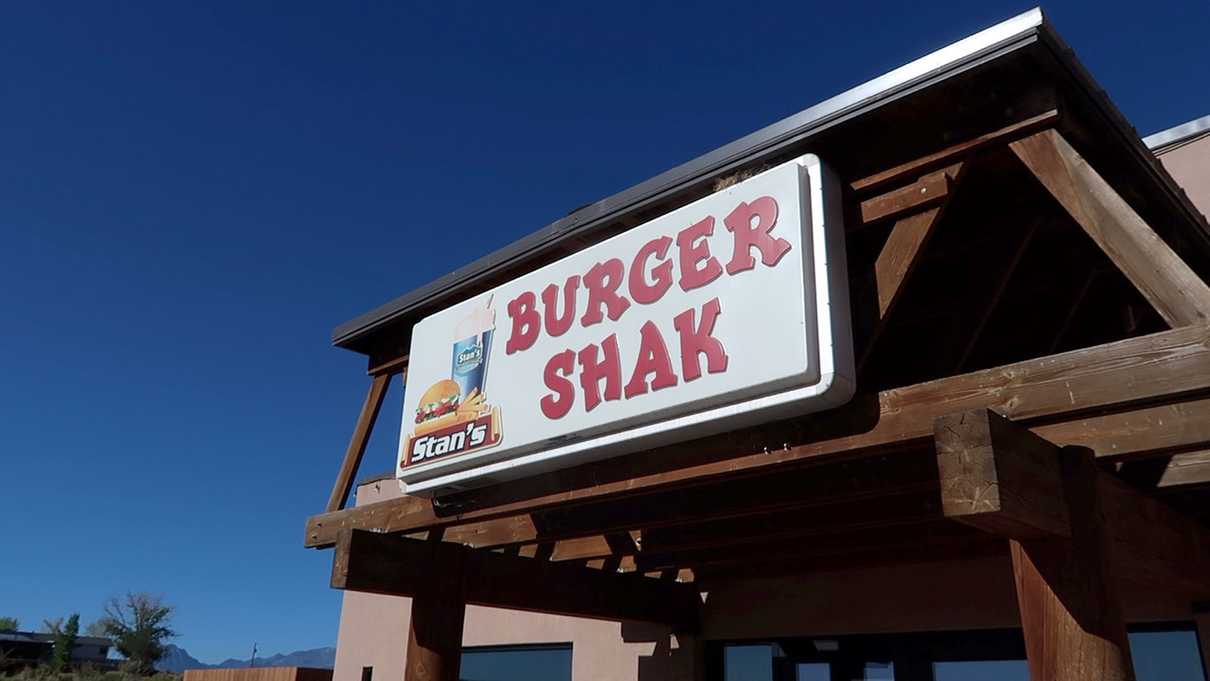 You will also get a full cell phone signal in town. I had to go into town daily to replenish the ice in my cooler, and that is when I checked in with my wife. But at the campground, nada. My phone said "no service" the entire time in the park. But, part of the joy of visiting remote locations like this is your boss and coworkers are completely cut off and unable to surprise you with phone calls. Nyuk nyuk nyuk!!!
The Verdict
I'd camp at Goblin Valley Campground again in the future. I left much unexplored in the San Rafael Swell region, and this campground is in just the right spot. I have a feeling I'll be back again some day. I especially appreciate the lifeline to civilization that Hanksville provides.
Now if they could only do something about the restrooms... if it wasn't for that, I would rank it much higher on my list. Regardless, don't miss your opportunity to camp and visit this beautiful location. The mystical land of the goblins!