I awoke shivering, completely unprepared for the cold night we ended up getting at the North Campground inside of Grand Canyon National Park. It was still September, and I naively thought my sleeping bag, rated for 50 degrees Fahrenheit, would keep me plenty warm. Well, lesson learned.
Eventually the sun rose and things started to warm up a bit, but sleep was lost. And I felt horrible. Groggy, headachy, some shortness of breath. I admit, I drank a beer or two the night before, but no quantity that's ever given me a hangover. Maybe I'm getting old. Maybe it was because it was Coors. Or more likely, being on the North Rim of the Grand Canyon at over 8000 feet, some slight elevation sickness had taken hold. I learned all about that a couple years ago when hiking Humphrey's Peak in Flagstaff. I'm certainly susceptible to that.
But whatever the reason, the thought of undertaking a hike down into the canyon on the North Kaibab trail that day seemed undoable to me. Not the way I felt on that morning.
And that bummed me out. I had plans of making an epic YouTube video of that hike. But if not that, I certainly could not waste the day. I needed a back up plan. Something a little more low key.
I consulted my National Park map to see what else there was to do around these parts. A name jumped out at me for some reason. Uncle Jim. The Uncle Jim Trail.
I don't know why, but I found it slightly humorous at first. Visions of some old coot named Uncle Jim traipsing through the North Rim Wilderness. But, turns out that Uncle Jim was a real person. James T. Owens, or "Uncle Jim" Owens. His story is too long to recap here, but he appears to have been quite the pioneer. Kind of a soft-spoken, bad-ass frontiersman. I found an interesting bio on the Grand Old Man of the North Rim that you might be interested in reading.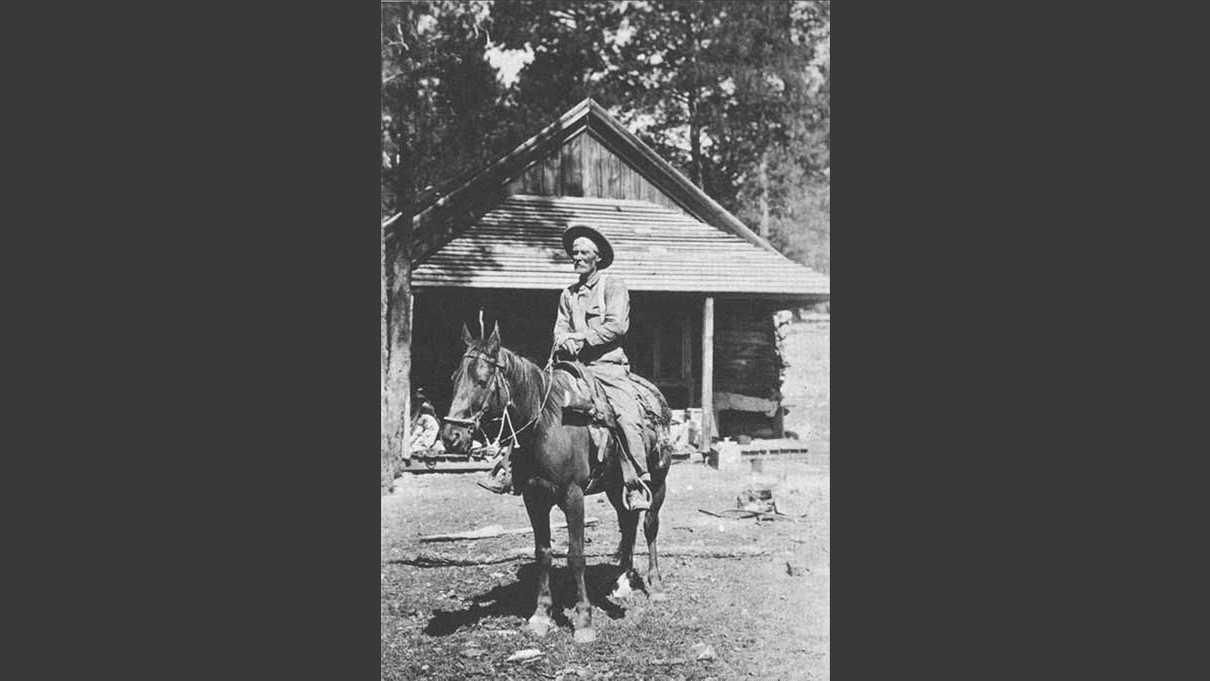 On this particular day on the North Rim though, without internet to research it, Uncle Jim remained a silly idea in my uninformed head. But the trail did look promising, and most importantly, doable in my current state.
The Uncle Jim Trail is a relatively short loop trail… a little under 5 miles. From the campground, I'd have to take the bridle path and hook up with the Ken Patrick trail to get to it, which would add a little bit of distance to the overall journey. At least it would not be as grueling as having to reascend back up the canyon, had I chosen to hike the North Kaibab as originally planned.
As an added bonus, it looked like the trail went out to a nice spot overlooking the canyon. The appropriately named Uncle Jim Overlook. Could be promising…
Another thing that appealed to me is that this trail cut through the beautiful forests of the North Rim. Having driven through the area the day before, I wanted to get a deeper look at that terrain. Being a desert dweller, a walk in the woods sounded perfect.
So with that settled, I headed out. My only slight concern stemmed from the many signs posted at various locations in the park indicating that this is mountain lion country, but not to worry, as there have not been any reported attacks. Maybe because Uncle Jim killed hundreds of them back in the days of rampant wildlife mismanagment?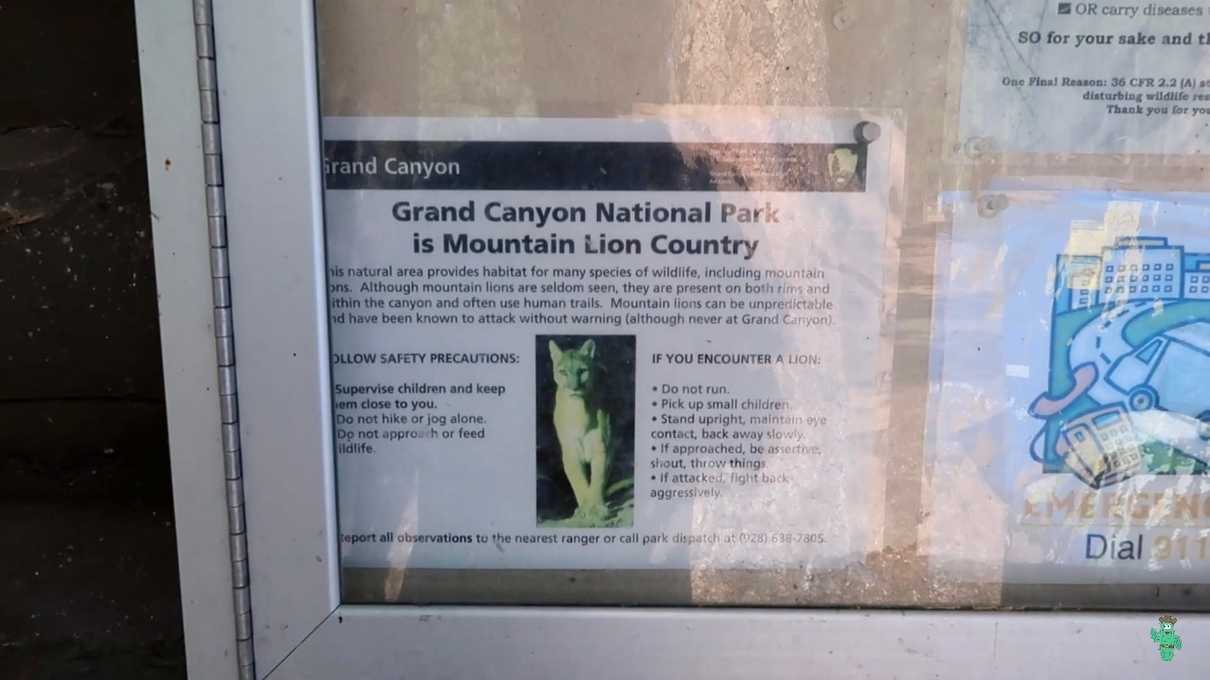 Not sure, but hiking out in places like this solo may not be the wisest thing, although statistics show that I have very little to actually worry about. And I'm a fairly big guy that could lose a few pounds, so I rely on my larger physique to serve as a deterrent to any hangry cougars looking for a snack.
After making my way up the bridle path and a short journey on the Ken Patrick trail, I found the sign for the Uncle Jim trail. The trail begins through a very well-shaded forest containing many large ponderosa pines. The temperature on this late September morning was in the mid 60's, but in the deep cover of the forest, it got a bit chilly at times. You might want to consider bringing a light hoody or sweatshirt if you ever decide to do this one, and I regretted not bringing mine.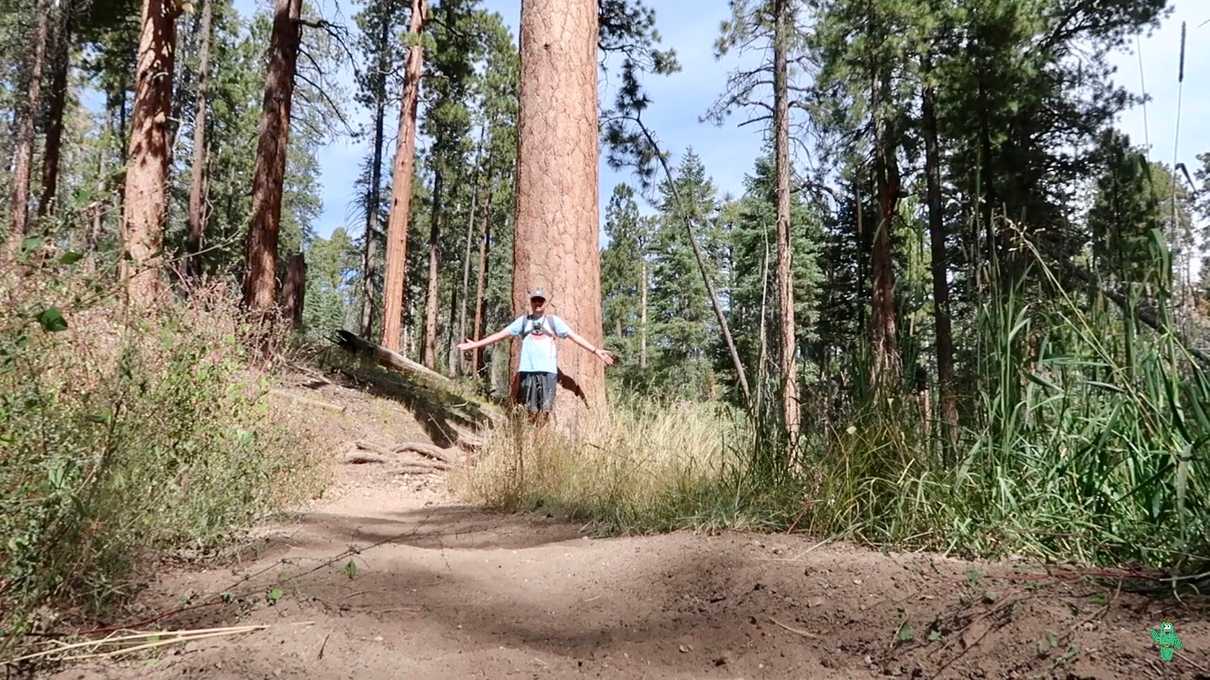 Every once in a while, I'd come across small patches of charred remains of trees. I still to this day do not know if these were controlled burns, or the remnants of natural forest fires, but it was a very common site on the trail.
After hiking for awhile, I felt the wind kick up a bit. I estimated this meant the canyon was not far off, and sure enough, I saw a break though the trees. The ponderosa pine gave way to a couple meadows, and what appeared to be younger growth. Maybe the forest recovering from past fires?
And there it was. The Grand Canyon. I saw the familiar silhouettes of the San Fransisco Peaks way off in the distance. This first glimpse of the canyon did not appear to be an official overlook, but it was nonetheless worth stopping for a moment. There were a few sections where burning had occurred that formed a clearing that served as a fine viewpoint. After taking it in, I decided to move on to find the official Uncle Jim Overlook.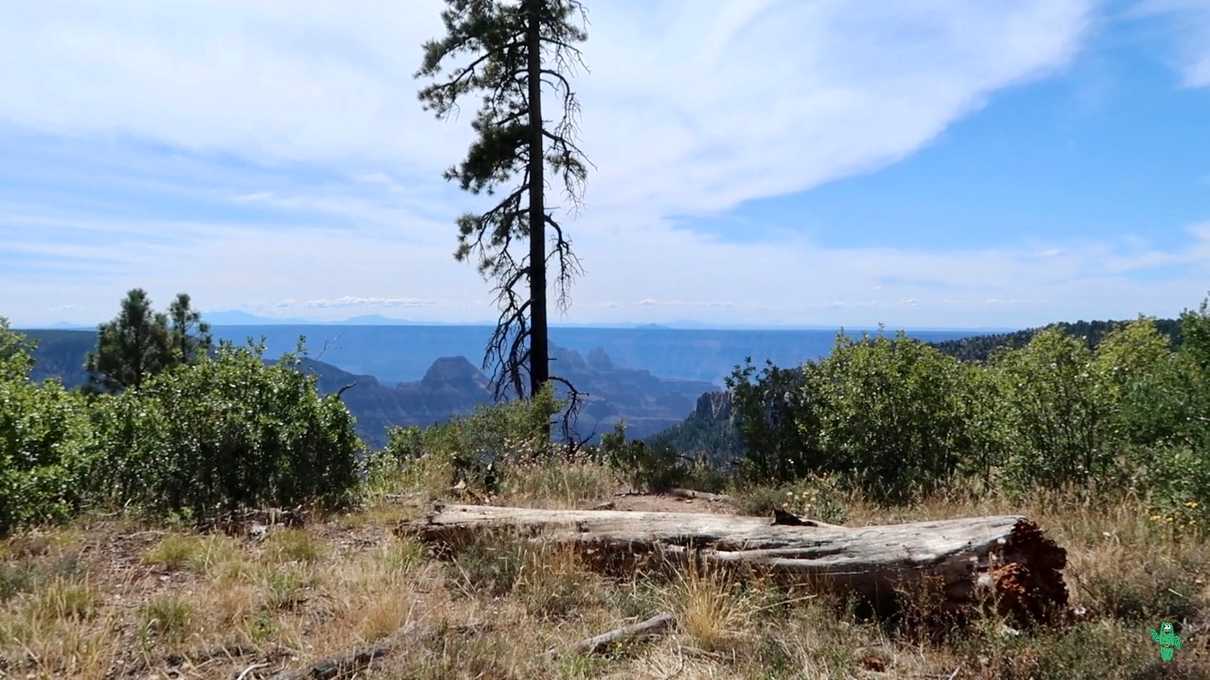 The trail follows the rim for a bit, and eventually you'll come across some metal rails where I assume they hitch mules. I also saw a restroom. That overlook had to be somewhere around here surely. In this spot, some significant burning had occurred. I had visions of Uncle Jim having a hootenanny back here where things may have gotten a bit out of control and chuckled.
The burnt sections created clear views of the canyon, but nothing worthy of calling an overlook. I looked around saw a spot where the trail headed back towards the forest. Must be the continuation of the loop trail, going back to where I began. Before I committed to going back, I looked around and saw a path heading off towards the direction of Bright Angel Canyon. It was pure luck that I saw it as there were a lot of plants obscuring the view, and I was unsure it was an official trail. But, I decided to explore it for a ways regardless. You might want to check out our video so you can see precisely what I mean in case you decide to visit one day.
And luckily I did. It lead to the elusive, but undeniable, Uncle Jim Overlook, and boy was it stunning. You get views of the North Kaibab trail winding down the canyon and then off into the distance. You can clearly see across to the South Rim, with the mountains around Flagstaff off in the distance. This perspective of the canyon offered some of the best sense of depth that I have seen at the Grand Canyon.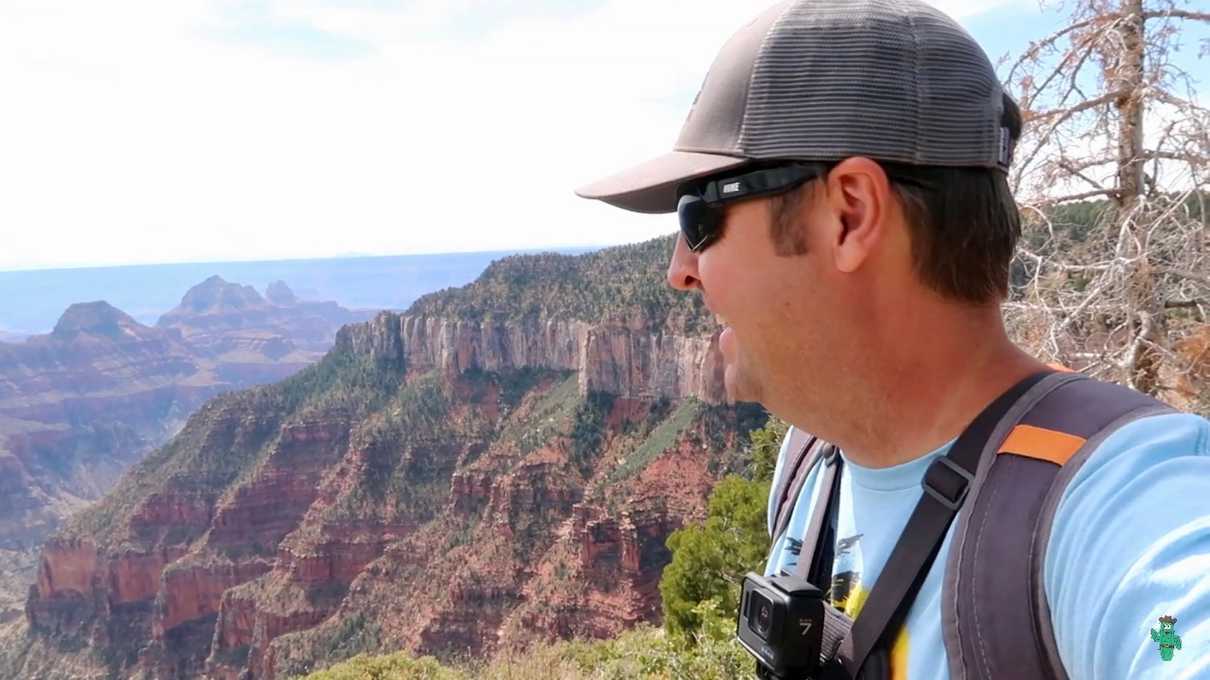 And best of all? Not a single person in sight. I was at the Grand Canyon, was I not? This has never happened, but I wasn't complaining.
I decided this was a great place to eat some lunch, rehydrate, and enjoy the view. I spent 20 minutes or so taking it all in. Still nobody. Hadn't seen a single person the entire hike.
I had other plans for the afternoon and had to get moving, so I reluctantly relinquished my private spot on the Uncle Jim Overlook. As I walked back to main trail, the first hikers I had seen all day appeared out of the forest in front of me. They said a quick hello, and proceeded to walk right by the secret trail to the overlook. For a second, I thought to myself that I should keep it a secret, but that would not sit right with me. So I got their attention and explained where Uncle Jim was hiding his stash. I did my good deed for the day and moved on, retreating back into the deep, cool forest.
One the way out, I encountered a couple folks riding on mules and said a quick "howdy". I always love seeing mules on the trails out there. One of these days I'll have to take a ride for myself.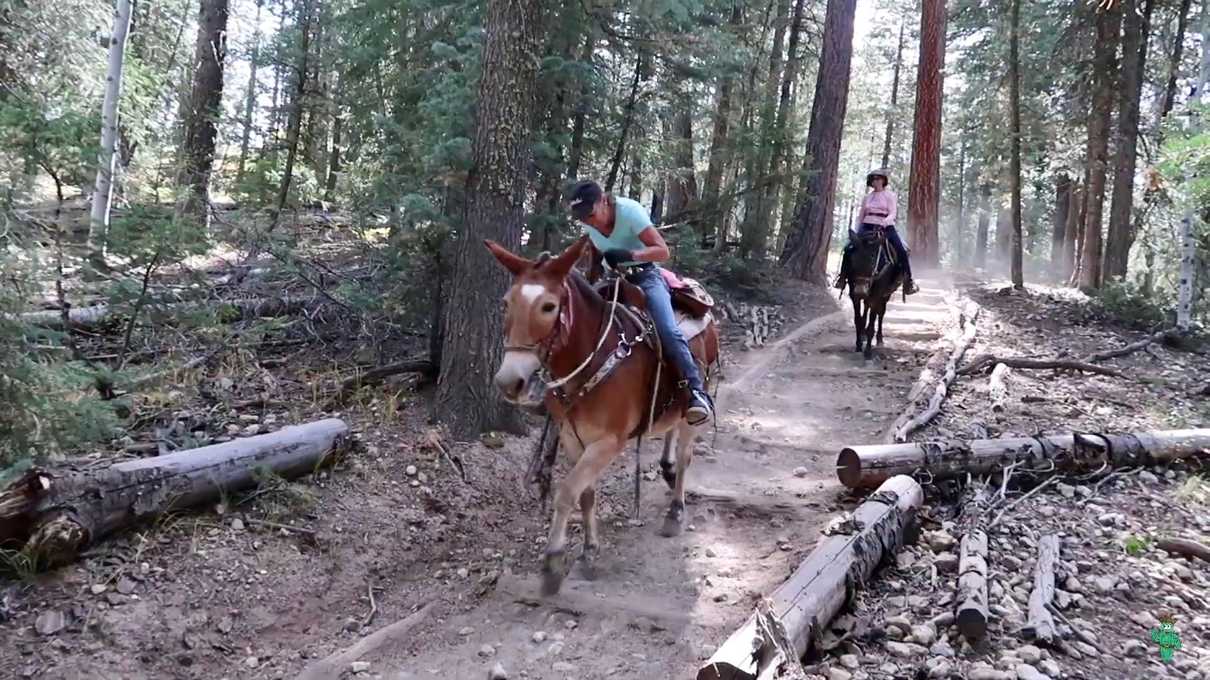 As I completed the loop, and hooked back up with the Ken Patrick trail, I realized my headache was finally gone. The Uncle Jim Trail cured me.
In a way, I'm kinda glad I felt a bit ill earlier that morning and changed up my plan for the day. Chances are that I may never have thought to hike that old Uncle Jim trail and seek out his secret overlook. If you ever decide to hike this trail, just be sure that you don't pass it by! And, be sure to watch our video if you want to learn all about it before you go!