So when we left off last time, we had started at the southern entrance and explored the Visitor Center, Giant Logs Trail, Agate House and Long Logs Trail, as well as the Crystal Forest. If you would like to catch up and explore the previous episode of our look into the park, you may watch our video or read our blog. Today we head further on in our northward exploration of the park stopping at Jasper Forest, the Agate Bridge, and end with Blue Mesa overlooks and a hike into it.
Our first stop was Jasper Forest, one of the densest collections of petrified wood in the park. An overlook provides an expansive view of a valley below full of ancient logs littered everywhere. As large as the amount of specimens are, it is worth imagining the view with even more. Unfortunately, throughout time pieces of the petrified wood have found their way in the hands (as well as carts and buggies) of visitors. The lure of a souvenir has had great devastation on the park over centuries. In fact it is this theft of pieces that aided in the establishment of Petrified Forest National Park as a national monument in 1906.
That said, this view is a great stop if you lack time or perhaps have already walked close to examples at the Giant Logs Trail. While there are no official park trails that take you down amongst the logs, there is an unofficial 2.5 mile trail available that is primarily used by park officials and should only be hiked by those comfortable with going off the grid and have experience with following vague directions.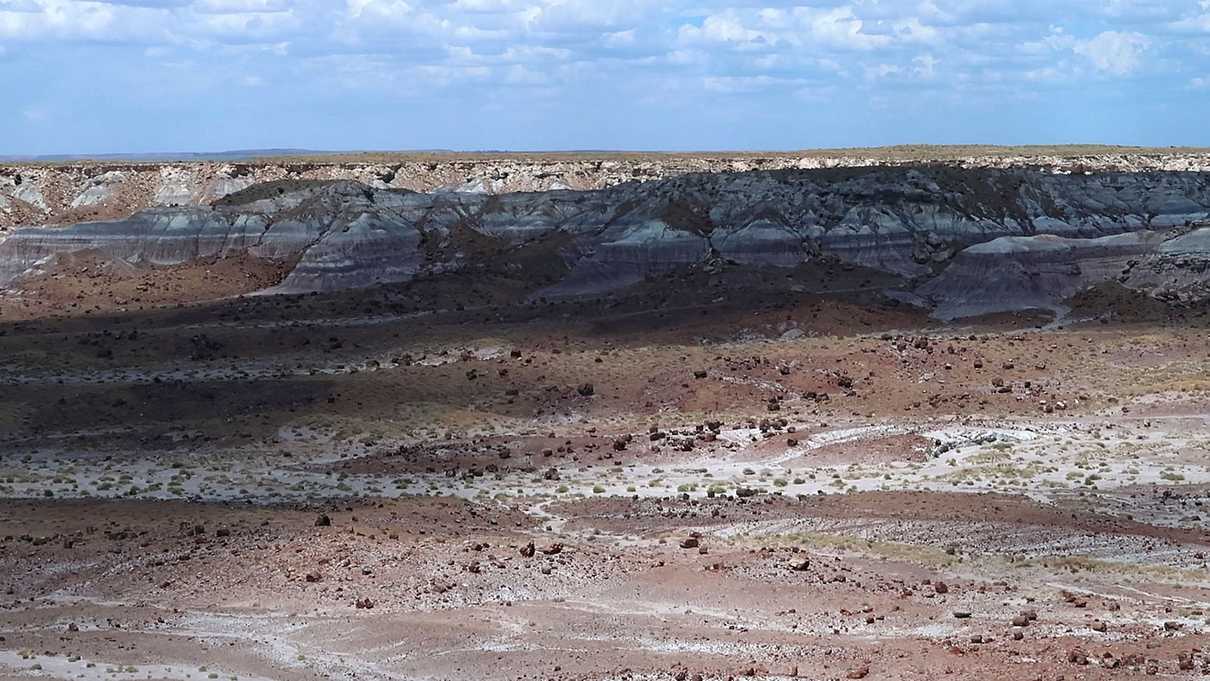 Continuing north from Jasper Forest, the next stop is Agate Bridge. This is a unique stop and well worth one taking. Agate Bridge is a 110 foot petrified log that has formed a bridge after centuries of erosion by water washed away the soil from under it. The lucky log just happened to be in the right place to become such a distinctive feature in the park.
Unfortunately, as you can imagine, petrified wood is incredibly heavy. If you saw "Old Faithful" on our Giant Logs Trail exploration, it is estimated that that particularly massive log weighs up to 44 tons. Fearing the collapse and destruction of the Agate Bridge, reinforcement had to be constructed over time to keep the massive and incredibly heavy piece of petrified wood safe.
One could say this ruins the experience of seeing nature untouched by man, however, if you stand at the right angle you can imagine what this wonder once looked like spanning the gap. Walking across it is forbidden now but can you imagine what it might have been like at one time?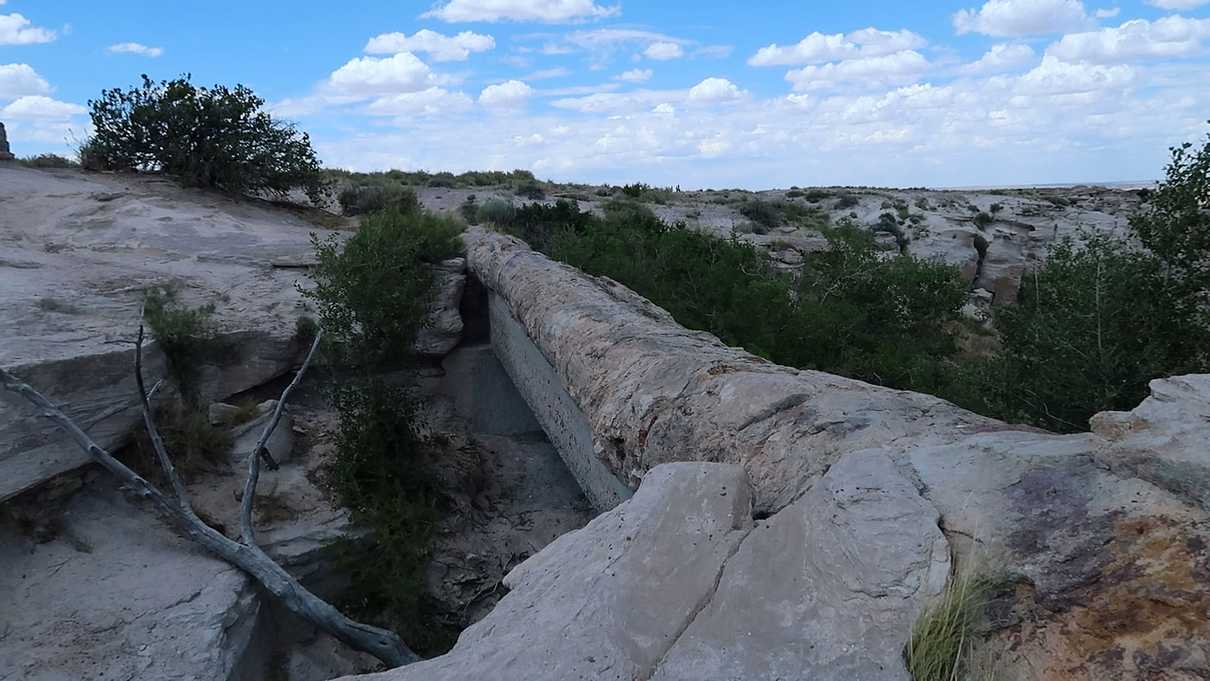 Moving along, we finished this episode by ending at Blue Mesa. There are a number of overlooks one can stop at quickly and take in some great views. While we were there, a rainstorm loomed off in the distance creating some great atmosphere.
You'll notice here that things are starting to look a lot different from the landscape further south. Fewer petrified logs are seen and instead colorful hills begin to rise from the desert ground. You are now entering the badlands area of the park. The views are spectacular as you gaze out onto striped layers of purples, blues, greens and greys. A lot of time (220 million years!) have created these hills.
There are four overlooks to stop at within a looped drive area and all are worthwhile views. Should you be thinking back to Jasper Forest and want to walk down into the valley below, you are in luck as there is a well marked short trail to explore.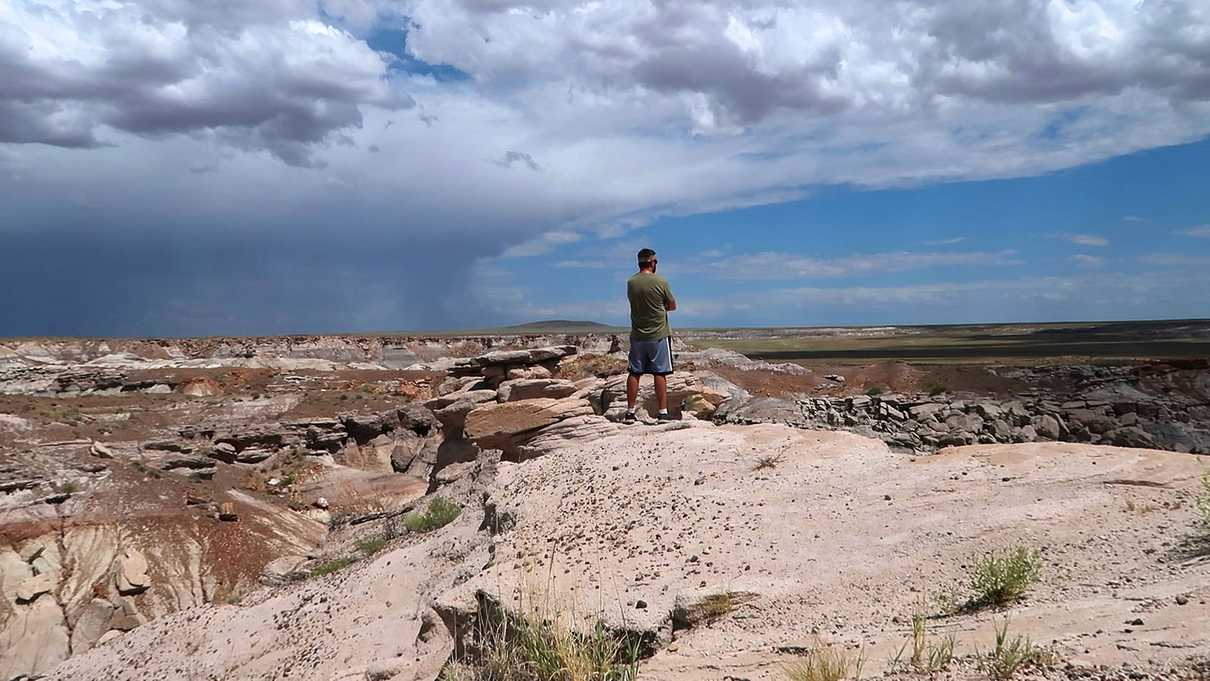 On our visit, we did just that and found it to be one of the best parts about this section. The trail dips down into the badlands and loops next to these impressive layers. The majority of the 1 mile trail is relatively easy, however, there is a steep grade at the beginning of the trail as you descend down and return the same way.
It is one thing to stand atop an overlook and see the hills at a distance, but it is quite another to make the effort to get up close. First off, the texture is fascinating! It is created when rain falls and swells the clay and soil. When the rain stops and the ground dries out, the cracks form giving it its unique appearance often compared to elephant skin.
In addition the colored layers really begin to take on a more prominent tone. The purple stripes almost seem unnatural but there they are! If you are able, we really recommend setting aside a bit of time and taking this hike.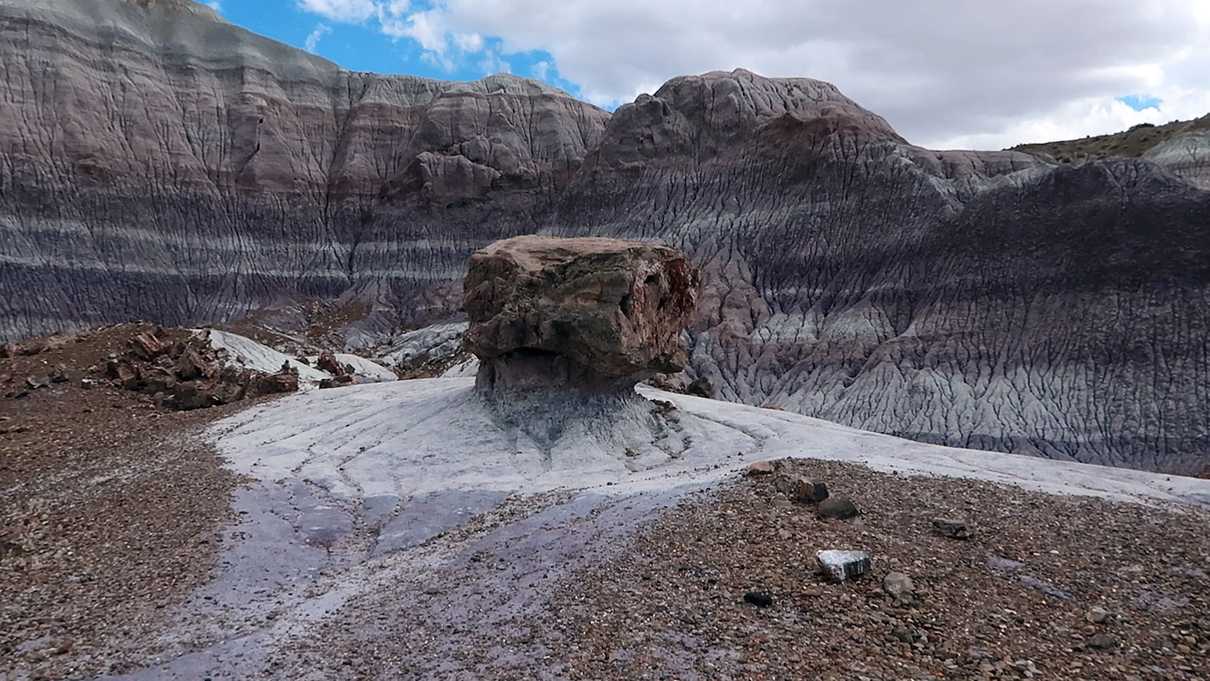 So there you are. We've now trekked through half of the park and still have the northern half to explore. On our next episodes we will continue northward and finish the rest of the park south of Interstate 40 and eventually end up in the Painted Desert portion.
If you would like to see these sights for yourself, there's always our video which covers these stops in greater detail. Feel free to pop on over and watch! A picture may be worth a million words but a video is even better.