Chances are you've heard of Jerome, Arizona. If not, Jerome is a well preserved, old copper mining town that saw its heyday in the late 1800's and into the 20th century. You can see many old buildings and mining relics from a time long past there. It can be a little touristy at times and finding parking can be a challenge, but nonetheless, it's a fascinating place to visit.
Jerome is not the only game in town however, especially if you want to ditch the crowds. The Miami-Globe area (about 2 hours east of Phoenix) offers a similar glimpse into Arizona's mining past. You can find original buildings from the same era scattered throughout the two towns, but best of all, there is a hidden little gem out in them thar hills...
The Old Dominion Historic Mine Park. Free to visit, open sunrise to sunset, pet friendly, with miles of hiking trails... all of which cut through the remnants of an old copper mining facility.
As I arrived, I honestly didn't know too much about this place. I had read that there is a small boneyard of mining equipment, a couple day use areas fitting for family gatherings, and a couple old buildings that sit high up on a hill.
What I didn't know is that this place has a vast web of hiking trails that gets you up close to many old buildings (or the remaining foundations of buildings). Every few feet on most of the trails are signs that teach you about the facility and mining in general, making for a very educational experience. There's even a frisbee golf course built on top of endless fields of slag, or iron silicate, which is the waste product of the copper smelting process.
I had predicted I'd spend an hour or two at most here, filming my video. Four or five hours later, as the shadows of the day became longer, signaling my time to head back home, I left leaving some sections of the park unexplored.
To put things in a little better perspective, take a look at this photo below.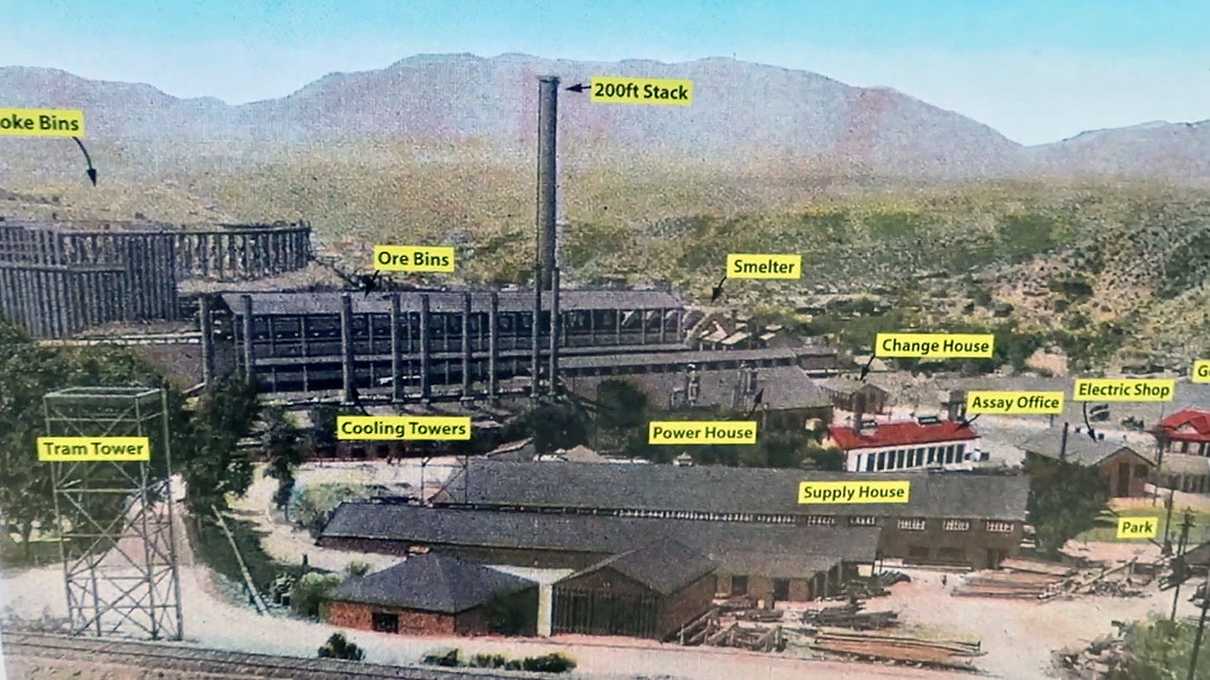 This is a picture I took of one of the signs positioned throughout the park. It's a copy of a postcard from the 1930's that shows what the Old Dominion Mining facility looked like in its prime.
You can see that this place was quite extensive and impressive.
The sign was positioned up on a hill overlooking where these buildings would have been, from approximately the same vantage point.
Here is what the area looks like today: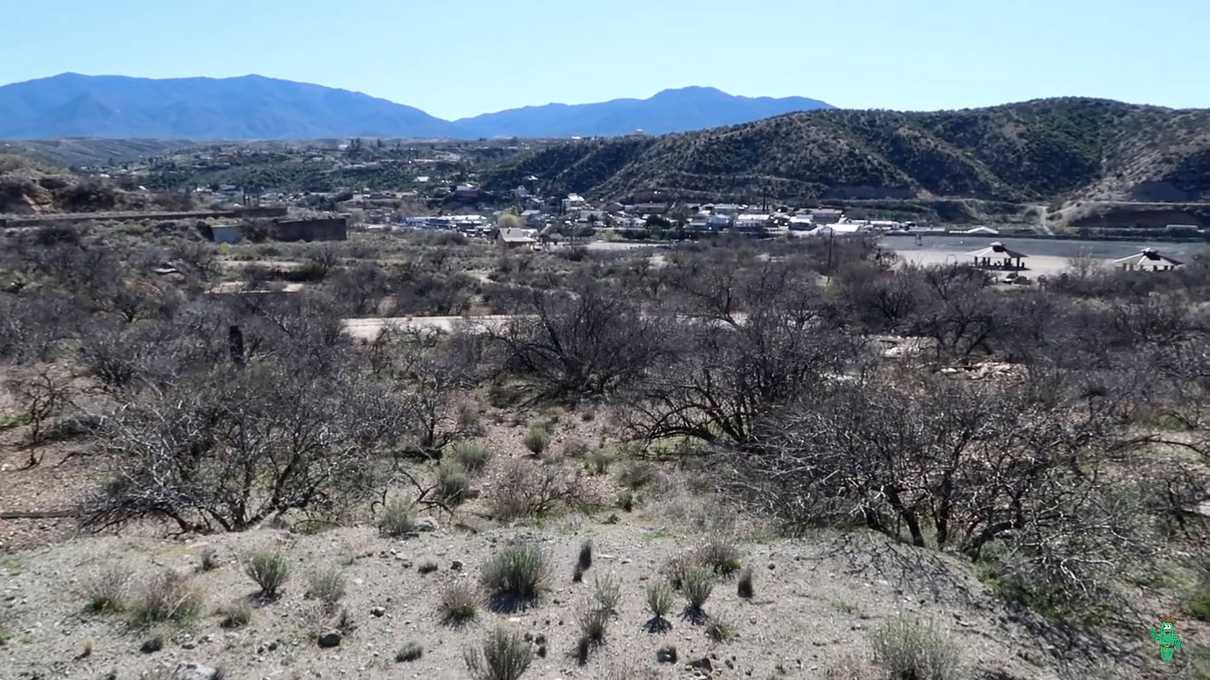 At first glance you might be wondering, why my fascination with this place? There appears to be nothing here! If you look closely towards the center of the photo, you may notice a very long, paved structure that almost looks like part of a road. That is what remains of the Supply House. Just the elongated concrete foundation. Take a moment to compare it to the post card picture. Are you able to fill in any other structures using your imagination? If you look carefully, you probably can.
As you explore the trails in this section of the park, you will encounter signs that indicate the locations of the old buildings, At most you will still see the concrete foundations of these former structures and I will admit, exploring here does require a little bit of imagination.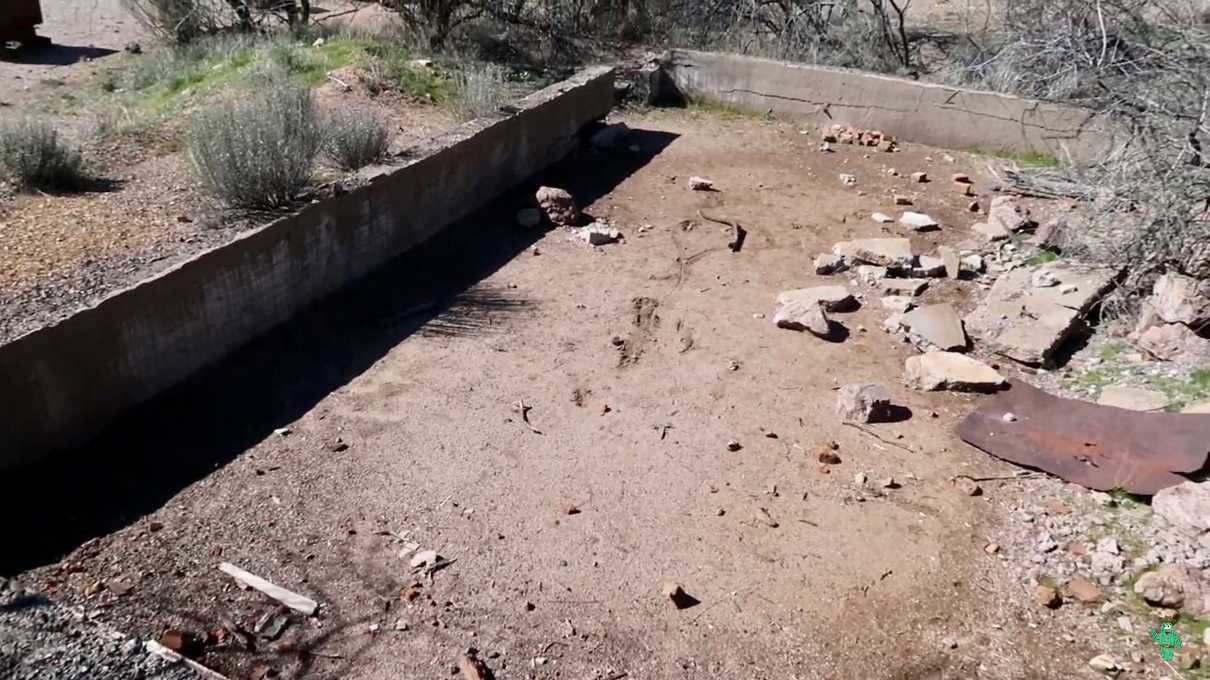 Regardless, I particularly enjoyed walking around these foundations and seeing old rusty pipes poking out of the concrete, and other decaying relics, hinting at an age long gone. It still gives me a sense of how things once were. For others, perhaps concrete foundations may seem a little underwhelming, and for those of you who need something a little more tangible, fret not, as there is much more I haven't covered!
Remember the photo from earlier that shows the property as it looks today? What you didn't see is what lies behind that vantage point, up on a hill. The further uphill you go, you will begin to see many more intact buildings that made up the mining facility. Far too many to cover here.
Take for example my particular favorite... the old Mine Office.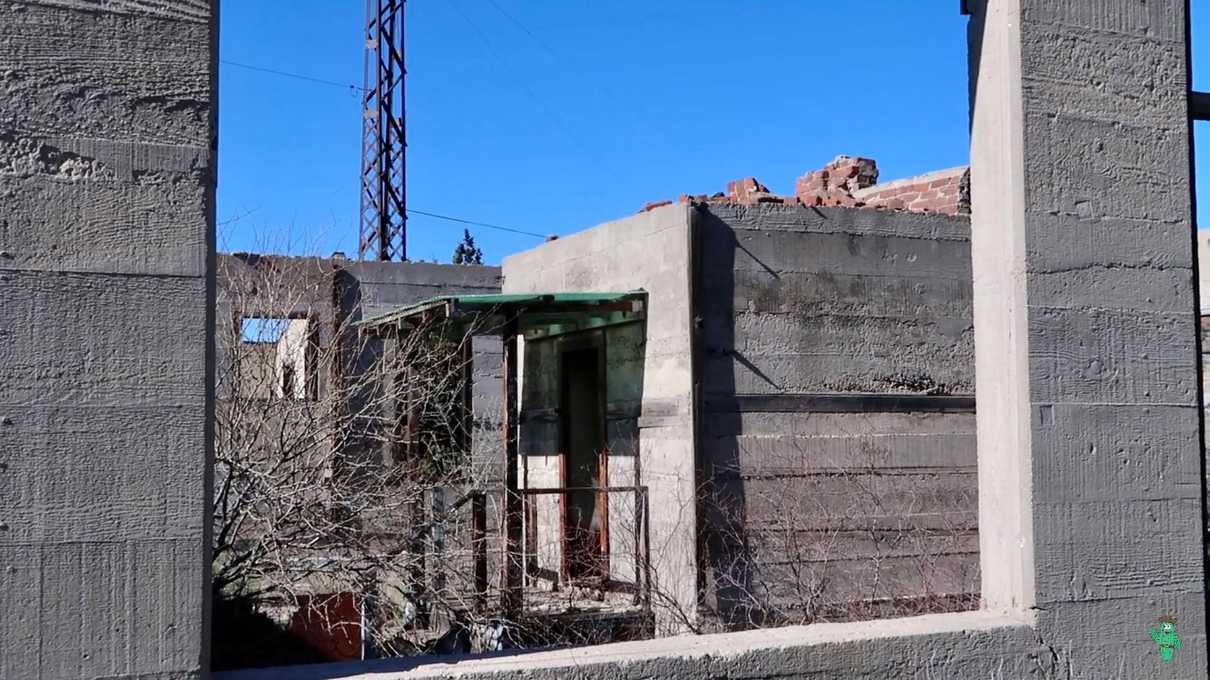 The Mine Office contained a vault room in the center, which you can still clearly see in the photo above.
The only bummer is that these buildings are surrounded by chain link fences, topped with barbed wire, so you are not allowed to wander around inside of them. The reason being is that these structures are very unstable, so there are safety concerns. I was still able to get some great photos by poking the lens of my camera through the fencing, and you still get very close to the structures.
There are some sections here that are completely off limits, such as where the head frame of the mine still stands today. But, some of the trails run adjacent to that area, so as with the individual buildings, you can still get a very good look from several vantage points.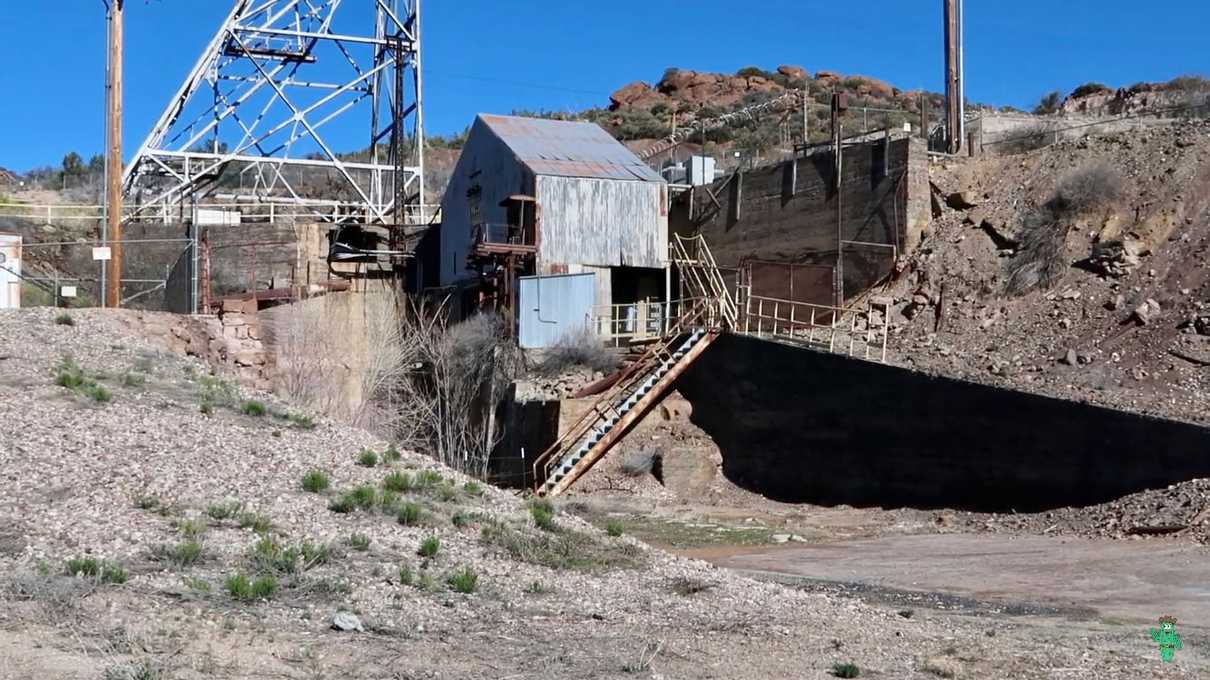 And now some not so great news. When I visited, they had signs posted that indicate beginning on February 29th, of 2020, that several of the trails in the park will be closed until further notice. Among those are the trails that sit higher up in the park, where some of the best views of the area are.
The signs provided an e-mail address to send inquiries to, so we decided to find out what's going on and we did get a response. To summarize, BHP, the mining company that owns much of this land, is needing to do construction work in certain areas. So, trails effected will be closed indefinitely.
We also talked to a local who supplemented this by saying that many of the areas effected are built upon tailings, which is the waste rock from the mining operation, and therefore these sections are very unstable and unsafe. Not sure if the construction work that will be done is to stabilize the area or not, but that's what we've heard.
The central and lower portions of the park will remain open, and they plan on developing new trails in other locations within the park. So, there is still much to see, including one of my favorite things in the park, a boneyard of old mining equipment.
In the boneyard, you will see many tools of the trade. Among my favorites are many fine specimens of ore carts.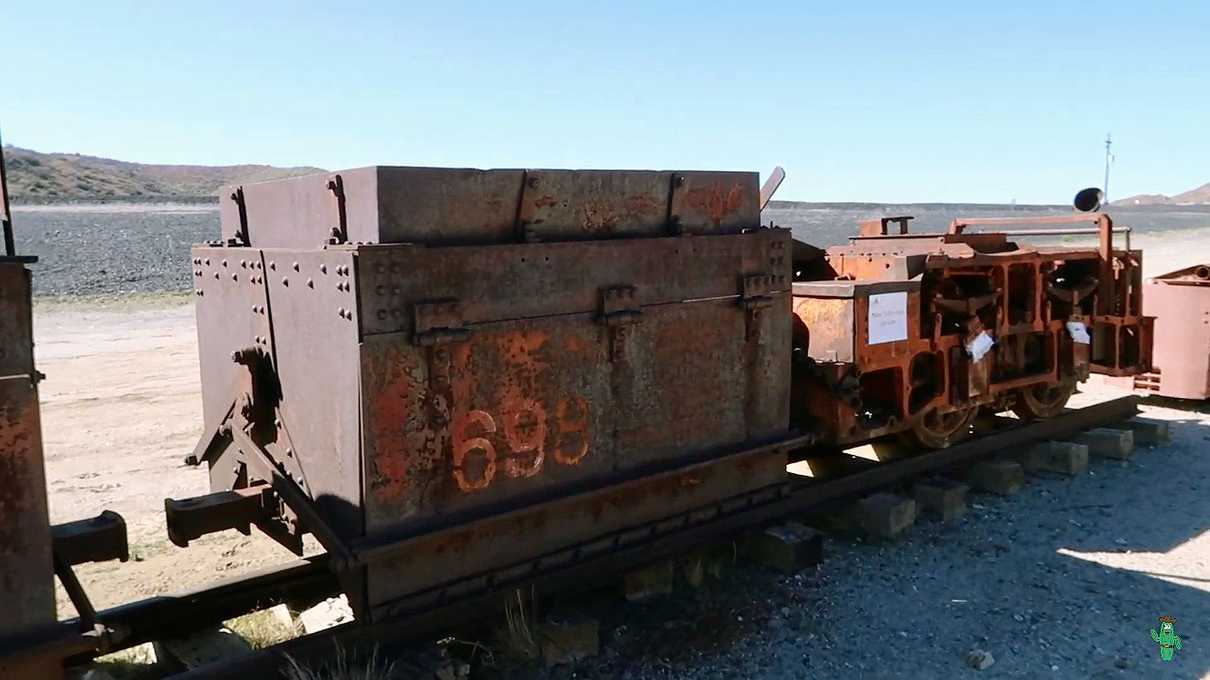 You are able to wander around this area freely, and can inspect the equipment as closely as you desire, even touching the rusty relics if you so choose.
All in all, I was extremely impressed by this historic park that the Miami-Globe community has created. The amount of thought, research and care that has obviously gone into this is place is to be commended. I only wish that other communities would go out of their way to preserve their local history like this.
We have also made a video of our entire experience at the park if you want to see more. We show many more of the buildings and areas than discussed here, some of which are areas that are now off limits. So, if you want a much deeper glimpse into this place, we highly recommend checking that out!