Getting to Chiricahua National Monument can be a challenge for many. It's in a fairly remote region of Arizona, tucked away in some mountains in the southeast corner of the state. It's probably too far away to include in an itinerary for those who book a once-in-a-lifetime vacation to see other National Parks like Grand Canyon, Zion or Bryce. And, it's uncomfortably far for those of us that do live in Arizona who might try to day trip it, as I have on a couple locations. Chances are many have not even heard of it.
If you do get a chance to see it, if you're not spending an evening at Bonita Canyon Campground, or perhaps at a hotel in the closet town of Willcox, AZ, you're not going to have a lot of time to adequately explore this place because you'll likely spend a good chunk of your day driving to it, leaving just enough time for seeing an overlook or two. And that would be a shame, because the best stuff worth seeing can only be accessed on foot, and that means you'll be hiking for a few hours, if you want to do it right.
That's not to say that Chiricahua is that large of an area. You can hike most of the trails in the main area of the park over the course of a day... a fairly long day. But if you want to get at the heart of the matter, the aptly named Heart of Rocks Loop, you're going to need to plan enough time to do so.
If you take a few moments to study the park map, you'll note that Heart of Rocks is near the center of the map. There are a couple different ways you can get to it, all on foot. One popular way to do it is to catch a shuttle that leaves the visitor center each morning at 9 AM between September and May. That shuttle takes you to a higher elevation overlook at the top of the park, where you can then proceed down different trails to eventually get to the Heart of Rocks loop. That might be the best way to do it for most, since much of your hike will be downhill and it will help maximize your time.
You could also start at the visitor center and hike up to it, and then go back the way you came, and it would not be too terribly hard of a hike for most.
Or you can be adventurous and do what I did, and hike what's known as the Big Loop, which is an almost ten mile hike through that connects almost all the trails in the park.
However you do it, I would say the Heart of Rocks area is a must-see destination whenever you visit the park.
That's because you're going to see the best, most dense collection of rock spires to be seen in the park. And many of them are quite entertaining to look at and have earned names that perfectly represent what they look like... often times things cute as well as humorous.
The trail itself is not that long, but keep in mind that you've most likely walked a few miles to get there. You will first descend down a short hill, and will see a sign pointing you in the recommended direction of the loop, which is clockwise.
Immediately you'll start walking up some rock stairs, elevating your heart rate a tad. By the point you're hiking this loop, you will have already appreciated the way the Civilian Conservation Corps engineered the many trails in Chiricahua back in the 1930's, and the Heart of Rocks is no exception.
The trail weaves in and out of the many rock spires and impossibly balanced rocks indigenous to the area. Shortly after beginning your ascent, you'll encounter one of the first signs pointing your attention towards one of the named rock formations, known as the "Old Maid". It might take you a second or two, but after a short moment, the Old Maid will pop right out at you.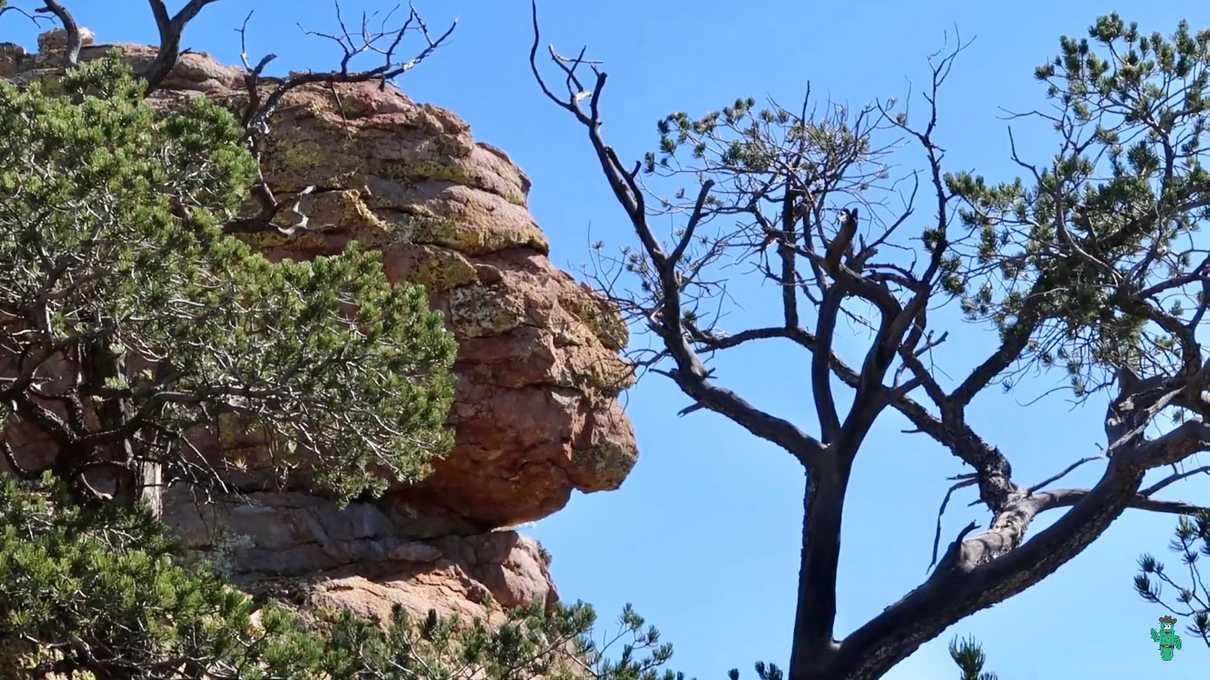 And this will serve as your introduction to many other interesting formations to come. I don't want to spoil everything for you though. Part of the fun is scanning the landscape to see if you can match up the formation with the name, but other named formations on this trail include "Thor's Hammer", "The Punch and Judy", and "The Kissing Rocks". And yes, they all very much look like what they are named. You may even come up with a few names yourself when wandering back there, and you'll certainly have plenty of opportunities to do so.
Aside from the very interesting rock formations that you'll see, I simply enjoyed walking through all of the rock spires and hoodoos. You'll get some amazing views of these "standing up rocks", as the Apache used to call them.
You''ll see them up close, from afar, from high up above. These rocks are timeless and other-worldly.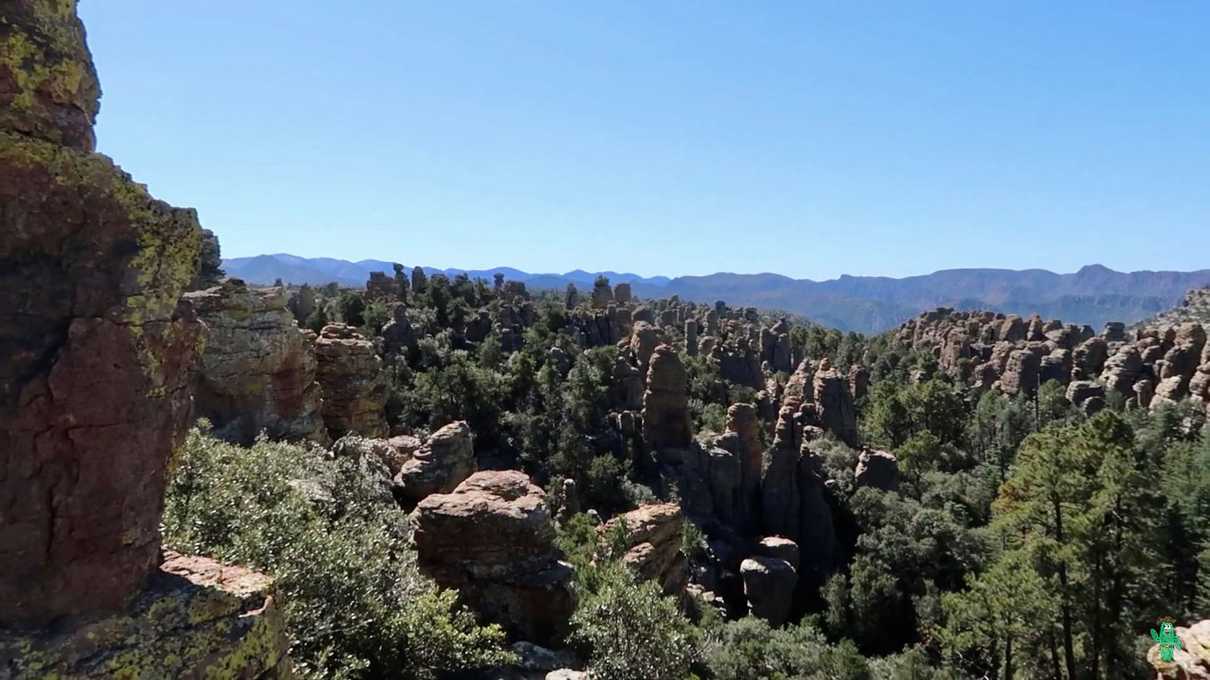 Now, a couple things to note should you visit. As mentioned, you'll have to hike to get to this spot. Chiricahua is considered a wilderness area, and as signs in the park will warn you, there are several potential hazards in the area ranging from wildlife (cougars, bears, and rattle snakes), to abrupt weather changes. On my journey, I encountered no danger, and it is unlikely that you will either, but please respect that you are in a wilderness area, far from immediate help.
And, if you go during a time like I did, I only saw a group of three people once during an all day hike. For the most part, I was completely alone in this land, which on one hand was amazing, and on the other hand, was a little scary when you put that into perspective. If something bad happened out on the trail, there would likely be no help and certainly no cell phone coverage. Although, my wife knew where I was and expected to hear from me later that day. Just be sure to tell someone what you are doing, even if it's a ranger at the visitor center, especially if you hike alone like me, which typically is not recommended.
Overall, I would rate the hike as family-friendly, and suitable for all ages and varying fitness levels. I'm not the most in-shape guy and I had no difficulties.
Chiricahua National Monument is a magical place, and something you would be pleased to see in your lifetime if you get a chance. The next time you are in the state of Arizona, why not see if you can fit Chiricahua into your travel itinerary and build in enough time to enjoy the Heart of Rocks Loop Trail experience. I don't think you will regret it!