If there's one thing I learned during my time at Valley of Fire State Park, it's that there's much more to discover than the pocket map you're given at the visitor center alludes to. I never quite figured out why so much seems to be left to the visitor to figure out at this park. I also never decided if this is a good or bad thing. On one hand, who knows what I may have missed during my adventuring? On the other, perhaps it lends to finding those cherished moments of seclusion and discovery, and it certainly gives me much incentive to return one day!
On the park map, Fire Canyon Road is a short, dark line that extends off of White Domes Road. The only thing it really shows you is that at the far end, there's something called Silica Dome. The map also shows that there's a parking lot at the far end, as well as mobile service. I didn't test out the mobile service while there because I overlooked that detail, but if that's true, please make note because cell phone coverage is a very tricky thing in most other places in the park.
The only other piece of information you'll see in maps and signs is that you shouldn't pull off onto the shoulder of the road whenever you feel like it. Only use designated pull offs. They seem more particular about this point here than in other places in the park.
So while I certainly cover the things mentioned by the park maps in this post, the main point of this article is to tell you about all the other wonderful things I discovered that the park maps don't mention.
To begin, Fire Canyon Road is a very short road. If you just wanted to drive to one end and turn around and come back, never exiting your car, you're probably looking at spending about 15-20 minutes total. You'd be missing out on a few cool things, however. I'd say if you don't plan on getting out and doing a little exploring on foot, there are probably better ways to spend your time at Valley of Fire, especially if you're day tripping it and short on time.
But, if you have some time to spare and don't mind doing a little walking, then it's well worth making Fire Canyon Road part of your itinerary.
Despite what the map shows, there are actually three parking areas. The main one at the end at Silica Dome, and two other paved pull offs along the way. The first pull off is not too far into the drive down the road, and of course, being a completionist by nature, I had to stop.
The first thing I noticed is that from the pull off, you can see the red rocks of the Fire Canyon region off in the immediate distance, but the vantage point you get from right off the road made me wonder why the heck they decided to put a pull off here. It didn't seem very scenic or worth it from the road, but I did notice many foot prints heading off into the desert towards Fire Canyon, so perhaps there might be something worth seeing?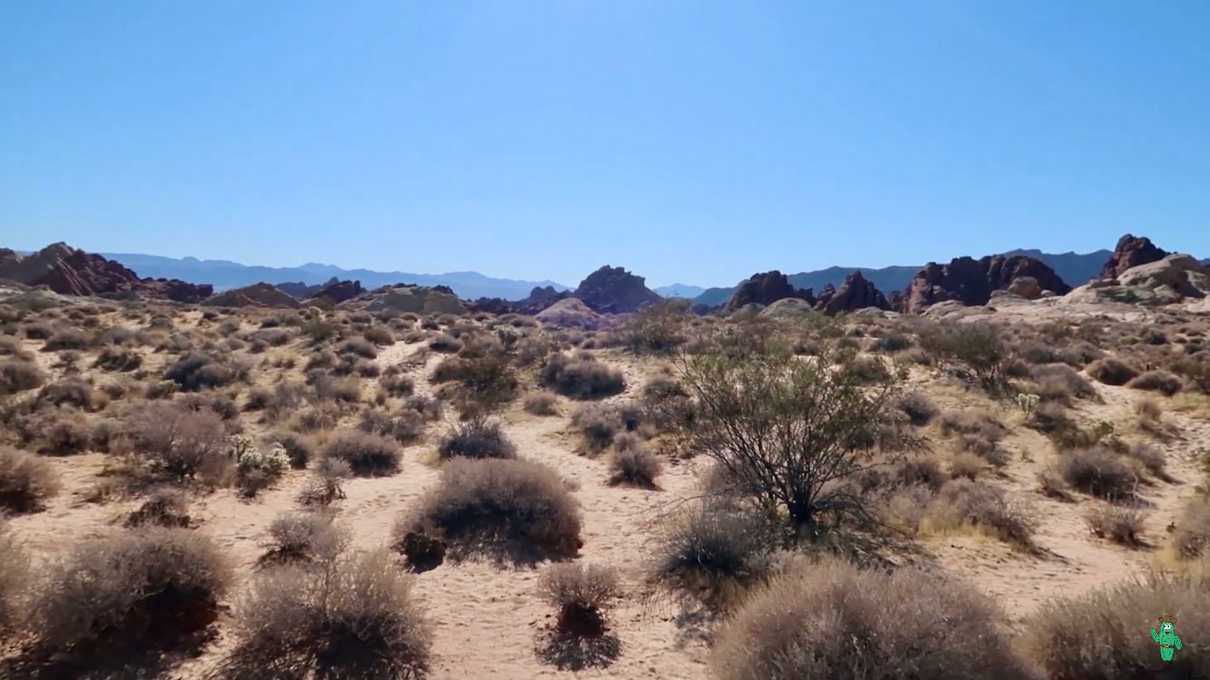 Just like so many other places in the park, there's not a clearly marked trail here. You pretty much make your own way between desert shrubs, following the many steps of those who came before you. You'll probably wonder, as did I, if you're supposed to be walking off into the desert. There are certainly no signs that say not to, nor anything I read in any map pamphlet that prohibits one from doing so. So as I often did, I assumed that it's okay, as did the many others who clearly came before me.
I do know that this region hosts some dangerous critters, like rattlesnakes, so whenever you decide to venture off, mind your step and limit adventuring to the daytime. I never saw any creepy-crawlies whist exploring, and I never felt too nervous because the terrain around here consists of well-spaced out shrubs interspersed throughout fine sand, so it's very easy to see where you are stepping.
After slowly making your way through the sandy desert terrain, eventually you'll encounter hard sandstone surfaces, and a fantastic scenic view of where the light colored sandstone off the road mixes with the Martian-red sandstone of Fire Canyon.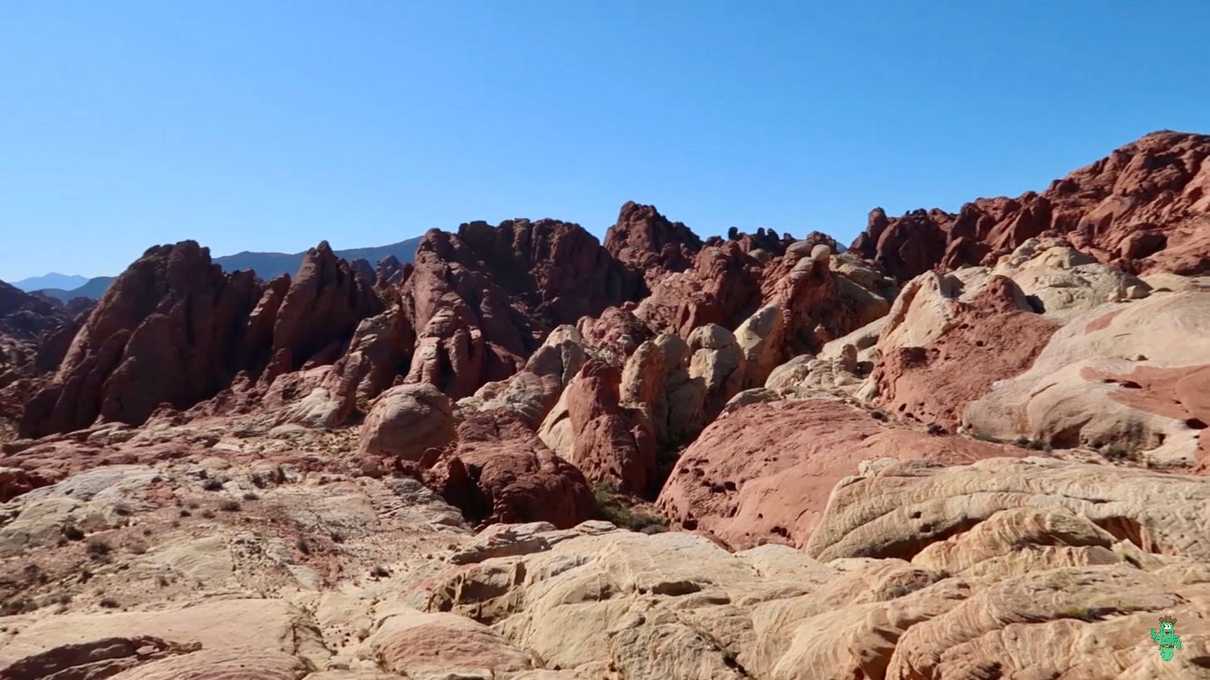 I really enjoyed this particular view of the park. I can tell you that you'll not get this kind of picture-worthy view from the road. You absolutely have to brave a short hike to see it, but it's a very short and easy hike.
But, please be careful when exploring this area! There are plenty of crevices that descend straight down many feet, ensuring some broken bones or much worse for the unwary.
I also discovered some extremely fragile geological features in this area. In particular are these thin sandstone "ridges" that are fairly common throughout the park. I call them "ridges" for lack of a better term. I'm sure there must be a scientific term for them, but they are nonetheless fascinating things.
I'm almost hesitant to tell you about these for fear of someone seeking them out and damaging them, but I saw the most impressive specimens in the area around the first pull off.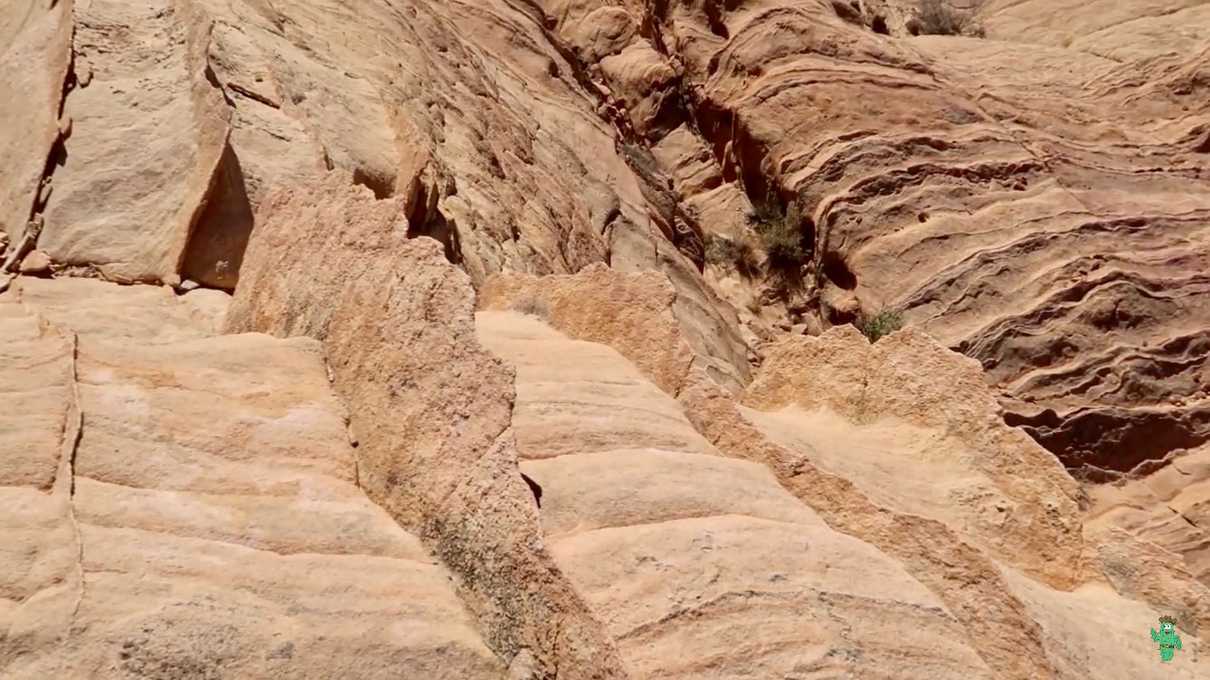 Some of them were maybe 6 inches or more in height, and wafer thin. It's pretty clear to me that stepping on or accidentally bumping your foot into one of these could easily snap it in half. I was always very careful and respectful while walking in areas that contain these. I would say that spots like this are probably not kid-friendly, in part because of the risk of falling, as well as the extremely fragile nature of the geological features. It's a little scary to think that these fragile features likely took countless millennia to form, but could be wiped out in a single clumsy or malicious moment.
In addition, I found many amazing and colorful sandstone stripes here, ranging from red and purple to vibrant yellows and gold. The main point is that in the addition to the macro views of the landscape you'll get, if you start to inspect things on a smaller scale, there's much to discover.
After you finish exploring the area around the first pull-off, you'll come upon another paved pull-off a few feet down the road. As with the first stop, if you want to see anything worthwhile, you need to take a short walk, but the good news here is that there is a very well-defined trail this time around. So for those of you that may have been a bit wary of the first stop, now is your chance to get a closer look.
This stop presents you with a bit more of the same thing that you may have seen at the first pull off, but offers a slightly different perspective of the red rocks of Fire Canyon.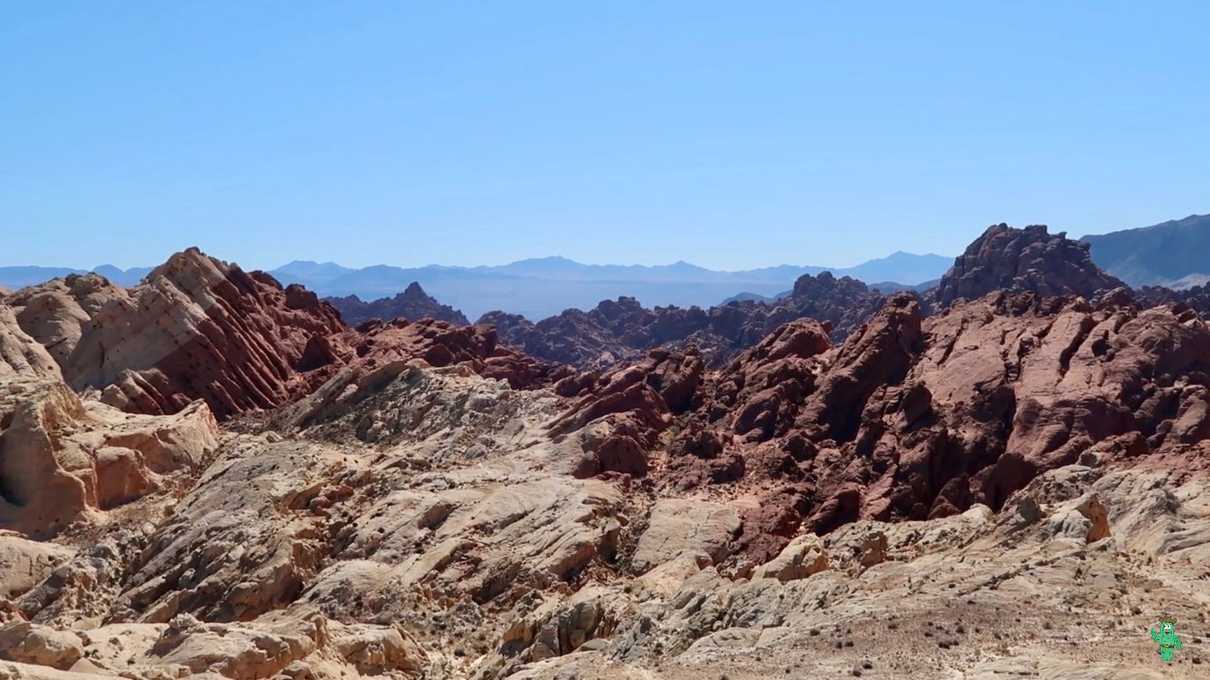 The only thing that remains is the final stop at the end of the road, which provides views of what is known as the Silica Dome.
The parking lot located here provides plenty of parking. There is some educational signage that tells you that the large white rock formation clearly visible from the parking lot is the finest example of a pure silica dome in the park. It's much larger than other similar ones you'll see during your time at Valley of Fire.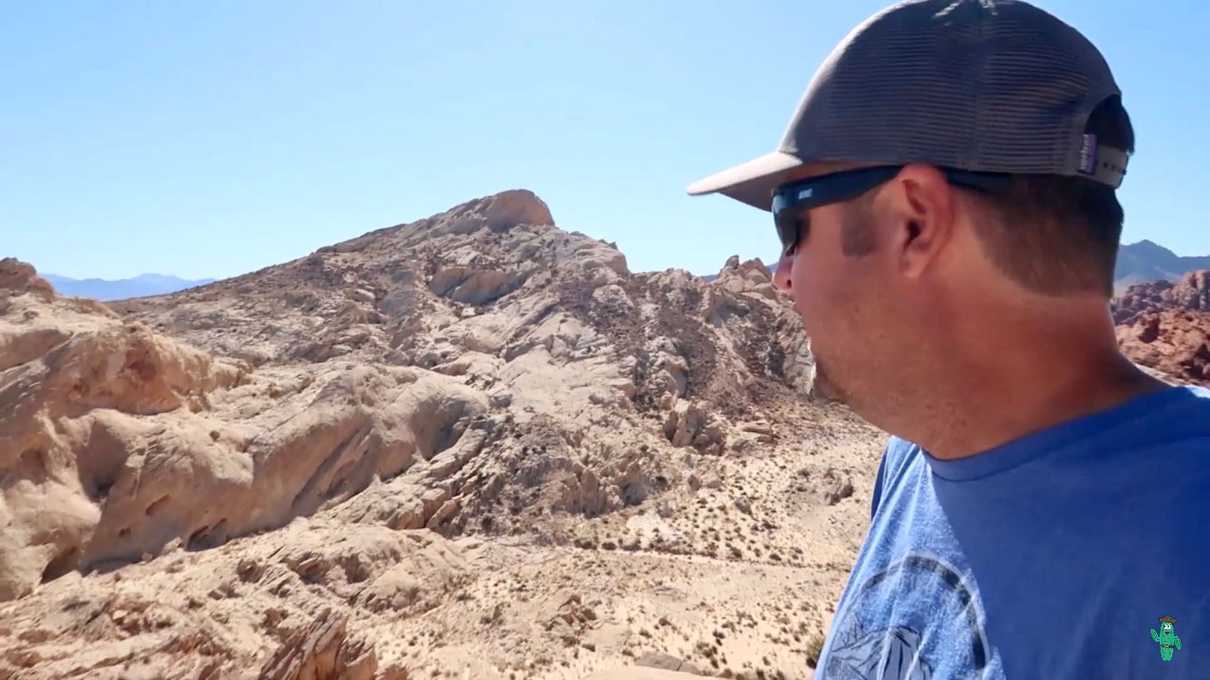 If you're into Star Trek, you may also recognize this landscape as the planet Veridian III, from the 1994 movie Star Trek Generations.
I'm pretty sure you can hike to the top of the dome, but I was short on time and skipped that, but I've seen some videos online and the view from the top looks amazing. Plus, you'll get an up close and personal experience with a famous film location, including seeing bolts and patches left in the sandstone from the Star Trek movie set (for better or for worse).
I did have some time to explore around the area near the parking lot, and I'm happy I did, because I found some more of amazing striped sandstone of varying colors. Some of the best specimens of sandstone stripes I found in the park in fact.
In particular, I found some gold-colored stripes that don't seem to be as common in the area. I also found plenty of the bacon-colored stripes you'll see around the park, and was amazed by variety of colors and quality that I observed here.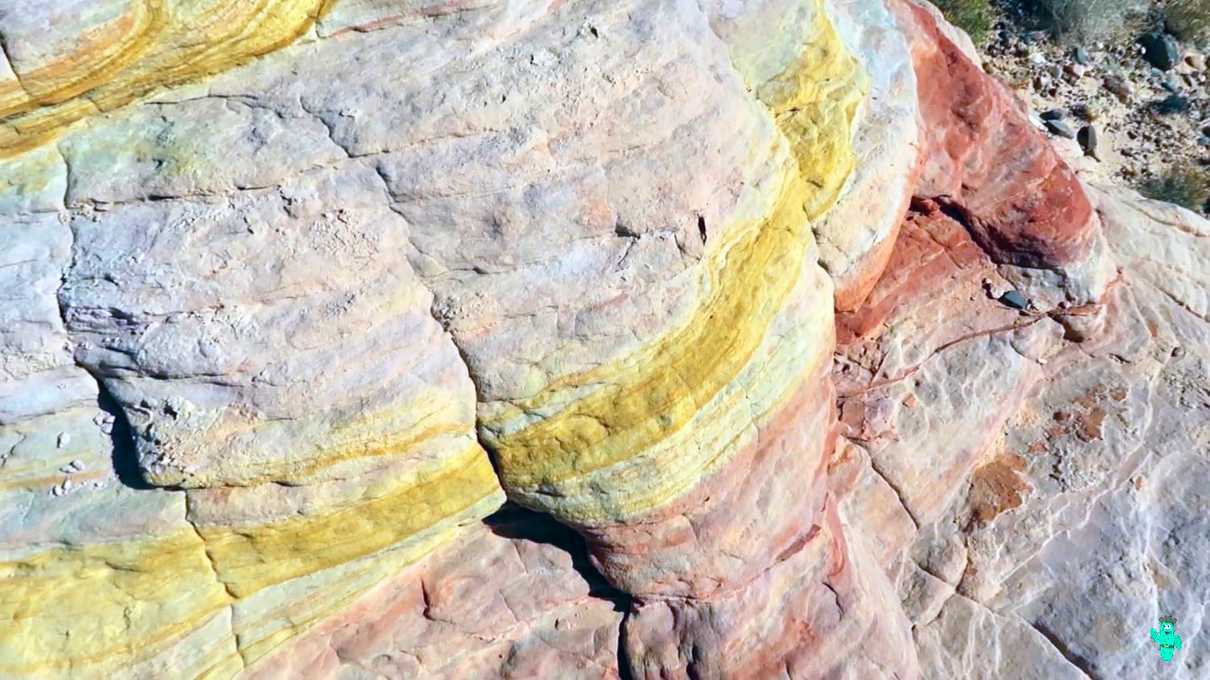 If I can leave you any takeaways, when you visit locations like this within Valley of Fire State Park, you'll probably be focused on the larger geological features of the area, but don't forget to pay attention to the smaller worlds that exist because I guarantee you that the small scale can often be as fascinating as the large scale. But, the small things won't jump out at you. You have to seek these things out. Don't be afraid to explore! If you do, I think you'll agree the extra effort is well worth it when you do come upon the many splashes of color or geological anomalies present in the park.
As I left this area, I felt like despite having stopped at many more places than shown on the park map, something was nagging at me that I probably missed some amazing sights. For one, hiking to the top of the Silica Dome.
If only there was more time. And on the subject of time, if you have plenty of it when you visit, be sure to make the short trip down Fire Canyon Road. You'll be happy you did. But, if you're short on time, I do believe there are other spots in Valley of Fire that you should prioritize over this, such as the White Domes Loop Trail, the Fire Wave, and Mouse's Tank (to name a few).
Although you may read that Valley of Fire is the kind of place you can tour in a single day, let Fire Canyon Road be a lesson to you. I found this park requires a multi-day visit to adequately enjoy every spot listed on the park map, and many more days if you want to explore a bit off the beaten path. My first visit to Valley of Fire certainly covered the basics, but only whetted my appetite for more!