A key attribute of Death Valley National Park that comes to mind for most folks is extreme heat. In 1934, a temperature of 134 F (56.7 C) was recorded at the Furnace Creek area of the park. In 2020, I saw a fellow YouTuber visit when the thermometer at Furnace Creek Visitor Center hit 130 degrees even. But, during my first visit in early November, the high temperature barely pushed into the 70's.
But this is not all that Death Valley is known for, nor what this blog post is all about. For those who have never visited the park and have no idea where to begin, the itinerary described here covers a few key attractions, all within close proximity to each other, and include some of the most popular places to visit in the expansive park.
Badwater Basin
You may have heard that Death Valley hosts the lowest place below sea level... well, on the North American continent, that is. The lowest place on earth is actually the Dead Sea, but don't worry, Badwater Basin sits at 282 feet below sea level, which I find quite respectable.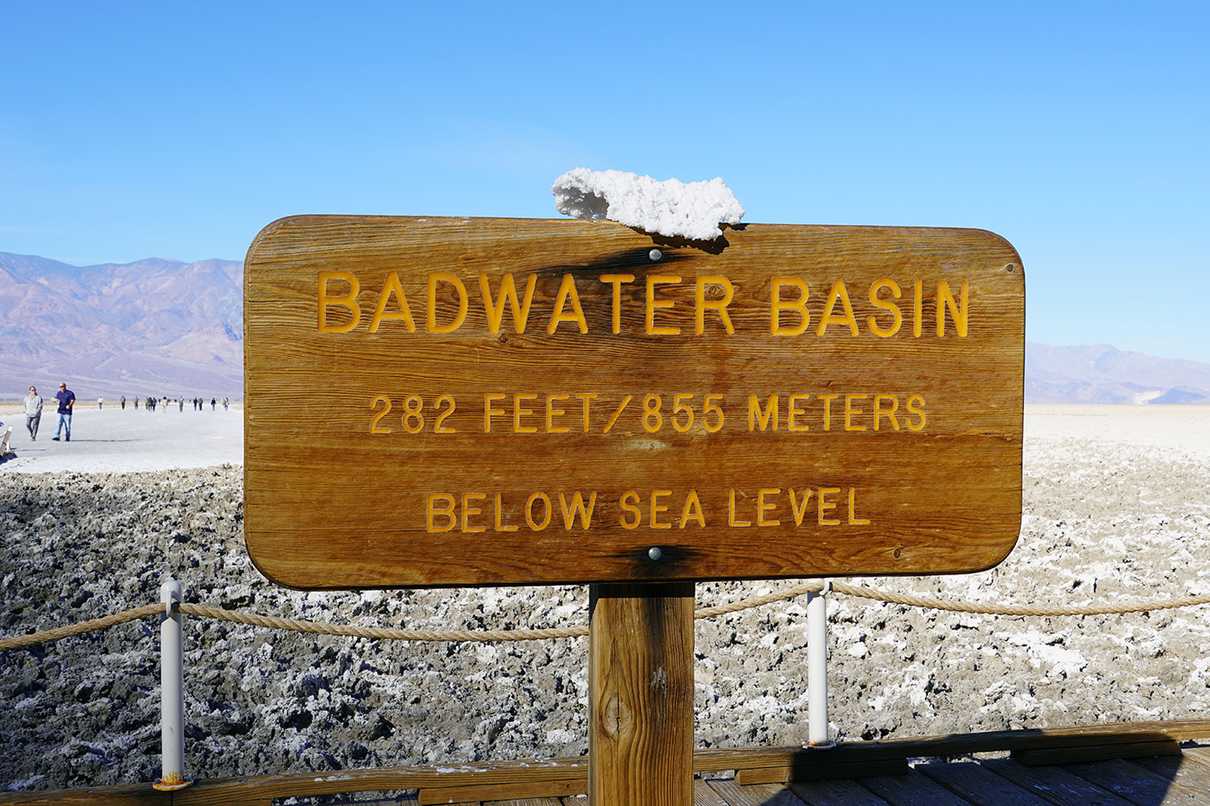 When you first enter the area, everything is covered in white, almost as if there was freshly fallen snow on the desert. But don't let that fool you. It's salt. As far as the eye can see.
Badwater Basin got its name by an early surveyor of the area, whose mule would not drink from the pools of water located in the area. This is because of the high salt concentration in the water.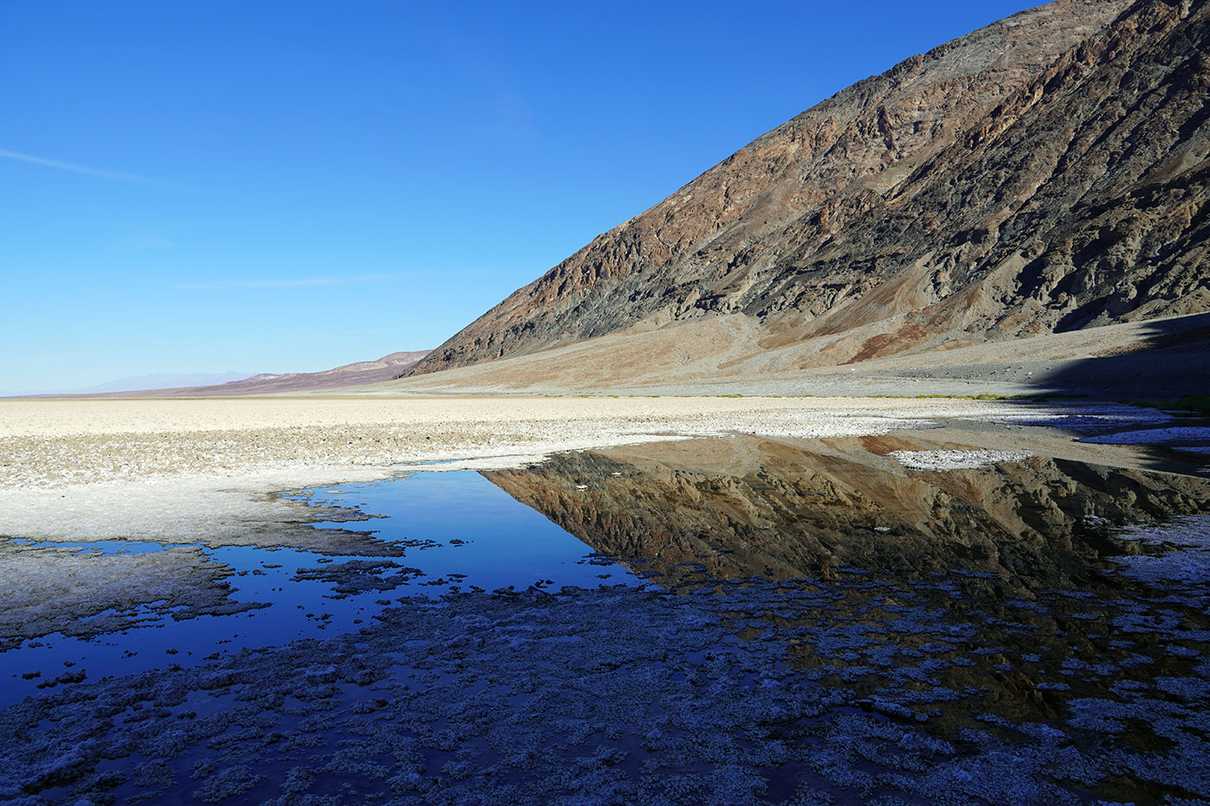 It's a marvelous sight... something I've honestly never experienced in all my years. Prior to visiting the park, my hopes were not high. I live in a desert region, so I figured "great, just another desert landscape". Well, let me tell you... Badwater Basin made it immediately apparent that Death Valley National Park ain't just another desert scene. Spots like Badwater make the park unique, and this set the tone for the rest of my visit.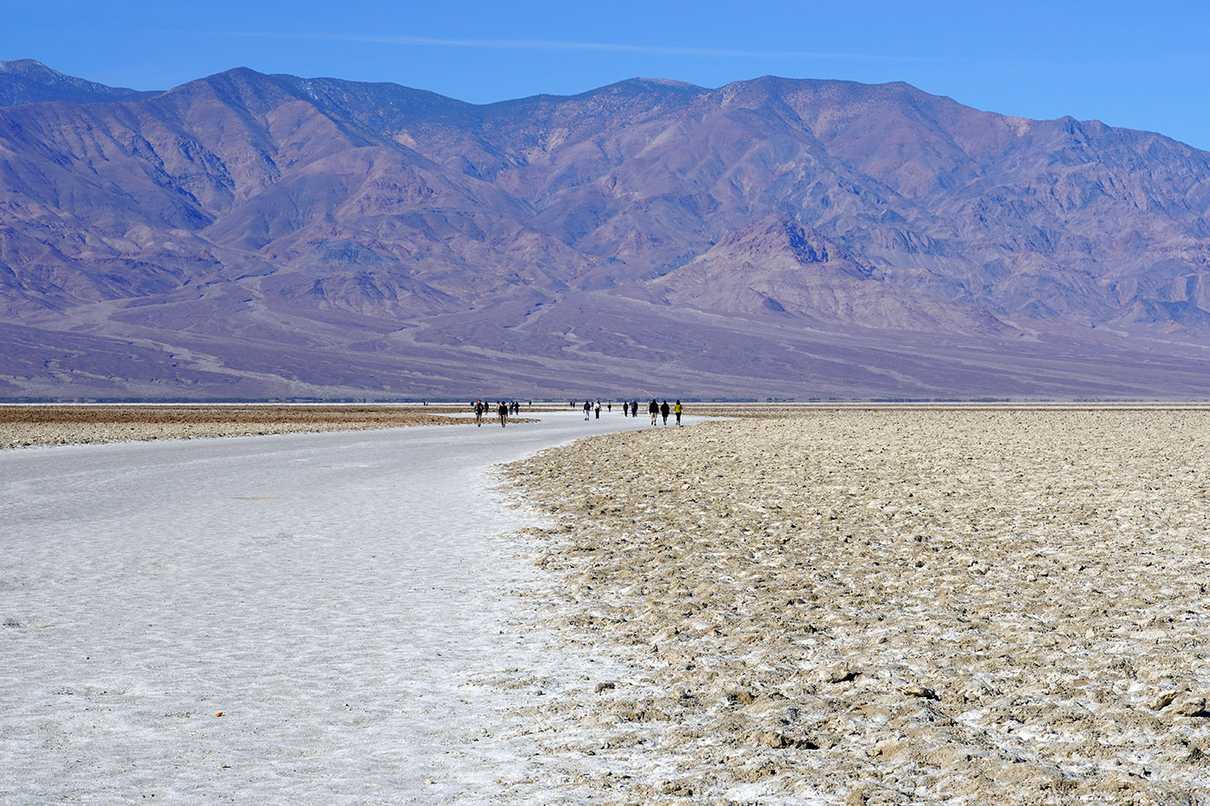 Natural Bridge Trail
Looking for another awesome stop not too far from Badwater Basin? The Natural Bridge Trail is a relatively short hike into a narrow canyon that features a yep, you guessed it, a natural bridge formation!
To get there, you'll turn off the main road onto an unpaved road which takes you up towards the mountains that border the valley. Don't worry, it's not a long drive, and although there are a few washboards that make for a bumpy ride, my passenger car had no issues getting to the trailhead. Just drive slowly.
Once you arrive at the trailhead and get started, don't forget to look behind you once in a while for spectacular views of Death Valley.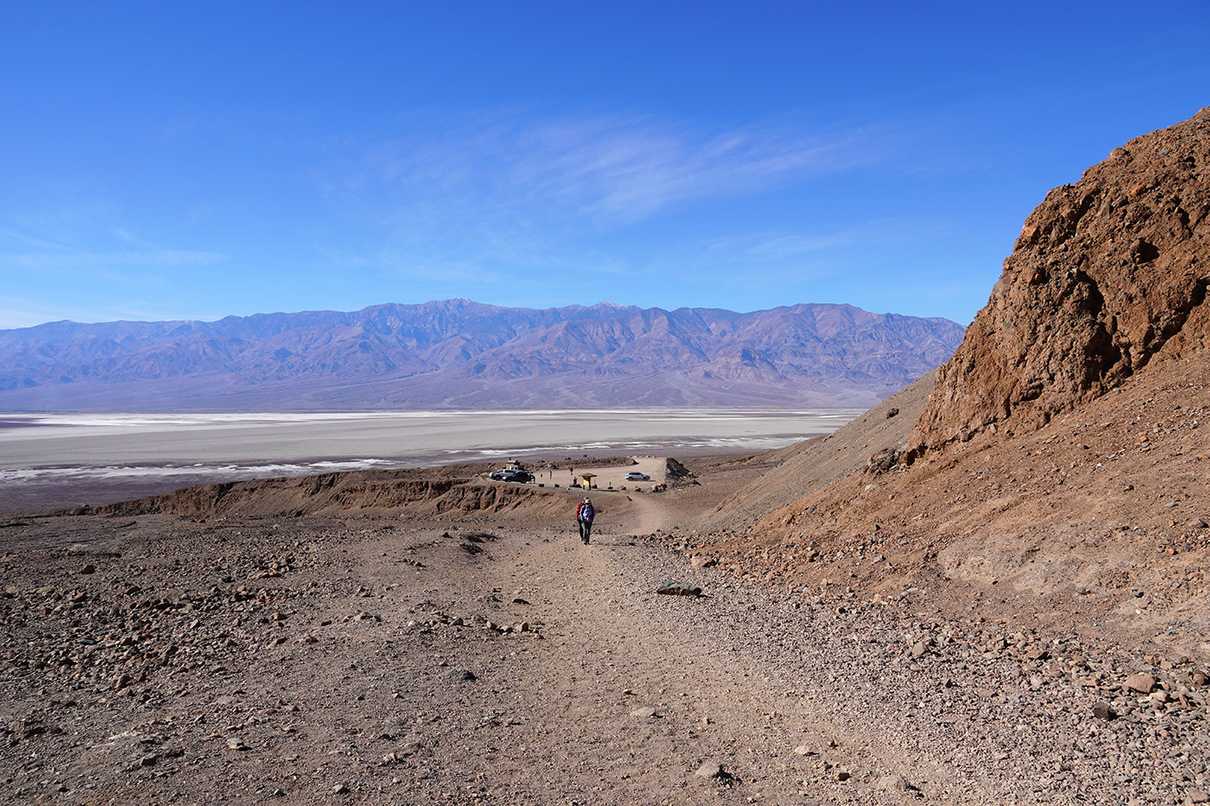 The views down into the valley were among my favorite during my visit.
Just a short mile out and back with not too much elevation gain, I found the drive up to be more challenging than the walk to the bridge.
Shortly past the parking lot, you'll enter the canyon and the walls will immediately begin to close in. Before you know it, you'll happen upon the Natural Bridge itself.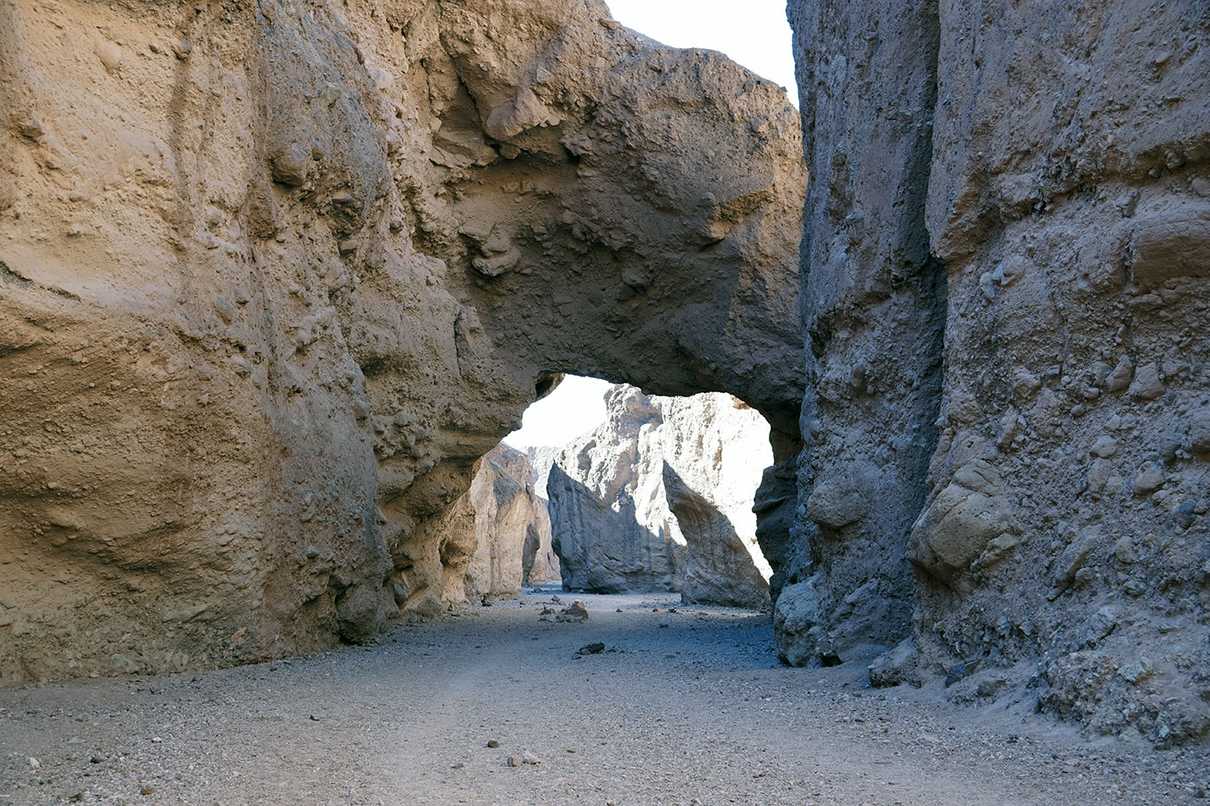 All natural bridges are amazing and I've never seen one that didn't impress. The one at Death Valley is no exception. Although, don't expect something like Arches National Park or Natural Bridges National Monument. Nonetheless, the bridge here is quite the natural attraction and I enjoyed walking underneath it.
Devils Golf Course
One other great stop located near Badwater Basin and the Natural Bridge trail is known as the Devils Golf Course.
It's hard to compare uniqueness factors for locations in Death Valley, but if I had to pick one, the Devils Golf Course might rank the highest.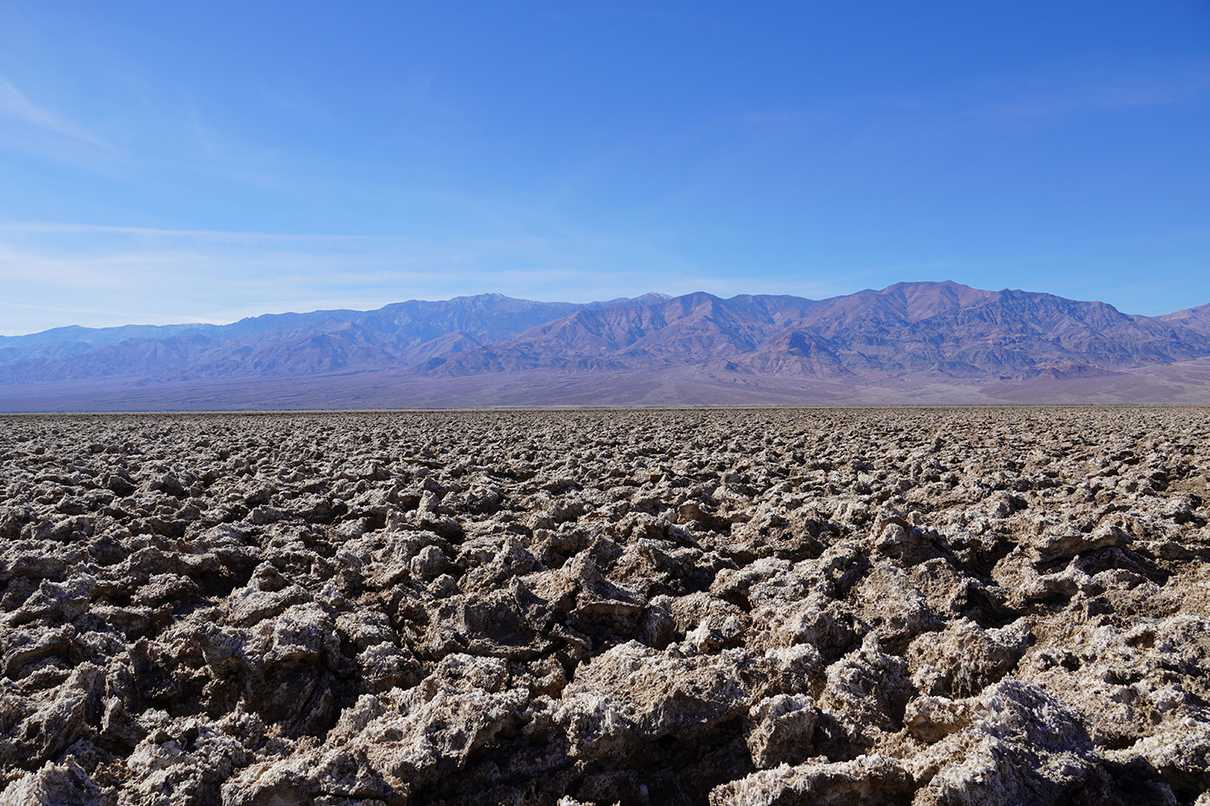 As far as the eye can see, this area is covered in very abrasive rock, coated in sharp salt crystals.
You are permitted to walk out into the Devils Golf Course, but as a sign located at the parking lot indicates, be very careful. You could easily fall, and at best, get some nasty cuts and scrapes. I could see a broken leg or ankle being a worst case scenario if not careful! I decided to brave it and if you go slow, it should not be a problem.
This spot made for some amazing photographs. You don't have to wander out far to get amazing shots with no people in your view.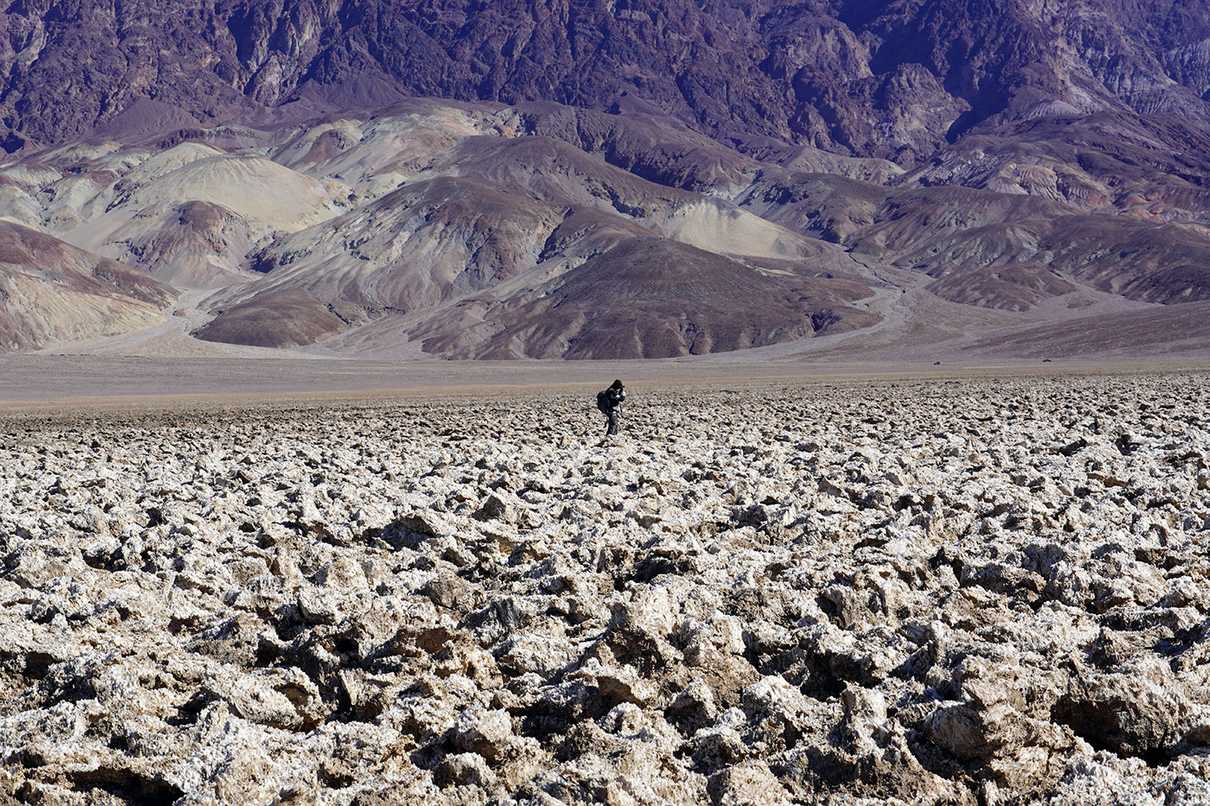 A Perfect Trio
If you spend enough time at these three locations and enjoy them to their fullest, when you include the driving you'll do in the park, I estimate you should plan for about a half day to fully enjoy them. They are all located in the same section of the park and are just a few miles apart.
If you're staying at Furnace Creek Campground, or the Ranch at Death Valley, you'll also find these three locations to be very convenient.
There are also other stops near these that you might want to include as part of your itinerary, such as Artist's Drive (and the Artist's Palette), or the Golden Canyon Trail.
If you're planning your first visit to Death Valley, and especially if you are limited on time when you visit, I would say these three stops are must-do's, especially Badwater Basin and the Devils Golf Course.