I've hiked the entire Bright Angel trail once before, when I was in my twenties, in better shape, and more willing to undertake risky endeavors. A couple friends and I hiked to the very bottom of the Grand Canyon and back up in a single day, which is typically not recommended and heavily discouraged by park personnel.
I've never forgotten that day and how I felt at the end of it. Yeah, we got it done and survived, but after we hopped on the free park shuttle and got back to our campsite at the Mather Campground, I went straight to my tent, plopped down and immediately conked out, too exhausted to even eat. Never even drank any of the celebratory beer we had stashed away for the occasion. I slept all through the night and into the morning.
Sound like fun? I guess it depends on your definition of fun. I don't regret doing it and it's something I take some pride in, but not something I can readily recommend for everyone. What I can tell you is that there was no time, energy or will left over to enjoy anything else on that trip.
However, hiking part of the way into the canyon is something I would recommend for just about anyone. You don't have to go far and can turn back anytime. One compelling reason for doing so is to get photos of the canyon from a unique perspective. Another would be to experience the true immensity of this place. Seeing the canyon walls looming above, if only from part of the way down, will give you a deep respect for the geology behind the Grand Canyon.
The Bright Angel trail has several stops on the way down. A couple rest houses are spaced out at 1.5 miles down the trail, and again at 3 miles. You can get fresh drinking water at these locations, and even use a restroom.
Many people strive to reach one of those rest points, take a break, and then turn around and head back up. I find that people sometimes need a tangible goal to reach, and either of those rest houses are respectable destinations. There are some nice overlooks of the canyon from those points, and it always help to have a place to refill your water before undertaking the trek back up.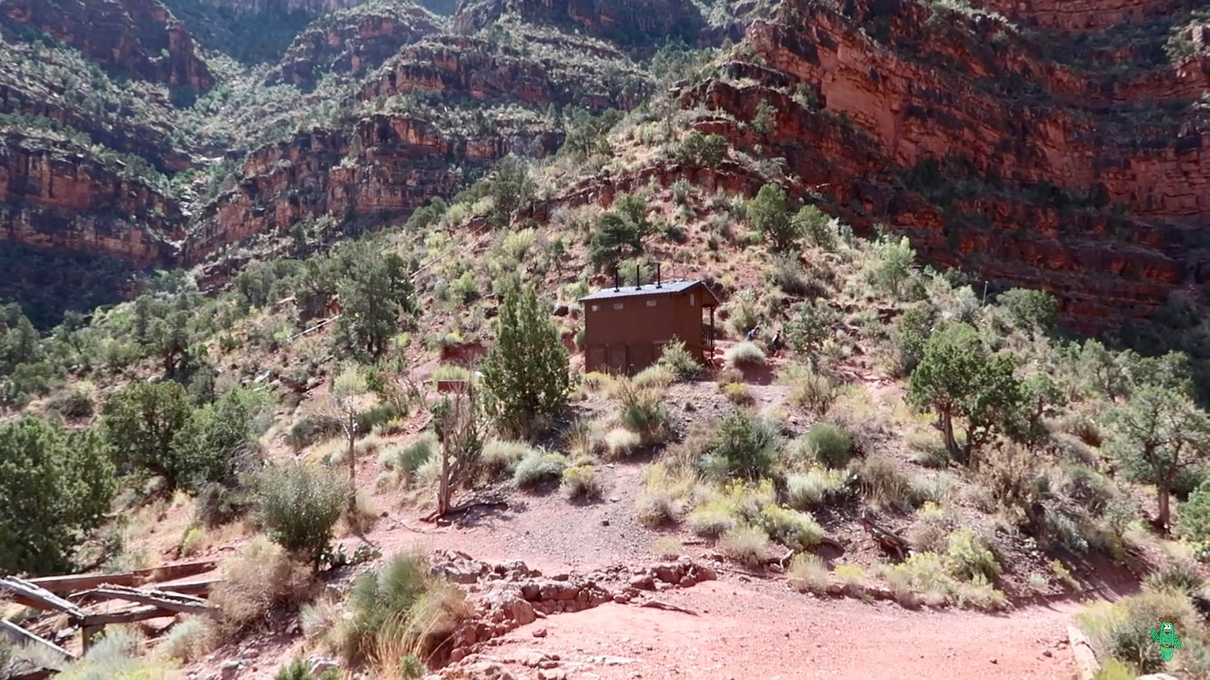 But I wanted a bit more. Certainly not more like hiking to the bottom of the canyon kind of more. But, I had more left in me than ending my journey at the 3 mile rest house. Besides, there was the promise of something more interesting than vault toilets and a water spigot further down the trail.
After eating a quick lunch at the 3 mile rest house, I proceeded past and down towards Indian Garden. Only 1.8 miles to go!
Another couple miles is no big deal when you're walking downhill. It's easy and goes pretty fast. I'm all too familiar with what having to walk that same distance uphill is like. I don't take it for granted... not after my past experiences here. Every once in a while during the descent, I would glance back up at the top of the rim, growing ever more distant, and feel brief moments of apprehension as I was well aware that soon, I would be walking back up, going many long rounds with gravity.
But for the time being, my sights were set on a distant patch of lush trees curiously gathered in the middle of a dry plain of desolation.
The further one goes down the canyon, the hotter is actually gets. You'll even observe the surrounding terrain turning into dry desert. This is something you need to be aware of. There are no cool, inviting forests of pinyon and juniper pines down here.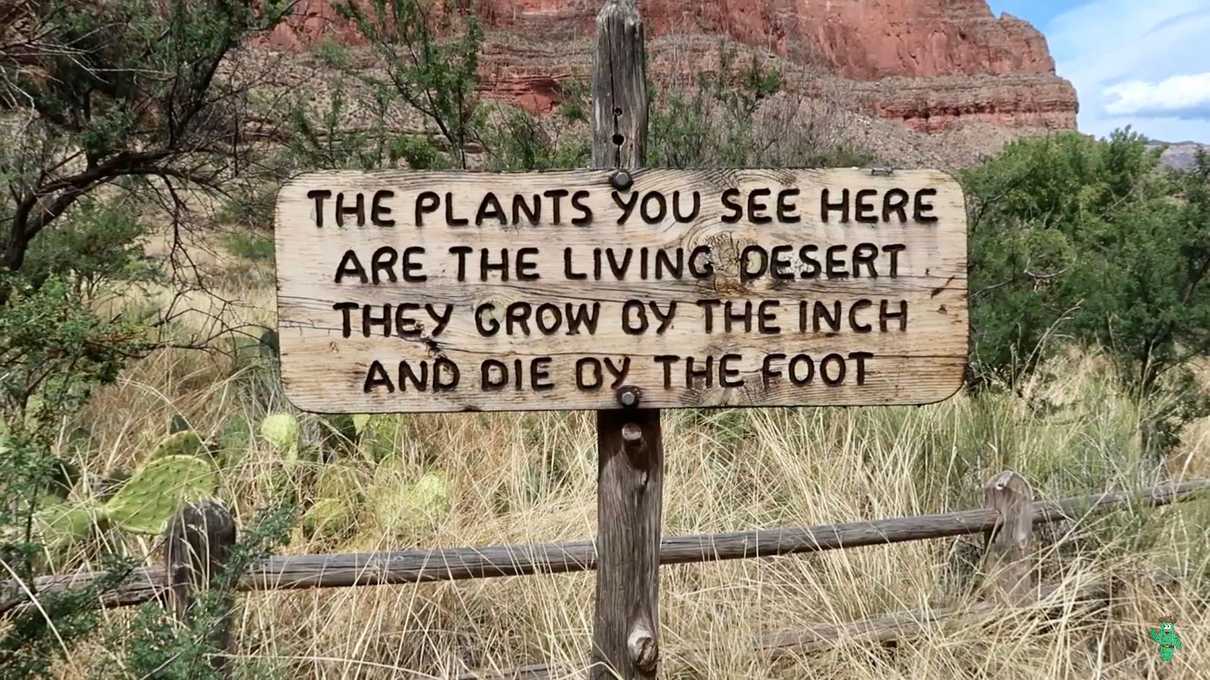 I could feel the heat building with each step further into the canyon. It was late September, but down here it felt like the middle of summer.
You'd be wise to consider this fact about the canyon before heading into it, especially if you plan on trekking further. That heat can be a killer... quite literally.
For those that endure the heat, a reward is not far off though. The trees of Indian Garden offer the promise of shade and a brief respite.
Indian Garden is located at a natural spring within the canyon. It's a true oasis... a life sustaining location in an otherwise harsh environment. Native cultures used this sanctuary hundreds of years before the age of tourists.
It's a bit strange entering this oasis. The many trees and thick greenery feel a bit out of place in this dry part of the canyon.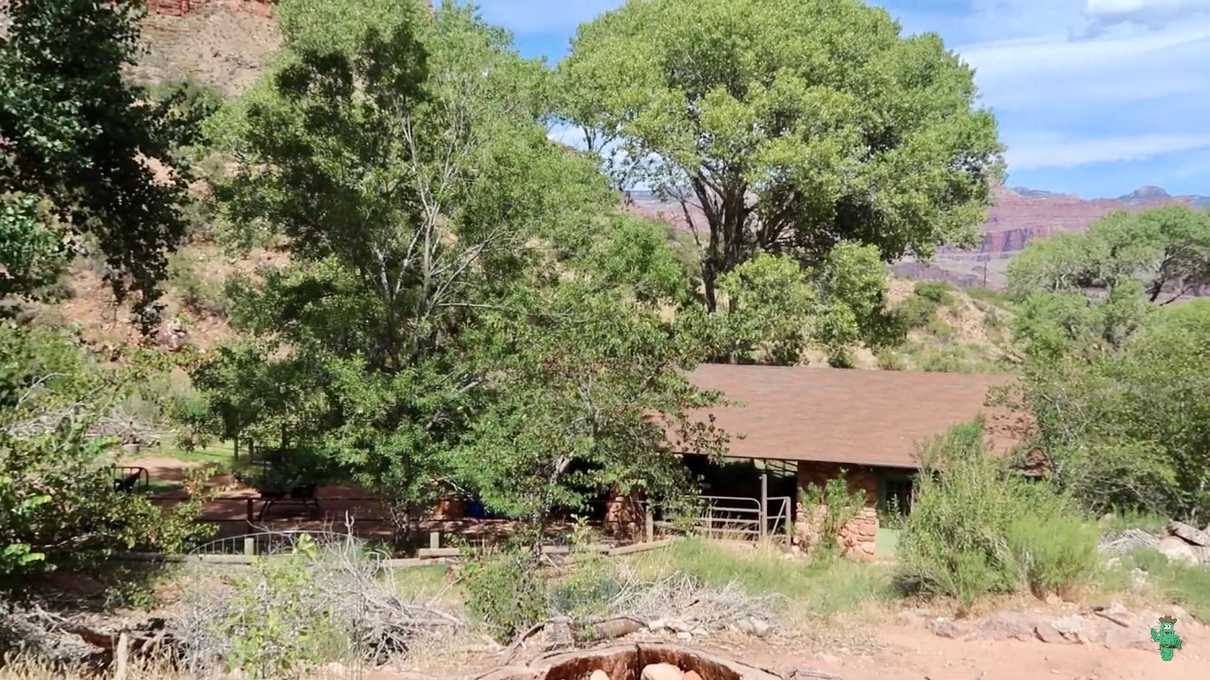 There are various buildings down here, ranging from shaded ramadas, to what I assume are living quarters for rangers. Just as with the rest houses you passed on the way down, you'll find drinking water and toilets here too. Everything you need to cool down and prepare for the 4.8 mile ascent back up to the top of the south rim.
Near where you first enter this area, you'll see a sign off to the left pointing to a campground. I decided to take a quick detour and scout out the campground area for a future camping trip.
The campsites are all tucked away in dense trees. The shade down here is exquisite. There were several backpackers hanging out near their tents in this little paradise.
If you ever want to camp here by the way, you'll need a permit. At some point in the not too distant future, I plan on returning and spending a night in this place. It's the kind of place you can go to lose your worries for a while.
After spending a good half an hour or so down here, I knew I had to begin the long walk back up. I gathered my things and surveyed the cliff walls before me. It was hard pulling myself away from this place, but knew I had to do it. There was a chance of thunderstorms later that day, and I certainly did not want to be caught out in the open in the canyon if that happened.
As I departed the cool oasis, I stopped to reflect on the first few steps of my journey up. There were a few dirt stairs heading off into the distance, with a huge canyon wall in the background. Yep. It was going to be a doozy!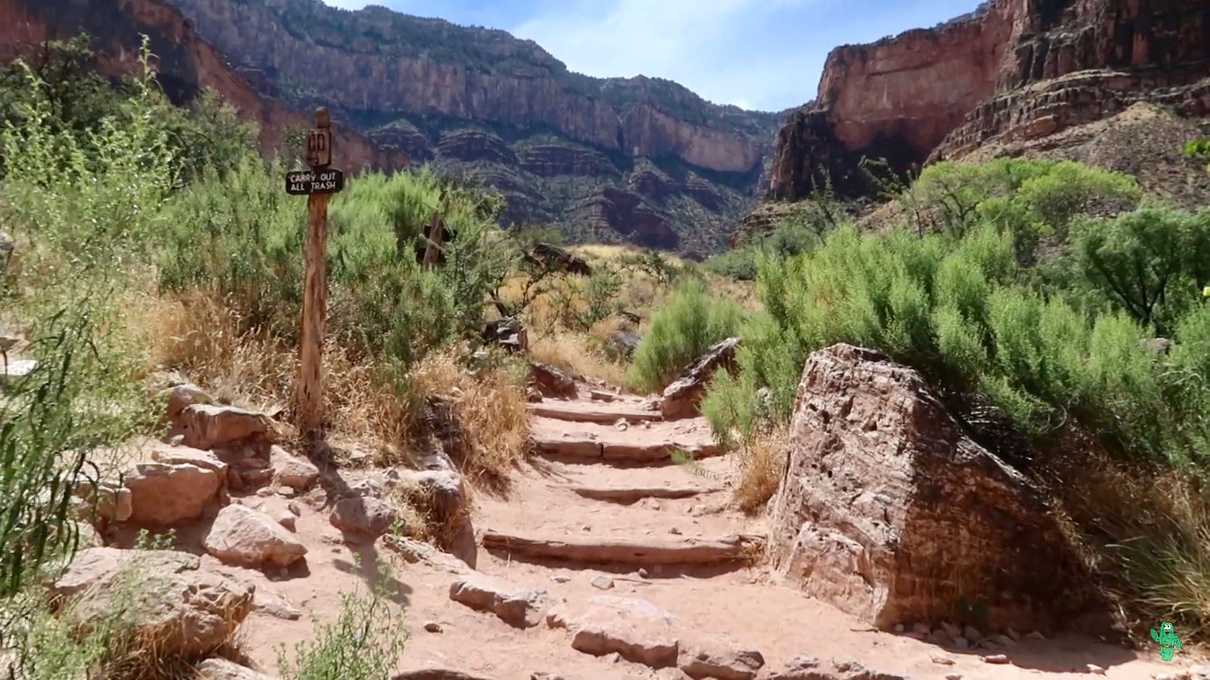 Well, I'll skip ahead a bit. I eventually made it to the top and it was not as bad as I had feared. I made a detailed video of the entire experience and I invite you to watch it. You will see how I fared on the way up, plus get to see the Indian Garden oasis in much more detail in case you too want to visit it one day.
Unlike the time I hiked all the way to the bottom of the canyon, this time I did not push myself to the point of exhaustion. This adventure did end up being the majority of my day at the canyon, and I was too tired to do more sight seeing, but I was able to enjoy a meal by the campfire that night, and it's also possible that I may have enjoyed that celebratory beer this time around... just don't tell my wife!